The Visitors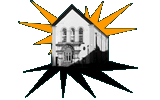 Musical Genre/Type: Pop
Formed: 1983 Split: 1983
Band Members:
Bryan Lacey (Guitar)
Mark Mortimer (Bass Guitar)
Tim Goode (Vocals)
Ian Simpson (Drums)
Tamworth Herald – 18/02/83
Musicbox – You'll know the line-up, not the name
A NEW name with some familiar faces…that's The Visitors.
The Visitors are Bryan Lacey, Mark Mortimer, Tim Goode and Ian Simpson and if you think that line-up seems rather familiar then your right.
The band are a new incarnation of Private Property and while the line-up is the same the outlook is somewhat different.
Just before Christmas, you may remember, Bryan and Ian left PP on the eve of the band's mini youth club tour.
Gamely Mark and Tim enlisted the temporary assistance of some mates and managed to complete the dates unscathed.
Differences
Now Bryan and Ian have reconciled their musical differences and are well truly back in the fold.
Bryan said: "We have chosen a new name to try and get away from the old Private Property image."
PP relied to a great extent on Jams versions for their popularity but The Visitors will not rely on such a tried and tested formula.
Mark said: "We have found the right sound at last and now our own material is good enough to stand on its own.
"We hope our gigs will be more exciting and that people will enjoy themselves more," he added.
Tamworth Herald – 29/06/84
Musicbox – New peaks from three strong bands
Gig reviews – Just a quick plug for three young bands I recently saw live and thoroughly enjoyed…
THE VISITORS, Tamworth Arts Centre
With a burst of energy, anger and power. The Visitors crashed out of their self-imposed exile and onto the Arts Centre stage as special guests of Sitting Pretty. It was as surprising as it was enjoyable and it was good to see another "new wave" band in the town ready to belt out powerful three-minuters and tease the audience with a mock arrogance.
If you have any further information about this band please email: info@tamworthbands.com