Tamworth Bands History : 1965
October to December
02/10/65
Chapter V, The Spirits
Assembly Rooms, 8.00pm-11.30pm
Admission: 5/6
02/10/65
The Wanderers
Glascote WM Club
02/10/65
E.B. Hamel & Sons Autumn Dance
Lloyd Jackson, The Other Guys
Drayton Manor
Admission: 6/6
02/10/65
Club 21 (Mile Oak Hotel) It's a fab new scene
The Creators, Chapter V
Mile Oak Hotel, 8.00pm-11.00pm
Admission: 5/-
07/10/65
Tommy Walkden Trio
Kettlebrook Working Mens Club
08/10/65
The Beat-Roots (Just back from Germany), Hollis Brown Group
Assembly Rooms, 8.00pm-1.00am
Admission: 6/6
09/10/65
Formula One
Club 21, Mile Oak Hotel 8.00pm-11.00pm
14/10/65
The Four XXXXs
Kettlebrook Working Mens Club
15/10/65
The Spirits, The Zeros
Assembly Rooms, 8.00pm-1.00am
Admission: 6/6
16/10/65
The Brum-Beats, The Fourlanders
Club 21, Mile Oak Hotel, 8.00pm-11.00pm
Admission: 5/-
16/10/65
Atherstone Youth Club Dance
The Chimes
Admission: 5/-
21/10/65
Electro Combo
Kettlebrook Working Mens Club
22/10/65
The Fiends
Wigginton Hotel FC
22/10/65
Doulton FC Beat Dance
The Wanderers, The Spirits
Assembly Rooms, 8.00pm-1.00am
Admission: 6/-
23/10/65
The Neutrals (Black Country), The Spirits
Assembly Rooms, 8.00pm-11.30pm
Admission: 5/6
28/10/65
Chapter V, The King Size Kings
Club 21, Mile Oak Hotel, 8.00pm-11.00pm
29/10/65
Four XXXXs
Wigginton Hotel FC
29/10/65
The Shades (Cannock), Kankaves (Walsall)
Assembly Rooms, 8.00pm-1.00am
Admission: 6/6
29/10/65
The Inn-Sect
Kingsbury WM Club
30/10/65
Joan Paul and the Newtones, The Shades
Assembly Rooms, 8.00pm-11.30pm
Admission: 5/6
30/10/65
Danny King (Colombia Records), The Mayfair Set
Club 21, 8.00pm-11.00pm
Admission: 5/-
30/10/65
Tamworth Young Farmers Club
The Vipers
Polesworth Memorial Hall, 9.00pm-11.45pm
Admission: 5/-
05/11/65
The Neutrals, The Wildbeats
Assembly Rooms, 8.00pm-1.00am
Admission: 6/6
05/11/65
R&B Rave – The Cock-a-Hoops
Club 21
06/11/65
The Rights of Way, The Hollis Brown Group
Assembly Rooms
06/11/65
Regimental Association Staffs Regiment Grand Dance
Lloyd Jackson, The Four XXXXs
Admission: 6/6
11/11/65
The Inn-Sect
Kettlebrook Working Mens Club
12/11/65
The Newtones, The Stringbeats
Assembly Rooms, 8.00pm-1.00am
13/11/65
Hollis Brown Group, The Daleks
Assembly Rooms, 8.00pm-11.30pm
Admission: 5/6
13/11/65
The Brum Beats
Club 21
Mile Oak Hotel
13/11/65
The Wanderers
Kingsbury WM Club
19/11/65 - Tamworth Herald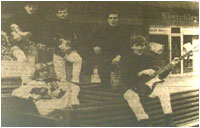 The Gingermen are now The Inn-Sect beat group
Remember a local beat group called the Gingermen? Yes! Well forget it, there The Inn-Sect now.
But a change of name is only one part of the group's change of identity. On stage they have a new look. Their manager persuaded them to dress alike as he felt it creates a good impression. They did it and decided on maroon polo-neck sweaters and white jeans.
Their sound has also been given a boost, bass guitarist Bob Heath can plug into a new amplifier and Graham Titley thumps out the beat on a new set of Broggen drums. The group are however steadily changing its repertoire by cutting out some upbeat numbers and bring in a few ballads to cater for the tastes of different audiences. But the Inn-Sect can still hammer out the beat when it's wanted.
The present trend of folk music has had its effect on the group and several Bob Dylan numbers have been introduced to their long list. Although they came through an audition to play at the exclusive Belfry Hotel at Wishaw with flying colours they still play to the youngsters at Tamworth Youth Centre where the group was born.
Lead singer Dave "Pree" Pierpoint, who rumour has it looks more like Rolling Stone Mick Jagger every day, will be at the microphone on 17th December at Drayton Manor and the group will be featured at the Tamworth Heralds Annual Dinner and Dance. The rest of the group will also be their Dave Bates on lead guitar, Colin Stokes with his rhythm guitar, Bob Heath on bass, Graham Titley on drums.
19/11/65
The Strollers, The Shades
Assembly Rooms, 8.00pm-1.00am
Admission: 6/6
20/11/65
The Creators, The Rights of Way
Club 21, Mile Oak Hotel, 8.00pm-11.00pm
Admission: 5/-
20/11/65
Red Rockers
Dosthill Cosmopolitan Club
21/11/65
The Wild Ones
Dosthill Cosmopolitan Club
25/11/65
The Four XXXXs
Kettlebrook Working Mens Club
26/11/65
The Sinners, The Original Stones
Assembly Rooms, 8.00pm-1.00am
Admission: 6/6
27/11/65
Tamworth Young Farmers Club Dance
The Impacts
Polesworth Memorial Hall
27/11/65
The King Bee's
Club 21, Mile Oak Hotel
27/11/65
The Ultra Sounds
Dosthill Cosmopolitan Club
27/11/65
The Blue Hawaiians
Kingsbury WM Club
27/11/65
The Four XXXXs, The Hollis Brown Group
Assembly Rooms, 8.00pm-11.30pm
Admission: 5/6
27/11/65
The Impacts
Polesworth Memorial Hall, 9.00pm-11.45pm
Admission: 5/-
02/12/65
The Inn-Sect
Kettlebrook Working Mens Club
03/12/65
The Vipers
Dordon Village Hall
03/12/65
The Stringbeats, The Countdowns
Assembly Rooms, 8.00pm-1.00am
Admission: 5/6
04/12/65
The Little People
Club 21, Mile Oak Hotel
04/12/65
The Wanderers
Dosthill Cosmopolitan Club
05/12/65
The Four XXXXs
Dosthill Cosmopolitan Club
09/12/65
Fazeley Swifts FC Grand Dance
The James Henry Band
Drayton Manor, Tower Suite, 8.00pm-12
Admission: 6/-
09/12/65
The Saturns
Kettlebrook Working Mens Club
10/12/66
The Tombstones, The Dominoes
Assembly Rooms, 8.00pm-1.00am
Admission: 6/-
11/12/65
Williams Conquerors
Club 21, Mile Oak Hotel, 8.00pm-11.00pm
Admission: 5/-
11/12/65
The Inn-Sect, The Four XXXXs
Assembly Rooms, 8.00pm-11.30pm
Admission: 5/6
19/12/65
The Puncture Outfit
Warton WM Club
21/12/65
The Neutrals
Hopwas Youth Club
24/12/65
The Vipers
Progressive Club
24/12/65
The Primitives, The Rights of Way
Club 21, Mile Oak Hotel
26/12/65
The Danny Bruce 5
26/12/65
The Heinekins
Warton WM Club
27/12/65
The Blue Hawaiians
Shuttington and Alvecote Social Club
31/12/65
Leyfields and St. Edithas Youth Club presents
The Shades, The Strollers
Assembly Rooms
31/12/65
The Cimmarons, The Fourways
Club 21, Mile Oak Hotel
Christmas Eve and Boxing Night
Assembly Rooms
Xmas Eve – 8.00pm-11.30pm - Admission: 5/6
Boxing Night – 8.00pm-1.00am – Admission: 6/6
Alan Dene and the Denims
The King-size Kings
The Betsy Beats
The Zulus
The Shades
The Four XXXXs(5)