69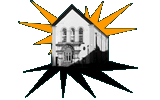 Musical Genre/Type: Jazz/Rock
Formed: 1975
Line-up:
Simon Welch (Austrey) - Lead Vocals
[Formerly of Squashed Hedgehog - Later of Magnadaw]
Phil Seedhouse (Kingsbury) - Drums and Backing Vocals
[Formerly of Squashed Hedgehog]
(Plus two other members - guitarists - from Birmingham)
Gigs
02/11/75
Concept plus 69
Tamworth Football Club Social Club
Tamworth Herald – 31/10/75
MUSICBOX – 69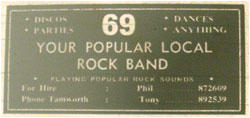 Those sharing the bill with Concept at Sunday's opening concert is a band called 69.
The band was formed six months ago when two members from a local three piece group Squashed Hedgehog joined tow others from Armageddon from Birmingham.
In the past 69, has been busy playing the Birmingham pub circuit and use a lot of their own material.
The band is eager to play in the Tamworth area and is trying to break into the local barbeque scene next summer.
A demo tape recorded earlier this year was highly encouraging and 69 hope to record their first LP in the coming year when suitable material has been chosen.
Austrey's Simon Welch is the band's lead singer, while Kingsbury lad Phil Seedhouse plays drums and provides backing vocals. The two other members of the band are both guitarists from Birmingham.
Concept
You could say that Sunday marks a new Concept in music in the Tamworth area.
Six-man jazz-rock band Concept sees the start of their live music club on Sunday. The event starts around 7.30pm.
Concept which includes three Tamworth men, has built up a strong name, playing at various clubs in the Midlands and broadcast on BBC Radio.
Keyboard player, Tony Lee, from Tamworth "We are trying to build a sort of platform for other bands to come and play to live audiences. We shall be resident but want other groups that is other than pop or folk to come along and perform."
Concept's intention is to encourage live music, basically of any orientation as, with the exception of the Wigginton Hotel folk club, there is little or no venues in Tamworth.
Lee was involved in the formation of Tamworth's jazz club at the Jolly Sailor a few years back and Sunday's new club will cost those interested just 30p.
Members of Concept are Tony Lee (Tamworth), Vernon Wingrove (Tamworth), Colin Edmonds (Tamworth), Dave Brown (Burton), Brian Fennell and Kip Wilkes (Derby). They say there is little opportunity for groups to play in public.
The full profile and history of 69 has yet to be added to TamworthBands.com Call back soon to read the full band details.
If you have any further information about this band please email: info@tamworthbands.com