Magnadaw
Formed: February 1976
Line-up:
Simon Welch – Vocals
[Also in: Squashed Hedgehog, 69]
Mick Griffiths – Guitar
[Also in: Satans Effergy]
Kevin Osborne – Bass
[Also in: Satans Effergy, Lucifer]
Steve Sheldon – Drums
[Also in: Ice]
Barry Limb – Organ
Julian Cope - Bass / Vocals
Gigs
10/07/76
Magnadaw
Wilnecote Youth Centre
13/07/76
Magnadaw
Tamworth Youth Centre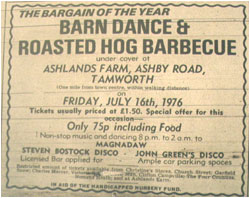 16/07/76
Barn Dance and Roasted Hog Barbecue
Magnadaw
Steve Bostock Disco, John Green Disco
Ashlands Farm
Tamworth Herald Feature
Tamworth Herald – 09/07/76
Musicbox – Magnadaw – band with a future
Tamworth-based rock group Magnadaw are determined to succeed.
The five man band – all its members live in Tamworth except lead singer Simon Welch, who hails from Austrey – recently recorded a demo disc which attracted considerable interest from recording company, CBS.
The record, a double 'A' side with "The Cell" and "Mr. Pleasant" co-written by Simon Welch and guitarist Mick Griffiths, has been with CBS for a couple of months and the company want to hear any new material the band records in future.
Magnadaw comprises: Simon Welch, vocals; Kevin Osbourne, bass guitar; Mick Griffiths, guitar; Steve Sheldon, drums and Barry Limb, organ.
Welch and Griffiths write most of the band's material. Indeed, well over three quarters of their stage act is made up of self-penned compositions.
Simon Welch describes the band's music as "funky rock 'n' roll with a heavy feel to it."
"We play 1960s type rock but with an up to date feel about it," he told Musicbox.
Magnadaw, whose musical influences include Wishbone Ash and Deep Purple, have been busy playing the club circuit, mainly in Birmingham, in recent months, but are all set for a busy time in the Tamworth area within the next week.
Formed only six months ago, the band plays at Wilnecote Youth Centre tomorrow and follows up with a gig at Tamworth Youth Club on Tuesday night. Magnadaw also plays at the Ashlands Farm barbecue next Friday night (July 16).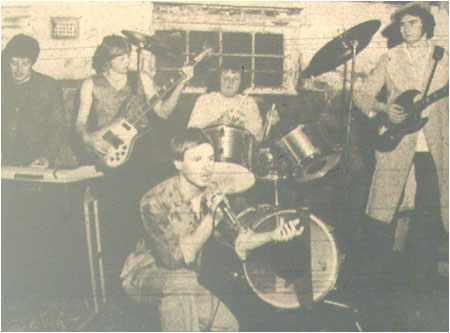 Magnadaw
The full profile and history of Magnadaw has yet to be added to TamworthBands.com Call back soon to read the full band details.
If you have any further information about this band please email: info@tamworthbands.com