Australians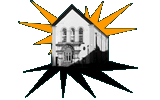 MusicalGenre/Type: Pop
Formed: 1986 Split: 1986
Gigs
09/02/86
One On One
The Australians
Catch 22
The First
Battle of the Bands
Tamworth Arts Centre
21/02/86
Catch 22
The Australians
Nuneaton
22/04/90
The Australians
Great Divide
Night Moves
02/12/90
The Australians
Honeyjump
The Rathole
Tamworth Herald – 17/01/86
Musicbox – Bands tune up for five nights
TAMWORTH'S second annual Battle of the Bands contest looks set to be a great success with 16 groups – some completely new to the scene – taking part. The event has been stretched over five nights, with four heats and a final which will possibly be judged by a celebrity.
And as well as winning the accolade of Tamworth's best band, and a Young People's Arts Festival trophy, the successful band will also win £50 worth of recording time at the Expresso Bongo studios.
The whole event will get underway two weeks on Sunday at Tamworth Arts Centre.
Sunday February 2 – Caprice and Femme Fatale take on the unknown quantities of Coleshill's Burnin' Sky and new Anice Byfield group Precious Toys.
Sunday February 9 – The Australians, One On One, Dance Stance and another new one, Drowning Pool.
Sunday, February 16 – Depth Charge, Wolfsbane, The Me and The Parade.
Sunday, February 23 – Terroa, Spirit Lake, Judas Cradle and Breaking Point.
Friday February 28 – The Final.
Tamworth Herald – 07/02/86
Musicbox – New faces set to turn on the heat…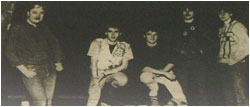 THREE groups new to the Tamworth scene burst into action this weekend in the second exciting heat of the 'Battle of the Bands' contest.
Two alternative-influenced acts, The Australians and Catch 22, open the show and they are also joined on this virtual 'New Faces' bill, by a relatively unheard outfit, The First.
Sandwiched between these three newcomers is a band who are a little more familiar – the popular One On One, who are making their first Tamworth Arts Centre appearance for some time.
Put it all together, and you have a fascinating four-band heat, which should prove to be an excellent concert in its own right, and one that will probably bring a lot of pop-punters out on Sunday night.
First up will be The Australians, a band who unfortunately are as new to me as they are to you, making them something of an unknown quantity. I understand they hail from the Atherstone area (which is becoming increasingly productive I am pleased to say) and it seems they play a cocktail of Everything But The Girl and The Cocteau Twins.
They should set the concert off to an intriguing start and the interest will be maintained by another new band, Catch 22 who will play second.
Catch 22 are a very young band who make up for their lack of experience with a refreshing burst of enthusiasm and ambition. They play music which seems to have its heart in that wonderful Jam/SLF time of life and member Ray Clenshaw describes the whole sound as 'aggressive but with a lot of melody'.
The band, who recently played a successful gig at Atherstone School, are very keen to take part in the contest and to introduce themselves to the local scene, and they will come under close scrutiny on the night.
By virtue of their experience and proven track record, the third band up, One On One, start as hot favourites to win the heat and break through to the February 28 final.
The five-piece band have grown steadily more mature and confident over the years and their intelligent songs and exemplary musicianship has won them admirers across the whole spectrum of the local music scene.
When I spoke to bassist Andrew Malkin he told me the band were moving into a new phase with their songwriting and performance so it is possible we may see a new look One On One on the night.
Candy Floss
Also with a new look will be the band who will close the show, The First. They have emerged out of the Tribal Sweatshirts, Richard Deane's band, and if they are anything like The Sweatshirts they should sound just as professional as the group that precedes them.
The sound the Sweatshirts produced was commercial pop - without the candy floss – and if The First maintain that tradition, they could prove a difficult outfit to beat.
So once again it looks like being a good night at the Arts Centre on Sunday. Four potentially very interesting bands all chasing the same prize – a place in the February 28 Battle of the Bands final which hopefully will be judged by soul singer Edwin Starr.
The gig starts at 7.45 – and is free – so support the Young People's Arts Festival, support the four bands involved and have a great night out. It is even worth missing 'Spitting Image' for!
*Catch 22 have come in as late replacements for Dance Stance who are sadly unable to play as two members will be missing on the night. For those who are confused, The First were originally called The Drowning Pool. Judges on Sunday will be Paul Speare, Phil Smith and local music buff, Martin Webster.
Tamworth Herald – 14/02/86
Musicbox – A dazzling night of variety
Review
ONE ON ONE became the second band to book their place in the Battle of the Bands final on Sunday night, in a triumphant and very varied night of music.
All four of the bands turned in tremendous shows to leave a big headache for judges Paul Speare, Phil Smith and Martin Webster who could only choose one group to go forward. In the end, the sheer professionalism of One On One won them the concert.
First to take to the stage were The Australians who I discovered to my amazement had only been together a matter of weeks. Well it certainly didn't show. Their original material (which had shades of everything from The Who to Echo and the Bunnymen) had a deceptively light feel with occasionally arresting melodies. Guitarist and singer Chris Thomas was particularly impressive and when his voice combined with the harmonies of Toby Stafford the sound was quite intriguing. It was overall a fine mature set which showed a great deal of promise for the future.
Promise is also a word that cannot be understated…Catch 22
They did a spirited 'Alternative Ulster' but even that classic was outweighed by their own inventive and thoughtful originals which far belied their teenage years. Full marks to drummer Jason Notman who was simply magnificent and also a big pat on the back for the lead guitarist Dave Stevenson.
And so to One On One. Or not as the case may be. For when they hit the stage it was as if a new band had appeared. OK, so they still had that distinct One On One feel but they have added far more meat and commerciality to their sound which I found very exciting. The songs had greater strength and power – a touch of the old One On One in fact – and it was as if that change was certainly appreciated by a lot of people I spoke to afterwards. To say that musically they were outstanding is almost unnecessary these days, but just a word for bassist Andy Malkin and drummer Stuart Blaine who worked together brilliantly.
The First…between bass and guitar having a distinct U2 feel. In fact if I had to put The First into any camp it is possibly the U2 one as they play music which combines the rawness of rock with the more subtle edges of the post-punk sound. A neat, mature and potentially I think, a winning one.
So overall that word potential is the one that rings loud and clear from this eventful – and very well attended – concert. One On One proved that they are getting better and better and The Australians, Catch 22 and The First all won over a lot of new admirers. In terms of judges score every one rated very highly and as an indication of the strength of the line-up, each band had a score big enough to beat any of the equally impressive outfits from the first heat.
Tamworth Herald – 21/02/86
Musicbox – SNIPS
STOP PRESS …Atherstone's exciting new couplet Catch 22 and The Australians will be playing at the …. Nuneaton tonight (Friday).
Tamworth Herald – 02/05/86
Musicbox – SNIPS
THE Australians have changed continents. As of now the likeable Atherstone outfit will be called Europe After The Rain, a tasty monicker pinched from legendary po-faced John Foxx. The group have also added a new member – saxophonist Martin Sutton and you can see how they line-up and name change has affected them at the Bondgate Club, Nuneaton (tonight) when they will be joined by two other acts, a fashion show and an alternative disco.
Tamworth Herald – 20/04/90
Musicbox – Town set for a taste of Oz
Tamworth is a three gig Town again this weekend – but thankfully one of them is on Saturday for a change!
For, as well as the Breaking Point and Korova Milkbar gig extensively previewed on the right, there is also a visit to the Arts Centre on Saturday of the sophisticated sound of George Villiers and then a full blown Indie gig at Night Moves on Sunday featuring The Australians and The Great Divide.
The George Villiers and Australians gigs couldn't be more different and if you want to know more about any of the shows this week, then just read on…
George Villiers (Tamworth Arts Centre, Saturday night)
George Villiers is described as a 'composer, lyricist, multi-instrumentalist and heir to the Earldom of Jersey'.
Breaking Point/Korova Milkbar (Lincolns, The Rathole, Sunday)
Powerful combination of modern pop/rock previewed in full.
The Australians/The Great Divide (Night Moves, Sunday)
A big coup for the Night Moves team this, as they welcome Liverpool faves The Australians for a major show. The Australians have been heavily featured in NME, Melody Maker et al and have already supported the likes of The Inspiral Carpets, James, Man from Delmonte and The Waltones and they have a single out that has been produced by James-man Larry Gott. The group have been summed up as a melodic maelstrom of catchy tunes and scrambling guitars and they were hugely praised in Melody Maker for being 'the first band in the world to write a love song to a girl called Beryl'. Big band this, well worth a watch. In support will be the rather more familiar Great Divide who hail from the Burntwood/Lichfield area and have already made quite an impact on the Tamworth area. End result? Nice show.
Tamworth Herald – 04/05/90
Musicbox – Local Reviews
The Australians – Nightmoves
After the splendid performance of The Great Divide (who supported this combo) this was something of a let-down. OK a female vocalist is something of a pleasing novelty, but their music just didn't come across well at all. For such an experienced band I felt their playing was very poor with some terrible dropped notes from both guitarists. Perhaps next time The Aussies will support Great Divide instead.
Colin Wall
Tamworth Herald – 30/11/90
Musicbox – three to make you smile!
Tamworth Arts Centre and The Rathole will be competing for your attention this week with three fine looking shows to choose from.
Sunday night offers two good strong alternative/Indie/pop line-ups and then on Thursday it is a very big night at the Rathole when the doors are opened to welcome the powerful Telesopes in a much vaunted show.
Here are more details of what to expect this week, so take your pick and plan your night(s) out…
SUNDAY NIGHT
Tamworth Arts Centre – Litany of Fear/The Ancestry and The Sherbert Trees
The Rathole – The Australians/Honeyjump
THURSDAY NIGHT
The Rathole – The Telescopes/Slow Drive/The Big Trip
That's the line-up in general then, here are the previews in a wee bit more details for those who may not know much about who or what is on offer…
The Australians/Honeyjump – The Rathole (Sunday)
Another good line-up this one, which will appeal to those who like good modern pop and good dance music. The Australians are headlining and this will be their second visit to Tamworth following a hugely successful bash at Night Moves in April. The band are influenced by the likes of James, The Waltones and The Inspiral Carpets and they have the distinction of having their first single produced by James. Heavily praised in the national press they are big news – and getting bigger. Honeyjump represent the more sophisticated side of modern dance/pop and their intelligent sounds have already won over a lot of followers both here in Tamworth and beyond. They should prove to be a strong compliment to the Aussies and another good night is assured. The Rathole, Sunday, 8pm, £1.50.