Bambu Curtain

Bambu Curtain
Photograph courtesy: Tamworth Herald
The Gallery
Musical Genre/Type: Electronic
Formed: 1983
Band Members:
Rob Bowker (Vocals)
Anthony Mear (Synthesiser)
Ray Heath (Synthesiser)
Daz Boyce (Synthesiser)
Simon Mills (Bass Guitar)
Sam Master (Backing vocals)
Tamworth Herald – 19/08/83
Musicbox – Fame or bust, say Bambu Curtain
MANY Tamworth bands seem content to stay in the area plugging away at their music in the hope of being 'noticed'.
But not Bambu Curtain.
Because here is a Tamworth band who have set their aims on the top – and intend to get there.
"We have given ourselves three years to become famous, and we think we can do it," declares vocalist Rob Bowker.
And as if to prove their serious intentions, Bambu Curtain have already built up a staggering total of 60 songs.
"WE take the whole group very seriously," said Rob. "We like to practice four times a week and we are waiting until we are really ready before gigging."
The band, who have been in their present formation for 12 months, categorise themselves as a 'new' band and they feel their sound should particularly appeal to fans of Japan and Tears for Fears.
Diverse
But the band are not content just to be labelled as a 'new romantic' group.
"Our influences are very diverse and I want our sound to constantly change and be adventurous," said Rob.
And one of Rob's own big influences is Tamworth front-man Julian Cope, who he says, he admires greatly.
All the band are aged between 15-18 and the full line-up is: Rob Bowker, vocals; Simon Mills, bass; Anthony Mear, Ray Heath and Daz Boyce, synths and Sam Master, backing vocals.
Tamworth people will get a chance to see this exciting new combo later in the year when they put on a special concert which will include a fashion show and disco.
Tamworth Herald – 21/03/86
Musicbox – Succeeding with talent and mouth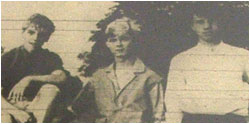 I HAVE recently been filing all my old MUSICBOX columns from the past three years or so and as one of those academic exercises, I decided to see just who has been the most featured band in the column over that time.
People often accuse me of bias in various directions but I think the 'top ten' of mentions shows that I have managed to cover the whole spectrum of local music from the 'lightest' to the 'heaviest'.
This was not a scientific exercise, I merely flicked through the columns and noted the names of bands whenever I saw them. So a 'mention' could be just one line or a full feature. Anyway here's the top ten from 1983.
1. The Dream Factory (60 mentions), 2. Sitting Pretty (57), 3. Breaking Point (53), 4. Wolfsbane (52), 5. BHX (51), 6. Love On Board (49), 7. One On One (37), 8. The Magnets (32), 9. Sacred Oath (25) and The Cradle (25), 10. The Royal Family (20).
Outside of this batch as a matter of interest were Terroa, Dance Stance, A5 and Caprice. At the other end of the scale there were local bands whose name were featured only once such as Alibi, The Fashionable Gents, Bambu Curtain and The Time Bandits.
---

Fame is the aim for these three members of Bambu Curtain. From left: Rob Bowker, Ray Heath and Simon Mills.
If you have any further information about this band please email: info@tamworthbands.com