A5
Musical Genre/Type: Pop
Formed: 1984
Band Members:
Chris Edden (Bass and Lead Vocals)
[Also in: Lambent Lamella]
Steve Hayes (Drums and Backing Vocals)
[Also in: Lambent Lamella]
Pete Fulleylove (Lead Guitar and Backing Vocals)
[Also in: Lambent Lamella]
Gigs
09/02/84
A5
Tavern in the Town
25/02/84
A5
The Nag's Head
Nuneaton
17/08/85
A5
Love On Board
Tamworth Arts Centre
27/10/85
A5
Tamworth Arts Centre
09/08/87
Final Line
Jabberwocki
A5
New Age Gypsies
The Rathole
29/01/88
A5
Fetch Eddie
New Age Gypsies
Tamworth Arts Centre
02/07/88
A5
Dumpy's Rusty Nuts
WolfeLive 1988
General Wolfe Coventry
17/07/88
Tamworth Rock Festival
Cuddly Spiders
Rape in Yellow
Future Field
Fetch Eddie
Catch 23
Kraze
Scream Dream
Breaking Point
A5
Castle Grounds
Admission fee 11am-7pm
04/09/88
Fetch Eddie
A5
Sa Sa
Tamworth Arts Centre
10/09/88
Catch 23
A5
Kings Head, Atherstone
23/12/88
A5
Space Seeds
First Conspiracy
Tamworth Arts Centre
Tamworth Herald – 03/02/84
Musicbox – Snips
A5, an original and exciting new wave band who once traded under the name of Lambent Lamella, will be making their town centre debut on Thursday, when they will be appearing at the Tavern in the Town. Like all Tavern gigs entrance is free and a great night looks in prospect.
Tamworth Herald – 17/02/84
Musicbox – Revved-up A5 take road to originality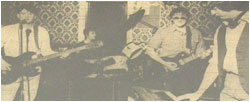 A5 – Tavern in the Town
IN AN effective combination of diverse influences, A5 have succeeded in achieving an original sound. On Thursday night at The Tavern they delivered an exciting nine-song set.
A5's music incorporates an innovative use of synthesizer (Tim Burgess) with more traditional rock-guitar work.
The strength of this group lies in the powerful pulsing beat – built up by Steven Hayes and Chris Edden – and the vocals; a curious and provocative combination of Robert Smith and Julian Cope.
Personal favourites were 'The Night That Lasts Twenty-One Years' and 'Love To You' which I understand the group will be taking into the studio shortly.
Although I thought the band were entertaining, it seems I was in a minority – maybe it's un-hip to clap – most of the appreciation of the band came from Buttercup (the resident DJ) and the Thin-Kim Morrison-lookalike behind the bar. The band deserved more.
A5 have a track 'Mind Transmitter' on a compilation album entitled 'Breakaway' (Venture Promos) to be released at the end of the month.
Their next gig is at The Nag's Head, Nuneaton, on February 25 and they return to the Tavern in April.
RACHEL HARRIS
Tamworth Herald – 24/08/84
Musicbox - Riding a new exciting road to studio play
A5 – demo tape
THE great thing about going into a studio is that suddenly a whole new world of sound is open to you. Instead of the drab confines of guitars and amps which is experienced at concerts, bands have a chance to fiddle around with a variety of switches and come out with a totally different, unique type of sound.
Studios open the door to experimentation and on this tape it is clear A5 went straight through the door and locked themselves in the room.
For here is a tape that has so many twists, turns and diversions that you can easily get lost inside its all embracing technological jungle.
Take the opener 'Love To You'. It is a simple, tuneful number which unveils the fact that it is a really very complex song which has obviously taken a great deal of time to write and properly structure. It is catchy enough to be a hit and yet interesting enough never to be a throwaway. And that is a winning formula.
The other three songs although less commercial still have a powerful body and combine a list of influences which include The Banshees, the Police and The Cure.
There is even a touch of The Doors on 'Strike a New Line' and just to complete the picture the opening to 'She Called The Storm' is a dead ringer for 'The Lebanon'.
All this makes for an intriguing assault on the ears from a band clearly enjoying the music they make. It is different, diverse and occasionally bizarre. Music like this shows that experimentation can and does work and there is a message there for people content to go into the studio and come out sounding wooden and half-hearted.
SAM HOLLIDAY
Tamworth Herald 21/09/84
Musicbox - On Parade for a busy weekend
TAMWORTH'S ROCK FANS can look forward to another Arts Centre 'double-header' this weekend when the venue plays host to two very diverse gigs.
Tonight energetic Burton trio Delusions of Grandeur will return to the centre to play alongside two acts which they say reflect the dual side of their music – new wave band A5 and synth duo Select Elect.
And then 24 hours later there won't be a synthesiser in sight when new trio The Parade will play alongside youthful power rock outfit Sacred Oath.
Delusions of Grandeur will be coming to the Arts Centre for the second time this evening when they hope to build on their first show a few months ago.
Then the band impressed everyone with their tight modern pop sound – but turned a few people off with their onstage verbosity. But tonight lead singer Geoff Noble has promised more music and less verbals and hopes his band will win over everyone to their powerful entertaining music.
Supporting Delusions to night will be A5, a band who made considerable impression at Tamworth's pop festival recently. A5's sound was described by everyone at the time as being new wave meets Hawkwind, which seems to be an apt description of a band who combine very modern touches with effect-induced psychedelia.
Back-up
Select Elect will need no introduction but they have promised a more 'live' set than ever before. Th eband say they have become increasingly wary of letting tape recorders do their back-up work so tonight the band will be aiming at playing live as much as possible.
Tonights gig begins around 8pm and tickets from the Arts Centre cost 60p or £1 on the door.
Then on Saturday night the Arts Centre will pay host to two guitar-based bands who couldn't be further apart musically. Sacred Oath, the young and enthusiastic new heavy group will be playing their second gig in about a month at the centre and will no doubt be out to catch the legions of rock fans who have recently taken Wolfsbane and BHX to their hearts.
Playing with Sacred Oath will be a band new to most people – The Parade. The band, formerly known as The Visitors, are a powerful trio influenced by bands such as Stiff Little Fingers, The Buzzcocks and The Stranglers. As this probably implies, they play new wave orientated music – but the story doesn't end there.
"We are influenced by a lot of people but we have a sound all of our own," said guitarist Brian Lacey.
The Parade are a band who feel they have a point to prove and are determined to get away from the image that most people have tried to hang on them that they are a Jam-copy band.
"I never even listen to The Jam anymore and we sound nothing like them. I can't understand why people think we do, unless it's just because we are a trip," said Brian.
The Parade play a set of originals that vary in speed, feeling and sound and they are not sure who they will appeal to.
The Parade will be playing alongside Sacred Oath tomorrow night in a gig that kicks-off at 8pm. Tickets are just 50p and like tonight's show, an intriguing night is in prospect.
Tamworth Herald – 04/01/85
Musicbox – A5 route to success
A5 – Atherstone Memorial Hall
MORE than 300 people turned out to welcome A5 to a special Christmas gig at the Atherstone Memorial Hall in a good trouble-free atmosphere, the band launched straight into their set with the crowd-pleasing 'Activation'.
The first half of the lengthy set went down very well with the enthusiastic crowd but the band seemed to lose the audience midway through their show. One of the reasons was the distraction of three dancers who gave a spectacular performance during four numbers.
Eventually A5 won back the crowd and the best received song of the whole night was undoubtedly 'Love To You'.
A.F.
Tamworth Herald – 05/04/85
Musicbox – Gossip Box
The A5 does not exist anymore. No, the ancient road is still there, what we mean is that the Atherstone 'alternative' band have thrown in the towel.
The reason is listed as 'musical differences' which is rather sad as many people recognised the band as a welcome breath of alternative air.
The highly-talented guitarist Peter Fulleylove is now looking for a new band. Peter, who is into the Banshees, Big Country and U2, wants to hear from any similarly-influenced musicians in the area.
Tamworth Herald – 12/04/85
Musicbox – Gossip Box
A5 are still together. The band has not disappeared as we 'gossiped' last week – they have merely had a change of personnel – and sound. Singer Chris and drummer Steve have stayed together and recruited two new Tamworth-based members Bryan Robinson and Richard Reeves.
This according to Chris has taken the band along the U2 path but just to add more dimension to their sound, they now want a sax player.
Tamworth Herald – 21/06/85
Musicbox – SNIPS
AN EXPERIENCED guitar teacher who has helped bands as varied as Love On Board, Sacred Oath, the Royal Family and A5 has reported a couple of vacancies for would-be rock guitarists. Mr. S Harrop was formally a professional player himself and has been successfully teaching people for 11 years. He can teach any style of music but the majority of his pupils seem to be HM guitarists which says a lot about the current trends in the local scene.
Mr. Harrop comes highly recommended by several of his protégés so if you have a guitar and want to learn how to play it contact him.
The new-look A5, who have just released an interesting new demo (to be released shortly), have lined up a number of dates. They are due to be playing with Love On Board at the Arts Centre (June 28) and are to headline shows at Rugby (August 5) and Hereford (August 9).
The new line –up of the band is Steve Hayes (drums), Chris Edden (bass and vocals), Richard Reeves (guitar) and Bryan Robinson (guitar).
28/06/85
Love On Board
A5
Tamworth Arts Centre
Tamworth Herald – 28/06/85
Musicbox – No metal on a weekend full of gigs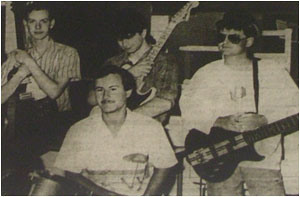 TAMWORTH ARTS CENTRE stages two impressive-looking gigs this weekend – and there isn't a heavy band in sight. For tonight the new-look A5 team up with the ever-hardworking Love On Board and then on Sunday night we have the partnership that gave us one of the gigs of the year – Breaking Point and The Magnets.
The two interesting looking gigs should provide ample evidence that Tamworth's non-heavy scene is alive and thriving. Recently several local music fans have been heard to moan that 'all we get at the Arts Centre is metal bands' but this weekend that
Theory can finally be laid to rest.
Tonight's show is vitally important for A5 who are now a totally different outfit to the Killing Joke style group who used to carry the same name. After the group's split, which came shortly after their bizarre show at the 'Battle of the Bands' contest, frontsman and bassist Chris Edden decided he would keep the A5 name and took the band's drummer Steve Hayes with him.
The duo then teamed up with two local guitarists Brayn Robinson and Ruchard reeves and suddenly A5 part two was born.
As well as shifting to a new sound, the band also now consider themselves as a Tamworth groups as opposed to an Atherstone one. With three members coming from Tamworth, A5 are now likely to be oncentrated more in this area.
And the sound? Well, Bryan and Richard have brought U2 and Big Country influences to bear on the band and the overall effect now is a neatly fused new wave guitar-orientated sound displayed perfectly on A5's entertaining new demo.
Love On Board, playing with A5 tonight, should need no introduction as they seem to have as many gigs under their belt as Elizabeth Taylor has husbands.
The group have revamped their sound of later and are now playing more intelligent Scottish pop with the triple guitar attack of Nick Reed, Glen 'Redneck' Lewis and Neil Jones and the enthusiastic beat of drummer John Twist.
If Love On Board need no introduction, what about Sunday's double-act the Magnets and Breaking Point.
The former is the longest surviving band in Tamworth while the latter is an outfit so weighed down with praise and hyperbole it is a wonder they can stand up! For the Magnets the gig will be another in a spaced-out series of shows to get the band in trim for the Bank holiday rock festival.
Image
They are still basically a synth band (they will probably never shake off that image) but over the past few non-Rikk Quaysian months, they have developed their sound along more traditional pop and rock lines. It all makes for a well-rounded and entertaining set and judging by the band's last show at the Arts Centre, a good reaction is certain.
Also, ready for a more-than-warm reception are Tamworth's most brash and brilliant act, Breaking Point. I have given up trying to describe the awesome strength of this band and now just beseech any lovers of fast, melodic, powerful music to pay an Arts Centre visit on Sunday night.
So, two most enjoyable looking gigs are on offer this weekend and with modest entrance fees for both, there is no reason why the Arts Centre shouldn't be packed on both nights. And if it isn't, well it will probably show that heavy music has the monopoly on fans as well as bands in the musically buzzing town…
Tamworth Herald – 12/07/85
Musicbox – So-cool crowdA5/Love On Board; Tamworth Arts Centre
A5 WENT on first and went down well with the local crowd having a fair response to the half hour set they delivered.
The opening number in particular impressed me – "She Came From the Ice Age" – A5 have a lot of edge. Another enjoyable number was a slower one, a love song titled "Without A Trace".
Love On Board, I felt, didn't produce one of their better performances, but two numbers stood out for me in their one hour performance – "Train Across The Canyon" and "Responsible For This" which showed their potential.
The crowd didn't go overboard, and I felt more appreciation should have been shown. There is a chance to catch both bands again on August 17.
J.C.
Tamworth Herald – 26/07/85
Musicbox – GOSSIPBOX
Also losing personnel are Atherstone-based Spirit of Water who have lost their bassist and have decided to pull out of the TamworthBank Holiday Rock festival at the Castle Grounds.
They will be replaced by first substitute, A5, who are delighted to have the chance to let the world hear their new-look sound.
Tamworth Herald – 16/08/85
Musicbox – SNIPS
Tomorrow night, two very different bands – A5 and Love On Board – will tread the Arts Centre boards. Both bands have recently come in for praise – A5 for their Arts Centre show last month and Love On Board for what was described as a lively, entertaining support slot to Dance Stance last week. Both gigs look very interesting and are both scheduled to start at 8 pm.
Tamworth Herald – 25/10/85
Musicbox – SNIPS
A5 have been lined up for an Arts Centre show this Sunday although at time of going to press there was no more details about the show or the support.
Tamworth Herald – 06/12/85
Musicbox – SNIPS
Tim Burgess, former keyboard player with A5 is on the lookout for a new band. Tim, an accomplished musician with a lot of keyboard equipment, is interested in playing with any sort of band although he stresses that he has no transport.
Tamworth Herald – 27/03/87
Musicbox – Of wolfs and other animals
IT WAS NICE to see Wolfsbane get their ugly mugs into the best selling HM magazine Kerrang! Last week. The only problem was that the photo didn't exactly mix with the information beneath it, and Wolfsbane were completely confused with another set of HM hopefuls! Still the band have already been on the phone and yet more coverage is promised in the future…
Also pleasing to see was that Polesworth's biggest star (!) Edwin Starr has contributed his powerful voice to the special Ferry Aid single "Let It Be". Edwin joined the likes of Paul McCartney, Boy George and Tony Hadley on the record which is due for release this week. Buy the record because it is for a very good cause, but as a piece of advice I wouldn't recommend playing it because it is HORRIBLE.
One of Tamworth's oldest and best known bands A5 have reformed. The group have just released another demo containing four songs (one entitled 'Sex baby') which the group feel very happy about indeed. They have got rid of what they saw as their over-produced sound, and refound their basics and their enthusiasm as the same time. The band are in action at the Crown in Nuneaton on Saturday night.
The Alley Cats who were delighted with their debut show at Kettlebrook recently, are on the lookout for a vocalist to complete their rockabilly outfit. The band who play music influenced by Fifties rock and roll and the stray Cats want good, strong singers to contact them.
Attica return to live action at Knights in Lichfield on April 15.
Tamworth Herald – 14/08/87
Musicbox – New age? New hope?
Final line/Jabberwocki/A5/New Age Gypsies – The Rathole
YES, an intriguing, divergent night this. Proof positive that new bands are emerging and appearing all the time, and yet more evidence that Atherstone is producing more musicians per head of population than just about anywhere. Anyhow, the facts and figures…
The Final Line
There isn't a lot I can say about these because I didn't see a minute of their set. Opinions varied afterwards but according to fellow Herald scribe they were 'sort of loud, danceable and very good'. Seems reasonable.
Jabberwocki
Not really my cup of tea all this. Jabberwocki were clearly aiming for an early Seventies sound, the sort produced by the likes of Family, which is about as alien to my culture as eating lizards. The best bits were the double usage of female talent, Dave Caswell's musicianship, the unusual instruments and a song called 'I Don't Remember'. The worst bits were an overlong drum solo which outstayed its welcome, a complete lack of onstage identity and presence and the fact that Jabberwocki were playing to totally the wrong audience. It all reminded me of the New Seekers actually. Anyone remember those anarchists?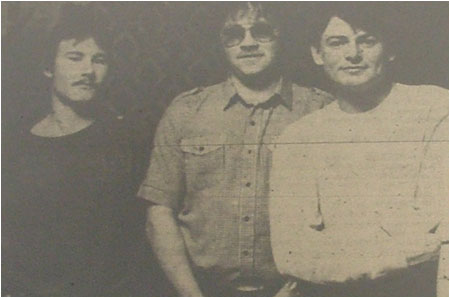 A5
Back with a bang. A5 have re-emerged from their lay-bys to produce probably their finest new collection of songs to date. The band's usual experimental ideas have now been joined by a gritty aggression which works on several musical levels. Guitarist Pete Fulleylove has developed a meandering Edge style sound, while Bassist Chris Edden has tuned his bass to that wonderful old Jean Jacques Burnel feel which carried the whole thing superbly well. Several fine numbers were revealed and I was left with the distinct impression that A5 could well be the (surprise?) hit of this years festival. Highly recommended noise makers.
New Age Gypsies
Whole lotta Zeppelin. The New Age Gypsies will feel well satisfied with this set which completely won over an admittedly very biased audience. It reminded me of a mixture between pre-punk rock (aka Zeppelin) and post-punk rock (aka the Cult) and this mixture proved curiously palatable even to those like me with (relatively) short hair. Steve 'Gong' Haddon is a charismatic, lively singer with a powerful voice and another mention must go to Rich 'Houdi' Hudson who clearly enjoyed testing and teasing his audience with his cocktail of axe-attacks. A band who will always have a market and who you will like better the longer your hair is.
Tamworth Herald – 30/10/87
Musicbox - SNIPS – Girls hit the road!
A5 – who have surprised and impressed a lot of people with their new style – look set to cause an even bigger stir.
For Steve, Pete and Chris have now added two female singers to their attack and the trio of troupers feel they will add a new dimension to A5's rapidly expanding musical canvas.
"The girls joined the band at the start of September and it is hoped they will make the group more versatile and appealing live," said Steve Hayes.
The two new lady A5'ers are Andrea Thompson and Angela Wheldon who will be helping out with vocals.
The group are hoping to record their debut single in the not too distant future although they have no immediate plans for any more Tamworth-based shows.
Tamworth Herald - 29/01/88
Musicbox – Triple attack of excitement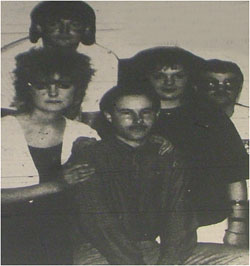 THREE of the area's most refreshing outfits team up tonight (Friday) for an exciting Arts Centre showcase. The rejuvenated, hard-hitting A5 will be joined by everyone's favourite pop-reggae combo Fetch Eddie and Atherstone's punch rock outfit New Age Gypsies. The triple attack of melodic pleasure was originally set up to be the first official parade of the debut singles by both A5 and Fetch Eddie.
Now, however, that seems unlikely although there is still a slight chance that Fetch Eddie's 'Too Much To Ask for', single may make its first appearance tonight.
When the Fetch Eddie single DOES appear, it is certain to make big waves both locally and beyond. The band have already gained a good reputation in Birmingham and their success in the MUSICBOX poll proves they have a lot of interest on the local scene.
As a live band they are strong and professional, and if you look good, entertaining pop then don't miss tonight's show.
Also bursting with confidence tonight will be headliners A5, the band who had hoped to release 'Society Girl' as their first 45 this month, have now put it out as a tape instead and it has already been played by the John Peel show. For those who don't know A5's music has a powerful new wave feel which mixes thumping bass lines with intelligent guitar work to produce a sound which leads to a plethora of comparisons. For the first time locally, the band will be introducing their two new female backing singers who have added a subtle edge to the raw, rock sound and should mean the band have even more to offer the listener.
Completing the show are Atherstonian's The New Age Gypsies, a band yet to play a bad concert at the Arts Centre. The group who came with a reputation as a 'hippy, hippy hooray' outfit have as much in common with groups like The Cult as with late-Sixties mindbenders and their overall attack is of meaty rock with unpredicatable edges.
The three band show (and remember it is tonight (Friday), not the traditional Sunday concert) looks set to be a highly-successful ear-battering covering everything from the pop lightweight to the Tyson heavyweight. It should be an enjoyable night out to get along and have a triple dose of delight.
Tamworth Herald - 01/07/88
Musicbox – SNIPS
A5 take part in another big show on July 2 when they join in the WolfLive 1988 Festival. The festival, at the General Wolfe in Coventry, will feature a host of bands over the next few weekends with A5 appearing alongside Dumpy's Rusty Nuts.
Tamworth Herald - 26/08/88
Musicbox – Snips
Tamworth pop band Sa Sa have announced details of their first ever concert. The group, whose commercial and intelligent tape impressed me a great deal , will team up with classic pop act Fetch Eddie and Atherstone favourites A5 for the show which which will take place at the Arts Centre on Sunday September 4.
Tamworth Herald - 02/09/88
Musicbox – Fetch the pop
TWO of the area's most established bands – Fetch Eddie and A5 – team up with a new Tamworth pop group on Sunday night for an interesting looking three band show at the Arts Centre.
The new band making their Town Centre debut are Sa, Sa, a four piece with a whole host of influences from Tamla Mowtown to modern day chart music.
For Sa, Sa it will be a very interesting and nervous night, but for the other two bands it will be somewhat of a less daunting experience.
Fetch Eddie of course have grown from strength to strength over the past few months and they now have a large and loyal following among Tamworth, Atherstone and Birmingham audiences. Only last week they played their second show at the famous Hummingbird (alongside Rape in Yellow and The Searching) and they are currently recording a special demo for CBS Records.
A5 will also prove a draw on the night. Their appearances in the Town are less frequent than in the past which mean they always tend to bring a surprise or two when they hit the stage. Basically, it is commercial guitar-driven post-punk sounds with a cutting edge and some very nice toons.
As for Sa, Sa, well they prefer to let people make their own mind up than put themselves in any convenient box. A couple of the members have been playing in bands for a long time but guitarist and singer Steve Holland finds it hard to put his finger on what makes Sa, Sa tick…
"I can't really describe our sound and it will be interesting to see what Tamworth audiences make of it," said Steve.
The rest of the band is made up of Steve Parkin (bass), Mark Ransome (keyboards) and a newcomer to the local scene, Lee Preece, who hails from one of Tamworth's most famous footballing families.
Sa, Sa. Fetch Eddie and A5 can e seen together at the Arts Centre on Sunday night and fine show in prospect. Get along and get smiling.
Tamworth Herald - 09/09/88
Musicbox – What a tasty trio of talent
A5/Great Divide/Sa, Sa – The Arts Centre
AFTER spending all afternoon indulging in some serious drinking at a Christening (congratulations to John, Angela and especially Anna Zsigo) the LAST thing on earth I needed was a gig.
But duty (or something equally perverse) dragged me out of bed to the Arts Centre and I was extremely glad it did. For here was a gig which was a little different from the norm and featured three separate musical formats under one exciting banner. It went something like this…
A5
One of their better sets methinks, mainly because of the OTT Rikk Quay mixing which brought out a lot of space and diversion in the A5 set. For once the band's trio of ladies made a beeline into the ears (and quite a successful entry it was too) and it helped give the band a depth and strength that broadened not only their sound but their appeal…guitar-based new wave had a stirring tune and an intoxicating atmosphere.
Sa Sa
A very accomplished show from a band whose debut-making nerves could not hide an obvious and promising talent. What we have here is something unique to Tamworth – a pure, unabashed and unashamed pop group – the sort which normally appeals to people who NEVER go to local concerts. Actually those that did make the effort on Sunday seemed very impressed by Sa Sa who came over as tuneful, talented quartet capable of writing, well-structured, clean, clinical pop music. Best tracks of all were the splendid 'Loving You' and the surprisingly gritty 'Its So Hard' which saw some spirited playing by guitarist Steve Holland. A word also to young drummer Lee Preece who, making his first-ever live appearance, turned in a superb show full of youthful enthusiasm and genuine, fluent talent. A fine show Lee and a fine show all round. A band to watch.
The Great Divide
And Great is the operative word. What we have here is the best thing to come out of Lichfield since the A51, a magnificent group who ooze three powerful qualities – class, style and refinement. Their influences clearly include a host of modern pop bands such as Orange Juice, Lloyd Cole, UB40, The Farmers Boys and so on, but it still sounds pleasingly fresh and alive. Their songwriting quality is staggeringly consistent peaking with 'Working Town' which is an absolute stormer. Elsewhere the band look superb, have a pleasing onstage persona and humour and come over as a pop band who shine like a beacon of tuneful hope in a national sea of pathetic pop. One hell of a group this, now just watch them GO!
SAM HOLLIDAY
Tamworth Herald - 09/09/88
Musicbox – SNIPS
A rare event happens tomorrow (Saturday) a gig in Atherstone, The event at the Kings Head pub is part of an all-day fundraiser which climax on the night with the appearance of local heroes Catch 23 and A5, A god time is promised to all that attend and as Atherstone is not exactly renowned for having mega amount of gigs, a big crowd is a certainty. The bands are expected to be on between 8-10pm.
Tamworth Herald - 09/12/88
Musicbox – SNIPS
A5, who have been hard at work in the studio of late, are hoping to release a greatest hits compilation very shortly. The band have compiled an 11 track selection from their past hectic few years which trades under the title of 'From Then until When'. Hopefully we will have this with us shortly and we may have one to give away in a special competition.
Tamworth Herald - 23/12/88
Musicbox – Christmas spirit aplenty
TAMWORTH Arts Centre stages it's VERY last Christmas party tonight (Friday).
Three bands are on offer for those who fancy some Christmas spirit (along with their Christmas spirits) and those on offer are A5, The Space Seeds and The First Conspiracy.
Headlining the show are much vaunted A5, who have scored very well in this year's poll. The band who have been around for so long now they have just released an 11 track 'greatest hits' album (review to follow) see this as a fine end to a productive year for the six piece. They have played a host of gigs, had radio exposure and sessions in the Southern counties and are bristling with the same confidence that first brought the band together.
Alongside the established A5 are two oldish bands with newish elements. The First Conspiracy of course recently debuted their new drummer Simon Harvey and a jolly good time was had by all. They will clearly hope to repeat the splendid exercise tonight.
Completing the show are The Space Seeds. They will be making their first appearance since Julian Amos came in to replace former singer Martin Kelly and according to band spokesman Mark Mortimer, it should be an 'interesting' experience.
"We are not completely ready as yet to be honest but we felt we wanted to do the show," he said. The three bands combined make for a very different and interesting...so make your way to the Arts Centre tonight.
I can't say it will improve your Christmas hangover at all but I can say you will have BIG fun.
Tamworth Herald – 06/01/89
Musicbox – The bands they are-a-changing



A5 – Greatest Hits Demo
WHEN a local band is able to put together a strong and varied 11 track greatest hits cassette, you know they have been around for sometime
A5, in their various guises have been around for at least five years now and although their sound has diversified and matured during that time it has always retained that basic individual style that makes it immediately recognisable and immediately accessible.
This unique and enterprising package shows the band for what they are – a determined and persistent outfit oblivious to outside trends and fashions and capable of producing moments of poignant songwriting skill.
It is not by all means brilliant of course. The early tunes do seem a little overtly complex and repetition is creeping into their latter material, but there are still moments of real quality. The best three to these ears are 'She Called The Storm' (from 1984 and a complete stunner), the naggingly catchy 'Exposure' and best of all the triumphant 'Society Girl' from 1987 which sounds all the world like Killing Joke to me.
The best thing of all about compilation tapes however is that you may feel totally different. There are, after all, 11 tracks to sift through to find your faves and I guarantee you will have a good time doing so. An interesting and ambitious idea this from a band whose staying power means that the second greatest hits package should be around in another brief five years…
Review by Sam Holliday
Tamworth Herald – 10/02/89
Musicbox – News, Snips
Winner of our A5 compilation tape (and festival album) is Gloria Coutts from Bloomfield Way, Coton Green who correctly spotted that (and I quote) 'the fantastic Catch 23 come from Atherstone'. Good taste as well as a good answer.
Tamworth Herald – 24/02/89
Musicbox – SNIPS
A5 are looking forward to two very major concerts next week. As well as teaming up with Wolfsbane at Lichfield on Friday March 10, the roadworthy A5 will headline a major concert at 'Lozelles' club in Milton Keynes on Tuesday March 7. A5 have built up quite a following in Milton Keynes (yes I know it sounds strange but it's true) and they feel that a good show on the night could open up many doors for them.
Tamworth Herald – 25/05/89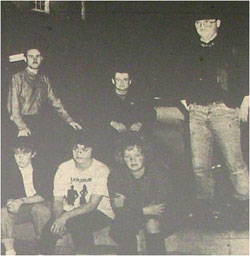 Musicbox – A5's Wilko boost
A5 who have made quite a name for themselves n Northamptonshire of later, have secured a prestigious support slot next weekend.
For on June 3, A5 who are one of our most endurable and long-staying outfits, will team up with legendary r and b rocker Wilko Johnson in a concert in Northampton.
Wilko, who has a string of successful solo works to his credit, will headline the gig at Roadmenders in Northampton and A5 are expecting a good turnout after recent gigs in the area produced quite an A5 appreciation society.
"We regard this as probably the biggest gig we have had," said drummer Steve Hayes. "We are all looking forward to it and we are confident that it might lead to other things in the near future."
The band will be taking a coach down to the show.
---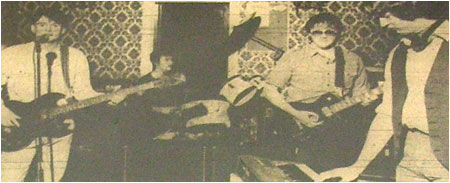 Caption: A5…a powerful and exciting nine-song set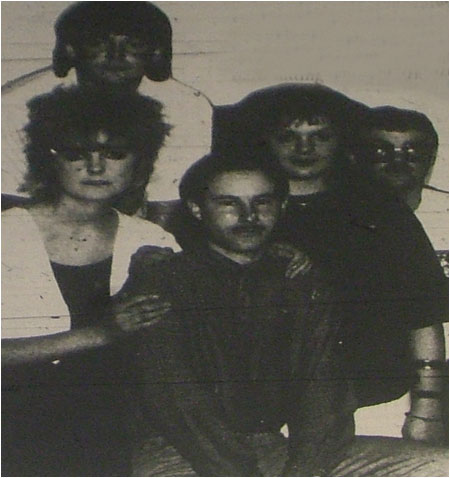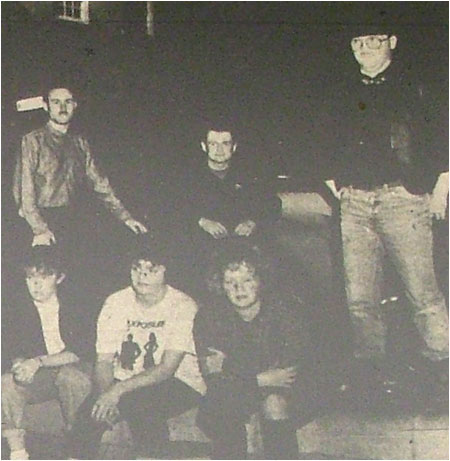 If you have any further information about this band please email: info@tamworthbands.com