Lambent Lamella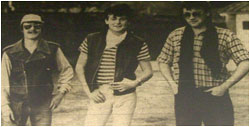 Lambent Lamella
Photograph courtesy: Tamworth Herald

The Gallery
Musical Genre/Type: Pop
Formed: 1983
Band Members:
Chris Edden (Bass and Lead Vocals)
[Also in: A5]
Steve Hayes (Drums and Backing Vocals)
[Also in: A5]
Pete Fulleylove (Lead Guitar and Backing Vocals)
[Also in: A5]
Gigs:
13/05/83
Those Attractive Magnets
Lambent Lamella
The Chequers

20/05/83
Those Attractive Magnets
Lambent Lamella
The Chequers

21/05/83
Those Attractive Magnets
Lambent Lamella
Nuneaton Arts Centre
04/06/83
Those Attractive Magnets
Lambent Lamella
Nuneaton Arts Centre
Tamworth Herald – 13/05/83
Musicbox – Chequers 'double'
A SPECIAL double-header gig takes places at The Chequers, Hopwas, near Tamworth tonight (Friday).
Tamworth electronic outfit Those Attractive Magnets will be appearing with Atherstone three-piece Lambent Lamella.
It's the first of a couple of gigs at the Chequers featuring both bands. The other is next Friday.
Look out for a Musicbox focus on Lambent Lamella in next week's Herald.
Tamworth Herald – 20/05/83
Musicbox – RETURN OF TALENTED 'LAMBENT'
TONIGHT (Friday) sees the second gig in a week at The Chequers in Hopwas by three-piece Atherstone band Lambent Lamella.
They will be appearing alongside Tamworth's popular Those Attractive Magnets.
Formed in Atherstone in August '81 – the trio of Chris Edden (bass and lead vocals), Steve Hayes (drums and backing vocals) and Pete Fulleylove (lead guitar and backing vocals) have had considerable live experience.
They have gigged regularly since their formation and their achievements include reaching the regional finals of a Musicians Union-sponsored talent contest for up-and-coming bands.
Their only previous gig in the area before last week's Chequers appearance was at Tamworth's Tavern in the Town – fast becoming the major live venue in the area.
The band have recorded a three-track demo tape – under the name of The Graphics – at Steve Adams' Birchmoor studio, which attracted tentative interest from a couple of major record companies.
Contract
Plans are in the pipeline for them to go back into the studio to record another demo tape, but this time the band hope to persuade independent labels to offer them a contract.
Unwilling
Although unwilling to be classified musically (so what's new!) the threesome say their music can be compared to Siouxsie and the Banshees and The Cure.
"But we prefer to call it Bohemian," said Chris.
The band follow up their Chequers gig with performances at Nuneaton Arts Centre tomorrow (Saturday) and on June 4.
Tamworth Herald – 03/06/83
Musicbox – SUPERB MAGNETS
Those Attractive Magnets, Lambent Lamella: The Chequers
WHEN Those Attractive Magnets announced that the last song in their set at The Chequers was called 'We're Survivors', the irony of the title hit me immediately.
The Magnets are without doubt Tamworth's most resilient musical survivors. For seemingly years they have been trying hard to get the Tamworth public behind their own brand of synth-pop and they have stuck at their task with impressive determination.
And even more impressive than that is the fact that their sound, rather than decaying, really sounds fresher and more entertaining than ever. The performance at The Chequers, which incidentally, the band thought was below standard, was quite superb and certainly the most enjoyable concert I have ever seen from them.
The sound was skilfully layered and precisely mixed and they really appeared as a very tight and professional group. They also seemed to be more relaxed and positive about their music and clearly enjoyed the concert allowing their personalities to show through more than ever.
Rikk Quay even reminded me of Ten Pole Tudor at one stage with his lively banter and the enormous grin that was a permanent fixture on his face.
Success
The band's best numbers on the night were 'The Age of Innocence', 'Survivors' and best of all 'Nightlife' which was simply excellent.
I hope The Magnets continue to 'survive' because surely it is only a matter of time before they achieve the success they deserve.
I was looking forward to seeing Lambent Lamella, the second band on The Chequers' bill, for a number of reasons.
They have released a demo tape which I had been told was 'brilliant' and they listed among their influences Siouxsie and the Banshees and The Cure. Would they be another Unknown, I asked myself?
No, I answered shortly after. Lambent Lamella's half-hour set proved to be as exciting and inspiring as a visit to the Bull Ring.
They chose to hide a bunch of good ideas behind an ear-piercing wall of noise that succeeded in making about three-quarters of the audience head for the exit.
This was a shame because Lambent Lamella are a band with a lot of talent – if not at choosing a name for the group.
Guitarist Steve Fullylove is particularly promising and inventive and the band appear to have a good sense of togetherness and stage presence.
I think they should concentrate on getting the same effect live as apparently they do on tape.
---
Lambent Lamella