Spirit of Water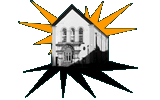 Musical Genre/Type: Rock
Formed: 1978 Split: 1986
Band Members:
Steve Haddon – Lead Vocals (Atherstone)
Dylan Haddon - Lead Guitar/Backing Vocals (Atherstone)
Paul Lewis - Bass Guitar/Backing Vocals (Atherstone)
Terry Smith – Drums (Atherstone)
Dave Mercer - Keyboards/Backing Vocals (Atherstone)
Band Variations
Variation No.1 - From: 1978 to 1982: Terry Smith Drums; Paul Lewis Guitar; Brad Riley Bass; Relly Albrighton Guitar; Bert Herp Vocals
Variation No.2 - From: 1982 to 1983: Terry Smith Drums; Paul Lewis Bass; Brad Riley Guitar; Jeff Haddon Guitar; Steve Haddon Vocals; Chris Price Guitar
Variation No.3 - From: 1984 to 1986: Terry Smith Drums; Paul Lewis Bass; Dylan Haddon Guitar; Steve Haddon Vocals

Songs
The Fox - Dylan Haddon & Brad Riley
Heart of the Beast - Steve & Dylan Haddon
Armageddon - Paul Lewis & Dylan Haddon
Cross the Star & The Heart - Dylan Haddon
Cold Heart - Steve & Dylan Haddon
Recordings
Armageddon - Demo Tape
Tracks: Spirit of Water
Gigs:
12/11/82
Exodus
Ethis
Spirit of Water
Corrupt Youth
Cosmic Emotion
Polesworth School
19/01/85
Spirit of Water
Caprice
Tamworth Arts Centre
21/06/85
Spirit of Water
Power Play
Tamworth Herald Features:
Tamworth Herald – 29/10/82
Musicbox – Farewell – and hello
A MAJOR four-band gig, including a farewell performance by the popular Exodus, is to take place at Polesworth School on November 12.
Other bands on the bill are Spirit of Water, Cosmic Emotion and Corrupt Youth.
Brothers Geoff and Dylan Haddon, of Exodus will be making two appearances at the gig, for they have each joined different bands.
Geoff has teamed up with his other brother Steve in Spirit of Water, while Dylan has formed Cosmic Emotion.
Spirit of Water also includes Terry Smith and Paul Lewis.
Cosmic Emotion, apart from Dylan, consists of Brad Riley, Tony Bradford and Tracey Wykes, while Corrupt Youth's line-up is Cooky, Aky, Clogger and Shazz.
Steve Wallbank, Chris Price and Richard Banks will be joining Geoff and Dylan for Exodus' final performance.
Looks like a great gig in store. Make sure you get there.
Tamworth Herald 07/12/84
Musicbox – Bubbling spirits brim with style
Spirit of Water – Demo
THERE IS nothing more refreshing than a god shock to the system. For that is exactly what I received when I put Spirit of Water's debut demo onto the cassette deck.
I expected to hear fairly average rock music with just a touch of individualism to mark it from hundreds of other similar demos. But instead I was treated to one of the most inventive and professional local demos I have heard all year.
It is a tape brimming with style and innovation which reveals that there is a band who should not be ignored.
Best of all the three tracks on offer is an irresistible number called 'The Fo?' which has a distinctive Sweet style rhythm section and a luscious, atmospheric very reminiscent of early Yes.
Once again Dylan Haddon's vocals shine through and there is also the tasty Nigel D. keyboards which supplement the overall sound.
Spirit of Water are a tight intelligent quartet who deserver far more credit than they so far been given. They are currently looking for gigs in the Tamworth area, so anyone who wants to play alongside a band bursting with ambition and genuine promise should get in touch immediately.
Sam Holliday
Tamworth Herald 14/12/84
Musicbox – Snips
SPIRIT of Water currently lining up a gig with Caprice have sent out a call for a new drummer and guitarist. Spirit whose primary influence is T. Rex , want people who are totally dedicated and willing to give 100 per cent to the band.
Talking of Caprice, they too are keen to expand their line-up and are seeking another guitarist to supplement their sound. Preferably the band want someone who could double up on keyboards to broaden their sound.
Thanks to: Steve Haddon
Tamworth Herald – 18/01/85
Musicbox – Mature rockers all set for a mystic night
TWO BANDS who are desperate to make a big impact on the Tamworth scene, team up tomorrow for an Arts Centre gig with a difference.
Spirit of Water and Caprice may not be the most fashionable of bands in the current Tamworth atmosphere, but both have promised to try and win over neutral spectators with a show of original talent.
Democratically there will be no 'headlining' outfit but by virtue of Spirit of Water's reduced set, they will be going on first.
The reason for the set shortening is the loss of the Spirit keyboard player who contributed enormously to the band's excellent first demo tape.
To any of you who may not know the sound they aim for is a T-Rex/Springsteen feel which blends the old rockist traits of the Seventies, with the more passionate moods of the Eighties.
With two such superb influences, the band can hardly go wrong and they certainly won over many people at their last Tamworth appearance – at the Bank Holiday festival.
They are a band with a future and they are hoping many people will go along tomorrow and give them a boost in the hope of bringing that future just a little bit closer.
A band also waiting to springboard into your hearts are the cheery trio, Caprice. The group, a sort of serious man's good time rock and roll band, play a set that is as diverse as a box of liquorice allsorts – but not half as sickly.
At times they are intense, at others frivolous, but they are always very enjoyable.
In many senses this will be something of an old fashioned rock gig – both bands feel they attract quite a mature audience – but there is still plenty in their sets to appeal to the younger elements.
According to Caprice captain, Mike Fleming, this will be an 'amazing mystic experience – a blending of the spirits, that of the forest of Pan and the Spirit of Water.'
If you want to know what the blazes that means make sure you get along to the Arts Centre tomorrow night at 8.15 for a very intriguing looking gig.
S.H.
Tamworth Herald – 25/01/85
Musicbox – Tasty mixture on this menu full of variety
Spirit of Water/Caprice – Tamworth Arts Centre
Is it fair to judge a sandwich after only tasting its filling? This was the vexing question that was on my mind after only seeing the middle bit of the concert. Should I review it even if I missed out on the first and last course.
I decided Yes because although I caught only half of both band's sets, there was plenty in them to give me a firm indication of what both outfits have to offer.
The first thing that strikes you about Spirit of Water is that they seem to belong to a long gone generation – each one looks like a member of the Charles Manson family and lead singer The Witch Doctor could have stepped right out of the flower power era. But the image is not sustained musically.
Slicing guitars and melodious vocals combine to produce a sound that has as many modern influences as it has psychedelic connotations.
The T Rex feel is strong throughout and occasionally the band dip into almost gothic new wave rhythms and ideas. It is all a very enjoyable mixture played by four very professional musicians who obviously know exactly what sound they want – and frequently achieve it.
They are definitely a band to look out for, and their impressive reception proves that people are already starting to listen.
Caprice also look as if they stepped out of the pre-punk world, unashamedly sporting long haircuts and even – wait for it – flared trousers!
But their sound is far from archaic. It appears to cover a very wide spectrum starting at one extreme with Dire Straits AOR and switching at the other to buoyant rock and roll which could easily make a stake in the pop world.
Musically the band seemed a lot tighter – and more confident – than I have ever seen them before, and they were helped even more by the increasingly positive visuals of "The Girls From The Bus Stop" who are playing an ever growing part in building up the band's image.
The best number I heard was a touching – and obviously heartfelt – song called 'Love Lies Bleeding' (which has nothing to do with the Breaking point song of the same name.
Fiery
Here the seductive guitar sound, almost whispered vocals and female harmonies help to create an infectiously romantic mood. But typically, caprice went straight into a ripping onslaught on a fellow Tamworth bands, with a fiery version of 'Snake In the Grass' which illustrated perfectly the two extremes that make Caprice such an entertaining outfit.
So, an incomplete sandwich but still nevertheless a tasty one. Next time, I may try to catch the other ends of both sets, then I can really make a meal of the review.
Tamworth Herald – 22/02/85
Musicbox – Shock waves on battleground
Smashing time as riot hits stage
TOMORROW night Tamworth Arts Centre will play host to the final of the keenly-fought 'Battle of the Bands' contest.
The final, featuring five groups will be the culmination of four strong heats, the last of which is at the Arts Centre tonight (Friday),
Already the contest has attracted great interest and has been packed full of surprises and controversy.
It all began last Thursday when three very different acts – Dance Stance, One On One and The Original Royal Family took to the stage.
Controversy started to rage however, when one of the five judges was disqualified for walking out half-way through the gig of the last band The Royal Family. The disqualification gave One On One a clear victory, making them the first band into the final – and therefore the Bank Holiday rock festival.
Overflowing
Twenty-four hours later at the Arts Centre a packed-to-overflowing audience saw an amazing four-band contest. Childs Play opened the proceedings with their former guitarist, who had been dragged out of the bar because their normal player had disappeared!
The shock continued when Vicious Malicious – an unholy alliance of Select Elect and The Elusive They took to the stage and proceeded to smash up guitars and tape recorders as well as run riot with a chainsaw. The word was bizarre. All part of the act, of course.
And, if that wasn't enough of a culture shock to the audience, then the new Pulsebeat, who after starting cautiously, had the whole crowd on their feet with some brilliant, individual guitar playing.
By now nothing could be surprising – but last band Scarab almost were. They came on and gave a blinding show bashing out 100mph rock anthems which sent their loyal fans into a state of acute frenzy. They threw in volcano-style fireworks, flashing lights and fake blood to provide a riveting performance. Needless to say they won, so booking their automatic place in tomorrow's final.
The third heat was held last night (Thursday) and one of the following four acts will be in tomorrows final – Ideal Standard, Spirit of Water and Sitting Pretty.
The final heat will be tonight when Breaking Point, BHX, Sacred Oath and Caprice will battle it out.
Each of the acts has a lot going for them and predicting the result is extremely difficult.
BHX have proved their status by being offered several dates all round the country; Sacred Oath are now back fresher and more determined; Caprice get more confident with every gig and Breaking Point are Breaking point.
Surpassed
Don't forget there will also be a place in tomorrow's final for the highest scoring runner-up during the whole contest.
On the first two heats, Childs Play and Pulsebeat both with 59 points held second equal though it is likely that this total will be surpassed tomorrow night.
So an extraordinary night is in prospect. The finalists will be given only 20 minutes to impress the judges that they are Tamworth's top band. The overall winner will be invited to play at the Young People's Arts festival night in March where they will also be presented with their winning trophy.
Saturday's final starts at around 8pm and entry is 60p. it is going to be packed to the rafters so people are advised to arrive early to enjoy this potentially tremendous occasion.
SAM HOLLIDAY
Tamworth Herald – 01/03/85
Musicbox – Cream of the bands surfaces in fine battle
LAST SATURDAY saw the climax of one of Tamworth's biggest ever rock contests – with the trio, Breaking Point, being hailed as the town's top band.
Fore the past fortnight, Tamworth's music scene has been monopolised by the "Battle of the Bands" competition. It has been a full-blown fight between 16 competitors to find out the cream of the local groups.
After a series of heats which have seen musicians smashing up their instruments on stage, lead singers "bleeding" fake blood, a judge being disqualified for seeking refuge in the bar during the heat of the action and the Arts Centre filled to the brim night after night, there was no knowing what would appeal to the judges of the final.
Breaking Point did. The three musicians delivered a potent package with professional verve. Where other bands leaned heavily on the impact of barrages of sound, they concentrated on detail. Vocals were clear and rhythm and bass powerful and gripping.
Breaking Point were awarded 88 points out of a possible 100 and will receive their trophy at the Young People's Arts Festival night later this month.
Five bands qualified for the last leg of this sonic spectacular. The five brought with them the crowds of faithful fans who were packed like sardines into the rainbow-lit auditorium.
Unlike sardines they represented five wildly different types of music. The discrepancies of opinion in the audience were mirrored in the judges' panel…each judge showed a tendency towards extreme reaction to the bands – they loved them or hated them.
Poor imitation
Joint fifth place went to BHX and Spirit of Water. BHX were the first to perform and it was a disappointing start to the evening. The band were a poor imitation of some of the more forgettable heavy-metal groups.
No matter how much the vocalist screamed and bawled, he didn't manage to put himself over at all. I did detect a melody at one point but it fizzled out pretty soon beneath the drummer's monotonous onslaught. I hear BHX have a national tour on the cards. Perhaps they were having an off night?
I was surprised that Spirit of Water didn't do better. There was plenty of variety in their performance and the group had the advantage of a talented vocalist. They were seen at their best in their final number called The Fox.
One On One were placed next. They produced a well rounded sound though unfortunately the performance was a little disturbed by microphone trouble.
The outrageous Scarab were the runners-up. If there had been a prize for the highest number of decibels achieved, they certainly would have won. After the fireworks, the fake blood, the amazing verbal ad-libbing from the band and the blatant flouting of the 20-minute time limit. I scarcely noticed the music. But frenzied fans seemed to like it. And that, as the lead singer pointed out in no uncertain terms, is what it's all about.
Tamworth Herald – 21/06/85
Musicbox – In the Spirit for a special night of rock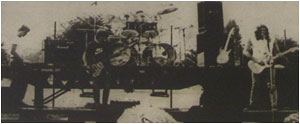 TWO ROCK BANDS keen to gain a foothold in Tamworth music scene, take to the Arts Centre stage tonight.
Topping the bill will be the Atherstone-based Spirit of Water, an energetic rock outfit who made many friends when they recently turned on the style in the 'Battle of the Bands' contest.
And making their Tamworth debut with them will be Power Play, a new and potentially exciting outfit who are intent on serving a unique rock and roll brew for eager Tamworth audiences.
Power Play have only been together a matter of months but already they have built their own style and sound. They say they want to play songs based on sleazy back street bars and fast American cars, and nor surprisingly, their influences are listed as people like Bryan Adams and Bon Jovi.
It is rock music, which the band are convinced will appeal to more than just 'rock' fans.
"We feel that we fill a gap in the Tamworth music scene and we also feel we could capture a larger section of the Tamworth audiences than most bands," say the group.
The band line as Mike Simpson (lead vocals), Graham Phelps (lead guitarist), Billy Campbell (rhythm guitar), Alan Page (bass) and Rob Chivers (drums).
Although not all the band members are completely inexperienced, this will be their first stage performance together – and it is something that they are all keenly awaiting.
Also looking to tonight's show with enthusiasm are Spirit of Water. The group now describe their sound as 'black metal' as it combines the heavy end of the rock spectrum with the more melodious rock and roll end.
Guitarist Dylan, for example, makes no secret of his love for Trex and that influence plus a very healthy Springsteen appreciation, makes them a tasty live treat to most rock fans.
"I think we have gone a bit heavier recently but we still think our music can appeal to a lot of people and we are also looking to boost the image of the band to make us more visually enjoyable." Said Dylan.
So an interesting – and rather special night of rock is in prospect – if all begins at 8pm so don't miss out!
Tamworth Herald – 05/07/85
Musicbox – Black Spirit, super 'power'
Spirit of Water/Powerplay: Tamworth Arts Centre
FROM the moment that the set opened, to nearly an hour later, I could see that the Atherstone 'Black Metal' merchants, Spirit of Water were not playing anywhere near their usual standard.
As they began to play their doomy opening number, it became apparent that the show had not been properly organised. First, the curtains failed to open, and when they did, the houselights were left on, and the stage lighting was non-existent.
The band themselves sported another new 'image' with inverted cross mikestand and dark 'satanic' make-up. The songs were moody and depressing, giving over quiet a corny 'Black Sabbath' feel.
This was met with only limited audience appreciation. One brief respite however was embodied in the old favourite 'The Fox' which I think is one of the group's best-ever creations.
After a relatively short interlude. Powerplay hit the stage. Boasting ex-Childs Play guitarist Graham Phelps on lead guitar, the band played an excellent debut set of well-written songs raging from quiet pieces in the Brian Adams/Bruce Springsteen genre, to some good old raunchy rock 'n' roll numbers which were almost in the style of early AC/DC! One particular song which springs to mind had certain nameless members of the audience bouncing in their seats with the sheer energy and excitement of it all.
The set only suffered one major problem when the bass amp ceased to function, but this was soon remedied by the kind loan of Spirit Of Water's amp to save the evening.
Overall, the band put on an extremely entertaining show. Mr. Phelps' guitar work was melodic and articulate and with a great rhythm section to back him up, the vocalist gave a performance which increased in confidence and power as the show went on. I look forward to seeing how this band progress in the near future, because after such an impressive start they must surely go on to great things.
K.E.V. (Musicbox Metal Correspondent)
Tamworth Herald – 26/07/85
Musicbox – GOSSIPBOX
Also losing personnel are Atherstone-based Spirit of Water who have lost their bassist and have decided to pull out of the TamworthBank Holiday Rock festival at the Castle Grounds.
They will be replaced by first substitute, A5, who are delighted to have the chance to let the world hear their new-look sound.
Tamworth Herald – 08/11/85
Musicbox – SNIPS
Spirit of Water have re-emerged from their murky depths with the new name of Spirit Lake. Now the band want a drummer and bassist to help re-capture the band's original musical vision of a T-Rex/Springsteen style, powerful rock band. If you want more details contact Dylan.
Tamworth Herald – 07/08/87
Musicbox SNIPS
More details have filtered through about new Atherstone-based band Kubla Khan. The group who are made up of Brad Riley, Mark Emerson, Dave Merrca and Tez Smith were all once involved with the popular Spirit of Water and have adopted many of their ideals and styles. "We are aiming to be a bit of a mystery band and when we start gigging, the punters will be pleasantly surprised" said bassist 'Emo'.