Idea Standard
Musical Type/Genre: Alternative
Formed: 1984 Split:
Band Members
Derek : Vocals
Mark Taylor : Guitar
Gigs:
03/01/85
Ideal Standard
Tamworth Youth Club
11/01/85
Ideal Standard
The Parade
Coleshill Town Hall
Tamworth Herald – 04/01/85
Musicbox – Band's debut was far from Ideal
Ideal Standard – Tamworth Youth Club
TAMWORTH Youth Club isn't the ideal place in the world for a gig – and especially not on a Wednesday.
For at this, the Standard's debut solo performance in Tamworth, the band were met with a less than enthusiastic response and vocalist Derek even had to say "pretend it's a Dream Factory gig!"
However, when Mark Taylor's opening chords of 'I Will Follow' rang in the air, all heads turned. It is obvious that the band are fond of U2, especially Mark who sported an 'Unforgettable Fire ' t-shirt and had U2 stickers on his guitar. The group who played 'I Will Follow', 'New Years Day, Jam covers and two originals.
After the excellent performance the band told me that they felt because they came from Coleshill the audience were holding back and that their forthcoming Coleshill Town Hall gig would be more successful.
There are obvious influences in the band but if U2 are Ireland's favourite sons, the Ideal Standard's are Coleshills.
ROBERT CROSS
Tamworth Herald – 11/01/85
Musicbox – Ideal set for home debut
IT'S A big night for Coleshill music fans tonight with the first 'home' appearance by promising outfit Ideal Standard. The band who were drafted in as late support for Scarab last week, will be in action tonight at Coleshill Town Hall.
The band, who boast U2 and The Jam as their two greatest influences, will be playing alongside the excellent Parade in a night that promises to be very enjoyable.
So don't miss out – show that Coleshill wants to get something going, and support both these bands tonight.
Tamworth Herald – 22/02/85
Musicbox – Shock waves on battleground
Smashing time as riot hits stage
TOMORROW night Tamworth Arts Centre will play host to the final of the keenly-fought 'Battle of the Bands' contest.
The final, featuring five groups will be the culmination of four strong heats, the last of which is at the Arts Centre tonight (Friday),
Already the contest has attracted great interest and has been packed full of surprises and controversy.
It all began last Thursday when three very different acts – Dance Stance, One On One and The Original Royal Family took to the stage.
Controversy started to rage however, when one of the five judges was disqualified for walking out half-way through the gig of the last band The Royal Family. The disqualification gave One On One a clear victory, making them the first band into the final – and therefore the Bank Holiday rock festival.
Overflowing
Twenty-four hours later at the Arts Centre a packed-to-overflowing audience saw an amazing four-band contest. Childs Play opened the proceedings with their former guitarist, who had been dragged out of the bar because their normal player had disappeared!
The shock continued when Vicious Malicious – an unholy alliance of Select Elect and The Elusive They took to the stage and proceeded to smash up guitars and tape recorders as well as run riot with a chainsaw. The word was bizarre. All part of the act, of course.
And, if that wasn't enough of a culture shock to the audience, then the new Pulsebeat, who after starting cautiously, had the whole crowd on their feet with some brilliant, individual guitar playing.
By now nothing could be surprising – but last band Scarab almost were. They came on and gave a blinding show bashing out 100mph rock anthems which sent their loyal fans into a state of acute frenzy. They threw in volcano-style fireworks, flashing lights and fake blood to provide a riveting performance. Needless to say they won, so booking their automatic place in tomorrow's final.
The third heat was held last night (Thursday) and one of the following four acts will be in tomorrows final – Ideal Standard, Spirit of Water and Sitting Pretty.
The final heat will be tonight when Breaking Point, BHX, Sacred Oath and Caprice will battle it out.
Each of the acts has a lot going for them and predicting the result is extremely difficult.
BHX have proved their status by being offered several dates all round the country; Sacred Oath are now back fresher and more determined; Caprice get more confident with every gig and Breaking Point are Breaking point.
Surpassed
Don't forget there will also be a place in tomorrow's final for the highest scoring runner-up during the whole contest.
On the first two heats, Childs Play and Pulsebeat both with 59 points held second equal though it is likely that this total will be surpassed tomorrow night.
So an extraordinary night is in prospect. The finalists will be given only 20 minutes to impress the judges that they are Tamworth's top band. The overall winner will be invited to play at the Young People's Arts festival night in March where they will also be presented with their winning trophy.
Saturday's final starts at around 8pm and entry is 60p. it is going to be packed to the rafters so people are advised to arrive early to enjoy this potentially tremendous occasion.
SAM HOLLIDAY
Tamworth Herald – 29/03/85
Musicbox – Gossip Box
We start this week with a curious tale. As you may remember, a couple of months ago, Love On Board lost their lead singer Neil Jones because he had "academic commitments" in Great Yarmouth. The band placed an ad in MUSICBOX for a new singer and lo and behold a gentleman named John Minnion turned up as the saviour. But the marriage didn't last very long. John it seems didn't understand Love On Board's bizarre sense of humour and so he disappeared. But Love On Board didn't panic they just found another lead singer. His name? Neil Jones, the same Neil Jones who left originally. Let's hope the line up strikes lucky second time around.
Also striking for success are Ideal Standard who have just released their first-ever demo tape. According to sources the tape is excellent and the first batch of 25 have been sold already. Hopefully we shall be reviewing the tape next week.
Tamworth Herald – 05/04/85
Musicbox – Forget the gimmicks, it's simply Ideal
Ideal Standard – Demo review
FOR many bands the first trip into the recording studio provides a chance to experiment with all sorts of technical tricks and electrical toys.
Occasionally this helps a group add more dimension to their songs, but more often than not it leads to the tunes being rendered unrecognisable as they are weighed down with often ill-conceived diversions.
So it is very refreshing to hear a band who have gone into the studio and resisted all the temptations to experiment in favour of keeping their songs as pure and powerful as their live performance.
For this is exactly what Ideal Standard have done. This tape, which has already sold an impressive 50 copies, is a faithful reproduction of some quite excellent numbers which show that Ideal Standard are very much a name for the future.
The best track of all is without doubt 'Silent World'. Placed second on the tape (although it certainly should have been first) it shines like a beacon as an example of a well-structured and very catchy tune.
Similar to The Parade's 'A Kind of Loving' it has the sort of tune that you can't get out of your head, and is very reminiscent of The Jam and The Undertones at their melodic best.
Thoughtful
The Jam also play a big part in the third track on the tape 'Abstract Town'. This is a very intelligent, thoughtful number which in theme and lyric is very similar to the jam classic 'That's Entertainment'.
It takes the listener on a tour of faces and places that are instantly recognisable, and is helped by another imaginative and endearing melody. Sandwiching these two mini classics are two numbers which show the strong U2 influence on the band's music.
Guitarist Mark Taylor dominates the opener 'Sounding Neat' with a tremendous example of fluent, inventive guitar work which helps to carry a song which is punchy but somewhat lacking in direction.
It is still, however a strong number, which improves with hearing as does the last track on the tape the bouncy, lively 'Adding Colour'.
This again brings together U2 ingenuity with Undertones simplicity and gives vocalist Dek a perfect opportunity to use his very strong voice.
So all in all a very impressive tape which shows that you don't need to use and abuse every studio gimmick you find to make an impression. If only Ideal Standard had made 'Silent World' the opening track it would have been even better, but that apart, it really is difficult to criticise this very enjoyable debut release.
SAM HOLLIDAY
Tamworth Herald – 26/04/85
Musicbox – SNIPS
A killer of a show
Ideal Standard, the tight modern outfit based in the Tamworth and Coleshill area have sent out a search for a keyboard player.
The group want anyone interested in playing their brand of punchy, intelligent pop to get in contact with either Dek or Vikki.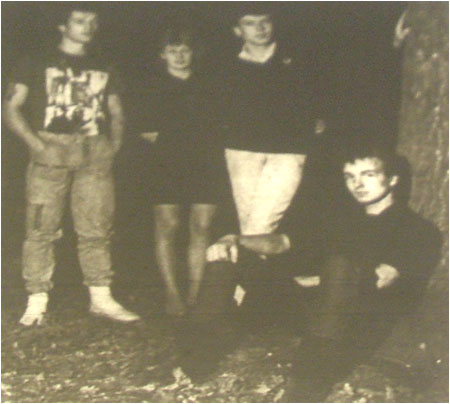 If you have any further information about this band please email: info@tamworthbands.com