Corrupt Youth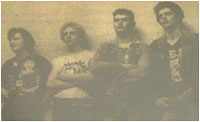 Corrupt Youth
Photograph courtesy: Tamworth Herald

The Gallery
Musical Genre/Type: Rock
Formed: 1982
Band Members:
Cooky
Aky
Clogger
Shazz
Gigs:
12/11/82
Exodus
Ethis
Spirit of Water
Corrupt Youth
Cosmic Emotion
Polesworth School
Tamworth Herald – 29/10/82
Musicbox – Farewell – and hello
A MAJOR four-band gig, including a farewell performance by the popular Exodus, is to take place at Polesworth School on November 12.
Other bands on the bill are Spirit of Water, Cosmic Emotion and Corrupt Youth.
Brothers Geoff and Dylan Haddon, of Exodus will be making two appearances at the gig, for they have each joined different bands.
Geoff has teamed up with his other brother Steve in Spirit of Water, while Dylan has formed Cosmic Emotion.
Spirit of Water also includes Terry Smith and Paul Lewis.
Cosmic Emotion, apart from Dylan, consists of Brad Riley, Tony Bradford and Tracey Wykes, while Corrupt Youth's line-up is
Steve Wallbank, Chris Price and Richard Banks will be joining Geoff and Dylan for Exodus' final performance.
Looks like a great gig in store. Make sure you get there.
---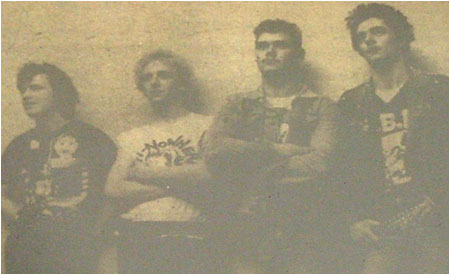 Caption: North Warwickshire punk band Corrupt Youth part of a four-band line-up.
If you have any further information about this band please email: info@tamworthbands.com