Bop Baroque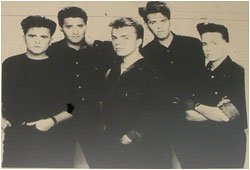 Bop Baroque
Photograph courtesy: Tamworth Herald
The Gallery
Formed: 1988
Musical Genre/type: Pop
Band Members:
Glen 'Nudge-Nudge' Lewis - Bass Guitar
Mark Chester - Drums
Gigs:
15/05/88
Bop Baroque
Edward ian Armchair
Tamworth Arts Centre
04/03/90
Magnificent Lkage
Honeyjump
Bob Baroque
Lincolns
Recordings:
7" 45rpm single - BOP1:
International c/w Save My Soul
WRC : The Wye Record Company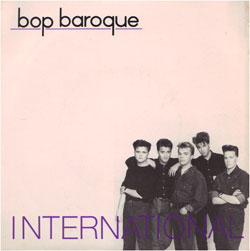 "International" Produced by Tony Taverner
Backing Vocals by Ruby Turner by kind permission of Jive Records
"Save My Soul" produced by Lord Harry
Recorded at Maison Rouge and Eden Studios
Manufactured by Spartan
Design by DIL
Tamworth Herald - 13/05/88
Musicbox – Hard-edged guys are so ambitious
A MODERN, stylish pop band with massive critical acclaim for their hard-edged music, play a special one off concert at Tamworth Arts Centre on Sunday.
The band, Bop Baroque, will be relatively new to most Tamworth bands apart that is from ever-popular bassist Glen 'Nudge-Nudge' Lewis'. Mr. Lewis by his own admission has played the Arts Centre, 45 million times but you can expect to hear something very different from his previous outfits like Love On Board and Orange.
"It's very hard to describe the music because we can't be pigeon-holed easily." Said drummer Mark Chester. "I suppose it is dance music with a hard edge and I think it should appeal to quite a wide cross-section."
Bop Baroque's quality is proved by the fact that already have two singles under their belts and their third ('International') due shortly. That third single features Ruby Turner on backing vocals and has been produced by the man responsible for Hall and Oates and The Power Station. Nor surprisingly, with such a pedigree, the young Birmingham outfit have been under very close record company scrutiny .
"I know every band says they have had company interest but with us it happened to be true!" said Mark. "We are just waiting for the right deal t come along because we are all very ambitious and know what we want."
The gig at Tamworth Arts Centre is one of a hat-trick of 'warm-up' shows before the band hopefully announce a major support slot on a national tour. It should eb quite a treat for Tamworth crowds who like to see professional well-played pop music, and at only £1 entry, it is a real bargain…
"A lot of people should like what we do and it should be a good concert," said Glen.
The evening's entertainment will be supplemented by TV, radio and tabloid star, Edward ian Armchair, The DHSS lead singer will return to the rather milder occupation of 'telling poems' on the night and I can guarantee on his behalf that hundreds of punk fans will not be running away from scattered human remains."
The gig starts at 8pm and remember is just £1.
Tamworth Herald - 09/02/90
Musicbox – NEWS – SNIPS
Lincolns have added a few more gigs to their busy agenda. On Feb 18 The New Puritans team up with Londoners Two Lost Sons, on Feb 25 Where Gardens Fall are in action and on March 4 there is a trio of acts in Magnificent Lkage, Honeyjump and Bob Baroque. March 11 sees Bash Out The Odd and Rhythm Damage together and then on March 25 the Eddie Armchair version of DHSS team up with the First Conspiracy.
---