Brass:
Martin Cooper - Trumpet, Eb trumpet (from Solihull), Mark Allison - Trumpet, Cornet (Mile Oak), Bryan Hurdley - Bass trombone, Euphonium (Birmingham)
Gigs
25/01/90
Bash Out The Odd
Herb Garden
Graysons
Nuneaton
28/01/90
Bash Out The Odd
Fat Controllers
Muff Heads
Lincolns
11/03/90
Bash Out The Odd
Rhythm Damage
Lincolns
06/05/90
Bash Out The Odd
The Rathole, Lincolns
10/06/90
Dance Stance
Bash Out The Odd
The Rathole, Lincolns
17/06/90
Bash Out The Odd
The Boatymen
Butterfly Net
The Rathole
16/08/90
Spiral Eye
The Yogots
Bash Out The Odd
Vindaloo Breakfast
Sherbert Trees
Shakespeare Monkeys
The Rathole
29/08/90
Bash Out The Odd
The Chequers
27/09/90
Bash Out The Odd
Vindaloo Breakfast
The Rathole
04/10/90
Vindaloo Breakfast
Bash Out The Odd
Peter Tuesday
Crystal Injection
Big Trip
The Lost Forest
The Rathole
*Bash Out The Odd were delighted with their sell out Lincolns show on Sunday night and are now urgently seeking a new date at the venue. 'It was a brilliant gig which we enjoyed thoroughly and we are keen to get back there as soon as possible.' Said bassist Mark Mortimer.
Tamworth Herald - 09/02/90
Musicbox – NEWS – SNIPS
Bash Out The Odd have confirmed their date for Lincolns. It will go ahead on March 11 as a follow up to what was regarded as a triumph three weeks ago. They will be supported by Rhythm Damage who will be making their debut. Sad blow for this BOX writer is that on that same night I will be at The Stranglers show at the Hummingbird and will miss it. I will be watching four pensioners instead of one in the form of Ridiculous Quay.
Tamworth Herald - 09/02/90
Musicbox – NEWS – SNIPS
Lincolns have added a few more gigs to their busy agenda. On Feb 18 The New Puritans team up with Londoners Two Lost Sons, on Feb 25 Where Gardens Fall are in action and on March 4 there is a trio of acts in Magnificent Lkage, Honeyjump and Bob Baroque. March 11 sees Bash Out The Odd and Rhythm Damage together and then on March 25 the Eddie Armchair version of DHSS team up with the First Conspiracy.
Dear Sam,
Re: The Colin Wall letter/review of Bash Out, we thought a petite clarification was necessary.

Firstly, we're not moaning but even so I think the aforementioned DJ has grabbed the wrong end of the stick (Fnnnnnrrr!) on Mark Brindley's rather tongue-in-cheek banter with the crowd at Lincolns.

OK, so maybe Mark swore too much, but really it was all just a joke rather than a sweeping damnation of all and sundry, and after all it was a rock gig and not an evening out at the theatre.

That Mark was 'dominating' is surely a compliment, and NOT a detraction, and there's nothing wrong with a front man being just that - being a focal point and visual.

If anyone finds him nauseating, then that's a matter of opinion, and to be honest we care not a jot, because everyone is entitled to their own beliefs.

But Mark is not, as anyone who knows him will contest, patronising, and to state that shows a complete lack of awareness of what the word means.

Finally, just for the record, this has been written by the rest of Bash Out without the knowledge of Mark, and we'd like to say categorically that the band wouldn't be the same or as successful without him.

As a person, he's quiet, groovy and far-out, and as a singer, he's the best in Tamworth by a million miles. Bash Out don't need a new singer but maybe Lincolns need a new DJ!

Yours Bash Out The Odd

Sam Holliday replies- Much of this I agree with. I spoke to Mark at Lincolns the other week and he admitted he was a bit outlandish on the night but he is after all a front man and I personally would rather be insulted by a Lydon than smarmed over by a Goss.
Tamworth Herald – 09/03/90
Musicbox – Rikk's boys set for a real Bashing!


RIKK Quay's latest musical creation – Rhythm Damage – make their live debut on Sunday night in support of the mighty Bash Out The Odd at Lincolns.
The two bands – with hopefully another group in tandem – will combine their very different styles to make for one of the area's most interesting gigs for some time.
For Bash Out The Odd it will be a chance to return to a venue which brought them great praise and adulation on their last visit. The group were delighted with the way the crowd responded to their first Lincolns show and they are hoping to further capitalise on that enthusiasm with a slice of pure pop on the night.
Joining them will be Rhythm Damage which is the latest in a long line of Rikk Quay projects. This is one the wild old buzzard feels particularly excited about because it is hard, no compromise alternative electro pop with an emphasis on dance and destruction. Quay feels he has really found his forte – and his perfect playing partners – and he is keenly awaiting the gig. The Damage boys promise a short but sweet set which should prove a real appetizer for future events.
Also on the bill are a third band (apparently) but MUSICBOX has no idea who they are so go along and get set for anything from Mannilow to Motorhead. Lincolns fun starts at 8.
Down the road at the Arts Centre on Sunday will be metal outfit Resist. Much more than that we don't know so please contact the Centre for more details or if you are a metal fan why not take a risk and test the water for yourself. If you do let us know what it was like.
Tamworth Herald – 16/03/90
Musicbox – Rikk's Boys – 1 Muffandbash – 0
MUFF-ED / RHYTHM DAMAGE / BASH OUT THE ODD – Lincolns
MUFF-ED
Muffled, messy, moronic, mad mayhem – The reason I loathe thrash metal (Thanks, Denis!)
RHYTHM DAMAGE
Rocket Rikk's long awaited return, and the old boy was in absolutely stirring form. Five songs, each one a corker, a long, hearty populist diatribe against the poll tax, and tapes and drum machines that worked. For the first time in a while, Rikk was up front, giving it everything with some surprisingly excellent vocals in a band that is 100 per cent harder and more uncompromising than DHSS ever were. Longstanding Quay watchers might remember the Pakistani Brothers, and this is not dissimilar, if vastly updated. Quintessential Quay, back doing his sort of music, whatever the consequences and if you don't like it, go away (or something like that!) Me, I love it.
BASH OUT THE ODD
It hurts to do this, but I'm going to have to, Bash Out The Odd are extremely good at what they do, superbly professional, always likely to attract a crowd, but ultimately, very, very dull.
I've always admired Mark Brindley as a singer, and his voice is extremely well suited to Mark Mortimer's soul-influenced anthems, with a rhythm section that is tighter than Sean Atkins wallet, and horns all over the place.
But the sad fact is that it still sounds like late-period Jam, a concept which the Dream factory, did far better five years ago.
The limited audience reaction (no call for an encore, but they did one anyway) seems to suggest that as far as Morty is concerned, his Tamworth following seems to have come and gone. Sad but soulless.
Review by Martin Warrillow
Tamworth Herald – 30/03/90
Musicbox – Snips, news and more
Bash Out The Odd are to record a video next month. Up to three songs will be recorded in a full scale video session which should help give the band a useful visual addition to their considerable marketing package.
Tamworth Herald – 27/04/90
Musicbox – Snips
Bash Out The Odd have parted company with their guitarist. Somewhat cryptically they stress that it certainly wasn't musical differences that caused the divorce. The band are now actively seeking a replacement and if you want to take up the gauntlet why not ring Mark Brindley or Mark Mortimer.
Tamworth Herald – 15/06/90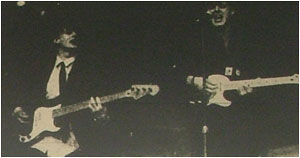 Musicbox – Bash Out The ODD Bash in The New
BASH Out The Odd make their eagerly awaited return to Tamworth action on Sunday night with their new line-up.
The band are in action at the Rathole alongside two well respected Birmingham outfits – The Boatymen and The Butterfly Net.
For the Tamworth crew it will be their first Town appearance with new guitarist Paul Whitehead and they are looking forward to playing a fresh new set with a collection of fresh new songs. The band say that the atmosphere surrounding them is very optimistic and exciting and they are keenly awaiting their latest gig. As for the two Birmingham bands, well both come with a strong reputation with the Butterfly Net in particular having a serious buzz around their ears.
Looks like being a nice one, it's at the Rathole on Sunday and a big crowd is assured.
Tamworth Herald – 10/08/90
Musicbox – Gig bonanza!
Tamworth turns into a 'four gig' Town again this week with two contrasting Sunday night shows, a Wednesday night Chequers gig and then a remarkable six band local event on Thursday night.
THURSDAY
The Rathole – Spiral Eye/The Yogots/Bash Out The Odd/ Vindaloo Breakfast/ Sherbert Trees/Shakespeare Monkeys
Not to much needs to be said about the three 'star acts' Spiral Eye and Bash Out The Odd were two of the best four bands at the Festival and they are bands that seem to get better and better all the time. The Yogots missed out on the Fest but made up for it with a killer show with the Senseless Things last week and the noise around them is quite deafening. Of the newer bands, Vindaloo Breakfast are the MUSICBOX hit of the year combining old-time power with new-time realism while the Sherbert Trees (in spite of a rather iffy Festival show) have all the charisma and style to be one of the foremost members of the new wave of Tamworth music. And the Shakespeare Monkeys? Promoter Gibbo takes up their story…'they played at their debut with confidence and self belief which generated great excitement. They are a creative band with lots of 'unusual ideas'. A good combination of qualities that, and one which could help propel the band upwards and onwards. Six bands in all then and each one of them having their own following which should ensure that this is one of the best attended Tamworth gigs of the year. It's a Thursday night, it's a most reasonable £2.00 and it is pretty strictly timed with the first band on at 8 and the final act (Spiral Eye) hitting the stage at 11.30. Enjoy yourself.
Tamworth Herald – 24/08/90
Musicbox – Fine bash from six of the best
Rathole Review
Shakespeare's Monkey/Sherbert Trees/Bash Out The Odd/Vindaloo Breakfast/The Yogots/Spiral Eye – Thursday
Helluva night this. With a mighty six bands on offer it could easily have disintegrated into an over-long and under-satisfying parade of the undistinguishable but remarkably everything went delightfully smoothly. Six bands of kindred spirit (and surprisingly kindred sound) combined to provide a real barnstormer of a gig for a huge audience that was positively-spilling out of the door. The mini-festival nature of the gig was matched by the mini-festival size of the crowd and the major-festival attitude of all competing. It was well arranged, well staged and well pleasing and it's epic finale (Spiral Eye at around 12.15am) there was still a huge amount of people there lapping up every one of Barry Fox's blood-curdling screams. It all began some four hours earlier with Shakespeare's Monkey. This was my first viewing of the Hamleteers and I came out of it feeling they are a very bright prospect indeed. They boast a very strange collection of influences – and a host of contrasting and occasionally conflicting directions – but wrap them all up in a sound that is overtly entertaining and surprisingly professional. A number of songs caught the eye (or should that be the ear?) but one of them stood out like a tank in a greenhouse – a little gem of a tune called (I think!) 'You're So Bizzare'. A fine way to start the night. Second on the bill was the Sherbert Trees who completely blew away their rather disappointing Festival show. They are certainly one of the most creative, unusual and deliberately uncomfortable bands in the area, resembling something like the early days of Spiral Eye/Thirteenth Reunion or a more psychedelic version of the Damage Boys. With keyboards doing their own thing, Ian Curtis vocals haunting every melody and guitars going off at wonderful tandems, it is a sound that isn't to everyone's taste but is not actually designed to so be. It got a little bit self-indulgent towards the end to be honest but such imaginative ideas should be encouraged rather than doubted. Bash Out The Odd bravely took to the stage next. I say bravely because all but two or three of the members of the band were missing through various reasons and it took a lot of guile for those remaining to not let down their many supporters on the night. As it was, the sparse sound actually helped in a way to show the sheer depth and strength of the band's melodies and the sudden and unexpected appearance of the brass crew for the last number made for a rousing end to a generally uplifting 20 minutes or so. Vindaloo Breakfast hit the stage next and immediately – and angrily – stated their claim to be THE band of the night. There is a raw and uncompromising edge to the band's sound these days and I love the way they attack their instruments as if they want blood out of them. The effect of that is to produce a sound packed with spirit and not inconsiderable venom – a sound today's wishy washy pop world needs more than it knows. And so to The Yogots a band who clearly have local audiences eating out of their hands these days. They received their usual adoring reaction but in truth this wasn't the best Yogots show I have seen. The band looked to be a little less buoyant and 'good blokey' than usual and that onstage lack of 'fun' reflected in their sound. In spite of that there were occasional glimpses as to what makes them so precious – a wicked version of 'She's Gone' and an admirable 'Mr. Rainbow' for example – and if a band can be this good on an off-night one can only realise how GREAT they can be at other times. Spiral Eye concluded the night in real style. They play nowadays with the arrogance and commitment of a band who know they have got something special and want all the world to share in it. Musically they are getting more and more difficult to accurately define but I do suspect that they are moving a little more into the mainstream in their old age. Every song has it's own fresh and original direction and best of all was a track which I think goes by the grandiose title of '4 x 12 Groove Machine' which was simply gorgeous. It all climaxed with a quite stunning three-track encore which had people bouncing around with unashamed glee. It was a nice final sight to take back home with me and it is one that has stayed in my rather hung-over mind as I sit and bash this out the morning after. Few gigs get people dancing and fewer still get people dancing to all the groups on offer. This did exactly that and as such was a night to treasure.
Sam Holliday
Tamworth Herald – 14/09/90
Musicbox – News, Snips
Bash Out The Odd are seeking a new guitarist again. If you think you can help out the band contact Mark.
Tamworth Herald – 28/09/90
Musicbox – Bash Out star in six-band bash
GIG OF the week in the area is the six-band bash at the Rathole on Thursday highlighting groups featured on the forthcoming Reptile Records LP.
The album, which also features Spiral Eye and The Yogots, was put together by The Rathole and Ian Gibbons's Magic Rear Outfit.
Headlining the special preview night are the ever-improving Vindaloo Breakfast, whose brand of listenable hardcore noise is drawing increasing praise.
Apart from Bash Out The Odd, the rest of the bill is made up of non-Tamworth bands.
Peter Tuesday, Crystal Injection and The Big Trip, all hail from Lichfield, while guests, The Lost Forest are an up and coming Birmingham-based band.
Ian Gibbons, of Magic Ear said: "As the LP includes bands from all over the area, the idea was to play a number of gigs around the place with some of the out-of-town bands, introducing them to other audiences and other audiences to them.
"Vindaloo Breakfast are strong contenders to established bands like Spiral Eye and The Yogots, so they got the headline slot. Bash Out The Odd are better than ever now, and at long last they seem to be delivering what everyone expected of them. It looks like being a really good night, I think people will be pleasantly surprised by what they see."
The show runs from 7.30pm – 1.00am and admission is a mere £2.50.
This Sunday there is a two-band line-up at the Rathole featuring Beef and Born Blind. Times are 7.30pm-10.30pm and admission is £2.
Tamworth Herald – 02/11/90
Musicbox – Snips
Bash Out The Odd are on the lookout for a new guitarist and drummer as they attempt to stabilise a new line up. Auditions are now being arranged and more info is available from Mark.