Tamworth Herald – 03/02/89
Musicbox – Festival set for powerful launch
Tamworth Indoor Rock Festival 1989
THE Tamworth Indoor Rock Festival begins a month long stint at the Arts Centre on Sunday with a tempting looking concert combining the old and the new of the local music scene.
Over the next four Sundays, 15 bands will play under the Indoor Festival banner concluding on Sunday March 5 with the eagerly awaited return of the mighty Wolfsbane.
Before then however there are bags of goodies to look forward to. Scream Dream, DHSS, Bash Out The Odd (ex-Space Seeds) Never Say Die, Spiral Eye, Kraze and several brand new bands will combine their talents for the festival and on Sunday the whole rambling charabang gets off to a powerful start.
The four acts who will hit the Arts Centre stage this week are the award-winning Catch 23, the much-admired Emma Gibbs Loves Badges and two brand new groups – The Big Noise and Shock Culture.
For Catch 23, the show will be a triumphant homecoming. The band have not headlined the Arts Centre for many moons and they are keen to show their natural audience just what has made them one of the most talked about young bands in the country. For the past two years they have been chosen as the best school/college age rock band in the whole of the Midlands and this year they are hoping to extend that to the whole country by winning the final of the TSN Rockschool contest. They have powerful allies to that end – dj Mike Read is an acknowledged example – and if you want to see why, then just stand back and listen on Sunday night. Their all new set will include the three songs that won them the TSB regional heat, including MUSICBOX song of year 'Hangin' On' plus many, many more that may be unfamiliar to those who haven't caught the band in a long time. Expect to be impressed.
The other established band on the line-up are Emma Gibbs Loves Badges, who specifically requested to play alongside Catch 23. Lee Revelle's band have undergone somewhat of a transformation since their early days and the increased profile and popularity of their performance indicates that it is a change that has been welcomed by the masses. I have become an admirer but being as I was slagged of for disliking them in the start and then slagged off for LIKING them in their last gig-fanzine I will offer no opinion at all because it would obviously be invalid. Suffice to say that they are very watchable these days. Try not to miss them.
Teaming up with these two old bands (seems daft calling Catch 23 old doesn't it!) are two brand new acts – The Big Noise and Shock Culture. The latter, Shock Culture are a complete mystery to me unfortunately, and all I can say is that they are ideal festival material. By that I mean something which you can watch without any preconceptions allowing YOU to pigeon-hole them (if you must) before I do (if I must). There, that was a good way of hiding my ignorance wasn't it.
Interesting
Completing the show is The Big Noise. This outfit made up of Ben Machin, Carl Harris and Ana Situnyake say they are influenced by the likes of That Petrol Emotion, Teardrop Explodes and Captain Beefheart.
"The band are crispy in a crunchy sort of way." Insists their manifesto. "You'll have to listen to see what you think."
Actually they sound pretty interesting and they are almost certain to get a good review because Ben Machin's sister Helen is a Herald scribe who will no-doubtedly beat me up if I dare to dislike them."
That's the line-up then, pop kings Catch 23, the unique Emma Gibbs, the mysterious Shock Culture and the alt-popsters The Big Noise. It is a very entertaining looking line-up and at just £1 per person entry it represents the best value of the year.
The proceeds from the show (starts 8pm) will go towards this years Tamworth (outdoor) Rock Festival so that's another good reason not to miss it. We're looking for a capacity crowd on the night, you won't let us down will you?
Tamworth Herald – 10/02/89
Musicbox – News, Snips
The Space Seeds (as was) have hanged their name once again. Last week they declared to the world that they would be called Shoot The Tailor. That however had already been knocked on the head and henceforth the band will be called Bash out The Odd. A strange choice perhaps but a name under which the band will now be permanently operating. Until of course you read differently.
Tamworth Herald – 24/02/89
Musicbox – Get set for a good bash!
Tamworth's Indoor Rock Festival reaches its third exciting night on Sunday when four very different bands tread the boards.
Sadly, as you will see in our story below, the original headliners DHSS have had to pull out. They will clearly be missed a great deal but fear not – we still have a very nice package indeed for your palates to taste.
The new headliners will be the band formerly known as The Space Seeds – Bash out The Odd. They will join up with Tamworth's most popular new group of recent months, King Woderick, old favourites Never Say Die and the newly revamped Rape In Yellow.
Together it represents a very strong line-up and one which should appeal to music listeners covering a very wide spectrum.
Bash out The Odd will certainly bring with them a large, curiosity-filled audience. The band have been away from our sights for some time and have undergone both personnel and sound alterations. The personnel has had many changes most noticeably in that Mark Brindley has now taken the complete frontsman role while former Orange, Sitting Pretty and Great Express guitarist Julian Amos is now back with avengeance. In addition the brass crew has been revamped to include some very major talents and the whole sound has moved a little bit closer to the musical ideals of band instigator Mark Mortimer.
"It's retained its commercial feel but is a lot harder now. We are all very happy about the sound."
It's hard to know what to expect with Bash Out The Odd, but look for a more powerful version of the oldpop-sounds of The Space Seeds.
Teeming up with the Bash Street Kids will be three equally unpredictable acts. Never Say Die are undeniably the most traditional rock outfit on the line-up, boasting a guitar-based sound which combines the best of the mid-Seventies and mid-Eighties and personnel who are literally weighed down with bags of experience. They don't play too many shows and for that reason those that do are always worth watching. See what you think.
The Wodericks on the other hand seem to be the Arts Centre's most regular visitors these days. They have launched themselves on the scene in a very big way a fact illustrated by a sell out Arts Centre show a few weeks back, a top 20 placing in the MUSICBOX poll and a highly-praised demo. Their sound? Don't ask me, I've tried (and failed) to describe them several times now, all I can say is that they are fun, fun and more fun.
And so to Sunday's fourth outfit – Rape in Yellow. They have nicked DHSS's Sunday slot by virtue of being the festival's 'first reserve' and they are delighted to have done so. The band are now full of renewed confidence and enthusiasm a fact highlighted by the faith they feel in their new demo. If you want to see if their faith is justified then trot along on Sunday.
As usual the proceedings start at 8pm, entry fee is an embarrassingly cheap £1 and all the profits will go towards making YOUR Tamworth outdoor rock festival the best yet. Get a Grip on Yourselves and Get it On.
Tamworth Herald – 24/02/89
Musicbox – SNIPS
Bash Out the Odd are looking for a new keyboard player and drummer. Keys man Alan Hodgetts has left due to 'musical differences' (musical journalism cliché numero uno) while Stu Blane has left for the more unusual pursuit of marriage. Stu will help the band out until they find a replacement but clearly the group want a high quality replacement as soon as possible.
Tamworth Herald – 03/03/89
Musicbox – Gig Review
'It's got to be perfect'
Bash Out the Odd
Extremely slick, extremely professional and extremely well-presented debut show from this all-new line-up. The tunes were all of a very high standard, the delivery faultless and the impression is that the band is already a good 75 per cent of the way towards a massive record contract. So why I wonder did they get such a luke warm reaction from a packed Arts Centre crowd? The reason I think is that this was simply too perfect. Being note perfect and completely without fault may be a tremendous source of pride for the band, but when you go to see a group live you want to see passion and spontaneity as well as just flash, brass and well-rehearsed presentations. The audience could well have been listening to this show on record and excellent though the whole song package was there was a lack of feeling which showed the band are more interested in hitting the charts than the hearts. This band has all the ability potential and strength to go an awful long way and I am sure (and hope) they will. But I hope they don't forget that the audience is not ALL made up of cheque-book owning record company scouts.
Tamworth Herald – 17/03/89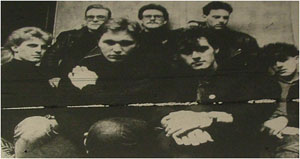 Musicbox – A screaming good bash

TWO of Tamworth's biggest cult acts team up for a special double header on Sunday night.
Former Battle of the Bands winners Scream Dream will team up with the former Space Seeds, Bash Out The Odd, for a show which will almost certainly provide another bumper Arts Centre crowd.
The Scream Dreamers are continuing their policy of playing an increased amount of shows and they will look to build on their triumphant Indoor Festival gig last month. That exciting show was described in these hallowed columns as 'aggressive, relentless and quite brilliant' and it is clear they are now back on course in a very major way. Get set for a good ear-bashing.
Talking of ear-bashing, Sunday night provides the Tamworth public with their second chance to view Bash Out The Odd. This modern pop group (who were for a long time The Space Seeds and for a short time Shoot The Tailor) produced a very slick and professional set of sounds at their Indoor Festival debut three weeks ago and the band are hoping to impress even more this time around. They felt that the sound the first time around – wasn't quite as hard and attacking as it should be and they aim to remedy that by cranking up the power on Sunday night.
That's the line-up then, two top quality acts who will each be aiming to build on their shorter Indoor Festival sets last month.
It starts around 8.00pm so get along!
Tamworth Herald – 07/04/89
Musicbox – SNIPS
The recent success of Catch 23 and our recent (belated) demo blitz has meant that one or two local gig reviews have been held up a little. In order to not ignore them completely, here we summarise two reviews from recent Sunday night Arts Centre partys.
Bash Out the Odd – Arts Centre
They came across very well and seemed to impress all who attended. 'Rain Garden', 'Switchblade Love' and 'My World' are just some of the tracks that really stood out but my outstanding memory was the enthusiasm of singer Mark Brindley as he bounded around the stage.
Jane Beech
Tamworth Herald – 21/04/89
Musicbox – SNIPS, SNIPS, SNIPS
Bash Out The Odd appear to have hit a 'membership problem', Guitarist Julian Amos seems to have disappeared without revealing what his intentions are to the band and so as a precaution they are advertising for a good quality guitar playing replacement.
Tamworth Herald – 05/05/89
Musicbox – Where are the DRUMMERS!
There was a time it seemed when drummers were ten-a-penny in the Tamworth area. You couldn't get a bassist if your life depended on it, vocalists were as rare as good ITV sitcoms and guitarists were harder to find that Rikk Quay fans. But drummers? They were EVERYWHERE. There were hundreds of them, breeding like rabbits and bashing skins in every corner of the Town.
But now is seems things have changed. Below we print no less than FOUR urgent appeals for drummers from totally different bands. So, if you're a drummer this is your lucky day. Choose from…
BASH OUT THE ODD
The Bash boys were hoping to recruit former Freight Train man Gavin Skinner to replace Stuart Blane but this has now fallen through. So if you want to join a band with serious record company interest and several major shows planned (including a plum slot at our Festival).
Tamworth Herald – 02/06/89
Musicbox – Snips, Snips, Snips
Bash Out The Odd, still having problems finding a settled line-up, have added a new guitarist, experienced axe man Pete Woodward.
Tamworth Herald – 23/06/89
Musicbox – Snips, News
Bash Out The Odd are due in Lichfield tonight (Friday) when they hit the City's Arts Centre for a special show. On the member front, Pete Woodward has replaced Julian Amos as guitarist while Mark Brindley's uncle (who is in his 40s) has joined on drums.
Tamworth Arts Centre – tonight (Friday)
Bash Out The Odd return to the Arts Centre with their new line-up and new set. The band, who are embarking on a series of dates at the moment, will join and alternative-based line-up which also features new local heroes Flowers in the Attic. The Flowers, who describe themselves in their festival biog as having a Bunneymen/Doors sound, will be joined by yet another flowery band in the Herb Garden. A fourth group may also be added to an impressive looking line-up and if the bands can get people out of the 'I won't go to a gig on a Friday' mode, it should be a good night.
Tamworth Herald – 30/06/89
Musicbox – SNIPS and NEWS and SNIPS and…
Ark, the progressive rock band who feature well-known Tamworth drummer Richard Deane, are due to release a new single shortly. The band who we hope to have a special feature on in the next few weeks, played alongside Mark Mortimer's Bash Out The Odd at Lichfield Arts Centre last weekend.
Tamworth Herald – 14/07/89
Musicbox – Reviews in Brief
Bash Out The Odd – Arts Centre
Extreme, infectious tunes which made even the most timid bounce around. The band put so much energy into their performance I thought they might explode but thankfully I was wrong. In the end it was the music that exploded in a fine show. Review Victor Clarkson.
Tamworth Herald – 28/07/89
Musicbox – Bash on again!
BASH Out The Odd make up for their non-appearance at the Tamworth Rock Festival with a special headlining show at the Arts Centre on Sunday night.
The bash-em squad team up with two already well established altos, The Big Muff and the Herb Garden, for a triple decker which has already proven a success locally.
So, if you want to catch up with three bands that didn't make the festival (just how many bands has this area got!) you know where to be on Sunday night. It's the Arts Centre, its at 8pm and the more of you there, the merrier.
Tamworth Herald – 06/10/89
Musicbox – Reviews
So Climactic!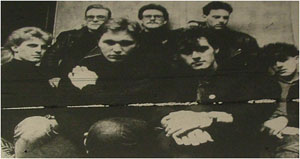 Bash Out The Odd – The Monterey Exchange, Lichfield
American's annexed island – The Monterrey Exchange – was the kitsch cocktail setting for the first date of The Bash Out The Odd autumn tour. Trumpets and horns dangling and spangling from the ceiling gave us an insight into what was about to come. Having only had a 12 month gestation period. Bash Out The Odd have emerged with a mature, unique, exciting sound flaunted on Tuesday to its greatest advantage. With favourites such as 'Laughing House' and 'Love Walks Away', the dance floor was transformed into a jumble of jiggling bodies and the commotion didn't stop there. The Bashers repertoire has gained new material in bulk and its debut on Tuesday refreshed the by-then sweat-drenched crowd. 'You Strip Me Bare' and 'Silent Hour' were noteable standouts and the lively Lichfield audience discovered (perhaps for itself?) one of the most promising new acts of the 1990s. Bash Out The Odd surpassed themselves once again and as far as I'm concerned they can do no wrong.
Jessica
Tamworth Herald – 20/10/89
Musicbox – Loadsagigs
IT'S a busy week gig-wise with a host of the area's best bands in action in venues as diverse as the Tavern in the Town and the Mean Fiddler, London. Here is a quick gig-guide so you know where to go and what to look out for…
Sunday – Tamworth Arts Centre
A good night out for those of the gothic persuasion as Curious Oyster steam in for their first headlining show at the Centre. They were hoping to have local support but at time of going to press we could not confirm who that was. It starts at 8pm.
Tuesday – The Mean Fiddler, London
Around 150 fans are expected to make the convoy to London to cheer on Catch 23 in this their second appearance in Das Kapital. The band, fresh from more TV appearances than Jason Donovan, expect to premier some new material including the 215th remix of the classic 'Love Explosion'.
Thursday – The Tavern in the Town
The Magnets return to the scene of their former crimes for a nostalgic night of fun. A band borne out of the Tavern they return home after a couple of useful recent shows much raved about by my old mate Jack Napier. Expect electricity and check out the excellent Manns Brown Ale.
Tuesday (Oct 31) – Corvettes
A fine looking line-up here a week on Tuesday as Bash Out The Odd and The Big Noise team up with King Woderick and The Yogots for a show that promises to fill Corvettes completely. All three bands are bursting with quality and a super sweaty night is definitely in prospect. Advance warning on this one because it looks like packing out!
Tamworth Herald – 27/10/89
Musicbox – Big night at Corvettes
CORVETTES Winebar will host a positive feast on Tuesday night when Bash Out The Odd, Rape in Yellow and the King Woderick crew pack 'em in.
With a fourth band also expected to be involved a decent sized crowd is expected so quite how we are all supposed to squeeze in this fine drinking establishment remains a mystery. But, squeeze in people undoubtedly will do to watch a show full of strong, modern pop. The Yogots currently enjoying airplay in France would you believe, will be back with their barmy sounds. Rape in Yellow will be out to blast 'em while Bash Out The Odd will make their first Tamworth appearance for quite some time to offer the cleanest pop of the evening.
Tamworth Herald – 27/10/89
Musicbox – SNIPS
Stu's back 'n' bashing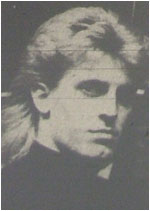 STU Blane is back behind the sticks for Bash Out The Odd. The experienced drummer (ex-Aardwolf and Omen) has had a short lay off but is now back in the full stick-weilding swing. The band, who will be in action at Corvettes on Tuesday (see opposite) are delighted that Stuart has decided to rejoin the combo.
"We are absolutely over the moon," said band spokesman Mark Mortimer. "He is probably the best drummer I have ever worked with and the whole of the band feel very happy about all this."
Tamworth Herald – 10/11/89
Musicbox – Gig Reviews
Freelance correspondent ROBERT HODDLE kindly supplied me with reviews of these two gigs last week. Our thanks to him and on with the show(s)…
Bash Out the Odd (Corvettes)
As expected, this lot coped with the absence of a PA, but even they seemed a little uncomfortable with the situation. Being as professional as ever, they captured the audience for the night with their high energy pulsating sound. I wonder how many pints of sweat Mark Mortimer loses in a set? Strong as they are now, it's going to be interesting to see what direction they are going to go in, or if they add even few more members of the band!
All reviews by ROBERT HODDLE
Tamworth Herald – 10/11/89
Musicbox – News, Snips
The Herb Garden who have been very active of late (see reviews) have announced three more pre-Christmas shows. The band who joined Bash Out The Odd at the Barrell Organ on Monday, will be in action on November 30 at the Blue Posts, Burton (with Emma Gibbs and The Sherbert Trees) on December 3 at Lincolns and on December 13 at the Turfs Club, Cannock. More details of these shows as and when we get them.
Tamworth Herald – 17/11/89
Musicbox – Corvettes
MUSICBOX received this alternative freelance review of last week's Corvettes show which we thought we would print because it was almost as snarling as a Jo Marsh review. The writer is one Michael Lewis, so take it away Mikey-baby…
A DOUR night
A had gone to Corvettes expecting some good music considering the strong line-up. I was most disappointed. First on were the Herb Garden who played in total darkness and nearly made me commit suicide. The P.A. or lack of it was the main reason for all the trouble. All the vocals were too loud.
Next up were 'Infinity Incorporated'. I had seen them before, so I expected a lot. They played well but the vocals drowned everything out and the drums were non-existent.
The audience crammed into a matchbox sized room didn't help. I've seen more life in a cemetery. After about five sings 'Infinity' gave up and just messed about. Come on lads, you can do better than this! But I did like the song where the lead singer rambled on about Neil Young!
'Bash Out The Odd' were next. I thought I was witnessing the rebirth of 'The Teardrop Explodes'. Never mind more loud vocals and blandness. King Woderick could have saved the night, but they didn't. They were obviously drunk and sounded like a nightmare. But as I've said before the audience didn't help.
They have some decent band to see and they don't react. Was it that bad?
Yes it probably was.
Michael Lewis
(Depressed of Mile Oak)
Tamworth Herald – 01/12/89


Musicbox – What a Blowout!
Great Stan's Weekend Blowout

TAMWORTH will this weekend host three unique concerts to raise money for the town's ambitious alternative-comic project.
Three shows – one concentrating on r 'n' b, one on alternative comedy and one on top quality local music – will combine during the course of the next three days in a unique moneyraiser.
Tonight the Old Liberal House in Amington will host 'a stompin', gut rockin', hard drivin' rootsy rhythm and blues' session, on Saturday night the venue is the Castle Hotel for a special alternative comedy show and then on Sunday night Lakins will stage a splendid Indie rock bash bringing the likes of Bash Out The Odd and the Yogots alongside Birmingham favourites Korova Milkbar.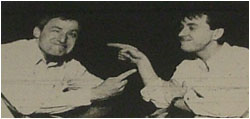 All the shows, plus one held at Manhattan's last night (Thursday) are designed to bring money pouring into the coffers of Tamworth's alternative comiczine 'The Great Stan's Comic'. It is hoped that the first edition packed full of silly comic strips, attacks on the local and national music and arts scene and much else will be out in January and the success of this weekend will really get it moving.
"We are all very ambitious about this," said organiser Chris Gould. "We want to make the comic as professional as possible and we need the money to do so. Hopefully these three shows can really help us."
So what exactly can you feats your ears on this weekend. Well, read on and find out…
R and B Special
Tonight (Friday) – Amington Liberal House
If you like to boogie woogie to foot-stomping r and b then the only place to be tonight is the Amington Liberal House in Woodhouse Lane. Our own Also Smith and Jones and the spiffing Eight Ball Joe will team up with the classy no messing style of the Pink Cadillacs and the excellent Mighty House Rockers. The Rockers are regarded as real floorshakers and they already have an album and radio work to their credit. Put together this is a night which should really get the r and b crazies going and it costs a mere £3.50 for four top class outfits. Worth it to see Dave Smith's wincing alone but you will get even more for your money than that. Starts 7.30pm, ends 11.
Comic Show
Saturday night – The Castle Hotel
It's smile time again as the Great Stan spearheads a four comedian (and one band) show at the Castle Hotel. Billed as The Blowout Party it features comedians Terry Cavell, Tim Lacy, Ken Bell and the Great Stan alongside Little Terry's Blues Band. Terry Cavell is described as 'libellous humour', Tim Lacy is regarded as THE man to watch on the Midlands scene and Ken Bell is a fast moving and original comedian. As for Stanley he is doing his 'best of Stan routine' a collection of (and I quote) 'the world's greatest comedy routines'. Sounds are provided by r n b men the Little Terry's Blues band and it starts at 8pm costs £2.50.
Indie Bash
Sunday night – Lakins nightclub
A unique Sunday night venue for a rather unique collection of bands. Lakins opens its doors on the night to welcome in local heroes, Bash Out The Odd, King Wodericks and the Herb Garden and fast-rising Birmingham squad Korova Milkbar. You don't need any introductions to the three local bands except for they are all very good indeed, while Korova Milkbar are made up of ex-members of Wunderstuff stablemates The Surf Drums. Much noise is being made about the Korovas and remember it is in Tamworth where the Wunderstuff started to blossom so you could be on the groundfloor of another major success story. The whole bash costs just £2.50 so get along (and remember it is LAKINS) and have a boogie. Starts 7.30pm.
Got all that? Right, get along to as much of the above as you can and give the comic a boost. You'll die laughing if you don't.
Tamworth Herald – 15/12/89
Musicbox – Review
Neat Night in Night Club!
The Great Stans Indie Bash (Lakins)
LAKINS is not the most obvious place to go to see live music in Tamworth. More associated with using your ears for music and your eyes for lust instead of all your senses for pop music, it is a strange feeling to see people hit the Lakins floor for anything other than the latest Madonna single. But, Lakins does suit live music quite perfectly. The bar is in such a position that you can order your pint while still eyeballing what the guitarist is doing to his axe and there are nice comfy chairs at the back when the going gets tough and the tough get a headache.
The only drawback I found from this surprising expedition was the fact that in a bizarre Freudian twist, the groups played on the floor while the audience were raised above them on a stage of sorts. Such a swap has a therapeutic effect on those of us without the gall to hit the stage on your own merits, but does tend to mean that any musician under seven feet tall struggle to assert themselves.
Lisa, the talented singer from the Herb Garden, is certainly not seven feet tall and not only did she have to face everybody's kneecaps before anyone else, but she was also saddled with a pretty dreadful opening number which gave no hint of the many wonderments to come. For there were certainly Herb Garden wonderments to behold, oh reader. There were one or two songs that were straightforward pop gems and one or two tunes which swayed the audience with a gentle but commanding force. Also wonderful was the guitar work of in particular Mr. Rob Kinson, Esq. A man who has clearly found his niche, found his confidence and found a skilful and original touch. With Lisa improving by the second and ending on an absolute peak, I was left feeling there were roses in bloom in this quickly blossoming Herb garden.
Equally impressive were The Yogots, a band for whom no superlative is now an over-statement. They were simply excellent again showing melodic strength and understanding, and a very keenly developed sense of audience pleasing. The keyboard work by the charismatic new key tinkler was first-class throughout bringing the inevitable Holliday adulation of being 'Stranglerish' while the vocals leapt out of the speakers and grabbed every available organ with venom. Truly one of the great bands of this area, and any group that can afford to leave out a classic like 'Mind Disease' simply must be contenders. Wickedly good.
Third up were Korova Milkbar, who were an altogether calmer experience. They had real touch of class, showing their ability to use the best ideas that new Order have created in their own brand of modern pop. The New Order cloud hung over their whole set, but the quality of their own tunes was like a ray of sunshine bursting through the plagiarism. A fine band and let's face it, if you are going to try and copy anyone, it may as well be one of the all-time greats.
And so to the finale, the ever-popular Bash Out The Odd. It had been eons since I last saw them and by the end of the night. I wondered why it had taken me so long to lap up their bountiful wares again. The band hasn't changed a great deal in recent months, but they have certainly improved and diversified to the point that the set is beautifully executed and includes nothing remotely like a filler track. Every precious tune and riff has to prove its worth in a Bash out song and there is no room for anything without the hallmark of pop quality. Relative oldies sit happily next to new and vital numbers and they all share the same ingredients of melody, musical power and blistering brass. Vocal king Mark Brindley continues to hypnotise as his Copeish overtones reach the parts other singers cannot reach, while Stu Blane once again proved that on his day he is in a class of his own.
Overall, this was a heady mixture of pop sensibility and soaring, searing guitars all of which combined to delight a partisan, but clearly impressed, Lakins crowd. End result? Four good bands, one good venue and one very pleasant evening indeed.
SAM HOLLIDAY
Tamworth Herald - 26/01/90
Musicbox - L.O To Two Bashes

Tamworth has another 'double' on Sunday when both the Arts Centre and Lincolns stages gigs.

At the Arts Centre, metal takes over in the shape of LO Girls and Jagged Heart while down the road at Lincolns, popsters Bash Out The Odd team up with the Fat Controllers and Ramone-bashers The Muff Eds.

Although the two gigs couldn't be more different, local gig-goers had better get ready for this Sunday night choice because it looks like being the case for many weeks to come.

If metal is your palate then the Arts Centre will no doubt get your vote as L.O Girls return with new Birmingham act Jagged Heart. The LO troupe have already built up quite a loyal Tamworth following and their influence and status is spreading fast. Last week Kerrang touted them as a possible 'British Version of Guns n Roses' and they have now started to attract serious interest from national companies and rock press alike. They are always worth an hour or two of your time as should be Jagged Heart who claim to be 'Clever metal' influenced by the likes of It Bites, Queensryche, Bon Jovi and Rush.

If more poppier or alternative sounds are your bag, then get yourself along to Lincolns on Sunday. Bash Out The Odd spearhead a three band show which also features The Fat Controllers (who we have seen in these parts before) and The Muff Eds (who we definitely haven't) These are a new punkified act complete with Ramones covers, great influences and considerable enthusiasm. Topped off with the multi-faceted joys of Bash Out this promises to be a big heap of fun.

That's your choice then, two very different gigs and music to cover a fair percentage of the taste buds out there.

Take your pick, then trot along…