Big Muff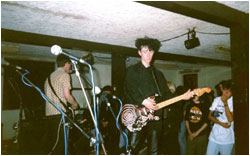 Big Muff
Photograph courtesy: Mark Mortimer

The Gallery
Musical Genre/Type: Indie/Noise
Formed: 1988 Split: 1988
Band Members
Boney (Richard Bone) - Bass
[Also in Vindaloo Breakfast]
Lee Evans – Drums
Rob – Guitar /vocals
[Also in: Herb Garden, Ferocious Apaches, Big Muff, Liberty Caps, The Hamilton Hammond Extension]
Stephen – Guitar
Gigs
Tamworth Arts Centre
Songs
Rollercoater
Mary Ann
Starship
Little Doll
Transparent Radiation
Memories
Big Muff were formed from the ashes of The Eppies, a one off band playing U.S. hardcore punk covers (Dead Kennedys/Black Flag, etc.) which featured Stephen on guitar and Rob on bass and a diminutive singer 'Tweeky' who suffered from epilepsy hence the name).
Wanting to be in a band but also being incredibly lazy Rob and Stephen came up with the idea of being a Spacemen 3 covers band – but only doing the Spacemen 3 songs that were already cover versions.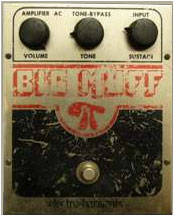 This simple formula let the band play songs that were mainly one riff hammered to death through old 60's distortion pedals (including the legendary Big Muff – hence the 'fnar fnar' name) and also maintain a pretence of originality.
It was this 'pretence of originality' that got Big Muff through as the audience were either Spacemen 3 fans or (more likely) unaware of Spacemen 3's live performances – either way people seemed to like it (especially the Goths for some reason).
It was also the pretence that was the bands undoing.
Being a 'local band' the Muffs wanted what all local bands want, to be in the music section of the local paper every week.
This is difficult when you don't have any gigs coming up or any music recorded, so in a moment of inspired recklessness the group recorded 3 songs off the just released debut album by Loop (a band who themselves were not entirely innocent of trading on the Spacemen 3 sound) onto a cassette, produced a home made sleeve for it and tried to pass it off as Big Muff demos. Just for good measure the group announced a name change to Black Shit – a snide attack on the Goth audience members.
The blag package was dispatched to the local press, and that's when the trouble started…
Local music journo and supporter of all things Tamworth, Sam Holliday took umbrage at - not the clearly faked music - but the name change. Somehow he had misread the name as Black Shirt and was offended by the Nazi overtones (this from Tamworth's #1 Joy Division fan!) and wrote a small piece in the following weeks Music Box stating his displeasure, not once mentioning the music. Whether he ever listened to the tape is unknown.
Red faces all round the band decided to take Kenneth Williams' advice and "stop messing about".
Thanks to: Rob Cross
Tamworth Herald – 03/02/89
Musicbox – Newsbeat
I'm afraid the demos are beginning to pile up on my desk again and I would ask bands to be patient in waiting for reviews as the scene is getting busier. As well as those already mentioned we have had tapes from the likes of Big Muff and The Big Noise.
Tamworth Herald – 10/02/89
Musicbox – Holliday gets slagged off parts 1257-1260!
Dear Sam,
Just dropped you a line to say how really tripped out I was by the gig at the Arts Centre on Sunday night.
All the bands were excellent, Flowers in the Attic went down really well, good one lads!
The Psychedelicatessen were cool as well, I had seen them play before, but last night's gig was sheer excellence. Andy has got a really powerful voice.
And finally, Big Muff, like the name, love the sound, totally sky-high, mind-blasting stuff. I loved their first one, I think it was called 'Mary Anne'. And the Chainsaw Massacre film went brilliantly with the music. All the band looked like they were on another planet. Great!
Oh yeah, didn't see YOU there, you missed a goof one this time.
Yours,
Well Happy
Tamworth Herald – 14/07/89
Musicbox – Reviews in Brief
Big Muff – Tamworth Arts Centre
A good set from the four lads but I think they should try some of their own songs, instead of just Spaceman 3 covers. Why did the singer have an American accent though? Review by Mark from Kingsbury.
Tamworth Herald – 28/07/89
Musicbox – Bash on again!
BASH Out The Odd make up for their non-appearance at the Tamworth Rock Festival with a special headlining show at the Arts Centre on Sunday night.
The bash-em squad team up with two already well established altos, The Big Muff and the Herb Garden, for a triple decker which has already proven a success locally.
So, if you want to catch up with three bands that didn't make the festival (just how many bands has this area got!) you know where to be on Sunday night. It's the Arts Centre, its at 8pm and the more of you there, the merrier.
Tamworth Herald – 25/08/89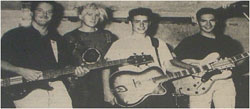 Musicbox – Review Special
The Big Muff – Tamworth Arts Centre
Dark, unrelenting and somewhat disturbing sound which created a real atmosphere all of its own. Taking the New Order style of constant and niggling guitar build up, it ended as a bastardised kind of modern pop which drew the inevitable Spacemen 3 comparisons. To me it had more of a Jesus and Scary Chain feel and was over far too quickly. Dark and dank but immensely listenable with it. Frightening.
---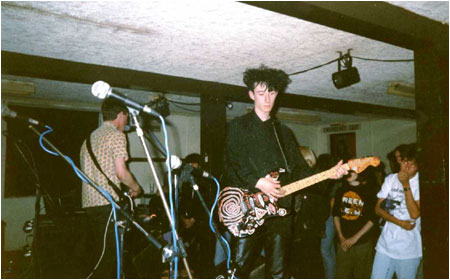 Big Muff at Tamworth Arts Centre, 1988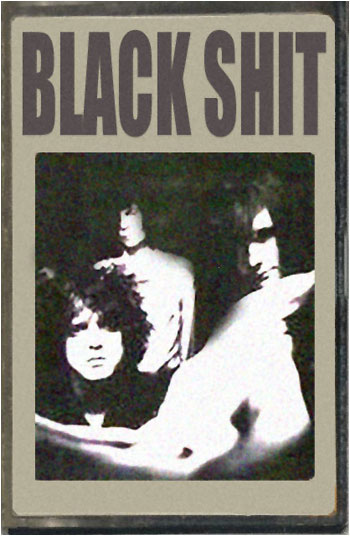 Black Shit (Black Shirt) - a demo of dubious provenance!
If you have any further information about this band please email: info@tamworthbands.com