Bob Ballard
Thanks to Bob Ballard for this wonderful insight into what it was like to be in a Tamworth band in the early 1960s - Ed.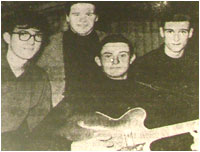 The Blackouts – Bob Ballard, Tony Harper, Trevor Pickering and Bob Childs
Photograph courtesy: Tamworth Herald
The earliest 'gig' I can recall is singing at Drayton WMC in 1958 when I would have been 12. Songs included 'To Know Him is to Love Him', one of the first songs produced by Phil Spectre. I call it a gig because I would walk away with the princely sum of 2/- (20p).
In 1960 I got involved with a group based in Dordon called The Delta Skiffle Group. I think we did two gigs, but on a visit to buy some jeans I went into a shop on Bolebridge Street and found Vince Baker was the man behind the counter. He told me of a band that was forming who were looking for a singer, I went along to Tamworth youth club and met Pete Vickery and Jim Twigg amongst others. The outcome was they asked me to join them plus Barry Crowe and Danny Coral and the Surfriders Mk II was born. Mark I as I understood it was Pete Vickery, Jim Twigg plus others with Tony (Terry) Harper as the original Danny Coral.
Had a couple of great years and I was always pleased that whilst other bands were basically Cliff and Shadows style bands we looked different, three band members plus a singer and we tended to do different songs, Chuck Berry, etc (I've listed a few of the songs of our repertoire at the end). I remember we practiced for a time above a coffee bar on Bolebridge Street owned by Barry's dad.
We regularly played the Assembly Rooms and I can remember one night on the bill with Gerry Levene and the Avengers, when Graeme Edge, later of the Moody Blues fell backwards thro' the curtain and landed on Pete's Watkins Copycat. Goodbye Copycat for a few weeks. Also the night Screaming Lord Sutch was on the bill and his band didn't turn up. The Surfriders stood in and, although I only watched from the wings, and narrowly avoided being hit by a toilet seat thrown by the aforementioned Screaming Lord Sutch, they played a storming set. Also Terry Harper occasionally did spots with us under his stage name of Mark Chanelle. We also experimented with dry ice as an effect for an instrumental called 'In the Hall of the Mountain King'.
I can remember being at Jim's house, a pub near the now defunct St Editha's Hospital near the Bell Corner, the day after they'd been to Coventry and they were raving about this band called The Beatles, don't need to say more except that for a time it did spell the end of bands fronted by a singer. On the night of The Beatles' Assembly Rooms gig I watched from the balcony and knew they'd started something really big and really different. It is difficult to explain to people of other generations, but if punk hit you full in the face when it came out and you thought "Oh my God, what is this, I want more??" then you may get the idea.
Another things that springs to mind is that I think we were one of the first bands locally to use a dedicated PA system rather than plugging mics into the back line. The PA was courtesy of a local electronics guy called Thoneycroft who had a shop close to the Assembly Rooms. I also recall Barry experimenting with lots of bass speaker enclosures, including a sewer pipe! Following the break-up of Danny Coral & the Surfriders, I was approached by Trevor Pickering and we formed The Blackouts along with Terry Harper and Bob Childs although Bob left and was replaced by a bass man from Sutton Coldfield called Mick Vann with Terry taking on the drums. I feel that our problem was that The Beatles (and others) were writing their own songs and we were just another cover band. We played a fair amount around the general Midlands area but never really made any sort of impact. Again after a couple of years The Blackouts went the way of most other bands and we never did play on the bill with The Applejacks, but I've managed to live with disappointment.
It sounds a bit egotistical I know but I also have to say that I never liked playing gigs where the band came second to bingo! I did play for a time with, what I think was, the final line up of The Inn-sect again based at the youth club on Victoria Road. Things seemed to come full circle because the drummer in The Inn-sect purchased his drum set from Jim Twigg out of Danny Coral & the Surfriders.
My final venture was with a band called Oiltanker, created by Michael Vann as a vehicle for his then girlfriend's brother who was, at 15 years old, a promising guitarist. This band was more Birmingham based. We did a small number of gigs but my personal circumstances changed and life took me to Nottingham, where I still reside. Since then I've found acoustic music and still gig very regularly with a Ceilidh band, you can find us at www.bandsandmusicians.co.uk
Songs included:
Johnny B Goode, Fever (by Peggy Lee), Hall of the Mountain King (Instrumental), Blue Suede Shoes, It'll Be Me (Chuck Berry, later Cliff Richard, but we covered it first).
Gear
(PS I'm left handed) Being a singer originally I didn't really need any gear but in The Blackouts I eventually ended up with an Epiphone Casino (semi-acoustic with double cutaway) with a Marshall 100W head and 4x12 cabinet. Since then I've had a midi guitar with electronics by Casio, a Gibson Les Paul custom and a Yamaha FG180 acoustic + Mesa Boogie. At present I have a 1967 Epiphone Texan acoustic thro' an AER Compact 60 amp and a 1978 Strat thro' a Fender Blues Junior. I also have a left- handed acoustic built for me by Colin Keefe of Nottingham.
Bob Ballard