Danny Coral and The Surfriders
Line-up:
Pete Vickery (Rhythm Guitar) [Later of The Three Spirits]
Barry Crowe (Bass Guitar) [Later of The Three Spirits]
Jim Twigg (Drums) [Later of The Three Spirits]
Bob Ballard (Vocals)
[Formerly of the Delta Skiffle Group, later of The Blackouts and The Inn-Sect]
Other members:
Roger Shaw (Drums)
Memories - Roger Shaw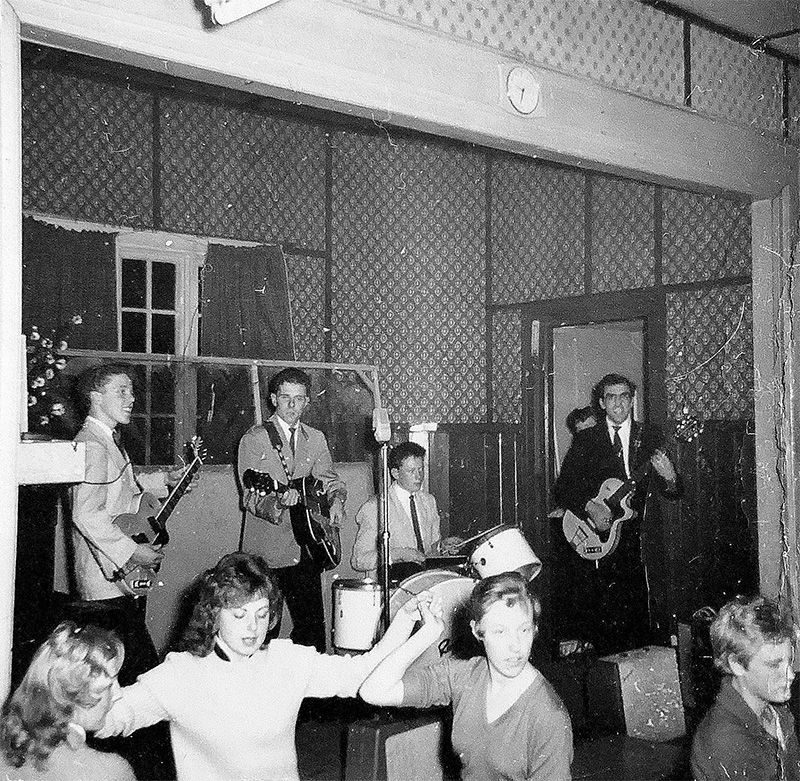 I played with the group in Tamworth for a couple of years in the late 1960's. I played drums before handing over the sticks to Jim Twigg, I very much remember Pete Vickery and his elder brother - also on guitar. We were also regularly joined by Wally Bridgen on hawaiian guitar. At that time we hadn't become as good as the later Surfriders, most of our gigs taking place in church halls and working mens clubs. We wore cream jackets over white shirts and red ties plus rak trousers.
The photo shows Pete Vickery on the left, his elder brother, then me and lastly Wally Bridgen on bass. Wally was also a very accomplished hawaiian guitar player. Our singer - Danny - was offstage when the photo was taken.
I'm as certain as I can be that we were on stage in Wilnecote at a church hall or something very similar. I guess the photo dates back to 1960 or 1961.
Roger Shaw
Gigs
22nd and 28th July and 3rd and 4th August 1962
Open Air Big Beat Rock Dance
Castle Roller Rink
Danny Coral and The Surfriders
Admission: 3/6
08/12/62
Rock and Twistacular - Danny Coral and The Surfriders
With Mark Chanelle
Assembly Rooms
15/12/62
Novy and The Heartbreakers
With Danny Coral and The Surfriders
Assembly Rooms
24/12/62
Grand Christmas Eve Dance
Gerry Levene and The Avengers


With Danny Coral and The Surfriders
Assembly Rooms
31/12/62
New Years Eve Rock and Twistacular Ball
El Riot and The Rebels


Gerry Levene and The Avengers


Danny Coral and The Surfriders
Memories
At the end of 1961, early 1962, a friend of mine was playing drums with some other mates at the Youth Club in Albert Road and after a while got fed up with it and asked me if I would like to buy his drums and have a go. Well, as he was keeping his drums at my house and he only wanted £5 for them, I said yes. Off I go round to the Youth Club and start making a noise with some of the guys there. For a period of time there were people dropping in and out, but we did put a few numbers together and played on the Youth Club stage regularly as payment for letting us practice there. Eventually Pete (Vickery) and Barry (Crowe) turned up, we were impressed with Pete as he had a 15 Watt Vox, very posh in those days, and along with a singer called Bob Ballard (later of The Blackouts - Ed.) we became a stable band. We called ourselves 'Danny Coral and The Surfriders,' can you believe it!

Jim Twigg

Read on in the profile of Jim Twigg.