Dream Factory - No.1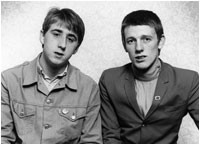 Dream Factory No.1
Photograph courtesy: Tamworth Herald

The Gallery
Musical Genre/Type: Soul / Pop
Formed: 1982 Split: 1983
Band Members:
Tim Goode : Lead Vocals (Gillway)
Donald Skinner : Lead Guitar/Backing Vocals (Wigginton)
Mark Mortimer : Bass Guitar/Backing Vocals (Gillway)
Ian Roberts : Keyboards (Coton Green)
Other Band Members/Instruments: Nicola Mortimer (backing vocals), Michelle Goode (backing vocals), Steve Quilton later joined on drums.
Songs:
The Haze - Donald Skinner / Mark Mortimer
I Want To Tell You (That I Love You) - Mark Mortimer
King's Evil - Mark Mortimer
Remember Me - Mark Mortimer

Other Songs: We also did, even in the very early days, a cover of an unissued and obscure song by mid 60s mod gods The Action called "The Place."
We also had an instrumental song whose name I have forgotten that was pretty moody and psychedelic!!
Gigs:
First Gig:
21/07/83
Dream Factory
Tamworth Youth Centre
09/09/83
Dream Factory
Tamworth Arts Centre
24/11/83
Dream Factory
Tamworth Youth Centre
03/012/83
Dream Factory
Tamworth Rugby Club
15/12/83
Dream Factory
Tamworth Youth Centre
Recordings:
Title: The Haze
Track List: The Haze / I Want To Tell You (That I Love You)/ Remember Me
Format: Demo
| | |
| --- | --- |
| Download | Play |
| The Haze | You need Flash Player. |
Memories: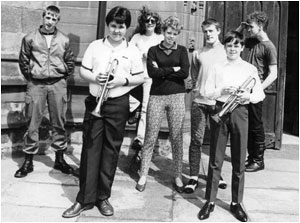 The Dream Factory's very humble beginnings were in the autumn of 1982 when Tim Goode and Mark Mortimer were all that remained of Private Property. We decided to carry on and my school friend Donald Skinner offered very kindly to help us out on lead guitar duties until we found a permanent line up. While at Donald's house one night I picked the name "Dream Factory" from a "Reader's Wives" letter out of a porno magazine (!!) as the group's name and that's how it all began!! No idea who our first drummer was, other than that he came from Atherstone - we rehearsed at Wigginton Village Hall to begin with and Tim's sister Michelle and my sister Nicola hung around and were roped in as "backing vocalists" while fellow Tamworth mod Ian Roberts bought himself a little Casio keyboard (similar to the one that Julian Cope was using around the same time actually!!) and that became our first line up.
For about a week we had two young kids from QEMS on trumpet and they appeared in the group's first full publicity shot for the Herald but I don't even remember their names and it is debatable if they ever rehearsed with the group!! My vision and blueprint for the band back then was a "psychedelic mod" group that was supposed to be like a more modern version of a lot of bands I was listening to from the amazing "Chocolate Soup For Diabetics" albums which Julian Cope had introduced me to. It was all very mod but with a great acidic twist and seemed perfectly up my street so that was the starting point for the Dream Factory.
Donald's guitar playing was, by this time, truly magnificent and he had turned into this really out-reaching musician who was very inspirational and could produce some great sounds and textures without relying at all on guitar effects. I felt actually kind of honoured that Donald was in our group and when we went to Birchmoor to Steve Adam's home studio for our debut demo tape recording in 1983 it was Donald's brilliant psychedelic guitar playing that stood out. By this time the two young trumpeters had gone and so had the Atherstone drummer, to be replaced by a Polesworthian drummer called Steve Quilton who had (I think) answered an ad in the Herald and who had been in a Polesworth punk/new wave band called Tora! Tora! Tora! around 1981/82.
The demo went well but within a couple of months I had played it to Julian (Cope) at his house in Mill Lane and he asked me to bring Donald down to see him the next time I visited because he loved Donald's guitar playing. At the time, Julian had moved back to Tamworth after the demise of the Teardrop Explodes and he was keen to put together a new psychedelic band for the start of his solo career. At the time he was very keen to track down Vince Watts to play but that was not feasible due to the situation with Vince and so when Julian heard the first Dream Factory demo he heard Donald and thought "hmmmmmmmmmmmmm..." As things panned out Donald started to hang out with Julian as well as me and he was soon drafted into the Julian Cope group. It took a while before Donald would actually appear live with Julian but he was involved in recording and rehearsing for a while beforehand and this was when obviously the Dream Factory knew it had to find a replacement for Donald.
Gig Memories: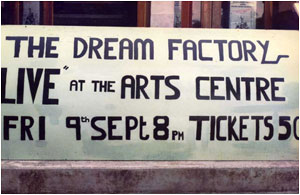 The first Arts Centre gig in September '83 turned out to be a headline grabbing event as some of the audience decided to go on a mini drunken rampage immediately after we'd finished, smashing shop windows up and down Lower Gungate and we immediately became associated with violence and having a violent following which wasn't always true but was something that stuck with us until the band ceased to exist in 1986.
Song Memories:
The first demo had a real sprinkle of magic dust about it and considering we were all so young and inexperienced there's a lot of interesting and good stuff on it. "The Haze" was basically a re-write of Donald's Fretz song "The Disciple" with a child-like poppy "ba ba ba" middle section added by yours truly in which my sister and Tim's sister sang this sweet melody over Ian Roberts' cheap-but-effective Casio keyboard. Donald's guitar playing throughout the demo was EXCELLENT.
We'd gone to Steve Adams' on the advice of Julian Cope who had recently recorded there, doing a number of demos and stuff, some of which ended up as early B-side / 12" tracks like "Hey High Class Butcher." Anyway I remember the whole experience being awesome - I felt like I was doing something I had always been destined to do and although I knew that as musicians we needed to improve dramatically, it felt so good.
"I Want To Tell You (That I Love You)" was an expression of my own awkwardness at finding and keeping a girlfriend and how embarrassed I often became over matters of the heart! The song was based on a sort of primitive dance bass line that had been inspired by quasi funk/soul groups of the time like The Questions (and not a million miles away from Spandau Ballet's "Chant Number One") who had taken their inspiration from late 60s/early 70s soul/funk and club tunes. Donald played some percussion on some bongos and, if I remember rightly, he also got a good percussive effect by tapping a biro pen against a glass jar. That song always made Julian Cope smile and he referred to it later in his biography "Re-possessed".
"Remember Me" was meant to be a Doors-like psychedelic number and it began with a Manzarek-like riff from Ian Roberts but the real performance on this tune was Donald's guitar playing which was simply tremendous. The whole demo was a great start and showed enormous potential. From my own point of view I was chuffed as it held true to my original vision of a psychedelic mod band that had bits of soul and loads of psychedelia!! Julian Cope, who I was hanging out with all the time, felt the same way and started name dropping the Dream Factory in TV and radio interviews and even mentioned us in "Smash Hits" so there seemed to be a snowball gathering pace and things seemed to be rolling very much in the right direction for us!
Thanks to: Mark Mortimer
---
Tamworth Herald – 15/07/83
Musicbox – Making dreams come true
TWO of Tamworth's most durable musicians Mark Mortimer and Donald Skinner have once again joined forces for a new musical venture.
The Dream Factory is an eight-piece outfit with Messrs. Mortimer and Skinner as the song-writing partnership at the heart of the band.
Trumpets
But they have been joined by former Private Property member Tim Goode, his sister Michelle, Graham Walters, Jason Farrow, Kerry Goddard and Mark's sister Nicola.
Direction
Graham and Kerry both play trumpets and Nicola and Michelle will be forming a backing vocal section – giving a clear idea of the direction of the band.
Mark explained: "We have a range of influences including R 'n' B, soul and psychedelic sounds."
Some of the titles the band have already come up with include 'The Haze', 'Red and Gold Pictures' and 'Belated Revenge'.
They play a gig at Tamworth Youth Centre on Thursday, July 21 and hope to play at a Tame Valley Road Runners scooter club disco shortly.
Tamworth Herald – 12/08/83
Musicbox – Debut went like a dream
DREAM FACTORY – Tamworth Youth Centre
THE SCENE at Tamworth Youth Centre was set like Liverpool's Cavern in the Sixties. It was small and compact and the large crowd was waiting in anticipation for the debut performance of a new band – the Dream Factory.
And their set turned out to be a nice mixture of originals and cover versions.
First up was 'The Place' a nice taster for 'In The Midnight Hour' which was particularly well handled by vocalist Tim Goode.
The first original, Mark Mortimer's 'Belated Revenge' followed and this was highlighted by the superb guitar work of Donald Skinner who was playing up to his normal high standard.
By now the band were well and truly composed and the appreciation of the crowd of Sixties followers proved to be a tonic for Tim Goode whose vocal work became steadily more passionate.
Highlights
The band had decided to do two sets and the real highlights were saved until the second half.
'Remember Me' with its shades of 'Treason' began an impressive series of originals that included the instrumental 'Red and Gold Pictures' and the immaculate 'Haze'.
An encore was called for and the band duly obliged.
So closed an excellent set which I will remember mostly for the brilliant performance of drummer Steve Quilton who with only four hours of practice, put in a performance worthy of Keith Moon.
LEIGH SMART
Tamworth Herald – 09/09/83
Musicbox – Date with Factory
TAMWORH Arts Centre is the scene tonight for the second major performance by Sixties band The Dream Factory.
Tickets to see the gig have been selling very well following the bands spirited debut at Tamworth Youth Club in July.
But the band this week suffered a major blow when they heard of the departure of guitarist Donald Skinner.
"He has promised to help us out in the next couple of gigs but after then I think he wants to concentrate on his own band," said bassist Mark Mortimer.
The gig at the Arts Centre begins at 8pm – but tickets are likely to be very scarce.
Tamworth Herald – 23/09/83
Musicbox – Standing between a Dream and a nightmare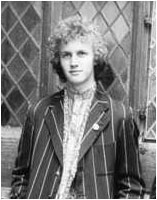 WHEN Paul Weller finally split the Jam last year it was the end of a great era.
But as Weller moved onto the potentially magnificent Style Council, he left behind the hope that younger bands would come through to fill the vacuum left by the mighty Woking trio.
And if he had been at the Arts Centre on a wet Friday evening recently he would have seen his vision coming true.
For the Dream Factory – Tamworth's top sixties outfit – embodies everything Weller stands for.
They are young, genuine and most refreshing of all, extremely popular. It was only their second gig in the town, but the Arts Centre was filled to overflowing and the band was given an enormous roar when they took to the stage.
The set they delivered made their first performance at Tamworth Youth Centre pale into insignificance.
Tim Goode put in a splendid vocal performance and bassist Mark Mortimer – who has had so many 'near misses' in the musical arena – looked more comfortable than I have seen him for a long time.
Their set – although still I feel too biased towards cover versions – was well structured and entertaining and the band's own numbers revealed a far more adventurous approach to songwriting than I once suspected.
Danger
The only problem that now faces the band – apart from a rather unfortunate section of their audience who seem fight hungry – is the imminent departure of guitarist Donald Skinner.
Donald is without doubt one of the best musicians in the town and when the band occasionally got lost in the gig he was always there to rescue them.
Without him there is always the danger that the Dream Factory could turn into a nightmare mess of idealistic youngsters without a stable musician to support them.
Dream
But this is not a time to be negative. The Factory have a lot going for them even though they are still a long way off competing with many of the more established acts in the town.
If they can build on this initial promise and get rid of the pathetic group of mods who attempted to turn the gig into a mini-battlefield, they can go right to the top.
In the meantime, they should concentrate all their efforts on finding a new guitarist and writing original material to bolster their set.
The perhaps we will finally see the dream coming true…
Tamworth Herald – 14/10/83
Musicbox – CHANGING FACES OF A DREAM
Dream Factory (debut tape)
TAMWORTH seems to be suffering from a very welcome outbreak of studio fever at the moment.
Those Attractive Magnets and Sitting Pretty have both emerged from the studio in recent months with excellent recordings and now we have yet another one to add to the list – the debut release by the Dream Factory.
On first hearing, I must confess I was rather disappointed with the tape. Compared to the band's powerful live performances the tape sounded almost like a weak and heavily-neutered parody of the Dream Factory sound.
But once you cast aside your preconceptions of what you thought the band sounded like, and actually listen to the songs, you can't fail to be impressed.
What the band have sacrificed in power they have made up for in structure and invention, to the point where you wonder whether the band will ever be the same again.
The tape contains three very different tracks which are preceded by a short unnecessary intro that in former times might, kindly, have been dubbed 'arty'.
The opening track is 'The Haze' which boasts the tape's finest tune and is an excellent example of how the band combine many diverse influences. Sadly, however the group chose to end the song after a pitifully short two minutes, I really hope they will extend the very interesting ideas on the track when they play it live.
The second track 'I Wanna Tell You' is even more remarkable and although the band probably won't admit it, has a clear disco/funk sound. It is almost like Wham without the gloss and with its inventive guitar work and funky bass line, it has the word 'hit' written all over it.
The tape closes with the track I expected would be the best – but turned out the worst – 'Remember Me'. Although it is a nice, bouncy song there is something missing in this taped version of the live favourite. It seems rather 'overproduced'.
The tape ends there – and so does your idea that the Dream Factory can be conveniently labelled a 'sixties' band.
What make the tape even more intriguing is that it is already history. Donald Skinner has now left the band to become a 'Dead Captain' and he has been replaced by the equally talented Andrew Baines on guitar.
Whether the band will now progress along the psychedelic road hinted at on the tape remains to be seen, but there is no doubt that they can all feel proud of this very impressive start to their recording career.
SH
Tamworth Herald – 04/11/83
Musicbox - Local snips
THE Dream Factory have added another guitarist to their rebuilt line-up following the departure of Donald Skinner. The new guitarist is Lloyd Barrett, a new name on the local scene, who will be joining Andrew Baines in the band who are currently working on new material.
Tamworth Herald – 18/11/83
Musicbox
Things are really taking off for the Dream Factory at the moment. Despite losing the services of guitarist Andrew Baines the band have been praised by two national figures – Peter Powell and Julian Cope. Radio One DJ Peter Powell heard the group's excellent debut cassette and was so impressed that he range the band for more details. And Tamworth's most famous musical protégé Julian Cope gave the Dream Factory a boost by mentioning them in a recent interview in Smash Hits magazine. The band who now boast a different set to what Tamworth fans will have heard before will be returning to their 'home' ground on Thursday when they play Tamworth Youth Centre. The gig begins at 8pm.
Tamworth Herald – 09/12/83
Musicbox – Happy dreams
THE DREAM FACTORY – the current favourite to win the Musicbox local band of the year – had a highly successful gig at Tamworth Rugby Club on Saturday and are now busy preparing for what promises to be a triumphant appearance at Tamworth Youth Centre on Thursday, December 15.
The concert, which had to be postponed from last month, should give the Dream factory ample opportunity to show local fans what a great future they have ahead of them. The gig begins at 8pm but judging by attendance at recent concerts, it might be advisable to get there early!
Tamworth Herald – 16/12/83
Musicbox – Julian Cope tour to hit Tamworth

DREAM FACTORY…will they be able to Cope with the gig?
TAMWORTH'S most famous musical protégé Julian Cope looks all set to play a gig in the town next year. He is currently discussing plans for a national tour in early 1984 and he has made it clear that he would like to include Tamworth on his list of possible dates.
If the plans go ahead it will undoubtedly be the biggest gig in Tamworth for many years.
But one problem that Julian faces is finding a suitable venue. The Assembly Rooms is the only place in town big enough to hold the sort of crowd that might be expected but there is a doubt as to whether it could hold the sort of sound system required.
As an alternative, Julian is considering playing a special open-air gig in the Castle Grounds – the scene of Tamworth's biggest-ever outdoor rock festival earlier this year.
Another boost for the town if Julian's plan comes to fruition is that he wants the Dream factory to support them.
Julian Cope has been impressed with what he has heard of the band and has already given them several plugs including one in a recent edition of the popular 'Smash hits' magazine.
The decision by Cope to go on tour, comes at a time when he has returned to the national spotlight after 12 months in the musical wilderness.
In that time he has settled down in Tamworth, rediscovering psychedelic music, and writing a brand new set to take onto the road.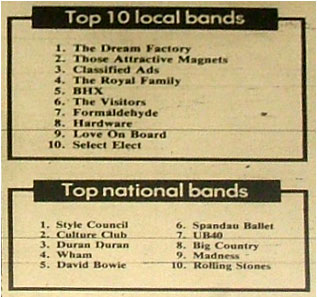 The first of this batch of new songs – 'Sunshine Playroom' – was recently released as a single – and has just shot to the top in the Musicbox single of the year poll.
To coincide with the release of the single Julian has done several major interviews and in all of them he has mentioned Tamworth, which he says is an ideal place to rebuild his career.
And now the talented vocalist looks set to give something back to the town that has given him the anonimity and peace he sought.
Tamworth's army of rock fans must keep their fingers crossed that the plans are finalised and then the scene will be set for the most exciting concert in the town for many years.
Tamworth Herald – 30/12/83
Musicbox – RESULTS OF OUR MUSIC POLL OF THE YEAR
Factory floor the rivals to win title
Top 10 local bands
1. The Dream factory
2. Those Attractive Magnets
3. Classified Ads
4. The Royal Family
5. BHX
6. The Visitors
7. Formaldehyde
8. Hardware
9. Love on Board
10. Select Elect

THE DREAM FACTORY
THE DREAM FACTORY, Tamworth's busiest new group, have been voted as Musicbox's first ever local Band of the Year. In a massive poll – easily Tamworth's biggest pop survey – they just managed to defeat long-standing favourites Those Attractive Magnets to round off an exceptional year for the Factory.
Even though the band have not yet been formed 12 months, they have managed to attract massive audiences wherever they have taken their sixties-orientated sound.
They packed out the Arts Centre, made Tamworth Youth Centre their Mecca to which hundreds flocked and drew great praise from Tamworth's top vocalist Julian Cope and Radio One DJ Peter Powell.
And their immense popularity was confirmed when nearly 150 people put pen to paper to vote for the Factory as the top local act.
But they didn't have it all their own way. The Magnets – the 'Musicbox writers' band of the year – showed that their popularity is still growing and votes poured in for them throughout the poll period.
In the end the Magnets were beaten by just 13 votes but their disappointment will be reduced because they easily won the single of the year award. In fact their 'Nightlife' single polled four times as many votes as its nearest rival.
Between them the Dream Factory and the Magnets polled nearly 85 per cent of the 315 votes cast in the poll making them undoubtedly Tamworth's most popular bands.
The Classified Ads – now in their fourth year – came third with a solid vote and they were followed by Tamworth's manic blues band the Royal Family.
Big names
Former Private Property guitarist Brian Lacey will take satisfaction from the fact that his new band The Visitors – who have yet to play a gig – have already built up a small following and BHX will be delighted to be officially recognised as Tamworth's most popular heavy band.
The success of the poll is just the final proof that 1983 is the most exciting year yet in Tamworth's local music scene.
The highlights of the year was undoubtedly the August Bank Holiday festival which brought 700 rock fans into the Castle Grounds and no less enjoyable was the more modest, but equally successful, indoor rock festival which featured BHX, Sitting Pretty and Select Elect.
Splendid
A long list of bands also managed to release singles and tapes and special praise must go to Talk Back for their splendid single in December.
So there we have it, a 1983 to remember and a 1984 to look forward to. It all begins in fine style with two great gigs next week at the Tavern in the Town. On Monday January 2 the Magnets will be in action and three days later it will be the turn of the Classified Ads to open up the new Thursday gig-night at the Tavern.
The gigs should provide a great start to a year in which Musicbox confidently predicts that one or more of our local bands will gain national success.
Indeed, in spite of Orwell's cryptic vision of next year, it could be that – musically at least – 1984 will turn out to be a beginning rather than the end.