Europe After The Rain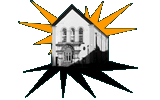 MusicalGenre/Type: Pop
Formed: 1986 Split: 1986
Gigs
02/05/86
Europe After the Rain
Bondgate
Nuneaton
15/06/86
Flesh For Lulu
Europe After The Rain
Bondgate Social Club, Nuneaton
Tamworth Herald – 02/05/86
Musicbox – SNIPS
THE Australians have changed continents. As of now the likeable Atherstone outfit will be called Europe After The Rain, a tasty monicker pinched from legendary po-faced John Foxx. The group have also added a new member – saxophonist Martin Sutton and you can see how they line-up and name change has affected them at the Bondgate Club, Nuneaton (tonight) when they will be joined by two other acts, a fashion show and an alternative disco.
Tamworth Herald – 06/06/86
Musicbox – SNIPS
Stars come out after the rain
EUROPE AFTER THE RAIN (ex-Australians) have lined-up a whole host of excellent concerts and name acts. The band have impressed a number of musical 'big-wigs' and as such have arranged concerts with the likes of Flesh For Lulu, Felt, In Embrace and the highly rated Big Flame. The Big Flame show is at The Crown, Nuneaton tomorrow (Saturday with the Flesh For Lulu show following seven days later. According to singer Chris Thomas – (who promises their set is full of mystery and suspense, sex and vice) "We will undoubtedly be a household name within six weeks time".
Tamworth Herald – 13/06/86
Musicbox – Flesh does wonders for Europe
EUROPE AFTER THE RAIN will play their most prestigious concert yet on Sunday – supporting the alternative outfit Flesh for Lulu.
The Europeans (who used to be The Australians if you can work that out) earned the enviable support slot when they rang up the band about a totally different matter. During the course of the conversation the Lulus said they needed a West Midlands concert and so the Europeans fixed it up – and fixed themselves up at the same time!
"It is definitely our biggest gig yet but we are only going to play a short set for the best impact," said singer Chris Thomas.
The gig is at the Bondgate Social Club in Nuneaton in Sunday and costs a very reasonable £2. it starts at 7.30ish (with a full disco) and as an indication, the new-look Europe After the rain play guitar-orientated music that is aimed in an REM direction. A very interesting concert indeed.