Michael's Nightmare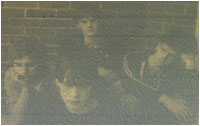 Formed: 1981
Band Members:
Kevin Hind – Guitar and vocals
Mark Chatfield – Guitar
Ian Smith – Bass
Pete Adams – Drums
Gigs:
04/09/81
Michael's Nightmare
Tamworth Arts Centre
Tamworth Herald – 04/09/81
Musicbox – Nightmare time…
Michael's Nightmare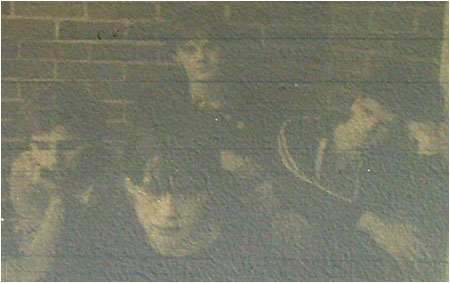 Michael's Nightmare left to right: Kevin Hind, Mark Chatfield, Ian Smith and Pete Adams.
Tamworth Herald – 11/09/81
Musicbox – A nightmare crowd, but talent shows
Michael's Nightmare: Arts Centre
OH DEAR…yet another case of Tamworth apathy spoiled what promised to be one of the best gigs in the area for some time.
It looked as if Tamworth music lovers had recovered from their reluctance to come out for live music when local heavy rock band Omen played to a capacity Arts Centre crowd in July.
But on Saturday night all those bad habits flooded back when only a couple of dozen people bothered to watch the Uttoxeter based Michael's Nightmare.
Although on the other hand you can hardly blame them for not turning out.
When your support band doesn't even bother to show up and you are minus your lead singer until it's nearly time to go home, you haven't really got a cause to complain.
But when the show finally got going, Michael's Nightmare – complete with vocalist – produced a musically tight set which showed lots of talent.
They played short, sharp pop songs with that extra hard edge which made them sound musically not unlike The Cure.
Particularly impressive was drummer Pete Adams whose performance stuck out from the rest.
What a pity the Tamworth punters thought Saturday was the day they would return to their old ways. Let's not hope they haven't put an end to the Arts Centre as a rock venue.
Robert Sly
The full profile and history of Michael's Nightmare has yet to be added to TamworthBands.com Call back soon to read the full band details.
If you have any further information about this band please email: info@tamworthbands.com