Smothered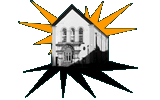 Musical Genre/Type: Rock/Alternative
Formed: 1993 Split: 1995
Band Members
Jase Clifton - Lead Vocals (Glascote)
Also in: Kingdom of Summer
Muz Pickett - Lead Guitar (Leyfields)
Also in: Kingdom of Summer
Steve Bennett - Bass Guitar (Tamworth)
Warwick Deane – Drums (Tamworth)
Memories
The band were formed in September `93 and split early/mid `95. Smothered were formed out of the ashes of Kingdom Of Summer, who split just before going onstage at the Tamworth Rock Fest `93. The rhythm section of Lee Cossey (bass) and Jim Bashford (drums) announced that they were calling it a day which would eventually lead to them forming Pastimes of Krishna. Rhythm guitarist Andi Roe also quit at the same time, which left myself and Jase feeling somewhat bemused to say the least! We met Warwick at said festival and he said he'd play drums if we could find a bass player. After trying 2 or 3 out we turned to Steve Bennett, who had been helping us out and was persuaded to join properly. We used to practise at Mark Brindley`s place and it was always LOUD! The music had taken on a heavier edge and we used to like to get the ears ringing. We sort of fell apart rather than actually split, due to work, fatherhood and general apathy.
Songs such as She, Show Me and Psycho Mother were Kingdom of Summer tracks that were speeded up or slowed down and given a bit more oomph. The best was probably Psycho Mother, still played by myself at gigs today.
Our first gig was the Winter Rock Fest at Tamworth Assembly Rooms, we were on first which didn't go down too well with us because we knew that we'd be playing as people were arriving, which turned out to be correct. We still went down okay though. Second gig was at The Rathole while the third was at the Assems again for the Spring Rock Fest, with a better time and it turned out to be the best we did. Fourth and final gig, though we didn't know it at the time, was the Rock Fest `94 over the castle grounds.
Our demo was recorded and mixed October 16th and 17th 1993, in exchange for an old P.A amp of mine! In hindsight we probably recorded it too soon, but we were itching to get the songs down. We didn't do a bad job though.
Songs
Psycho Mother - Pickett/Clifton(Cossey)
She - Pickett/Clifton
Show Me - Cossey/Pickett/Clifton
Kaleidoscope - Pickett/Clifton
Explain - Pickett/Clifton
Get Up - Pickett/Clifton
Sugar Sweet - Pickett/Clifton
Everybody Makes Mistakes (and you were mine) - Pickett/Clifton
Black American - Pickett/Clifton
Spin On This - Pickett/Clifton
Indigo Eyes
Gigs
First Gig: Assembly Rooms (Winter Rock Fest) - 28/01/94
Last Gig: Tamworth Rock Festival '94
Other Gigs:
Rathole - 20/3/94
Spring Rock Fest - Assembly Rooms – 27/05/94
Recordings
Demo Tape
Track List:
She/Psycho Mother/Show Me/Kaleidoscope/Explain.
Thanks to: Muz Pickett
The full profile and history of Smothered has yet to be added to TamworthBands.com Call back soon to read the full band details.
If you have any further information about this band please email: info@tamworthbands.com