AardWolf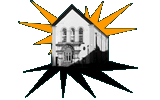 Musical Genre/Type: Rock
Formed: 1980 Split: 1982
Band Members
Andy Malkin - Lead Vocals/Lead Guitar (Bolehall)
[Also in: One On One, Mr Cyn, Big Screen]
John Scattergood - Rhythm Guitar (Leyfields)
Rob Rea - Bass Guitar (Leyfields)
Stuart Pickett - Drums (The Leys)
[Also in: One on One, Mr Cyn, Big Screen, Bash Out The Odd v.1, Bash Out The Odd v.2, Bash Out The Odd v.3]
Band Variations
John Archer - Bass Guitar
Nigel Roe - Keyboards
Gigs
First Gig: St Johns Youth Club - 1980
Last Gig: Arts Centre - 1982
18/07/81
Omen
Aardwolf
Tamworth Arts Centre
Tamworth Herald – 24/07/81
Musicbox – A stylish new look
THE OMEN : Arts Centre
NOT only have Omen improved musically, but their whole approach seems to have steadied.
Their act was more colourful, visually exciting and their confidence helped to boost their sound.
Their set was basically the same as their previous gig with new songs added here and there. I got the impression, though, that what the band really wanted to play was not necessarily what the HM-orientated crowd of Tamworth wanted to hear. I would not class Omen as just another heavy metal outfit, for their subtleties put them beyond that category.
I felt that the audience were a little ignorant towards some of Omen's more stylish songs, which would make superb listening on an LP. It is these self-composed numbers that put Omen into a class of their own.
Only time will tell if Omen's potential is realised, but I, for one, sincerely hope that the group continue to follow their natural direction, for it is that route which will bring them the real success.
Members of Omen and Aardwolf were "knocked out" by the response to Saturday's gig – the first at the Arts Centre for some time.
Tamworth Herald – 25/09/81
Musicbox – Heavy rock…for the thinking man
AT a time when anyone who dares call himself a heavy rock fan is immediately thought of as some species of brainless moron, it is refreshing to meet a band whose music focuses on the more restrained side of the HM scene.
Aardwolf are the sort of band who tend to suffer from the HM backlash more than most.
The full profile and history of AardWolf has yet to be added to TamworthBands.com Call back soon to read the full band details.
If you have any further information about this band please email: info@tamworthbands.com