Tamworth Bands History : 1977
July to September

01/07/77
Tamworth Cricket and Hockey Club Pork Barbecue
Kwil
Trent Valley Stompers
Ron Peel Roadshow
Clubhouse, Hints Lane, Hopwas

01/07/77
Bar-B-Q
Paradox
Nij Redfern and Steve Bostock
01/07/77
Mike Blair
Unicorn Folk Club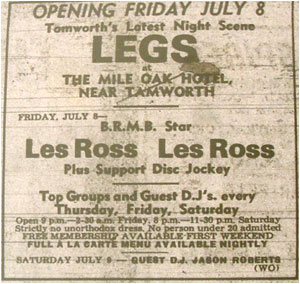 Tamworth Herald – 01/07/77
Queen quits after Carnival day let down
02/07/77
Tranzit
Austrey Working Mens Club
03/07/77
Convention
Dordon Working Mens Club
03/07/77
Lucifer
Tamworth Progressive Club
08/07/77
'Legs' – Opening Night
Les Ross (BRMB)
Tamworth Herald – 01/07/77
Musicbox - Top award for Steve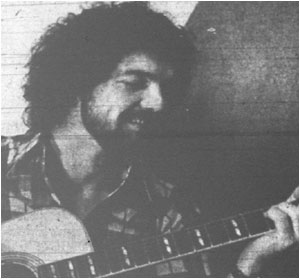 Birchmoor singer-songwriter Steve Adams has gained national recognition for his talents.
The former industrial chemist who gave up his career for music, has won a top Melody Maker award and won for himself a country-wide tour.
Steve topped the soloist section in the leading music paper's national talent-seeking contest to add to the Melody Maker award he received last year as the "most outstanding performer."
His prize this year includes £250 in cash and a tour of universities and colleges.
He warded off the challenge of four other finalists after sailing through area and regional finals.
Steve's set was a mixture of humour and sentiment and included songs such as "Pubsinger's Blues (or I'm Sorry I Won't Play 'Streets of London')" and "But For You".
08/07/77
Steve Ashcroft
Unicorn Folk Club
08/07/77
Convention
Polesworth Working Mens Club
Tamworth Herald – 08/07/77

Musicbox - Globe Folk Club
A new folk club has opened on Tuesday nights at the Globe Inn in Lower Gungate. The new venture has two local singers Andy Dwyer and Alan Whittle as the organisers who see it mainly as an outlet for all local singers. "There has been real need for this kind of club in Tamworth: A place where singers, either traditional or contemporary, can be sure of an interested and appreciative audience" says Andy. It is hoped that such a worth ideal will get the local support that it deserves. Pictured are some of the singers who will be appearing at the Globe.
10/07/77
Kidda
Dordon Working Mens Club
Tamworth Herald – 15/07/77
Palace – Carrie
15/07/77
Frank Crow
Unicorn Folk Club
Tamworth Herald – 15/07/77
"Last Chance" after assault on disc jockey
Norman Peter Lea attacked disc jockey at the Castle Hotel.
Tamworth Herald – 15/07/77
Anger after drunken damage after farm barbecue
Tamworth Herald – 15/07/77
Musicbox
Neil Young
17/07/77
Convention
Dordon Working Mens Club
17/07/77
Cargo
Belgrave Sports and Social Club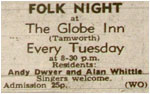 Tamworth Herald – 22/07/77
Palace – Rocky
22/07/77
Andy Dwyer
Unicorn Folk Club
Tamworth Herald – 22/07/77
Musicbox
Twiggy
23/07/77
Jester
Kettlebrook Working Mens Club
23/07/77
Breaker
Amington Liberal Club
Tamworth Herald – 29/07/77
Jobless Total Soars
Unemployment in Tamworth – 15%, national average 6.8%.
Tamworth Herald – 29/07/77
Musicbox
Album Review - LIVE AT THE ROXY (London WC2) (Various Harvest SHSP 4069 (1))
The album was recorded live at The Roxy between January and April 1977, when no fewer than eight new wave bands were recorded. They include Slaughter and the Dogs, The Adverts, Johnny Moped, Eater, Buzzcocks and others.
The most interesting part of this very different album is when Johnny Moped starts off Side Two, when he encourages the audience to "Pogo".
From a musical point of view the best part of the album is the cover, on which are some rather outrageous pictures of punk rockers
30/07/77
Breaker
Tamworth Progressive Club
30/07/77
Cargo
Amington Liberal Club
30/07/77
Austrey Sports Club, Barbecue
Kwil
DJ Nij Redfern, tickets from Christines Stores
Admission: £1.50
31/07/77
Paradox
Glascote Working Mens Club
03/08/77
Gemini Disco
Kingsbury Working Mens Club
04/08/77
Brewster
Polesworth Working Mens Club
Tamworth Herald - 05/08/77
'Problems' man in car suicide bid
A 19-year old man twice tried to commit suicide after injecting himself with a mixture of crushed valium tablets and whisky, Tamworth magistrates heard on Tuesday.
On the first attempt, he drove a car like a maniac at full throttle into a head-on collision with a parked vehicle.
On the second attempt, he was in the police station when he broke a window and brought his arms down on the jagged ends to badly cut his wrists and sever an artery.
Tamworth Herald – 05/08/77
Musicbox
Colosseum II
06/08/77
Kidda
Polesworth Working Mens Club
11/08/77
Paradox
Two Gates Working Mens Club
Tamworth Herald – 12/08/77
Musicbox
Muscles
Tamworth Herald – 12/08/77


Ed Ake Letter – Punk in Tamworth
For a bit of fun, Edward ian Armchair (Ed Ake) sent this letter to the Tamworth Herald. The intention was basically to shout from the rooftops that 'punk exists!' Armchair was isolated, 16 years old, sitting in his bedroom, listening to punk records on John Peel, going to Barbarella's in Birmingham to see every punk band you can imagine. But there was no one else, as far as he knew, in Tamworth.
Full text of the letter, with Tamworth Herald errors corrected:
Dear Sir,
I would like to bring to the attention of the populous of Tamworth, the fact that within the town a new phase of teenage life is being built up. This new phase is commonly referred to as 'punk' rock.
Within the outlying areas of the town, namely, Amington, Glascote and Belgrave, I have come to notice several punks. There must be at least 50-100 in Tamworth.
This may surprise quite a few of your older readers who are totally devoid of any connection with teenage life.
Since this time last year 'punk' rock has spread throughout the country like wildfire and has now, I am exceedingly glad to say, reached the wonderful, serene, socialist town of Tamworth.
Being totally in favour of 'punk' rock, I hope that the kindly folk of Tamworth will not treat any 'punk' rockers with disdain and hatred. We are not all akin to the impression of a 'punk' built-up by the media. We are not degenerate forms of homosapiens.
We are simply normal, lovable teenagers, who after many years of pointless education and inability to express our views, have now become able to reveal important facts. The majority of people, who, being totally ignorant of what horrors are surrounding them in this society should be helped to redeem their corrupted souls.
We have discovered the medium of music to express our views and this music, having so much unhindered energy and influence is the reason why 'punk' rock has become so successful.
I hope that you, the Editor, will not refuse to print this letter simply because it concerns an item that you may feel is vile, dangerous and of no interest to your readers.
I personally believe it to be important that your readers know of this new wave of excitement in their town.
"ED AKE"
(Name and address supplied)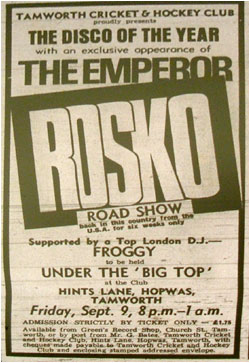 13/08/77
Poetry Rock Band
Tamworth Working Mens Club
13/08/77
Kidda Band
Hurley Working Mens Club
14/08/77
Witchmaster
Dordon Working Mens Club
Tamworth Herald – 19/08/77
Disco youth threw spade through signal box window
Tamworth Herald – 19/08/77
Musicbox
Rolling Stones, Emperor Rosko in Tamworth
26/08/77
Quartz
Hurley Working Mens Club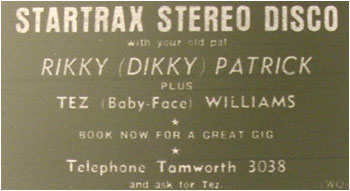 Tamworth Herald – 26/08/77
STARTRAX STEREO DISCO
Rikky (Dikky) Patrick
27/08/77
Paradox
Tamworth Progressive Club
26/08/77
Quartz
Hurley Working Mens Club
Tamworth Herald – 26/08/77
Heartbroken fans mourn idol…the King of Rock
Tamworth Herald – 26/08/77
Musicbox
Fairport Convention, Small Faces – review of New Wave – Various
29/08/77
Pretty Pigs Sports and Social Club
Annual Children's Sports Day
Your MC for the day – Barry John
03/09/77
Bogart
Hurley Working Mens Club
04/09/77
Kidda
Dordon Working Mens Club
06/09/77
The Red Barron Roadshow
Tamworth Municipal Golf Club
08/09/77
Disco
DJ Nij Redfern
Tamworth Football Club
09/09/77
Emperor Rosko
Hints Lane, Hopwas (under the Big Top)
Tamworth Herald – 09/09/77
The King is Alive – Night of Presley nostalgia
Bring out your drapes, Put on your crepes, Dance and swing, to the Rock and Roll King.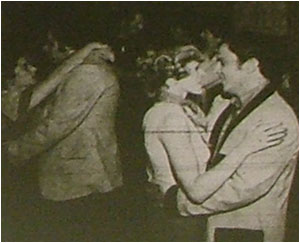 This SIMPLE invitation to Tamworth fans of the "King" brought a heady response…
For on Saturday night the immortal music of the late Elvis Presley breathed life in to a smoke-filled ballroom at one of the town's pubs.
It was billed as a tribute to Elvis by the men and women of the Mercian Pub at Belgrave who organised the event.
And a tribute it turned out to be – as more than 150 people squeezed into the ballroom to witness what could be the start of a rock 'n' roll revival in the town. Not even the non-appearance of the scheduled disc-jockey could put a dampener on the evening. A stand-in was found who treated the fans to three hours of Presley – unadulterated and uncensored. The King in all his glory.
Mercian landlady, Mrs. Dorothy Mobbs, who helped organise the night, said she was surprised at the turnout. "We felt we wanted to do something different for the people of Belgrave. But we never expected this many," she said.
SPLUTTER
The 42-year-old woman – a dedicated Presley fan – said he was part of her younger days.
The whole evening turned into a night of nostalgia for the Presley fans. For every note and splutter which uttered forth from the disoc speakers was his.
One fan – 30-year-old Bill Proctor – made the trip up to Tamworth all the way from Redditch.
WEEP
"My sister and brother-in-law, who live in Tamworth, told me about it. We'd had nothing like this in Redditch – so I cam up to Belgrave," added Mr. Proctor of Goodridge Close, Winyates.
"I'm not the sort that would weep over his death. But I was upset. His death marks the end of an era for me," he added. "The charisma which surrounded Elvis carried off his shows. For me he was the King of Rock and Roll."
And for husband and wife Dave and Sue Wood of Coton Lane, Tamworth, there was no-one like the King. "We are both Elvis fans. We have every one of his records," said 30-year-old Mrs. Wood.
LOSS
"We wanted to come and pay our tribute to him. In fact Elvis was the only man I would have left my husband for." Mr. Wood added: "His death is a sad loss to the pop world. They'll never find another one like him."
It was a night to remember for the Presley fans. They came in their drapes and their crepes to jive to the King. The Presley music which filled the room spanned 20 years – from the rock of the 50s, the swinging 60s through to the present day. Towards the end of the unforgettable night – there came the tears from some of the audience. The disc – "There Goes My Everything" – was perhaps a fitting epitaph to the monumental star. The record proved too much for some who had made this pilgrimage to the Mercian.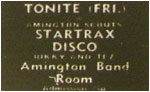 The night ended with the feeling that the King is still very much alive…
09/09/77
Startrax Disco
Amington Band Room
Tamworth Herald – 09/09/77
Punk flop as new wave sinks in Tamworth by Peter Brown
It's just a big laugh…for the Headbanger at least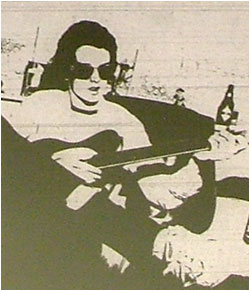 Ed Ake…"punk rock can enlighten people."
We've had skinheads, hell's angels, hairies and … but we just haven't got punks.
Tamworth it seems is not riding on the crest of the new wave – and it doesn't look as if it is likely to either. Punk rockers have given the town a miss and the throbbing street music of the cult is the only sign that new wave is here. But wait! Did we not see a letter in this very paper a couple of weeks ago from a punk called Ed Ake?
Ed Ake from Amington says he is a punk, but unfortunately we were unable to trace many of the 50-100 punks he claimed must be going around the town.
In fact we found only one other.
Ed Ake, a soft-spoken, red-haired sort of punk, has been merrily flinging up and down to punk rock for the past four months.
"I have really been into this," says Ed, a 17-year-old school boy (16 actually – I needed to make sure I could still get served in the pub and could say I was just turned 18 – Ed.) "I was sick of things and this was a way of showing my feelings.
"People are so simple minded – the media just controls what they do." Punk rock can actually enlighten people, claims Ed. "It's a way of showing to the majority of society the things that surround them,"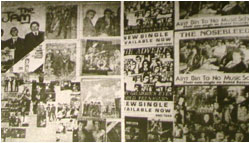 It sounds as if it has all been done before…
REALISTIC
"It's the same sort of thing as the hippy thing, but we're trying to do it in a more realistic way."
The music is the main vehicle of the movement. "The lyrics are the most important things, " says Ed, who seems more educated and less aggressive than your everyday punk. He swears he would never wear safety pins or chains. "Take The Jam. They say that society is going to turn into a police state and people are going to control our minds."
It was on his return from a Jam concert in Birmingham that Ed Ake first ran into trouble – and it gave him something to think about. A gang of youths threatened Ed and a friend when they arrived back in Tamworth – and now they are a little wary about taking to the streets in their ankle-hugging punk jeans.
PUNK BAND
The town could be hearing more from Ed though. He is thinking of forming how own punk band.
"Ed Ake and the Painkillers," he grinned.
What about the other half of the town's punk rockers then? Who else is getting a kick from "good metal" music?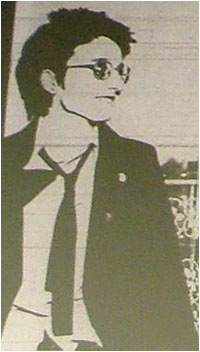 Susie the Headbanger…"It's just a laugh."
Susie the Headbanger does – and she regularly nips off to Birmingham to hear the latest at a disco run by DJ Vic Vomit.
"I just got into punk music," says the 18-year-old from Belgrave. "There's nothing much going for it in Tamworth though."
At one time Susie had nights out in Tamworth. But now people laugh at her, so she travels to the city for her entertainment. "Everyone makes jokes about me round town – people have even been known to shout out of car windows at me."
Like Ed Ake she wears the customary drainpipe jeans and plimsolls. Sometimes she goes a step further and puts on a shirt and tie.
"I've always tried to do my own thing. Punks look normal to me – when I look at straights I think they're boring."
Susie, who cropped her own hair, occasionally pokes a safety pin through her already pierced ears. She has been on the dole since leaving college a couple of months ago. Does punk rock really reflect the frustrations of disillusioned youth?
"The original thing was started off by kids on the street with nothing to do and nowhere to go," the Headbanger explains.
MESSAGE
"That's why it is called punk rock – but now there are a lot of poseurs hanging on. The music gets the message home."
Susie in fact, takes her name from lyrics by American punk band The Ramones. "My dad just laughs at me for being so silly," she says, "but my mum hates all this.
"But it's all fun. That's all it is – just a big laugh."
11/09/77
Convention
Dordon Working Mens Club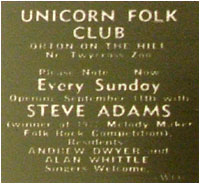 11/09/77
Unicorn Folk Club - Opening Night
Every Sunday
Steve Adams
11/09/77
Spida
Glascote Working Mens Club
12/09/77
Bernard Overton
Unicorn Folk Club
16/09/77
Disco
DJ Barry John
Amington Band Room
17/09/77
Convention
Polesworth Working Mens Club
17/09/77
Paradox
Kingsbury Working Mens Club
22/09/77
Elvis Night
Susanna's with Johnny Green
Tamworth Herald – 22/09/77
Shipleys Prize Bingo Opening – Noele Gordon
Tamworth Herald - 23/09/77
Musicbox - Convention going places – looking for new member

Local blues-rock band Convention is aiming high.
The Polesworth-based band has played a series of successful gigs in local clubs, but it's members want more success…this time further afield.
And there's a chance for a guitarist to make the grade with them. For Convention are on the look-out for a lead guitarist (blues orientated).
The band's previous lead guitarist split with the band after a gig on Saturday night because of "musical differences."
Said Dave Ford, a founder-member of the band: "We want a new lead guitarist – and quickly. The band is improving all the time and we feel we are going in the right direction."
Anyone interested in becoming lead guitarist with the talented Convention should telephone Keith Chetwynd at Tamworth 892517 between 9 a.m. and 4 p.m. any day.
24/09/77
Rock n Roll Disco Night
Mercian Pub
25/09/77
Mike Sheridan and the Nightriders
Kingsbury Working Mens Club
24/09/77
Hopscotch
Glascote Working Mens Club
Tamworth Herald - 30/09/77
Arts Protest
The controversial Tamworth and District Plan consultation papers have stirred up a "Six line" protest from the world of the arts.
Tamworth Arts Advisory Council are complaining that the arts are only given six lines throughout the nine-section consultation papers.
They have written to Staffordshore County Council over what they consider "Perfunctory" treatment of the cultural life of the town.
Mr. Dan Gronow, secretary of the Council, said: "The people who drew up these papers did not even think the arts were worth including as one of the topics for discussion.
"We have written to the county council telling them it is deplorable that the arts is hardly mentioned throughout," he said.
"There is nowhere at all to hold a big concert here. Say for example we wanted to have a big group like Led Zeppelin, there isn't a place to hold it. This sort of thing is important to local people."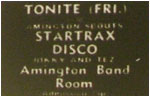 30/09/77
Startrax Disco
Amington Band Room