Tamworth Bands History : 1977
| | | |
| --- | --- | --- |
| | UK Number Ones - 1977 | |
Week Ending
Act
Title
15/01/77
David Soul
Don't Give Up On Us
12/02/77
Julie Covington
Don't Cry For Me Argentina
19/02/77
Leo Sayer
When I Need You
12/03/77
Manhattan Transfer
Chanson D'Amour
02/04/77
Abba
Knowing You Knowing Me
07/05/77
Deniece Williams
Free
21/05/77
Rod Stewart
I Don't Want To Talk About It / First Cut Is The Deepest
21/05/77

*

Sex Pistols
God Save the Queen
18/06/77
Kenny Rogers
Lucille
25/06/77
Jacksons
Show You The Way To Go
02/07/77
Hot Chocolate
So You Win Again
23/07/77
Donna Summer
I Feel Love
20/08/77
Brotherhood Of Man
Angelo
27/08/77
Floaters
Float On
03/09/77
Elvis Presley
Way Down
08/10/77
David Soul
Silver Lady
29/10/77
Baccara
Yes Sir I Can Boogie
05/11/77
Abba
The Name Of The Game
03/12/77


Xmas No 1

Wings
Mull Of Kintyre

*

Sex Pistols single God Save the Queen blocked from reaching No1 in Jubilee week despite outselling First Cut is the Deepest.
| | | |
| --- | --- | --- |
| | In the News - 1977 | |
•

President Bhutto

ousted in Pakistan military coup, General Zia takes over


•

Home computer

boom begins


•

British

aviation industry

is nationalised


•

Two

Jumbo Jets collide

at Tenerife airport, 582 people are killed


•

Star Wars

breaks film box office records


•

Red Rum

wins the Grand National for a record third time


•

Bing Crosby

dies, on a golf course, he was 73


•

Groucho Marx

dies, aged 83


•

Maria Callas

, dies aged 54


•

Elvis Presley dies, aged 42




•

Queen Elizabeth II celebrates her Silver Jubilee


•

Sex Pistols single

God Save the Queen

blocked from reaching No1 in Jubilee week.
---
---
1977 – well what a year.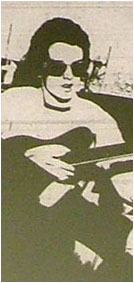 Nationally the music world had been transformed by the arrival of punk. But, in Tamworth the flared jean and lumberjack jacket were still the local fashion – the drainpipe jean was as elusive as a local ice rink. But there was an exception – in August of '77 one Ed Ake wrote a letter to the Tamworth Herald on the subject of 'Punk Rock in Tamworth'. A few weeks later we read "Punk Flop as New Wave Sinks in Tamworth" – Ed apparently was on his todd as the local punk, except for Suzie Headbanger – Tamworth's solitary punkette.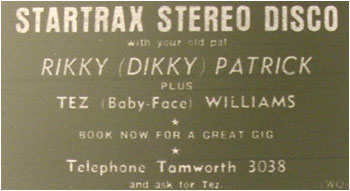 But, look again at the listing for July-September '77 – in the same week as Ed's letter appeared in the Herald – who should be advertising his services as a local DJ? None other than Ricky (Dicky) Patrick with his Startrax Disco – yes Rikk Quay makes his first appearance.
Two characters who would rarely be out of the local limelight for many years to come had appeared for the first time in the history of Tamworth Bands.
Tamworths first punk band The Reliants is formed when, after reading the 'Punks in Tamworth' feature in the Herald, Ed Ake is introduced to Vince Watts.
Mr. Armchair had in fact made an artistic contribution to the town earlier in the year. Between the 1st and 21st March '77 – Kevin Knowles (a.k.a. Edward ian Armchair) along with fellow artist Edward Dutkiewicz had exhibited their paintings and drawings at Tamworth Arts Centre. Edward in the true spirit of Marcel Duchamp had found a crushed Coke can in the gutter whilst walking to the Arts Centre to set up the exhibition – duly pinned to the display board – it became exhibit No. 95 – sadly it failed to sell – as did everything else!!
Jubilee
Of course 1977 saw a very important celebration – the Queens Silver Jubilee. Street parties took place all over the town, very few it has to be said, singing along to the Sex Pistols song 'God Save the Queen' which should have been No. 1 that week but was 'mysteriously' halted at No. 2. Edward ian Armchair recalls: "I'd just bought a red waistcoat and thought it very appropriate to wear it on Jubilee day. I went to Ashleigh Drive, Belgrave where my cousins friends and neighbours were holding their street party – for some reason I didn't appear to be to welcome – with my drainpipe trousers, strange hair and red Oxfam waistcoat!"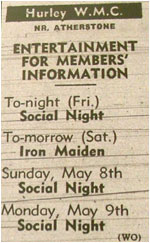 The King
Another monumental event occurred in '77 – the death of 'The King' Elvis Presley. In Tamworth we read how you should "Bring out your drapes, put on your crepes, dance and swing, to the Rock and Roll King." At The Mercian, Belgrave.
Big Name Acts
There were a few big-name acts appearing locally in 1977. David Hamilton appeared at Wilnecote Sports and Social Club, The Dead End Kids played Kingsbury Working Mens Club. Emperor Rosko and Paul Burnett appeared in the town. On the 15th October Gerry and the Pacemakers played Polesworth Working Mens Club, nearly fifteen years since their first appearance in the town at Wilnecote Parish Hall. And of course, on the 9th May 1977, Iron Maiden played Hurley Working Mens Club.
Folk
Folk music was still very big in the town – there haven't been many years that folk hasn't made an appearance in the town within this history – 1965 seeing it's first incarnation at the Prince of Wales. 1977 saw a regular folk night at the Globe Inn, Lower Gungate. The Unicorn Folk Club at Orton on the Hill was still going (but ended this year), Hamlets had a regular folk night and Tamworth Arts Centre also held a successful event in March, which was so successful that FACT (the newly formed Friends of the Arts Centre, Tamworth) hoped to stage another concert a month later with a view to making the Arts Centre the headquarters of a Tamworth Folk Club.
Arts Centre
As for the Arts Centre – 1977 saw it struggling to get numbers through the door. The Sunday Cinema Club folded due to a combination of apathy from local film goers and the success of the new Palace cinema. There was success however on the stage with the 'full-house' appearance of the 7:84 theatre company and there performance of 'Wreckers' – but it was still a struggle to fill the Arts Centre. Until Dave Armour had a bright idea…
Bands at the Arts Centre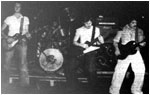 On the 1st October 1977 a major event took place in the town. Willow, a rock band with Mick Rutherford on lead vocals, became the first band to play at Tamworth Arts Centre. On 7th October we read in the Herald how: "Dave Armour, manager of the town's Arts Centre, has given the go-ahead for concerts in the Church Street building providing the demand is there." The significance of this event cannot be overstated. This finally gave bands in the town the opportunity to move out of the working men's club and the youth centre into a proper credible venue. The second band to play were Flash Harry who played on the 18th November 1977 and Willow played for a second time on December 2nd. Tamworth at last had a venue where music fans could watch and listen to the music they wanted to hear without the interruption of the bingo caller.
This was Year Zero - the beginning.