Tamworth Bands History : 1986
| | | |
| --- | --- | --- |
| | UK Number Ones - 1986 | |
11/01/86
Pet Shop Boys
West End Girls
25/01/86
a-ha
The Sun Always Shines On TV
08/02/86
Billy Ocean
When The Going Gets Tough, The Tough Get Going
08/03/86
Diana Ross
Chain Reaction
29/03/86
Cliff Richard & The Young Ones
Living Doll
19/04/86
George Michael
A Different Corner
10/05/86
Falco
Rock Me Amadeus
17/05/86
Spitting Image
The Chicken Song
07/06/86
Doctor & The Medics
Spirit In The Sky
28/06/86
Wham!
The Edge Of Heaven
12/07/86
Madonna
Papa Don't Preach
02/08/86
Chris de Burgh
The Lady In Red
23/08/86
Boris Gardiner
I Want To Wake Up With You
13/09/86
Communards
Don't Leave Me This Way
11/10/86
Madonna
True Blue
18/10/86
Nick Berry
Every Loser Wins
08/11/86
Berlin
Take My Breath Away
06/12/86
Europe
The Final Countdown
20/12/86
Housemartins
Caravan Of Love
27/12/86


Xmas No 1

Jackie Wilson
Reet Petite
| | | |
| --- | --- | --- |
| | In the News - 1986 | |
•

The world's worst nuclear accident takes place when a reactor blows up at

Chernobyl

Power Station


•

Prince Andrew and Sarah Ferguson

are married and become the Duke and Duchess of York


•

Space Shuttle

Challenger

explodes after take-off


•

Argentina wins soccer World Cup. England were knocked out 2-1 in Quarter Finals by Argentina, including Diego

Maradona's

"Hand of God" goal.


•

Corazon Aquino

assumes presidency of The Philippines deposing Ferdinand Marcos.

---
Yet again - well what a year!
Sam Holliday's review of the year. Are you sitting comfortably? Right we will begin…
January
THE results of the 1985 MUSICBOX poll showed the Dream Factory to be as popular as ever. They topped the best band category followed by Terroa, The Royal Family and Dance Stance. Will it be the same this time? Next week we will reveal all. Meanwhile Femme Fatale and the Soil Brothers both released demos of widely contrasting style. The Fatale one I described as 'musical masochism' while the Soil Brothers earned an original, entertaining description. Elsewhere Rikk Quay left The Sway and turned up will all-new Cradle. While Freight Train released their exceptional 'Man's Laughter' 45 to an impressed world. Finally the plans were drawn up for February's biggest ever – Battle of the Bands.
February
SIXTEEN bands battled it out for the second annual Battle of the Bands title which produced five sell-out superb Arts Centre nights. In the end Burnin' Sky, Wolfsbane, Breaking Point and One On One reached the final which One On One deservedly won with a triumphant show that impressed guest Edwin Starr who described guitarist Tim Latham as a young 'Eric Clapton' Elsewhere Terroa released my demo of the year and Dickens appeared on the scene and the first of hundreds of Bank Holiday rock festival meetings took place.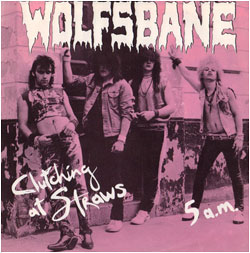 March
DREAM FACTORY shocked many of their supporters by splitting down the middle. Steve and Lloyd went their separate ways to be replaced by Terroa drummer Batman, Catch 23 guitarist Dave Stevenson and a whole new sound. Inevitably it led to Terroa splitting up which was very sad. But better news came with Ian Gibbons finally finding a place for his 'Rathole' venture. It was a place we would all get to know very well indeed.
April
The Rathole opened its doors and was an immediate and glorious success with concerts by Cradle, Orange, Soil Brothers, Spirit Lake, Depth Charge and a Paul Clements alternative disco. Orange released a rather unimposing demo while the Dream factory released their 'Cold Turkey' single which I described as 'flat, dull and uninspired'. Wolfsbane also set about recording a single while Breaking Point drummer Jason Farrow just beat off Derek Goodwin, Billy Campbell and Neil Sheasby in a particularly wicked Rogues Gallery.
May
The Cradle's brief – but still I think very exciting career came to an end, paving the way for Rikk and John Reeman to form XPD. Jim Pighand to join Eddie and Peter in Attica, Nig and Paul to form The Calling and Mettallic Murray Pickett to go to pieces. Freight Train, Femme Fatale and Duel played a fine Bank Holiday concert and Richard Cuttler opened his very successful 'Recharge' Studios. Beyond Elysium also burst onto the scene behind a literal smokescreen, while The Red Beards From Texas and The Bomb Party made many friends at The Rathole. Finally Wolfsbane won through to a Birmingham Dome competition for Battle of the Bands.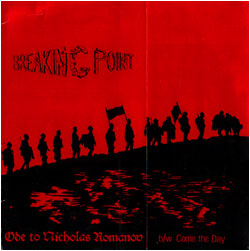 June
ATTICA played a tremendous debut gig at The Rathole while The Dream Factory also played a successful single-release party in Polesworth. The parade and Femme Fatale finally bit the dust as did Breaking Point singer Kevin Briggs's days as a bachelor. The Dance Stance played one of the concerts of the year at The Rathole leading me to say "I will now risk life and limb by concluding that this band are definitely going to make it." I still stand by that claim, just as Maradona does that God helped him to score THAT goal which everyone was talking about in June.
July
I WENT to Benidorm but left behind me an even more wicked Rogues Gallery won by Kevin Briggs followed by Martin Higgs, Ian Gibbons and Phil Smith. Classified Ads bassist Paul Clements became a daddy of twins and also produced something interesting…Tamworth bassist Charlie Harrison appeared at the NEC alongside some Scottish bloke called Rod Stewart while Edward ian Armchair met up with well-known pop fan Prince Charles.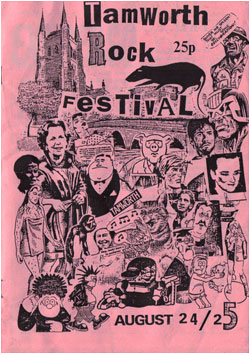 August
THE Rock Festival again reigned supreme – or rather rained supreme as the clouds opened to signal an end to the second day of action. Still that didn't stop anyone as the whole thing moved indoors. Best shows of the festival? Well, Wolfsbane, Dance Stance and Catch 23 stood out but my vote for the song of the festival was definitely won by 'Bombs Away' by XPD. That was terrific. It was also nice to see Love On Board do a show for the festival and August also provided us with more Red Beards, Strap On jack and also a new Stranglers single. Yes, a great month indeed.
September
Wolfsbane released their debut single, the acclaimed 'Clutching at Straws' while the Soil Brothers released another killer demo which I described as being 'as enjoyable as taking a shower with Samantha Fox'. Meanwhile the Rathole seemed to be in trouble with plunging attendances not helped by rather disappointing shows from Mighty, Mighty, Pop Will Eat Itself, The Calling and uncharacteristically The Dream Factory. Ian Gibbons threatened to shut the venue, but thankfully people got the message and attendances gradually rose. Julia Cope released his single 'World Shut Your Mouth' which meant local hero Donald Skinner was seen on the telly on 'Wogan'.
October
Wolfsbane's single release party with rising stars Kara was a wonderful night and no less eye-opening was the Rathole debut of Thirteenth Reunion. 'Like a breath of unfresh air' I said although many people had rather less poetic descriptions. Another new band The Mutant Zombies also mad people's jaws drop in disbelief, while an older band (or rather a younger one!) Catch 23 played one of their best gigs at the Rathole. One On One spearheaded a special charity show with Orryot and Ruffian On The Stairs and promptly plastered my face with a custard pie. I have just about forgiven them although I doubt if I will ever forgive Dave Ingham for the awful suite he wore at TAMAID.
November
Dance Stance released their debut single to triumphant delight. While The Royal Family joined Dr. Feelgood and the mighty Strap on Jack for a thrilling Assembly rooms concert. Wolfsbane heard the ludicrous news they were going to spend Christmas playing to oil workers in the Middle East while Donald Skinner returned in triumph to lead Joss, Barry and Gavin in a fine Freight Train gig at the Rathole with non-existent support band The Mighty Lemon Drops. Spartan Cruise made a fine debut and I launched the 1986 poll naming Dance Stance as the band of the year, the Dream Factory's 'Feel Your Touch' as the local song and the Stranglers as the best album and single. No-one was surprised at the last two choices strangely.
December
MAKING 'Feel Your Touch' the song of the year proved a kiss of death as the Dream Factory shocked us all by finally splitting up. Mark Mortimer joined up with old adversary Bryan Lacey for the Great Express and I am glad to say the rest of the Factory look likely to carry on in various guises. Breaking Point released a scorching debut single ('share the pride' I said) while Orange Blossom Special, Strap On jack and Attica all played fine shows. Finally, the recording of TAMAID was made to be released early next year. As I say it's been a busy 12 months and to all those that have contributed to it (in any way) a sincere HAPPY CHRISTMAS.