Tamworth Bands History : 1986 :
April
Tamworth Herald – 04/04/86
Musicbox – Presenting a hole lot of excitement
TAMWORTH'S NEW ROCK club, The Rathole, is set to open for the first time on Sunday with an exciting triple bill. This will feature a trio of varied artists – The Cradle, Orange and the band you are going to love to love, The Celtic Soil Brothers.
In what looks like being a tradition with the new club, the first concert will be a major fund-raising event. The Rathole – and indeed 'Manhattan's' where the club will be based – has pledged to do everything they can to raise money for John Hodgetts, the young Tamworth boy suffering from a rare and as yet incurable disease.
Therefore all proceeds from the opening night show will go to the fund and 'Rathole' mastermind Ian Gibbons is confident that local pop fans will not begrudge the £1 entry fee for such an important cause.
For those who didn't know, 'The Rathole' is based upstairs at 'Manhattan's' in Church Street. All the facilities and bar have been provided free of charge by Manhattan's boss Clive Bartram who has allowed the club to meet every Sunday – if it so wishes. Next week a heavy night is planned , but Ian is hoping that music fans of all 'persuasions' will attend the opening evening's entertainment.
Heading the show will be the much-vaunted Cradle. The band who made a (literally) dazzling impact on the 'Battle of the Bands' have touches of Bauhaus, The Cult and in Rikk Quay's case, insanity.
The play loud, fast alternative sounds and if they don't suffer the technical problems as they did at the 'Battle of the Bands' they could well take the night by storm.
Cleaner
Playing with The Cradle will be two bands as yet unseen by most of the Tamworth public. Orange (or Orange Blossom Special as they were at the 'Battle of the Bands') play pop music that easily identifies with the roots of their musical past – Love On Board and Sitting Pretty.
It is whimsical, warm pop music with broad appeal. Orange's Battle of the Bands heat was also slightly marred by sound troubles and so they are hopeful that a cleaner sound on Sunday will produce a better record of what the band are actually like.
Completing the line-up is a band I am itching to see – The Celtic Soil Brothers. Their one excellent demo convinces me they will be a winner in Tamworth with their lighthearted country 'bop-bop-she-bop'.
They are great fun and if they are as good live as they are on tape, Tamworth is in for a treat.
So a good concert in prospect but the night obviously means more…and starts at 8pm.
Tamworth Herald – 04/04/86
Musicbox – SNIPS
ROD HARRISON a musician of long and impressive pedigree, is on the lookout for good local bands with a view to managing and marketing them. He is interested in supporting young talent in the area and with his formidable list of contacts this could be very good news indeed for some outfits. Initially he wants to hear demos of bands.
Tamworth Herald – 04/04/86
Musicbox – SNIPS
John Reeman, the talented guitarist and songwriter of the now defunct Terroa is interested in writing for and helping out bands in the area. John is still incapacitated with a hand injury but he would like to help bands out by providing material and helping with arrangements and other off-stage activity.
Tamworth Herald – 04/04/86
Musicbox – SNIPS
Alibi, a new band in the Simple Minds/U2 sphere of life, are looking for a drummer to complete their line-up.
Tamworth Herald – 04/04/86
Musicbox – SNIPS
Former Wolfsbane drummer Amanda Hemmings is itching to bring her considerable talents back to the local music scene. She wants to return to being a sticks person with a band in the Wolfsbane mould – i.e. influenced by Bon Jovi, Wrathchild and Kiss.
Tamworth Herald – 04/04/86
Musicbox – SNIPS
Breaking Point have just finished mixing what will be there first single 'Ode to Nicholas Romanov'. In my normal unbiased way let me tell you sounds brilliant and more details on the progress of the single will follow.
Tamworth Herald – 04/04/86
Musicbox – SNIPS
Dance Stance have added a new trumpeter to their ranks to replace the short-stay man Mark Allison. The new man is Guy Greenway.
Tamworth Herald – 04/04/86
Musicbox – SNIPS
The Dream Factory have received their first white label copies of their second single 'Cold Turkey'. It should hit the streets at the end of next week.
05/04/86
Total Control
Tamworth Arts Centre
06/04/86
The Cradle
Orange
The Celtic Soil Brothers
The Rathole - Opening Night
11/04/86
Dream Factory
Dordon Village Hall
Tamworth Herald – 11/04/86
Musicbox – A buzz of gigs takes off and the choice is yours
THE LOCAL rock scene is set for its busiest weekend of the year so far with a whole host of bands playing impressive shows over the next three days.
The buzz of local activity is proof that after a slow start to the year, local bands have at last found their feet and are breathing fresh, optimistic air once again.
It means rock punters in the region have the chance to see bands as varied as the Dance Stance, Burnin' Sky and Depth Charge in a variety of gigs across the region.
Depth Charge and The First open the proceedings with an Arts Centre show tonight (Friday) and then on Saturday you can catch The Dance Stance at Polesworth Memorial Hall.
And to round off the weekend on Sunday night 'The Rathole' stages its second major show with Depth Charge, Spirit Lake and Burnin' Sky.
The healthy amount of concerts shows that the highly-successful 'Battle of the bands' event has put musicians back in the 'mood' for action as they begin the long build-up to the August Bank Holiday Festival.
One band who should figure prominently in the festival, Depth Charge, set the rocking weekend off to a powerful start when they team up with The First tonight. Depth Charge who have just released their first demo (To be reviewed shortly) play progressive, melodic rock that has won them many admirers at recent shows.
Unlucky
They were desperately unlucky not to win their 'Battle of the bands' heat and if they are half as good tonight as they were then, it should be a fine show.
Headlining the gig are The First – as you must have gathered by the billboard-size posters around the town – they are a perfect foil for Depth Charge, playing music that owes as much to modern 'epic' rock as the traditional rock base which is their roots. U2 and INXS comparisons abound, but don't go along expecting to hear 'I Will Follow'. The First are very definitely their own band.
Saturday night sees one of the most eagerly-awaited shows of the year so far when the legion of Dance Stance members bring a fresh, new set to their legion of fans at Polesworth Memorial Hall.
The band printed 150 tickets in advance and were pleasantly surprised to see them all snapped up, so with people playing on the door as well, there should be a packed audience to watch an intriguing show.
And so to Sunday, The Rathole opens its doors for the second week running hoping for another night to match last week's dazzling opening. Depth Charge will make their second appearance of the weekend alongside Burnin' Sky and progressive outfit Spirit Lake.
Sleaze
Burnin's Sky will bring a mixture of sleaze and blues rock to Tamworth's favourite 'hole' and for people who like an almost literal trip down memory lane, there should be much to appreciate in Spirit Lake's sound.
We must hope that they forget their lethal smoke bombs this time, otherwise people will swarm for the exits like rats leaving a smoking hole.
So a great weekend all round. Ticket prices obviously vary but if you take along about £1 for admission and arrive at about 8pm you should be safe at all the events.
Tamworth Herald – 11/04/86
Musicbox – It's top hole say the town's rockin' rats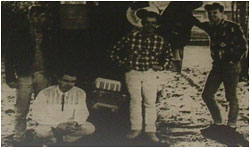 Caption: The Soil Brothers…yee-ha!!
Sunday evenings are normally about as much fun as a sing-a-long-a-Marillion album. But believe me, this was no normal Sunday evening.
Instead of Songs of Praise there were plenty of songs of power, excitement and immense whistle-ability. The music was great, the audience large, vocal and appreciative and The Rathole proved that it is the sort of thing Tamworth has been crying out for for years.
The man behind it all Ian 'The Big-G' Gibbons never stopped smiling, the audience never stopped growing and shouting and most importantly of all John Hodgetts, the boy who the Rathole hopes to send to Disneyland received a massive fund-raising boost.
In the words of that dreadful Hot Chocolate number 'Everyone's a winner baby'. Everyone including the bands that played. It started off with Orange who to my ears, began very well indeed but lost their way during the set.
Musically they have matured considerably since I last saw them, with Nigel Horton finally making his presence felt behind the keyboards and Glen 'Blizzard' Lewis using his bass well with the impressive guitars of Neil Jones and the newly cropped Julian Amos.
Best number of the set was 'Precious Blue' which gave Anice her best vocal and the audience their biggest cheer.
Jed Moore was next on stage with a strangely subdued poetic outburst. Apart from one brilliant number ('Video Nasties') he went down like a bacon sandwich at a Jewish wedding but didn't seem to mind a bit.
Like a true professional he completed his set, ordered another Pepsi and thought about Everton going to Wembley. It was that sort of night.
The Soil Brothers were next and it was a case of yee-ha! Steve and the boys unfolded a whole host of skiffly, silly and very jolly tunes to the bemused delight of the audience.
They were fresh, sparkling and genuinely different with washboards, accordions, violins and plenty of yee-haaing to keep the toes-a-tapping.
If there was a problem it was that they went on just a little too long, but any doubts were dispelled by the excellent closing number 'I Love My Fruit' which tickled my funny bone almost as much as the encore song called 'Sam Holliday Said'. With titles like that, how can they fail to get good reviews?
And then came The Cradle – who were a real eye-opener. Rikk did an Adamesque strip and the band produced and attacking set that created some wild dancing and crazy scenes. The music was alert, fast and dynamic with every member of this impressive quintet turning in above-par performances.
Once again Bauhaus spring to mind, but when The Cradle did a fine version of 'She Sells Sanctuary' it was obvious where their real alternative sympathies lie.
Judging by the reaction, The Cradle received, they have quickly established themselves as one of the area's biggest bands and no wonder. They look and sound great, and not even Rikk Quay's bare torso could put me off.
Dancing
To close the whole enjoyable night, Terroa stepped up to play an out-of-retirement show. Considering they haven't played together since the unfortunate split, the impromptu show was very impressive – and gave cause for some more ridiculous dancing.
Best number of a short, firecracking set was 'Burning It Down' which had all the electricity of the average sub-station.
Put together all these fine shows, a packed-to-bursting audience and an atmosphere of united commitment, and you had an opening event to remember. If The Rathole can maintain this sort of spirit, it will be the best thing to have happened to the Tamworth music scene for a very long time.
Everyone who made it possible deserves our fullest praise and to anyone who is still dubious and cynical there is only one thing to say – rats.
Tamworth Herald – 11/04/86
Musicbox – SNIPS…who wants what and where
A NEW band with a whole host of commitments and record company interest have sent out a search for a reliable, full-time keyboard player. Because they are so determined to go all the way, the person should ideally be able to practice every day and should not be scared of a big challenge.
11/04/86
Depth Charge
The First
Tamworth Arts Centre
12/04/86
The Dance Stance
Polesworth Memorial Hall
13/04/86
Depth Charge
Spirit Lake
Burnin' Sky
The Rathole
Tamworth Herald – 18/04/86
Musicbox – Let's have a bit more bite, Orange
IN A SENSE it is not entirely fair to review this as a normal demo because it clearly isn't. Orange just decided that they needed a concert-winning tape so they took their not inconsiderable army of members into the Expresso Bongo studios and knocked out this 'live' demo of two of their better numbers
The first thing you notice about this tape is that the band are still very much searching for their own sound.
It is a lot "lighter" than I expected, verging almost on the mellow and it seems that the more alternative roots of Glen and Neil are not seeping through as much as the more mainstream pop direction of Julian and Anice for example.
But this is no bad things and the general impression from this tape is, if marketed well enough, the group could be open to very wide consumption indeed. First up is "Can't Tell The Days" which has a nice tune and a bubbly feel.
The vocals are perhaps mixed down a little more than I would prefer but musically it swings along quite purposefully. Sadly, however, it dies a premature death when by all accounts it needs a strong climax.
No such problems, however, with the second number "Precious Blue" – a stronger song all round with an excellent chorus and a delightful guitar break. This is unabashed pop music which is helped rather than hindered by a very cluttered musical backing which sounds like Phil Spector rather than Phil Smith and Paul Speare behind the mixing desk.
But, whether the band like it or not – and I suspect they won't – one of the things that a lot of people listening to this (and seeing the band in future) will focus on is Anice and her vocals.
Sadly as women singers are about as rare as protestants in the Celtic football team (and good women singers as rare as Arabs in the Israeli football team) Anice will soon become the focus of attention as Orange move into the "big world" so just how good is she?
Well this tape reveals as indeed the live shows do – that Anice does have talent and there is certainly a sensuality and expression within her voice that is quite impressive.
In "Precious Blue" she reminds me of a restrained Debbie Harry, but one thing Anice definitely needs is musical discipline.
Occasionally she seems to lose her way with her voice verging on the lazy, and unless someone (and there is no one better than you, Mr. Byfield) can give her the encouragement to keep up the strength in her vocals, the band could miss the impact they deserve to make.
Anyway that's Anice, but Orange are clearly a lot more that that. They have a lot of assets (Clark Stewart for example is a drummer who perhaps deserves more credit that he has been given in the past) and if they maximise their advantages, find a real niche and put a little more edge to their sound they could be very good indeed.
STOP PRESS
Orange will be joining Catch 22 for an Arts Centre double-header tonight (Friday).
18/04/86
Catch 22
Orange
Tamworth Arts Centre
Tamworth Herald – 18/04/86
Musicbox – Fine spirits lurk in the fog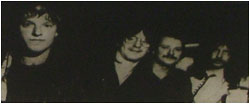 Caption: Spirit Lake…A good sound amid the smog
WELL, he did it again! I refer of course to that man Titch and his manic smoke bombs. There we were enjoying Spirit Lake's set and Titch set off a bomb that turned the Rathole 1986 into London 1886 – smog, smoke and hearty coughing all round.
Titch eventually emerged smiling but for Spirit Lake it meant that their set was brought to a (sadly) premature end. But there's no smoke without fire and Spirit Lake certainly produced a fair bit of that in their short set.
Unfortunately due to circumstances beyond my control (the guilty people know who they are) Spirit were the only band I was able to catch in Sunday's impressively-attended show, but they certainly did enough to prove they are moving forward all the time.
Without Tim's keyboards, Spirit Lake sounded all together more powerful and it was good strong rock music with a toe-tapping appeal that 'heavy metal (which this certainly wasn't) never manages to provide.
Dylan's vocal remains one of the best parts of the groups sound but I would make one suggestion that songs with titles like "Sexy Woman" are perhaps slightly passé these says and could well detract from some of the other far better lyrics that Dylan has come up with.
It was hard to make any real assessment of the band because like the sun last summer it was all over before it started. It literally all went up in smoke. But before it did, Spirit Lake did enough to show they are a strong, intelligent band who have a bright future.
Tamworth Herald – 18/04/86
Musicbox – Paul unlocks his alternative Fun house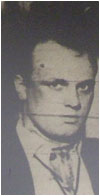 Caption: Paul Clements hoping for a psychedelic sell-out.
SPIKEY TOPS of all shapes, sizes and poseur-levels will make their way to The Rathole on Sunday night when Tamworth welcomes its first ever alternative disco.
The DJ on the night will be Paul Clements, a top alternative record spinner from Manchester, better known to most of you as the former bassist in The Classified Ads.
Paul, who will be calling his show "The Funhouse" has promised to cater for every possible alternative taste – including his own.
"I don't mind what I play as long as it is interesting, different and gives me the chance to put on some of my own goodies," he said.
Sell-out
By 'alternative', Paul means anything that you normally won't find at discos. That means as well as the odd (understandably grudging) blast of The Cult, Sisters of Mercy and the like, Paul will also resurrect many wonderful old punk gems, bits of late Sixties pyschedelia, and the best of today's music.
"We should appeal not only to punks and alternative types but also to people who like The Dream Factory and stuff like that," said Paul.
Paul is hoping that the disco will be the first of many alternative shows at The Rathole. Tamworth's alternative sector has grown considerably over the last few years – as the recent Cradle concert proved – and if they all turn out on Sunday night a sell-out will be the result.
Requests
"I hope an awful lot of people will come along and enjoy themselves. If they don't it will show that there is no call for music like this in Tamworth and there may not be another one so it is worthy of support," he said.
Paul will be basing his "Funhouse" how on the "Psychedelic Jungle" disco he holds in Manchester. His aim is to cut down on between-track chat and just serve up four hours of solid, exciting music. He hopes it will be like The Powerhouse and Zig Zag alternative nights – without the rubbish.
"Unlike The Powerhouse we will play a lot of oldies but goldies like The Clash, Damned, Stranglers, Ramones, bots and so on. It should be a nostalgic night."
And that nostalgia should go back even further with The Stones, T-Rex, rock 'n' roll; in fact anything that people will dance to.
"It would be easy to just play The Cult all night but I want to be more adventurous than that. I don't really want people to bring their own records along but we will play as many requests as possible."
Once again most of the money on the night will be heading for the John Hodgetts fund, currently being swelled by local rock fans. It promises to be an exciting and genuinely different night out for anyone whose musical appreciation extends further that the Top Ten. It all starts at 8pm and the message from Paul is "be there or be square". Welcome to the funhouse indeed.
Tamworth Herald – 18/04/86
Musicbox – SNIPS
KAREN, the long-suffering wife of Spirit Lake singer Dylan, has appealed for fellow rock and roll widows to help form a new all female band in the area.
Tamworth Herald – 18/04/86
Musicbox – SNIPS
A QUICK meeting for all Tamworth Rock festival committee members will be held on Sunday night between 7-8pm. All groups involved in the festival will then be asked to attend another bigger meeting in the next couple of weeks. Both meeting (as usual) will be at the Tavern.
Tamworth Herald – 18/04/86
Musicbox – SNIPS
The Dream Factory have just released their second single – Cold Turkey which we will look at in more detail next week. In the meantime the band have fixed up their first two shows with the new line-up.
Tamworth Herald – 18/04/86
Musicbox – SNIPS
THE DANCE STANCE whose show at the Top Club last week (and not the Memorial Hall as the idiot from Musicbox said) was voted a 'triumph' are in action at the Bondgate, Nuneaton on Sunday night. It all starts at 8pm.
20/04/86
The Funhouse (Alternative Disco)
The Rathole
20/04/86
Dance Stance
Bondgate
Nuneaton
Tamworth Herald – 25/04/86
Musicbox – GOSSIPBOX - Set for a deal with Wakeman
QUITE an epic amount of gossip this week involving singles, national tours and even support slots to Rick Wakeman! Don't believe it? Well read on.
The single news is that despite trying to keep it quiet, Wolfsbane have just recorded their first single – 'Clutching at Straws' – which should be out in a month.
It has been put together and sponsored by their manager Phil Ball, and an excellent choice for a single it is to.
On the tour front, Freight Train (who will be playing at The Rathole on Monday May 5) have won an excellent support slot to The Woodentops which will give them their biggest spotlight yet. Hopefully we will have more details next week.
Also, joining Freight Train on May 5 will be Duel – the band featuring Alan Watkins of old Talk Back fame – and these are the chaps who have got a Rick Wakeman support slot later this year.
The band have been working secretly like slaves and are now ready to emerge from the darkness and into the light. We shall be charting their progress with keen eyes. And finally just a word about last week's highly successful 'alternative' disco show at The Rathole.
The place was packed to the rafters and I am sure everyone who went enjoyed it as much as I did. It shows that the call for music like this is stronger than ever and to hear the sounds of The Stranglers, Clash, Generation X, Ramones, Boys, Damned et al coming out of a disco unit in Tamworth brought nostalgic tears to my eyes.
As Richard Burton once said to Liz Taylor – "Let's do it again!"
Tamworth Herald – 25/04/86
Musicbox – Fans' favourite is Factory 'thank you'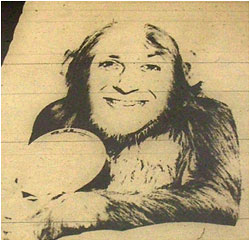 THE DREAM FACTORY have this week released their eagerly-awaited second single – "Cold Turkey". Designed as a 'thank you' to all the band's loyal supporters it will be a limited edition that could become a collector's item.
It has already been sent to a number of top record labels and music papers and the band are hopeful that it will give them the break they are looking for.
"The main aim of the record was to attract enough record company interest to get a major label for our next release 'Love 15'", explained Mark Mortimer. "But even if that doesn't happen, we think this is an important release to let everyone know we are still around and still buzzing."
It was recorded by the original Factory line-up – Lloyd Barnet on guitar, Mark Mortimer bass, Steve Quilton drums and Tim Goode vocals. In addition the two tracks – both I am pleased to say recorded at our own Expresso Bongo studios – feature Andy 'Sat' Codling, Dave Smith and also a 'cast of thousands' of backing singers.
Love it
"Although this is the old line-up our new members Batman and Dave Stevenson both love it and are happy for it to be released," said Mark.
The record comes in a very tasty pic sleeve (see right) and comes complete with an explanation of the record's intent from one Doctor Doberman.
According to the good Doctor…"It was recorded 'live and raw' on eight-track in the studio following loads of requests to recreate the unique atmosphere of our live performances"
The choice of 'Cold Turkey' (an obscure Big Boy Pete cover) was due entirely to the fact that it is the fans' live favourite. Apparently 'Cold Turkey' is still the one the fans scream for at Factory concerts and that is why the band decided to choose it as the A-side rather than one of their own numbers.
"It is definitely a single for the fans and all those who follow us think it is better than our first record, "Wine and Roses"" said Mark.
The record should be available from local record shops in the near future but fans are urged to get copies from band members now to avoid disappointment. See review (right).
Tamworth Herald – 25/04/86
Musicbox – Review It leaves me cold…
Dream Factory - Cold Turkey (Inferno)
OH DEAR. As regular Musicbox readers know, I try my level best never to give a bad review unless it is absolutely necessary. But believe me it is necessary here.
Compared to the full, rich sounds of the debut single 'Wine and Roses', this disappointing record sounds flat, dull and very uninspired. Built around a football crowd chant, an oft-repeated guitar riff and precious little else. 'Cold Turkey' dies before it is even born and is a travesty of what the Dream factory should sound like.
Their exciting new music – and to say the brilliant 'Love 15' – makes this awkward record …
Tamworth Herald – 25/04/86
Musicbox – Wolfsbane kick-off
MUSICBOX STOP PRESS
WOLFSBANE have been drawn to play the first night of the Lichfield Most Promising Band contest this Saturday.
Tamworth Herald – 02/05/86
Musicbox – Catch this cool train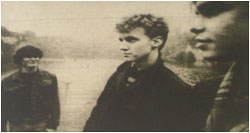 Caption: Three members of the Freight Train…(from left) Barry Douce, Donald Skinner and Jos Cope.
TWO EXCITING bands with high national profiles top off a special Bank Holiday concert at the Rathole on Monday.
Freight Train – all set to go on a nationwide tour with The Woodentops – will be joined by the much-vaunted Duel, the band who have lined up that remarkable show with keyboard wizard Rick Wakeman.
And if these two intriguing acts are not enough to have the crowds swarming to The Rathole, there is also, the considerable attraction of the entertaining Femme Fatale and perhaps a reunions show by The Royal Family.
The concert promises to be one of the Rathole's biggest to date. As it is a Bank Holiday the evening will go on until 1.00am although people are warned that there will be no admittance after 10.30.
For most Tamworth people, it will be the first time they have been able to see Freight Train since they set off on their national success journey.
The band are an enthusiastic quartet built around the two strong personalities of Donald Skinner and Jos Cope. Already they have released an excellent single 'Man's Laughter' and their success in the MUSICBOX poll shows that their local absence has made hearts grow fonder.
Later this month they will tread the boards with Rough Trade outfit The Woodentops involving gigs at Sheffield, Manchester, Oxford, Liverpool and many others. Locally fans will be able to catch them at the Birmingham Triangle on Saturday May 24, Coventry Poly on May 13 and North Staffs Poly on May 14.
The most glamorous of the dates however, is the London Camden Electric Ballroom on May 29 which wraps up the tour.
All in all an exciting time for this exciting band and if you want to see why they are causing such a national fuss, the Rathole is the place to be on Monday.
Also exciting will be the Tamworth debut of Duel – fronted by Alan Watkins and Ian Pritchard. The band have spent a long time working on getting everything just right and with enthusiastic support by the Secs company from Birmingham they have already built up enough contacts to earn themselves a support slot to Rick Wakeman and a headline slot at the Powerhouse in June.
Musically they are still something of an unknown quantity but Alan assures me that they are far different from his old act Talk Back – although remaining basically commercial.
Joining Duel and Freight Train will be Femme Fatale – enjoying their second show of the weekend (see separate story).
The Femmes should go down well in the Rathole atmosphere and they are keenly awaiting the show. Finally there is a chance that the night will be made extra-special by a one-off reunion show by the Royal Family.
At the time of going to press it was still uncertain whether they would be playing but just the possibility of Tamworth's ultimate good time band is likely to swell the attendance on the night.
So a marvellous occasion in prospect and with all the funds once again heading for the worthy John Hodgetts fund, everyone wins.
It all starts at 8pm – but remember no admittance after 10.30pm.
26/04/86
Wolfsbane
Lichfield Most Promising Band Contest