Tamworth Bands History : 1986 :
September
Tamworth Herald – 05/09/86
Musicbox – Factory goods going stale
The Dream Factory – The Rathole
IT'S BEEN about three years now since I first saw The Dream Factory. Since then they have altered so dramatically, they are hard to recognise.
The have recruited new, talented musicians, extended their line-up to include an all-embracing brass section and reached the stage where they are easily Tamworth's best paid and best-known local band.
But one thing has remained the same, sadly, they are still not writing enough material. Sunday night's powerful Rathole set was marred for me – and several others I spoke to – because it was almost a carbon-copy of Factory sets of at least the past year.
For every new composition like 'I'll Be Back' there are at least a couple of cover bversions, and even Factory standards like 'Cold Turkey', 'Fashion Toys' and 'Moustrap' are starting to sound just like, well, standards.
The set they played on Sunday would have gone down well just about everywhere but the Rathole. The band could and should have experimented with new, original material. A lot of the audience knew the songs backwards and playing tunes like 'Knock On Wood' just opens the group up to criticism from all sides.
Playing in front of a 'home' audience the band should have been a bit more risky, thrown out at least three of the cover versions and showed why they deserve their much-heralded tag as Tamworth's top band.
Make no mistake, the set they played was good, and the quality of the musicians was second to none. But, some things were definitely missing 'Love 15' and 'Feel Your Touch' were both supreme and really are masterpieces, but the band should concentrate on writing more of them.
Otherwise, there is a danger that they could go stale and end up churning out 'Knock On Wood', 'Cold Turkey' et all for the next three years. They are too good a band to allow that to happen.
Tamworth Herald – 05/09/86
Musicbox – bombs away for a high-tech thrash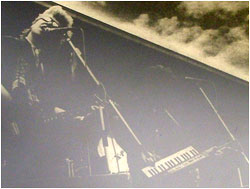 THE RATHOLE stages yet another of its tasty triple bills on Sunday – spearheaded by fanzine favourites Pop Will Eat Itself.
The group, who are part of the new legion of Buzzcocks-loving aggressive top bands, will be supported by Lichfield's Fairweather Friends and our very own high-tech madmen XPD.
It is a night which the Rathole believe will be one of their very best yet and the name 'Pop Will Eat Itself' has already sent a buzz around the town's new, new wave fans.
Their music is said to have its basis in the new jangle-pop sound so adored by a new young breed of Peelites although I am assured by old punk hippy Paul Clements that the group has an edge which should attract those who walk on the wilder side of life.
And, if you are on the wilder side of life, then you won't be able to resist support act, XPD. Already, after just one show, they have become the band you love to hate, and judging by the exclamations of disbelief that greeted their Castle Grounds set, they should at least draw a reaction.
"That's exactly what we want," said XPDian Rikk Quay, "We just cannot be ignored and we prefer a reaction one way or another because at least it shows people are listening."
XPD describe their sound as 'high-tech thrash' which about sums up their subtle mixture of vile punk rock and vile Sigue Sigue Sputnik. I am already a convert and as 'Bombs Away' was THE song of the festival, I will especially look forward to that climactic, confused chord-chaos at the end of the set.
Finally, completing the line-up are Lichfield act Fairweather Friends, a group who are well-thought of in their native town. I know very little about them other than they play fast, entertaining, pop music which should fit in very well with the general tone of the evening.
So a good night in prospect and anyone who doesn't attend will have to answer to Messrs. Quay and Reeman armed with hair spray, studded belts and very, very prickly hair.
Tamworth Herald – 05/09/86
Musicbox – Festival footnote
THIS weekend's planned festival 'post mortem' is to be held over – probably for another week. This is so that all the finances can be worked out in time for the meeting which will hopefully be turned into a party night.
Tamworth Herald – 05/09/86
Musicbox – Battle for pop crown
THIRTY teams of local pop fans will make their way to the Co-Op Club in Offa Street on Thursday night for Tamworth's top pop quiz.
Tamworth Herald – 05/09/86
Musicbox – Slightly OTT lads
THE highly-rated Mournblade return for yet another Arts Centre visit on Saturday night.
The psychedelically-inclined band, who have had wide coverage in 'Sounds' and 'Melody Maker' have been at the Arts Centre several times now and have built up a small but loyal following in the area.
According to their press release, the band promise a 'mind-numbing, megablitz of sound, special lighting effects, projections and rock theatre'. As an indication of their stature, the group have played support with – among others – Dr & the Medics and Hawkwind. They will be supported on Saturday night by another band of similar disposition, Lichfield act Cerberus.
A sheer rock spectacle in promised, and if you're still not convinced, their tickets describe the show as the Armageddon experience. They should go down a bomb.
Tamworth Herald – 05/09/86
Musicbox – GOSSIPBOX
Well waddya know…
THERE has been so much pre-festival. post-festival and festival-festival gossip that we could cover all this page and lovely old Scooper's too, so here is a short, snappy 'did you know' session. Did you know that…
Catch 22 changed their name to Catch 23 because of a misprint in the Herald.
The engaging Buttercup has recorded a tape called 'Buttercup Live at Kimberleys'.
Edward ian Armchair sold more than 100 festival t-shirts.
'Clawing at Angels' and 'Kicker Conspiracy' the two new local fanzines, were both released last week and were immediately sold out.
The fanzine writers Rob and Mark nominated Dance Stance's Neal Sheasby as number one in the Tamworth Ego Chart. Neil loved it…
New Single
13th reunion drummer Duane actually liked being called the world's most awful drummer.
Attica roadie and ace poet Kevin KcGeough is lining up an alternative poetry night at the Arts Centre with Jed Moore and Edward ian Armchair.
Mike Fleming has now left the Cuddly Spiders and is after a new band.
Dream Factory bassist Mark Mortimer is getting married next month.
Awful
Julian Cope's new single "World Shut your Mouth" is out in a couple of weeks and the very wonderful Donald Skinner plays all guitars on it.
Wolfsbane are planning a mega-launch for their new single in the next couple of weeks.
Shellshock's young talented singer Jason has had to leave the band because his family has moved away from the area.
Festival stage manager Denis Byfield loved the event so much that he is already counting the days to the next one.
Orange should be changing their name to Orange Blossom Special shortly.
Well did you know all that?
07/09/86
Pop Will Eat Itself
Fairweather Friends
XPD
The Rathole
Tamworth Herald – 12/09/86
Musicbox – Yee-ha…the rednecks turn on some joy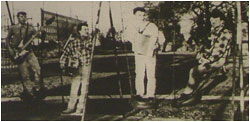 The Soil Brothers – new demo/mini-album
UNIQUE is a word that has been so over-used that is has become almost meaningless. But if ever there was a local band who deserved to be called unique it is this bizarre outfit.
To my ears, Soil Brothers music is a multi-facetted cocktail of (here goes) – country and western, pop, jazz, skiffle, gospel, new wave, cowboy, folk and just about every other musical genre except for heavy metal and Mozart. And if that is not unique I don't know what is.
This fine 14 tracker is a sort of Soil Brothers Greatest Hits package featuring every one of theor tasteful toe-tapping delights from their momentous 'I Like To Eat' to Glenn Miller's momentous 'In The Mood'.
With hardly a pause for breath the band chortle through track after good –humoured track with a slightly wicked feel that belies their Christian leanings. Steve MacNamee (who I hereby nominate at the coolest man in the universe) tends to dominate the songs with his devilishly delicious voice which is hampered not at all by the fact that ever so occasionally he goes completely out of tune.
Disguise
When he sings 'you're the devil in disguise' it makes you feel you are, and it is hard not to join him in his yee-ha chats that punctuate the tape at regular intervals.
Musically, the band are almost note (if you play a note on a coconut!) perfect and anyone who doesn't smile at tracks like "Freight Train" simply CANNOT smile. Out it all together and you have a joyous 28 minutes of pure pop fun, which is an enjoyable as taking a shower with Samantha Fox.
And to paraphrase the band "I'll lick any man who says I am wrong" Clickety-clack!
PS. You can see the Soil Brothers at the Arts Centre on September 19. And you can hear the by entering our fabbo contest.
Tamworth Herald – 12/09/86
Musicbox – Get on your mettle for a night of glam
HEAVY Metal returns to the Rathole on Sunday night when spinetinglers Wolfsbane team up with Welsh Metallic heroes Ranc Elsen.
The partnering of the two poseurs-and-proud-of-it acts should ensure another sweaty, packed Rathole night which will delight the town's glam fans.
Headliners Ranc Elsen are described as a Welsh Motley Crew (God forbid!) and already have a power-packed album under their belts. They are supposed to look very flash and glammy and play music that is in the modern metallic vein.
For people who like that sort of thing, they have found their way into the hallowed pages of Kerrang and are a band very much on the up and up.
If that's not enough to get you away from the Monocled Mutineer on Sunday night (and I know that's difficult) I am sure Wolfsbane tip the balance. Their last Rathole show at the festival was simply spellbinding and there is no doubt that with their single due out soon (already assured a number one slot in the national charts) local fans should go out and see them whenever they can.
I won't insult anyone's intelligence by trying to describe Wolfsbane because if you're reading this and don't know the chances are you are reading the wrong page.
It starts at about 8.30 and a glam-bam-thank-you-mam night is promised for everyone.
Tamworth Herald – 12/09/86
Musicbox – Pop Will Eat Itself/Fairweather Friends/XPD – the Rathole
WELL…what a let down. Here were Pop Will Eat Itself, one of the brightest names on the new pop circuit, a band who came with glowing references and much hyperbole. And in reality they are as exciting as a game of ludo with your granddad.
Where I was expecting second-rate punk rock, I heard fourth-rate punk rock from a band who simply went through the motions to produce a short- lack-lustre set. They also had long, Dylanesque hair (never trust a hippy member) had the audacity to cast aspersions on the mighty Mary Chain and seemed to have no respect whatsoever for the people who had paid to see them.
If this is the dawning of a new pop age, you can count me out. They were simply dull!
The Fairweather Friends from Lichfield were a lot better, even though their sound lacked definition and seemed to fall between different stools.
One or two of the more fiery members were particularly impressive and their enthusiasm shows that they are well worth a return visit to the Rathole. And so to XPD. I heard so many bad comments about what XPD were doing, that it seems they have a credibility problem with particularly the younger alternative types who fill the Rathole.
Personally, however, they were far the best thing on the night for me. OK, the sound was dodgy and the eye make-up truly horrific but behind it all, XPD have more verve, power and tingle-ability than anything else on offer on the night.
I think XPD are great. They take risks, they aren't scared to go over the top and as for style, they flaunt it. Their time will come.
Tamworth Herald – 12/09/86
Musicbox – Gossipbox
WHATEVER happened to taste? There we were queuing outside the Rathole last week, and two disgusting visual sights greeted our eyes.
First came Richie Coffee sporting his 'I am an advertising executive' haircut and then came the normally sane Jim Pighand wearing revolting green clogs.
Still on the bright side. IOTA is getting more tasteful. Their second edition of the fanzine was on sale on the night and was a million dollars better than the first, nervous copy. It included reviews of every band in the festival plus bits on Wolfsbane, 13th Reunion, Dream Factory, Jim Pighand and cartoons, jokes and single reviews. All for just 25p from Kim and Donna.
Oh yes, it mentioned me sex times so I suppose I'd better reciprocate the honour – IOTA, IOTA, IOTA, IOTA, IOTA and IOTA.
Also good news is that the excellent Dance Stance are about to record their debut single in Birmingham. They will be taking Paul Speare to Brum to produce the single which (I hope) could be "The Other Side of Paradise". Still on singles. Wolfsbane now have 975 of them waiting for sale – BUT YOU CAN'GET THEM YET. A big launch is planned soon and wisely the band are keeping the tastefully-decorated singles under wraps until then.
Keep your eyes on Musicbox for full details of their exclusive party night launch which promises to be as exciting as an Ian Botham innings but much, much, longer.
Tamworth Herald – 19/09/86
Musicbox – Wolf Whistles for a superb first single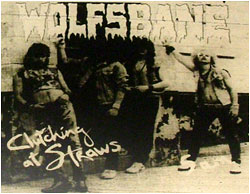 Wolfsbane – Clutching At Straws/5 a.m. (Bad Moon Records)
SO AFTER all the waiting, planning and dreaming. I've finally got it – the debut single from Wolfsbane.
The record, which is not on sale for at least two weeks, now sits proudly at the front of my singles box as a testament to just how good local bands can be.
Like the Dream Factory's superlative 'Wine and Roses' it is a record that should stand out in anybody's collection, a single which lives up to all expectations and shows clearly that if luck is on their side, Wolfsbane are going to be very big indeed. To put it mildly, I like it…Lots.
The 'A' side is, of course the classic sing that still dominates Wolfsbane's set. Like Tom Robinson's '2468 Motorway', 'Clutching At Straws' is a song which Wolfsbane have to play whether they like it or not, because I have yet to find one person who doesn't enjoy it.
The recorded version is virtually the same as the live version, although it boasts an extra long Jase the Ace intro. It combines the shimmering melody of the verse with the powerful dynamism of that now famous chorus and has the sort of impact that makes people stop, stand and listen. If this is typical heavy metal Ronald Reagan is Russian.
Lyrically the song concerns relationships that have ended, even though they are still outwardly carrying on and shows a sensitivity within Bayley's writing that is sometimes ignored next to Wolfsbane's more direct set anthems.
It is a faultless, lovable song given life and power by Messrs' Speare and Smith at Expresso Bongo. No Wolfsbane fan – or any Tamworth music fan for that matter – should be disappointed.
The 'B; side '5AM' (known to most of you as 'Bad Boy') is more typical Wolfsbane and as much more likely to appeal to their hardcore fans. It is hard, fast and powerful, with a thumping chorus and a strange guitar break in the middle by Jase, who shows that despite his tender years (a mere 17, would you believe), he is still hard to beat locally.
Personally, I would have preferred to see 'GSB' as the 'B' side – but you can't have everything!
So there it is, the first of what we hope will be many Wolfsbane records. It will be officially launched at the start of October, and I would urge everyone with the remotest interest in the local scene to buy it. I have long said that when one of 'our' bands make it, the floodgates will be opened to let many more bands through.
Wolfsbane may well prise open the door with this record, so get ready for the long-awaited deluge.
The record will be on sale at, Wolfsbane's party night and at W.H. Smith and Tamworth Music Centre (Tamworth), W.H Smith and Record Centre (Nuneaton), The Gramophone Shop (Lichfield), Shooting Stars (Hinckley), HMV, Virgin, Cyclops and Rockers records (Birmingham) and several other shops still being sorted out. They are also looking for outlets in Atherstone, Coleshill, Burton, Walsall and Coventry, so any ideas can be passed on to me or the band.
14/09/86
Wolfsbane
Ranc Elsen
The Rathole
19/09/86
Soil Brothers
Tamworth Arts Centre
Tamworth Herald – 19/09/86
Musicbox – Gossipbox
Chatting with the Starr in our midst
I DON'T like to namedrop (well not much, anyway) but on my train journey to London at the week-end, I sat with soul king Edwin Starr. He was on his way to record his vocal line in the new 'Band-Aid' style anti-drug song and he was his usual affable, friendly self.
He mentioned in passing that he adores his new Polesworth home, and said that he may well stay there for the rest of his life. Oh yes, he also said that his self-penned classic 'War' has now sold an amazing 2,500,000 copies worldwide. Do you think that is a record for a Polesworth band?
After meeting Edwin Starr the next person I met in London was a Musicbox reader from Birmingham. His name was Mark and he plays with Brum band Eye Do It, and a perfectly nice chap he was too. For the sake of his girlfriend in Two gates, however, I have promised I won't mention the 25 women he was with at the week-end!
The nod
Talking of nice chaps, Dream factory drummer Batman had a rather embarrassing incident recently. At the start of the Factory's Worcester show, all the band were on stage and turned round to give Batman the nod to get going, only to find he wasn't there.
He wasn't signing autographs, nor giving interviews, however. Instead he was locked in the toilet and looked quite flushed when eventually released.
Tamworth Herald – 19/09/86
Musicbox – SNIPS
The Soil Brothers, fresh from the recording of their excellent new demo, are playing a special show at Tamworth Arts Centre tonight (Friday). The band have promised their usual high-energy set packed with as many yee-has as possible. It starts at about 8pm, so jump on your hors and get down there!
Tamworth Herald – 19/09/86
Musicbox – SNIPS
A new all-girl metal band are on the look-out for a guitarist and drummer. If you like Motley Crue, Ratt and Van Halen and can play an instrument to boot, this could be your big break. Contact Helen.
Tamworth Herald – 19/09/86
Musicbox – A MIGHTY GOOD TIME
MIGHTY, MIGHTY who promise to be almost as big as their name are the latest top band to make their way to the Rathole on Sunday night.
The band whose romantic alternative pop has seen then tipped as potential world-beaters by the likes of NME and Sounds – smaller versions of Musicbox for those who don't know – will be playing at the venue alongside a new Tamworth alternative act – The Calling.
The Calling feature Paul Keeton and Niz Concannon (ex-Sacred Oath and The Cradle).
The sound The Calling produce is locked firmly within the alternative bracket and according to fellow scribes Donna and Kim, is similar to that of the Sisters of Mercy. If The Calling are anything like The Cradle, they should be a powerful, watchable act who should justify you all getting your crimpers and doom-laden faces out.
21/09/86
Mighty, Mighty
The Calling
The Rathole
Tamworth Herald – 26/09/86
Musicbox – Must Rathole die in the face of apathy
"THE RATHOLE" dream is all over. Club managers Ian Gibbons and Chippy have said they will close the club in a couple of weeks – probably for good.
The reason is simple – the famous old Tamworth disease of apathy. After an initial honeymoon period when the venue was packed every single week, attendances have been slipping back on gradual basis.
Over the past couple of weeks they have plummeted – meaning the club lost ip to £200 on Sunday night's 'Mighty, Mighty' show. And now the organisers are set to say "enough is enough".
"I have done my best for Tamworth and feels sick at the response," said an understandably disillusioned Ian Gibbons. "We are trying to put the town on the map by bringing national names and we hoped one day to be able to bring groups like Balaam and the Angel to the town at other venues. But now it seems to be all over."
The 'Rathole' is committed to its current bookings – this weeks Hellbellies show and next week's Wolfsbane party won't be affected – but after that the club could shut down.
It can still be saved if enough people show they genuinely want it. So go on – pack out this Sunday's concert and show that Tamworth does want its own unique venue.
'The Rathole' has been like a breath of fresh air to Tamworth, and has given young people a meeting place, a rock venue and a focal point all at once.
If Tamworth lets it die, it will be left with what it deserves. Absolutely nothing.
Tamworth Herald – 26/09/86
Musicbox – Review – BUTTERCUP – Live at Kimberleys ****
A silly little tape put together by Tamworth's biggest-hearted DJ bouncy Buttercup. It combines a host of top current hits with Buttercup's profound and blatantly slanderous introductions. It costs £1.50 and is worth it for a highly sexy pic of Buttercup which could well endanger Rikk Quay's position as Tamworth's leading heart-throb.
Tamworth Herald – 26/09/86
Musicbox – Review – THE DREAM FACTORY – Demos *****
Not actually released but so good I had to say something. Basically the Dream Factory are trying to record every one of their best numbers on demo and this is the collection so far. Contains interesting newies like 'Uncle Albert' with triumphant oldies like 'Love 15', 'Mousetrap' and the sizzling 'Feel Your Touch'. Great stuff.
Tamworth Herald – 26/09/86
Musicbox – SNIPS
WOLFSBANE have lost their drummer, Stakk Smasher – otherwise known as Jon Buckingham – has decided to quit in what has been described as very friendly circumstances. The band say Stakk (who they rate as the best drummer in the world by several miles) is leaving because he wants to be a fan again, and is getting sick of looking at the group's bottoms from behind his kit! He will still play in next Friday's Wolfsbane party, but now the band are looking for a brilliant, exciting, metallic replacement. Contact Brian or Jase.
Tamworth Herald – 26/09/86
Musicbox – SNIPS
YOUNG heavy band Shellshock are on the lookout for a new singer. Anyone interested should contact Matt.
Tamworth Herald – 26/09/86
Musicbox – SNIPS
See Julian Cope and our own Donald Skinner on 'Wogan' last week? Donnie was sporting the same jumper he used to wear playing with The Fretz which shows that success certainly hasn't gone to his wardrobe.
Tamworth Herald – 26/09/86
Musicbox – Mighty awful, to be honest
Mighty, Mighty/The Calling – The Rathole
IT SEEMS a little unfair to kick a venue while it is down – but this show really was a giant yawn. Take The Calling. Maybe I shouldn't be too critical as it was their first ever show, but I am reminded of the time when the band's guitarist Paul Keeton attacked my cherished and proud policy of positivism – i.e. always try to say good things about local bands.
Well, Paul, I will take your advice, forget my positivism and say what I really feel. The Calling were a mess. They are supposed to be 'alternative' but in truth they were as alternative as breathing.
The whole idea of 'alternative' is to be totally different, unique and original, and NOT create the same dead pan, dead serious, dead dull sounds of millions of other angst young bands. The Calling dug up all the old, tired Sisters of Mercy's clichés to produce a set that just made me feel sad.
To me the only genuinely, 'alternative' bands in Tamworth are Thirteenth Reunion and The Soil Brothers because there is no-one remotely like them around.
The Calling, in contrast, sound as original as the young metallic bands alternative music was supposed to be rebelling against.
And that word awful about sums up Mighty, Mighty. I know a lot of people on the night seemed to like them, but to me this was just ugly student pop. It was as weak as a glass of 'Barbican' and John Reeman's description summed it up "It is the new wave of middle of the road."
What really annoyed me about the limp Mighty, Mighty was that all but a few of our local bands are miles better. How Mighty Mighty can be in the Indie charts and the national press, while bands like Dance Stance, Wolfsbane, Factory, Attica et al are not, amazes and infuriates me.