Tamworth Bands History : 1986 :
June
01/06/86
The Original Royal Family
Depth Charge
The Rathole
Tamworth Herald – 06/06/86
Musicbox – Memories linger on – as two bands split
TWO OF TAMWORTH'S best known bands have split up. The Parade and Femme Fatale both decided to split within hours of each other, leaving two large holes in the local scene.
The Parade describe their split as being 'by mutual agreement' after an increasing lack of direction which saw them miss a few vital concerts. In fact hours after the split, the band were offered a last minute substitution slot at the Dome's 'Battle of the Bands' in Birmingham – a concert that singer Bryan Lacey reluctantly had to turn down.
It is not known what will now happen with Bryan, bassist Andy and drummer Simmo, but it is hoped that all three will continue to pursue musical ambitions. They leave behind a legacy of two of the very best Tamworth demos ever recorded and a host of hot sweaty concerts at the Arts Centre. They will be missed.
Femme Fatale's decision to quit is probably less of a surprise. For months the band have been unable to practise on regular basis due to the commitments of guitarists Mark Poyner and Martin Higgins.
Understandably this created tensions within the band and last week they decided to throw in the towel. Martina and Mark will probably carry on working together and the same probably applies for Jim and Debbie – both of whom are highly respected musicians on the local scene.
When Femme Fatale first arrived I said that Tamworth had been waiting a long time for such a band. Now sadly the Town will have to wait a little longer for a new one.
Tamworth Herald – 06/06/86
Musicbox – Surgeons step in with a tonic
A TOP new wave band – who have just finished touring with New Model Army – hit the Rathole on Sunday for one of the venue's biggest gigs to date.
The group The Psycho Surgeons caused quite a stir when playing with New Model and their powerful sound brought them a lot of praise from critics and punters alike.
Among those who took to the band were former Terroa members Eddie Madden and Pete Wright who struck up a friendship with the group and said they would try and get them to play Tamworth.
Well, they have succeeded and aptly enough the support band will be none other than Eddie and Pete's brand new outfit – Attica. The group will be making their live debut on Sunday playing a set which according to drummer Jim Pighand is very hard to classify.
With The Psycho Surgeons also expected to bring an extra support band, it promises to be a night to remember and an unmissable event for local rock fans. It starts at around 8pm.
Tamworth Herald – 06/06/86
Musicbox – Sad Factory and the so-happy Royals
The Dream Factory – Polesworth Top Club
DESPITE the long faces from the members of the Factory (see separate letters – right) this was a wholly entertaining concert from a band who are still very much a force.
Technical problems alone couldn't stop the power and songwriting ability of the band from shining through, with Mark Mortimer showing he has a lot of on-stage style and an almost insatiable appetite and enthusiasm for his music.
Best songs of the set were "Love 15", "Moustrap" and the quite magnificent "Feel Your Touch". The band were very disappointed by the gig, but I for one was not and to a lot more of the neutral observers I spoke to, this was a concert to remember.
Put these guys on a bigger stage with a bigger sound and they could be – can be – dynamite.
Tamworth Herald – 06/06/86
Musicbox – The Original Royal Family – The Rathole
THEY said this was their last ever concert – but will Tamworth let them split after this marvellous feast of good-humoured spirited r 'n' b. The Family were in top form for this show with their onstage warmth transmitting itself through the audience like a contagious disease.
Dave Smith looked particularly 'natty' with his dark shades and Union Jack T-shirt, and it was also great to see a cameo saxophone slot from Andy Codling and Paul 'Who cares about – Dexys and Elvis Costello when I can get the chance to play with Smithy' Speare. Truly an immortal band in Tamworth terms even if Ian Gibbons does hate them.
Tamworth Herald – 06/06/86
Musicbox – Shameful Show
I AM writing to you on behalf of The Dream Factory to express our disgust at some of the our supposed 'followers' from Polesworth, who shall remain anonymous.
I am talking about some of the disgraceful goings on at our gig at the Top Club last Friday, when some of the more 'Fashion Toy' type element of the crowd had come to the gig with only one aim in mind – to heckle us and cause as much trouble as possible… because their mates are no longer in the Factory.
Obviously, the great majority of our followers are great, and this doesn't apply to them, but those who were there for trouble can be sure that we don't want anything to do with them.
It now seems strange to think that those minority were fanatical about the band when they are fanatical only about booze and punches.
One last thing, we like to apologise to everyone who went to the gig for the 'technical problems' which were unfortunately nothing whatsoever to do with us. It was just one of those nights where everything seemed to go wrong. You can't win them all I suppose!
We are now having to break for a month or two whilst the band take exams, and afterwards we will be back playing around the country not to FASHION TOYS!!!
MARK MORTIMER (Dream Factory bassist)
Tamworth Herald – 06/06/86
Musicbox – Kevin's super signing
BREAKING POINT'S excellent singer/guitarist Kevin Briggs has at last landed a major coup – a wedding contract.
For tomorrow the ever optimistic Kevin will tie the know in Burton, although I am assured it will not stop his extra martial love affair with driving, powerful music.
Rumours that the church choir will burst into a chorus of 'Come The Day' have yet to be confirmed but regardless of that MUSICBOX would like to wish Kevin and the soon to be Mrs. Briggs the very best for the future with the sincere hope that they never meet breaking point!
Tamworth Herald – 06/06/86
Musicbox – SNIPS
Stars come out after the rain
EUROPE AFTER THE RAIN (ex-Australians) have lined-up a whole host of excellent concerts and name acts. The band have impressed a number of musical 'big-wigs' and as such have arranged concerts with the likes of Flesh For Lulu, Felt, In Embrace and the highly rated Big Flame. The Big Flame show is at The Crown, Nuneaton tomorrow (Saturday with the Flesh For Lulu show following seven days later. According to singer Chris Thomas – (who promises their set is full of mystery and suspense, sex and vice) "We will undoubtedly be a household name within six weeks time".
Tamworth Herald – 06/06/86
Musicbox – SNIPS
Debbie and Jim ex-Femme Fatale WILL be putting a new band together and are on the lookout for a bassist, guitarist and keyboard player. Their influences range from the Revillos and B52s to Carmel, Woodentops and Pale Fountains.
Tamworth Herald – 06/06/86
Musicbox – SNIPS
Orange are on the look-out for new members including trumpeters and saxophonists. To find out all about it contact Anice or Den.
08/06/86
The Psycho Surgeons
Attica
The Rathole
Tamworth Herald – 13/06/86
Musicbox – Sleaze kings in bid for top Marx
SLEAZE-KINGS Wolfsbane will this weekend go to war – by taking part in two separate 'Battle of the Bands' events. The quartet will take their own breed of musical violence to Lichfield Enots tonight and then the more glamorous setting of 'The Dome' on Monday night in an attempt to win new fans – and big prizes.
Tonight's Enots show is the semi-final of Tetley's 'Most Promising Band' award which has dominated the Lichfield scene over the past few weeks. Unlike our own 'Battle of the Bands' where judges choose the winner, in this event it is up to the fans on the night to vote for their favourites.
Obviously the more Tamworthians we can get over there to do a little hyping the better! It starts at 7.30, tickets are £1.50 and taking on Woilfsbane will be Earthquake, Virgil Spirit and Ivory.
Then on Monday night Bayley and the bots will tae on the audience at the Dome – which modestly describes itself as the 'best nightclub in Europe'. Under the glittering lights Wolfsbane's Marx-brothers-with-guitars effect should prove a winner and they will be all out to make a name for themselves in the 'SOS' organised event.
Travelling fans should watch what they wear and Wolfsbane should probably watch how they swear, but nevertheless it should be a very jolly night indeed. Go forth to war Wolfsbane!
Tamworth Herald – 13/06/86
Musicbox – Gospel rockers in town
TAMWORTH Youth for Christ have lined-up one of their best gospel rock concerts to date on Saturday.
Tamworth Herald – 13/06/86
Musicbox – Big sounds and fine romantics
The Psycho-Surgeons/Attica – The Rathole
OK, the Surgeons were very good, very jolly and all that, but I would rather talk about Attica. For in just their first concert Pete, Eddie and Jim showed that they are going to be very good indeed. I didn't really know what to expect when they came on but what I certainly didn't anticipate was that the band would be as exciting and compelling as they turned out to be.
Despite being a trio they have one of the 'biggest' sounds around and their musical power frighteningly strong. Lyrically they are aiming very much to be 'heroic' with their themes, and ideals showing a larger than life romanticism that is quite inspiring.
A few people did say afterwards that they were very much New Model Armyish (the brilliant 'Martyrdom' reminded me of the little heard Army classic 'Betcha') but there is no denying they have a spirit, resilience and inner-strength all of their own. This is a band I must see again.
Tamworth Herald – 13/06/86
Musicbox – Rocking in with a whole new look


THE DANCE STANCE make their eagerly-awaited 'Rathole' debut on Sunday night in what promises to be a cracking concert. The band have been picking up a host of spectators of various venues throughout Tamworth and Atherstone over the past few months but this will be their most central Tamworth concert since the Rock Festival.
As well as seeing a new confidence and self-belief spectators will also see a drastically changed line-up since Dance Stance turned in their impressive Castle Grounds show.
Polish guitarist Nick Reed (formerly of Love On Board) is just one of the new men and he is as confident as anyone that the band are on the verge of something very big indeed.
"Things are going very well and we are looking forward to 'The Rathole' show," said Nick.
Dance Stance's music is likely to appeal to a wide cross-section of people as it is influenced by 60s and 70s new wave and pop as well as dollops of soul and funk.
It is a sound the band believe much faith by attending in utterly and you will be able to assess why they have so Sunday's show. It starts at 8.00pm and the band will be supported by an alternative disco.
Tamworth Herald – 13/06/86
Musicbox – Flesh does wonders for Europe
EUROPE AFTER THE RAIN will play their most prestigious concert yet on Sunday – supporting the alternative outfit Flesh for Lulu.
The Europeans (who used to be The Australians if you can work that out) earned the enviable support slot when they rang up the band about a totally different matter. During the course of the conversation the Lulus said they needed a West Midlands concert and so the Europeans fixed it up – and fixed themselves up at the same time!
"It is definitely our biggest gig yet but we are only going to play a short set for the best impact," said singer Chris Thomas.
The gig is at the Bondgate Social Club in Nuneaton in Sunday and costs a very reasonable £2. it starts at 7.30ish (with a full disco) and as an indication, the new-look Europe After the rain play guitar-orientated music that is aimed in an REM direction. A very interesting concert indeed.
Tamworth Herald – 13/06/86
Musicbox – Seeing is believing
DURAN DURAN look out! This week I can report that Birmingham's megastars are under challenge from two new Tamworth bands.
First is XPD who have just had the sort of trendy haircuts that would make Simon Le Bon turn into a skinhead.
According to Rikk Quay the band are going to be more outrageous than Sigue Sigue Sputnik but it strikes me that John Reeman's hair is about as outrageous as 'Play Away'.
Second threat to Duran Duran comes from two ex-Cradles. The grim Twins According to Murray 'Look I don't like heavy metal and all that rubbish so stop saying I do' Pickett.
Tamworth Herald – 13/06/86
Musicbox – SNIPS
Eddie calls the tune
A GUITARIST and drummer are wanted by a new band featuring Eddie Blunt and two enthusiastic females. Apparently the band want people to be serious but with a sense of humour and are after a Talking Heads/U2/Anythings That's good sound.
Tamworth Herald – 13/06/86
Musicbox – SNIPS
Former Parade men Andy and Simmo have said they are going to carry on together and are after a new singer and/or guitarist. The band are interested in a variety of types of music including r 'n' b, Sixties, Stranglers and so on and if you want more details contact Martin.
Tamworth Herald – 13/06/86
Musicbox – SNIPS
The Green Swings need a new drummer and vocalist.
Tamworth Herald – 13/06/86
Musicbox – SNIPS
A new band – Dirti Trix – who have been together for a couple of months are on the lookout for a new singer.
Tamworth Herald – 13/06/86
Musicbox – SNIPS
There will be a Rock Festival Committee meeting at 7.30pm on Sunday at the Tavern.
15/06/86
Dance Stance
The Rathole
15/06/86
Flesh For Lulu
Europe After The Rain
Bondgate Social Club, Nuneaton
16/06/86
Wolfsbane
The Dome
Tamworth Herald – 20/06/86
Musicbox – King Rat catches a big name treat
THE mighty Guana Batz have just been confirmed to appear at the Rathole on Thursday night (June 26).
It's a big night for the Rathole so don't let the club, Ian Gibbons or Tamworth down – pile into the Rathole on Thursday night and make it a night to remember. It starts at 8pm.
Tamworth Herald – 20/06/86
Musicbox – I'm backing these boys to the top
Dance Stance – The Rathole
LET'S GET the moans out of the way first. Yes the band did leave it too late to arrive on stage considering there was no support act, yes £1.50 was a bit steep for a one band local show, yes it was a mistake to bring a pre-recorded tape when people want to hear their own records and yes the PA didn't do the band too much justice.
Right, that should satisfy the people who moaned about this concert and didn't smile too much, but now it is time to be positive. Very positive. I have been following the local music scene for about seven years now and I can honestly say that for me only One On One come close to this band for all-round professionalism, style and class.
Dance Stance don't just want to be stars, they act like they already are and while this may depress some cynics, to me it shows an admirable self-belief which is going to carry them a very long way indeed.
In fact (and this is where I put my head firmly on the chopping block again) Dance Stance are the band I am now predicting as 'our' greatest hope for national success.
After starting rather poorly (bands should never start with their weakest song) the group grew in stature, presence and sheer might until they reached the unspeakable height of a new number 'Other Side of Paradise' which was simply brilliant.
The powerful driving guitars (Nick is getting better and better) Paul's passionate vocal, and the dynamic brass section combined to make a song that was nerve-tinglingy exciting in the classic Dexys tradition.
That admirable Dexys thread runs through a lot of the band's sound as does influence as divers as Lloyd Cole, Style Council, Sade and (as Rikk Quay rightly pointed out) Soul Exit. Maybe this wasn't the sort of gig the average Ratholian would be particularly impressed with, but to me it was a revelation. At the start of the show I kept thinking about the World Cup game I was going to miss, but by the end I didn't care. This was one of the finest gigs, I have ever seen in Tamworth by potentially the finest band.
I will now risk life and limb by concluding that this band are definitely going to make it. They are sheer class.
Tamworth Herald – 20/06/86
Musicbox – Ready for rock shockers, or try a lazy trout
THERE are three interesting concerts on offer this weekend – with the undoubted 'prize' going to skiffling psychos The Soil Brothers, who will tonight (Friday) play with arch-politicos The Redskins.
The Soil Brothers will join Britain's reddest rockers at Birmingham university in a show which will undoubtedly be the biggest highlight in the Soilmen's very short career, "We are looking forward to it but we hope we don't get bottled off!" said drummer Adrian Goodman.
It all starts at around 8pm and the Soil Brothers are hoping local people will travel to Birmingham to support them – or at least catch some of the bottles thrown by shell shocked students.
Tamworth Herald – 20/06/86
Musicbox – Ready for rock shockers, or try a lazy trout
If you want something altogether more sedate, then Tamworth Arts Centre is the place to be tonight (Friday). Trout will top off a night of folk and jazz which is intended to be in a leisurely 'Absolute Beginners' style atmosphere. The band will play downstairs with people invited to join in at random in a sort of freeform jazz bonanza. All very relaxing good fun starting at 8pm.
Tamworth Herald – 20/06/86
Musicbox – Ready for rock shockers, or try a lazy trout
The tomorrow night Coleshill Town Hall is the place to be for a fine triple bill. Coleshill's local heroes Burnin' Sky return to the hall after a number of successful out-of-town concerts and will be joined by a new band Seventh Star and a rather older one Depth Charge. Burnin' Sky are keenly looking forward to the show (which costs a reasonable £1 for the three bands) and Depth Charge are also keen to move into the virgin territory for the group. A warning to all spectators and Burnin' Sky personnel however – do NOT ask Depth Charge's Mick Goodby to relate his sick jokes.
Tamworth Herald – 20/06/86
Musicbox – SNIPS
A fine festival line-up
THE final line-up for the Tamworth Bank Holiday Rock Festival in the Castle Grounds has now been worked out. After the splits of Femme Fatale, The Parade and Spirit Lake. The Green Swings, Shellshock and the wonderful Royal Family have stepped in to make the final line-up:
Sunday – 12.30, CandleDance; 1.05pm, Green Swings; 1.40pm, Shellshock; 2.15pm, Soil Brothers; 2.50pm, One On One; 3.25, Kara; 4.00pm, XPD; 4.35pm, Catch 22 and headlining at 5.10pm, The Magnets. Then on Monday it's: 12.30pm, Burnin' Sky; 1.05pm, Beyond Elysium; 1.40pm, Cuddly Spiders; 2.15pm, Breaking Point; 2.50pm, Wolfsbane; 3.25pm, Dance Stance; 4.00pm, Depth Charge; 4.35pm, Orange and headlining at 5.10pm, The Royal Family. The pre-festival Arts Centre line-ups are still uncertain but Ivory, Side Effect and Cradle are among those who should be involved. Official festival t-shirts (which are likely to cause a fair bit of controversy should be available soon.
Tamworth Herald – 20/06/86
Musicbox – SNIPS
A new heavy metal band, Tyrant, are on the lookout for a drummer to complete their line-up. Gigs are in the pipeline and any would-be dedicated sticksmen should contact Rob.
Tamworth Herald – 20/06/86
Musicbox – SNIPS
XPD guitarist John Reeman has decided on his new stage name – Zakk Zerox. The band are now eagerly awaiting their live debut while John – sorry Zakk – is planning on getting together a punk rock anniversary concert in December to celebrate the ten years since the release of the immortal 'Anarchy in the UK'.
Tamworth Herald – 20/06/86
Musicbox – SNIPS
Martin Higgs and Mark Poyner the ex-Femme Fatale guitarists are on the lookout for a drummer.
Tamworth Herald – 20/06/86
Musicbox – SNIPS
Mighty metal men Magnum – who include Tamworth local hero in singer Bob Catley – have lined up a major national tour – which includes a trip to the increasingly popular Central Park venue in Burton on Wednesday June 25.
20/06/86
The Redskins
Soil Brothers
University of Birmingham
20/06/86
Trout
Tamworth Arts Centre
21/06/86
Burnin' Sky
Depth Charge
Seventh Star
Coleshill Town Hall
25/06/86
Magnum
Central Park, Burton
26/06/86
Guana Batz
The Rathole
Tamworth Herald – 27/06/86
Musicbox – Labellers who come unstuck…
Depth Charge – Demo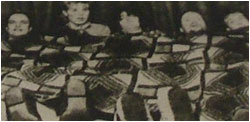 LABELS really get on my wick sometimes. I mean to all intents and purpose, Depth Charge are a ROCK band and for that reason the 'look is everything' types (whose attitude bores me to death) will no doubt choose to ignore them and not give them anything like the respect they deserve.
Which is very frustrating indeed because Depth Charge are a band who I believe could appeal to a far greater audience that they now enjoy.
Regardless of what we choose to call it, this is good strong music played by a band who should not be dismissed because they cannot recite the entire New Model Army lyrics backwards.
The simply key to their accessibility is their tunes. As regular MUSICBOX readers will know. I am a sucker for a good tune. I don't care what style of music I am listening to if it all has good melody it gives my ears that vital 'Domestos quality – staying power'
Wolfsbane, Breaking Point, Dance Stance, One On One, The Dream Factory and my other favourite local bands all play totally different music but they are united by a common bond of being able to write tunes that transcend the simple boxes people like me are all too ready to slot them into.
As proof, if Marillion ever managed to write one half-decent tune in their entire life I am sure I would like that too.
So, armed with these fine tunes, Depth Charge have produced a four-track demo which is very enjoyable indeed. Skilfully put together by Expresso Bongo men Paul Speare and Phil Smith (who have long championed the band) it is a tape that shows that Depth Charge do mean business.
The best number of the four is undoubtedly the opener 'In My Car' which is something of a killer track. Based around a dominant guitar riff and a sawing, well-balanced vocal, the song has a melodic appeal which has made it one of the outstanding live tracks in the band's repertoire.
Particularly impressive is twisting guitar break by Trevor Mugglestone (which owes more to the Hanoi Rocks school of thought that more traditional rock) and a mixture of vocal harmonies that provide a triumphant layer over the top.
Also impressive is the band's best live song – the proudly powerful 'Running Away'.
Tamworth Herald – 27/06/86
Musicbox - SNIPS
THE Rathole is once again closed this Sunday – because of the World Cup Final. Wolfsbane had originally been booked to play on the night but the Rathole management (wisely) decided that too many people would find the lure of the football too great. Wolfsbane have just released a live bootleg made up of their best numbers from recent concerts. We will be looking at it in greater depth later.
Tamworth Herald – 27/06/86
Musicbox - SNIPS
Musicbox is planning the next devilish edition of the Rogues Gallery in the next couple of weeks and would welcome any contributions as soon as possible. We already have a few gruesome relics to destroy the egos of the area's top popstars but if you have any more that might be deemed embarrassing enough to feature, please let us have them as soon as possible.
Tamworth Herald – 27/06/86
Musicbox - SNIPS
Lichfield is staging its first major Saturday record fair this weekend. It takes place at the Guildhall, Bore Street and features 20 stalls covering everything from the 50s right through to the present day.
Tamworth Herald – 27/06/86
Musicbox – Wolfish double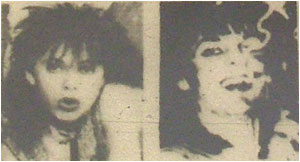 TAKE A good look at these two snapshots. Look familiar? Well one of them is our very own JK Bombshell – alias Jeff Hateley – from Wolfsbane. The other we will leave you to work out. One is a gentleman named Bryan Whale, a guitarist in a Nuneaton group called 'Dressed to Kill'.