Tamworth Bands History : 1986 :
November
02/11/86
Orryot
Ruffian on the Stairs
One On One
The Rathole
05/10/86
Orange Blossom Special
The Marmion
07/11/86
Freight Train
The Rathole
Tamworth Herald – 07/11/86
Musicbox – Shades of green as Donald gets big tour
DONALD SKINNER (mentioned throughout this page you will note) it at the lets-make-all-the-other-local musicians-green-with-envy game again. For Cope's number one axeman will join the eccentric one on an American tour next year, which includes a show at the world famous Madison Square Gardens in support of The Pretenders.
What makes me really mad is that Donald is such a nice, charming person. If he was a rat we would all bitch about him to cure our insatiable jealousy, but he is just so nice it means we will all have to stay green.
Would you believe that next to making millions on 'Top of the Pops' most local pop stars would prefer to make millions on 'Match of the Day' an awful lot of pop people are consumed by soccer around here fuelling an idea suggested by Ian Gibbons that we form a 'Rathole' soccer team to play charity games.
Dream Factory members Tim Goode and Lloyd Bennett are two who could start it off, and then to add to it we have Ian Simpson (Mutant Zombies), Ian Gibbons, Rikk Quay (ex-goalkeeper), Martin Higgs plus many others regularly seen at the Lamb and othe rplaces including Bryan Lacey (ex-Parade), Dave Smith (Royal Family), Chippy and of course Factory's Mark Mortimer.
One person who could also join us is Mike Turner who used to be a very good striker indeed. I say used to because currently he is sporting a walking stick after a somewhat nasty tackle "Don't put that in Gossipbox" he said again. As if.
Personally I am a football fanatic and I used to be a player/manager of a Sunday league side. I gave it up however, when I realised I couldn't manage or play. Still we can all dream. I mean if Donald Skinner can play Madison Square gardens and Nick Berry can get to number one, then surely the Rathole FC could win the FA Cup.
Tamworth Herald – 07/11/86
Musicbox – Train's heading back with its star aboard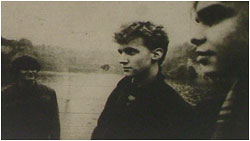 Caption: Wot no Gavin? Barry, Donald and Jos. Freight Train, minus Gavin Skinner.
FREIGHT TRAIN - the band formed by Julian Cope's brother Joss and Cope's guitarist Donald Skinner – make their second appearance at the 'Rathole' on Saturday night.
The group will team up with an outfit called The Sherbert Monsters who I am not allowed to tell you anything about other than that they are very big indeed – under a different name.
The double-header (which also may include recent Rathole faves Wonderstuff) is being see by the venue as one of their biggest shows yet and a suitable tantaliser before the Feelgoods Assembly Rooms show on November 23.
Freight Train already have one single under their belts, the entertaining 'Man's Laughter' and they have just finished a recording follow-up 'Hill'. That latter song was the undoubted highlight of Freight Train's last gig at the Rathole where they received a very encouraging response.
In the meantime the band have been on a national tour supporting the Mighty Lemon Drops and have achieved considerable record company interest. The first single sold 2,000 copies with minimal promotion and with Donald Skinner's recent mini-stardom interest is expected to grow.
And as well as frontman Donald and Joss (not Josh as some idiot MUSICBOX editor used to call him) former DHSS bassist Barry Douce and young drummer Gavin Skinner complete a strong all-round line up.
As for the Sherbert Monsters – well, as I say, I am not able to divulge exactly who they are publicly but they will be known to an awful lot of modern music followers. Suffice to say this one gig which you cannot under any circumstances miss. I have been on holiday all week and I'm coming back for it, so you can at least make the effort of dragging yourself away from the hideous 'Blind Date' enjoying a Saturday night to remember.
Entry is expected to be between £1.50 and £2.00 and it is set to start at around 7.30 and go on well into the night.
Tamworth Herald – 14/11/86
Scooper – Gemma and her turtles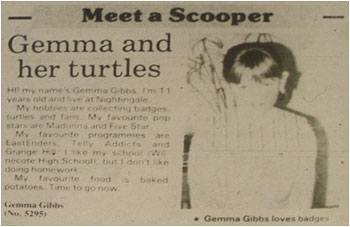 Caption: Gemma Gibbs loves badges
Hi! My name's Gemma Gibbs. I'm 11 years old and live at Nightingale.
My hobbies are collecting badges, turtles and fans. My favourite pop stars are Madonna and Five Star.
My favourite programmes are Eastenders, Telly Addicts and Grange Hill. I like my school (Wilnecote High School) but I don't like doing homework.
My favourite food is baked potatoes. Time to go now.
Gemma Gibbs
(No. 5295)
Tamworth Herald – 14/11/86
Musicbox – Steve's a real hot-shot!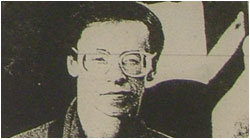 A NEW commercial photographer keen to specialise in working with and visually promoting local rock bands has just set up business.
Steve Ellis took advantage of the Princes Trust Scheme (which also helped put Kevin Knowles in business) to set up a photographic agency aimed at specialising in fashion, rock and concert pictures.
He first became known to many local pop bands when he took several excellent pictures of XPD and Shellshock at the rock festival and he has since worked with Freefall, Cerberus and Mournblade for whom he once played.
The ambitious photographer is a keen local rock fan and wants more than anything else to help promote local outfits to where they deserve to be – right at the top.
"Most importantly my job will be to help create a suitable image for a band through quality, eye-catching photographs. If the resultant photograph is to be seen by 100s of agents, managers and record companies, it's worth spending time planning it," he said.
For a set fee, Steve will have a consultation photo session, with a band and can also help with location photos, promotional cards and leaflets.
Steve already has considerable experience and with the backing of the Enterprise Allowance Scheme he has now established 'Studio 17' as a force to be reckoned with. If you would like to know more about what Steve can offer, you can contact him on Tamworth 50812. If you don't need him now, keep his number handy, because one day he really be able to out you in the picture.
Tamworth Herald – 14/11/86
Musicbox - Five new bands hit the Town
FIVE new bans will be playing in Tamworth this weekend in what is one of the most exciting rock weeks on the calendar.
Tonight (Friday) two bands with strong U2 influences, Nothing On Earth and Rema, join forces at the Arts Centre while on Sunday night the Rathole stages a unique alternative trio featuring Spartan Cruise, The Raging Bullfrogs and headliners The Blue Toys.
Tonight's Arts Centre duo both played at this years Christan rock festival at Greenbelt and have also trod the boards of Universities and several big venues. Nothing On Earth are described as powerful, lively and entertaining with influences are varied as The Who, sixties soul, The Police, U2 and Simple Minds. Rema are influences by U2, Steve Taylor and Dire Straits. A fine looking show that starts at the Arts Centre at 8pm tonight.
On Sunday night the Rathole welcomes Seddition-record band The Blue Toys (alternative favourites and John Peel featured group), The Raging Bullfrogs (applied nutters who call themselves the kings of acid rock) and the more locally-based Spartan Cruise. This band features Marc, John Splitz, Dick Cutter, Andy, Rex and Steve Zodiac and say their music is a mixture of Velvets Chameleons and Teardrop stuff. We hope to have a bigger feature on this band in the near future but in the meantime don't miss this intriguing three band show.
Tamworth Herald – 14/11/86
Musicbox - Get set to feel good!
TAMWORTH Assembly Rooms hosts the biggest concert the Town has seen in years on Thursday when the mighty Dr. Feelgood team up with Strap On Jack and The Royal Family for an r 'n' b extravaganza.
Rathole chiefs Ian Gibbons and Chippy have laid out a huge amount to bring the Feelgoods to the Town and they hope rock fans from all around Tamworth, Atherstone, Coleshill and beyond will fill the Assems to capacity.
Ian and Chippy know that it is a real gamble to bring such a big band to the Town, but they feel it is a gamble they had to take.
Amazing
"We are not sure how we are going to do on the night but we are still looking forward to it," said the amazingly enthusiastic Mr. Gibbons.
Already 100 advance tickets have been snapped up for the show, but the organisers expect most people will turn up on the night despite the tickets costing slightly more then.
The Feelgoods have been a rock and roll institution for …Their pulsating r 'n' b has inspired legions of pre-punk, post-punk and punk-punk bands and they have a reputation for producing amazing live shows.
It will be the first time they have played Tamworth although they are certainly no strangers to new venues. They have toured the unchartered waters of the Australian outback on many occasions and have also done concerts in Lapland (where Father Christama comes from I think).
Mainstay of the band is the legendary singer Lee Brilleaux who is joined by Gordon Russell, P.H. Mitchell and Kevin Morris. Their set includes everything from Undertones covers to their own hits 'Milk and Alcohol'. They are simply unmissable.
Joining them will be my Rathole faves, Strap On Jack and everyone's funtime faves The Royal Family, who are very excited to be playing with their Feelgood heroes. The whole night lasts between 7.30 and 12 on Thursday and it is the biggest and most important gig in Tamworth for a very long time.
If you want to see Tamworth continue to be a major rock venue then don't miss this Assembly rooms event. Advance tickets are available from Manhattan, Tamworth Arts Centre and Inner Sleeve at £3.50 or they cost £4 on the night. It may sound a lot, but believe me this will be one of the nights of the year. Let's all boogie-woogie!
Tamworth Herald – 14/11/86
Musicbox - Concert Reviews
On the right Train tracks!
Freight Train – The Rathole
QUITE immense. After all the speculation, hype and expectations, Freight Train more than lived up to their reputation with a short, powerful burst which brought warm applause from a large, boisterous and (in all honesty) very drunken audience. Choosing to go straight for the throat the band played a collection of fast ear-bending numbers with the two singles and the amazing cover version 'Psycho' standing out as notable highlights. All four of the musicians played well although Jos could have done with being a bit louder. Still a fine set enjoyed by just about everybody who slurred their appreciation afterwards.
Tamworth Herald – 14/11/86
Musicbox - One On One – The Rathole
Despite sticking a huge custard pie in my face (I still haven't got the stains out boys!) this was a show that impressed me from the start. One On One seem to have recovered their enthusiasm and purpose and produced a far meatier, exciting set than at the Festival.
Everyone seemed in tremendous heart and bopped around as if it was their first concert which is always nice to see. Undoubted…once again was "Different Drums" which sounded as good as it did at the 'Battle of the Bands'. The long lay off seems to have done the band a great deal of good and they now sound like they are once more on course for glory.
Tamworth Herald – 14/11/86
Musicbox – Ruffian On the Stairs – The Rathole
If you thought getting a man on the moon was amazing, well how about getting Mike Fleming into a soul band!…their last two numbers being particularly impressive. Whatever next though? Rikk Quay in a heavy metal band, Mick Goodby in Bucks Fizz. The mind boggles.
Tamworth Herald – 14/11/86
Musicbox – Orryot – The Rathole
Genuinely original outfit who are definitely worth a second look.
14/11/86
Nothing On Earth
Rema
16/11/86
Spartan Cruise
The Raging Bullfrogs
The Rathole
The Blue Toys
20/11/86
Dr. Feelgood
Strap On Jack
The Royal Family
Tamworth Assembly Rooms
Tamworth Herald – 21/11/86
Musicbox – Wolfsbane catch the camel train to shock the Gulf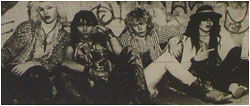 DELIGHTED Wolfsbane have just been rewarded an amazing two-month contract to perform in the Middle East state of Dubai.
The band will be travelling out to The Gulf in the next fortnight and will be expected to play up to four concerts a week to oil workers from America and the U.K.
The group have earned the right to enjoy two months of fun, sand and camels after winning a special 'Showcase' event in London.
They were asked to take part in the contest after they were spotted playing at 'The Dome' earlier this year. And, although the band said they didn't sound at their best in the showcase, their bizarre look was more than enough to secure victory
"We sounded awful to be honest," admitted Jase the Ace, "We had to put everything through the mixing desk which lost our filthy guitar sound, but we looked amazing and that is what won it for us."
The organisers of the event were looking for an outrageous, entertaining outfit to keep the oil workers happy. And if Wolfsbane can't fit the bill, water isn't wet!
"They told us then it was 98 per cent certain we would get it but we waited until the final phone call before telling anyone," said bassist Jeff 'JF Bombshell' Hateley. "Now everything is a real whirl because we have to go on November 28."
The band have spent this week sorting out passports, equipment and practising. There was a problem with Jase The Ace's passport as he is only 17, but it seems that will be ironed out by Blaze Bayley acting as his guardian (God forbid!).
The band also had to take that ultimate decision to pack in their jobs – but they know it will be worth it.
"All our accommodation, food and travel costs will be met and we anticipate making wnough money to be able to come back and make a record and a video. On the top of that we are going to have a lot of fun," said Jase.
The band will be going to an area where they WILL be able to drink if they so desire, so don't expect to see their pretty faces on TV after they caused an international incident!
All told, it looks like being an adventure that Wolfsbane will remember for the rest of their lives. They have promised to keep sending MUSICBOX postcards so we can tell you exactly how they get on, but in the meantime boys a word of advice – don't tough those camels!
Tamworth Herald – 21/11/86
Musicbox – It's here…the poll they can't ignore!
YES…pop-pickers it's that time of the year again!
That time, when hundreds of people have the power in their fingers to build up or destroy the egos of local and national pop stars by voting in the annual MUSICBOX poll.
That time when all the local musicians loudly proclaim "we don't care how we do" and then quietly bribe and cajole people to vote for them. That time, in short, when everyone whole likes local and national pop music, can have a lot of fun!
LOCAL BAND: The section that gets everyone talking – and that is why we have made it a 1, 2, 3 selection. The Dream Factory have held the title for three years and for that very reason they start as odds-on favourites. But it's been a great year for Wolfsbane too, and new boys Attica, who could also do well.
Oldies but goldies One On One should have a big stake in the final result, but it is YOUR vote that counts. You can vote for any local band from the Tamworth, Atherstone and Coleshill areas but please try to do a 1-2-3 as it gives us the best all-round idea of what people really like.
Adter some though this year I have decided to give my band of the year award to Dance Stance who have come on tremendously. Wolfsbane, XPD, Dream Factory, One On One, Catch 23, Attica and of course my favourite all-time local band Breaking Point all pressed hard, but this year I thought Atherstone's Soul Kings deserved top slot. But mine is only one vote. It's definitely yours that counts.
LOCAL MUSIC PERSONALITY; Another one to tickle the egos of your local popstars. You can vote for anyone involved in the scene who you think deserves it. My choice (again and without a second thought) goes to Ian Gibbons for his marvellous setting up of the Rathole, but close behind in my books were Rikk Quay, Chippy, Mark Mortimer, Eddie Madden, Paul Hanlon, Buttercup, Blaze Bayley, John Reeman, Denis Byfield, Ray Sheasby and of course Donald Skinner. But it's your choice to vote anyway…
BEST LOCAL SONG: Another one which gets everyone talking. All you have to do is pick your favourite song performed by a local band and vote for it. You can chose any song played by any of our bands so long as it is not a cover version – i.e. Soil Brothers – 'In the Mood' – Kara 'Teenage Kicks' etc, etc.
There are literally hundreds to choose from and believe me this is one section which local musicians really like to do well in.
The winners also take a special MUSICBOX gold disc – so brighten someone's living room and VOTE! VOTE! VOTE!.
BEST LOCAL CONCERT: A new section designed to reflect the vast amount of concerts in and around Tamworth and Atherstone this year. Here you can either vote for a local band who impressed you – Dance Stance at the Rathole, Wolfsbane at the Festival, One On One at the Battle of the Bands are my top three – or an outside band who have played at the Rathole or Assembly Rooms.
This means you can vote for bands such as Dr. Feelgood, The Red Beards from Texas, The Bomb Party, The Guana Batz, Mighty, Mighty and so on.
So that's it. It means a lot to your favourite local bands to do well in the poll so don't hold back send your entries in. You had better do so anyway because after stealing two columns of space off 'Scooper' to launch the poll, if it isn't a success I will have a great big, irate brown bear chasing me a round the town. Now you wouldn't want that would you?
Here's my choice
HERE are Sam Holliday's selections, but remember it's yours that count…
LOCAL SONGS OF THE YEAR
1. Feel Your Touch – Dream factory
2. Other Side of Paradise – Dance Stance
3. Bombs Away – XPD
4. Get Up (Get Up) – Wolfsbane
5. Brotherhood of Israel – Breaking Point
6. I Like to Eat – Soil Brothers
7. Hill - Freight Train
8. In My Car – Depth Charge
9. Shout – Kara
10. Martyrdom – Attica
11. Different Drums – One On One
12. Boys Will Be Boys – Catch 23
13. Shine – The First
14. Love On Hold – Wolfsbane
15. State of Mind – The Cradle
16. Precious Elite – orange Blossom Special
17. Sweetest Pain – Dance Stance
18. Spiders and Sharks – Catch 23
19. Halloween – XPD
20. I Can't Get My Breath – Buttercup
28/11/86
Thirteenth Reunion
Tamworth Arts Centre
28/11/86
Joolz
Soil Brothers
Aston University
Tamworth Herald – 28/11/86
Musicbox – Paradise regained – as single hits decks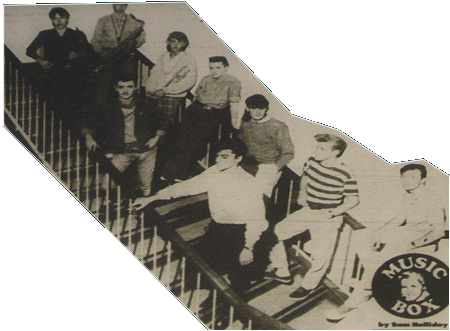 THE DEBUT SINGLE from Dance Stance has just (finally) been released. The single officially came out on Saturday and already a staggering 200 copies have been snapped up by the band's large Nuneaton following.
The single 'Other Side of Paradise' is backed by a new arrangement of 'Sweetest Pain' which has been restructured with the record's producer Paul Speare.
Although at time of going to press I hadn't heard the record myself (shame!) the band are ecstatic about it and indications are that it is going to set them right on the road to glory.
Already tapes of the single have been set to various venues and we can reveal that the band have been set up to play a host of top university gigs next year. Aston, Keele, Warwick and Nottingham Universities have already been pencilled in for early 1987.
All the venues agreed to put on the band after hearing the sheer quality of the two songs on the single. The record comes out on the band's own 'What Records' label and comes in a very tasteful sleeve designed by guitarist David Delaney.
Even before you put the record on the deck, the whole operation smacks of something the band have long portrayed – sheer professionalism.
!There is no point in doing this by halves," said the band's tireless manager Ray Sheasby. "We wanted the best and we think we have got it."
Ray and every member of the band are also quick to point out the massive impact that Paul Speare has had on Dance Stance. Like me, Paul has often praised Dance Stance very loudly and his sheer enthusiasm for the group has helped him put in a very positive contribution on every aspect of the single.
The band have repaid that support by declaring that whoever they are contracted to in the future, Paul Speare will remain as their producer. Praise indeed.
I will be reviewing the single soon. If you can't wait, you can get it off any band member or 'What Records', Dugdale Street, Nuneaton.
As is the sheer delight of having a Dance Stance single isn't enough to keep me smiling, next week, sees the release of the first Breaking Point single. To celebrate the fact, Kevin, Daydo and Jason will be playing a special charity launch party at the Rathole with the wonderful Attica in support. It will only cost 60p (all proceeds to the Blind) and it should be a brilliant night. More info next week.
Tamworth Herald – 28/11/86
Musicbox – Clocking on to a fresh new sound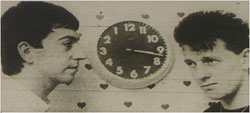 Caption: Bryan Lacey and Mark Mortimer…time for a change.
THIS WEEK we can reveal a musical secret which has been vexing local musicians for the last fortnight.
A couple of weeks ago, an anonymous well-known local musician put an appeal in Musicbox foe dedicated, committed musicians to try something new. Speculation raged for days as to who it was, and today we can reveal it was the Dream Factory's bassist Mark Mortimer.
Mark had been keen to do something outside the Factory and he has now teamed up with an old adversary, Parade singer Bryan Lacey, to produce what he hopes will be a band truer to his musical beliefs.
"This does not necessarily mean the end of the Dream Factory, but this is a departure which I felt I had to make. Over the past few months, the Factory have been aware that I have not been as happy as I have been in previous years, and I needed to do something fresh," said Mark.
Mark hopes to continue his new band, tentatively called The Great Express, alongside the Factory, but he knows this may not be possible. Whatever happens, he has a lot of confidence that in Bryan he has a partner he can respect as a musician, songwriter and musical accomplice.
The duo have worked together in the past (Private Property and The Visitors) but both now feel they are ready to take it all the way.
"We are both older and more experienced now and we feel that there will be a lot of people interested in what we can do now. It's great to be back working again and I am looking forward to doing something very different from The Parade," said Bryan.
The duo intend to be the mainstay of the band with other musicians helping out on a temporary or semi-permanent basis. They feel that way, they can avoid internal conflicts and stick true to their very firm musical ideas."
"We both like a lot of similar music and hopefully the sound we produce will be hard, tight and original," said Mark. "We both have a few of our own old songs, but we are already writing new songs and things are really starting to tick."
The band do not have an idea of exactly what sound they will produce when they first hit the stage early next year, but say it will not be like the Dream Factory, not like The Parade, and definitely not like The Jam. T will, however, be very powerful, and I for one, can hardly wait to see The Great Express power in.
Tamworth Herald – 28/11/86
Musicbox - Gigs galore…
SO MUCH has happened of late that I can only write very briefly about these gigs. Still, here goes…
The Royal Family – Assembly Rooms
Started coldly but soon warmed up and reached the parts other bands wouldn't even want to find. Despite an early start and a poor sound, the Family went from strength to r .n. b strength and were loudly called back for an encore, which they resisted. Dave Smith's T-Shirt stole the show and I hope one day he will explain it to me!
Tamworth Herald – 28/11/86
Musicbox - Gigs galore…
Spartan Cruise – The Rathole
One of the best debut gigs I have seen in a long time. Fresh, original and very exciting with The Chameleons influence bursting out all over. Lead singer Mark (who looks like a junior Rikk Quay). I firmly believe they are the best non-local band that has played in the town this year. Tremendous band, great gig.
Tamworth Herald – 28/11/86
Musicbox - Gigs galore…
Dr. Feelgood – Assembly Rooms
Despite being great fun, very energetic and expertly toe-tapping they just couldn't follow Strap On Jack to my ears. Still, a fine, lively set, well-loved by a large, happy audience. And Anyone that does not feel an urge to bop to 'She's A Windup' is clinically dead.
Tamworth Herald – 28/11/86
Musicbox - SNIPS
THE Rathole stages another fine double-header on Saturday night with hot-shots The First playing in support of top Birmingham indie band, The Weeping Mescherschmitts. The Weeping Ms are considered to be very hot property indeed and have recently created storms supporting the Mighty Lemon Drops around the Birmingham area. They are said to be the sort of band Smiths fans will love and have a general appeal which should ensure another good Saturday night turn-out at Tamworth's top venue. The First need little introduction other than to say they are four highly professional, highly talented individuals who look almost as stylish as they sound. Women will love them, and men will want to steal their lovely guitars. Enough said, just be there.
Tamworth Herald – 28/11/86
Musicbox - SNIPS
The Tavern in the Town is launching a special raffle to raise money for their incredibly successful appeal for local blind people. Rikk Quay will be selling tickets at £1 apiece and the winners stand to win a day in a recording studio (Recharge), a photo session with Steve Ellis and other prizes. It is a wonderful idea and an important fundraiser, so dig deep into your pocket and help those who need it. Rikk will give you more details and lots of tickets.
Tamworth Herald – 28/11/86
Musicbox - SNIPS
Still with charity, the new TAMAID should be recorded in December. Various local singers will be contacted in the next two weeks to join in the venture which will be for 'Children in Need'. More details about the exciting idea soon, but a quick thank-you to both Recharge and Expresso Bongo studios who have both volunteered their services free and will both record one of the two songs on the new TAMAID tape.
Tamworth Herald – 28/11/86
Musicbox - SNIPS
Thirteenth Reunion will be playing the Arts Centre tonight (Friday). Get along. If you want to travel a bit further afield tonight our very own Soil Brothers (whose singer Steve MacNamee was left out of my personalities of the year last week, but definitely is one) are playing at Aston University tonight, with punk poetess Joolz. Another goodie.
30/11/86
The Weeping Mescherschmitts
The First
The Rathole