Tamworth Bands History : 1986 :
July
Tamworth Herald – 04/07/86
Musicbox – Heroic Chris wins bravery award
This week GOSSIPBOX is delighted to present it's first ever bravery in the face of extreme danger award. The lucky, courageous recipient is Mr. Chris Thomas, the lead singer of Europe After The Rain. The Europeans were supporting the Guana Batz at the Rathole and after quickly realising they were playing the wrong gig to the wrong audience, Chris decided to liven things up a bit. He launched into a series of vicious taunts at some of the more hostile members of the audience with the sort of venom that brought back memories of the punk era. The crowd of mainly out of town Guana Batz fans – who received the insults – at first tried to give them back but they were certainly no match for Chris who was in dynamic form. In the end even the more hardcore members of the crowd applauded the band and were left with respect for Chris which shows that you can take on the world and win.
Also worthy of salutation is the Rathole management team who are fast earning themselves an excellent nationwide reputation. They treated the Guana Batz with the sort of off-stage respect that led to the band saying they had never met such good promoters on their whole recent tour. Praise indeed. As further proof of the Ratholians success they have also managed to re-book the Red Beards from Texas at the same appearance fee as last time. This is noteworthy because following the success of their single (it even appeared on Razzamatazz) the band were even able to increase their fees but they said that they enjoyed their Rathole show so much that they wouldn't bother in Tamworth's case.
What have we done to deserve Rikk Quay and WPD? Their latest outrageous OTT statement is that XPD are going to be music's equivalent to Maradona, Does that mean they will be fat, unshaven and have silly haircuts? The world awaits your reply Mr. Quay.
Tamworth Herald – 04/07/86
Musicbox – Back 'home' and raring to go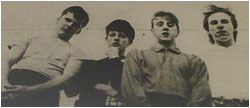 Caption: The Dream Factory…ready for action
TAMWORTH'S most popular band, The Dream Factory, make their long-awaited debut on Sunday night – and have promised a concert to remember.
The group realise they will be under close scrutiny from a lot of people who may know a lot about the band but have never seen them before. And that is exactly what they want…
"We are really looking forward to playing to the normal Rathole people who are not necessarily our fans," says bassist Mark Mortimer.
"It will be a real pleasure to play to others plus all the other local musicians, because I am sure a lot of people, still have the wrong impression about us."
The Dream Factory today are about as far removed from the albatross-like 'mod' tag as it is possible to be. They are hoping above all on Sunday to win over a lot of Tamworth people who have had a mistaken impression about the group and show that they are one of the most easily accessible and genuinely talented bands Tamworth has ever created. To my ears their sound now resembles a winning mixture of Dexys, Style Council, modern pop, northern soul and high-energy 'new wave'. It should have something for just about everyone.
"People often say to us that we should write to certain styles but that's just not the way it turns out. Every song ends up sounding a little different and that is definitely the way we like it," says Mark.
Sunday night's show is the Factory's first town-centre concert since the Assembly Rooms Ethiopia gig – and their first with the new line-up. The band say they are particularly keen to do well as they still (mistakenly in my opinion) think they let people down at their last local show at Polesworth.
"We haven't really been able to practise much since the Polesworth show but we are determined to do better than then, And are all looking forward to it," said Mark.
For those that don't know, the 'new' Factory feature not only stalwarts Mark and Tim Goode but former Terroa drummer and Rathole regular Batman. Old Catch 22 guitarist Dave Stevenson and a five man brass and keyboard section – Greg Stevenson, Neil Gledhill, Paul Scragg, Paul Stansfield and Nigel Atherley.
Joining the Factory on what should be an excellent evening are Burton duo Grace and Danger – a well-respected outfit who Mark has been championing for several months.
"We don't know a lot about them, but it should be interesting having an out-of-town support act and 'G and D' will make a refreshing change," said Mark.
Sunday's show starts at around 8-8.30pm and I would urge Ratholians in their multitudes to attend. Many people till have the wrong idea about the Factory and Sunday is the ideal time to destroy those preconceptions.
Tamworth Herald – 04/07/86
Musicbox – But would he buy a t-shirt?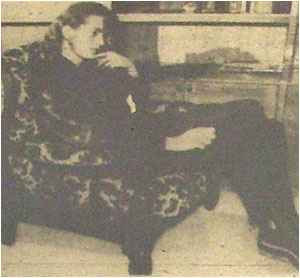 EDWARD IAN ARMCHAIR – aka Kevin Knowles – came face to face with the well-known pop fan and occasional heir to the throne, Prince Charles last week.
Edward, former singer with punk kings The Reliants and still Tamworth's most acidic new wave poet, met Prince Charles during the heir apparent's trip to Birmingham. Edward was there to talk about his screen printing business he has set up as part of the TAMSEC organisation. Apparently the Prince was suitably impressed and also said he had heard of Tamworth. What I want to know however is did Edward try to sell the would-be monarch one of our rock festival t-shirts? As you may know Edward is designing and printing Tamworth Rock festival t-shirts ands posters and surely there would have been no better publicity for the event that seeing Prince Charles attending a local gala with one of our festival t-shirts emblazoned across his chest!
Tamworth Herald – 04/07/86
Musicbox – It's that time again folks…
EVERY band involved in this year's August Bank Holiday Rock Festival is urged to send at least one member to a full meeting at the Tavern in the Town on Sunday night. The meeting will take place at 8.00pm and will aim to iron out the latest problems and discuss future plans.
Any band that has not yet paid their entry fees must do so on Sunday night or face the consequences. It is hope, although this hasn't been confirmed that Edward ian Amrchair should have a supply of rock festival t-shirts so people are urged to bring along the necessary extra cash. As a reminder to band members they cost £3.50.
06/07/86 - CANCELLED
Dream Factory
Grace and Danger
The Rathole
Tamworth Herald – 11/07/86
Musicbox – Filth rules as Beki greets the Wolf men

TWO OUTRAGEOUS acts come stud-to-stud on Sunday night when glam queen Beki Bondage teams up with Tamworth's own Wolfsbane for a fine Rathole double-header.
The teaming of the wild and wacky Wolfsbane with the bizarre and barbaric Beki is sure to pack the venue out in what could be one of the finest nights yet.
Supporting the vide queen will be Tamworth's own fishmongering metal-men Wolfsbane. The band haven't played in Tamworth for some months and they are keenly looking forward to this prestigious homecoming.
"We didn't want to miss this one and as we haven't played in Tamworth for a while it should be really good," said bassist Jeff Hateley.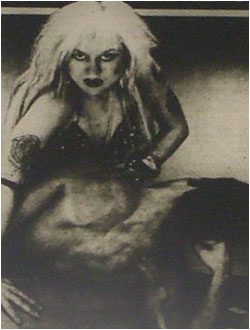 Wolfsbane also have a date on Saturday night at Lichfield (where they are almost as big as they are here) and it means a busy weekend for the quartet. And what about that mysterious single?
"It should be about in time for the rock festival with a bit of luck," said Jeff. Sunday night's show starts at around 8pm and should have something for everyone. Like The Redbeards from Texas, Beki Bondage (and indeed Wolfsbane) has a show that appeals to more people than just music fans and anyone who goes along is guaranteed a very good night out indeed.
Tamworth Herald – 11/07/86
Musicbox – Brothers set meet that jazzy Man Upstairs
TAMWORTH ARTS Centre this weekend stages two top-quality concerts – one of which brings highly-rated Birmingham indie band The Man Upstairs to town.
Tonight (Friday) Beyond Elysium bring their cryptic psychedelia to the Centre and then tomorrow jazz/skiffle/bop band The Man Upstairs occupy the venue along with our very own Soil Brothers.
Tonight's Beyond Elysium gig was due to feature another Birmingham band Naked Dance but this now seems unlikely. The band were searching for another support band and whatever happens they have promised an entertaining show – which is due to start at around 8pm.
Tomorrow night (Saturday) music lovers of all persuasions should find it interesting in the coupling of The Soil Brothers and The Man Upstairs.
The Man Upstairs are quite individual and have headlined at the Birmingham Triangle and released two highly-rated singles.
The Soil Brothers are delighted to be playing with the Birmingham outfit and they themselves will be keen to prove they are worthy of all the massive praise many local punters have been pouring on them.
Both groups will costs around the £1 mark. Be there!
Tamworth Herald – 11/07/86
Musicbox – Weekend with pleasant folk
FOLK FANS from all around the district will be heading for Over Whitacre as the weekend for the fifth annual Furnace End festival.
The event, at the Over Whitacre Village Hall near Coleshill, has become one of the highlights of the local folk scene, and has this year attracted a whole host of top names and side shows.
Among those playing are Tamworth's top folk band Ruffins Well plus Beezlebub, Malfunction, Nina Selfris and a whole lot more. In addition there are workshops, car boot sales, singarounds and dance displays.
Ticket prices vary over the weekend from £1-£2 or you can enjoy the whole three days of fun (starting tonight at 7.30) for just £5 a head. Camping is free and a great weekend is promised by joint organisers the Grimstock Folk Club ands the Well Folk Club.
Tamworth Herald – 11/07/86
Musicbox – FACTORY FLOORED
THE DREAM FACTORY have apologised to their fans for the late cancellation of their 'Rathole' show on Sunday night. Unfortunately the PA did not turn up, leaving a great deal of disappointed spectators – and to say an upset Factory entourage and Rathole management. Bassist Mark Mortimer said he was very sad about the whole affair, especially as it followed hot on the heels of a hugely-successful Lincolnshire show on Saturday night. The band have re-arranged another concert at 'The Rathole' for Sunday, August 31.
Tamworth Herald – 11/07/86
Musicbox - SNIPS
BREAKING POINT return to the Tamworth stage on Wednesday night with a concert at Kimberley's wine bar. The band, who should be on stage at around 9pm, have promised a number of new songs to make the night even more enticing. Kimberley's is well in the rock public's eye at the moment, as it has legendary DJ Buttercup behind the decks, and also has the supreme taste to have 'New Rose, by The Damned on the video juke box. So if you like Breaking Point, Buttercup and The Damned there really is only one place to be on Wednesday.
Tamworth Herald – 11/07/86
Musicbox - SNIPS
A YOUNG enthusiastic guitarist is on the lookout for a band to join. He wants any bassist, drummer, vocalist or guitarist to give him a ring.
Tamworth Herald – 11/07/86
Musicbox - SNIPS
DEPTH CHARGE return to live action on Thursday night with a show at the Tavern in the Town. The Tavern has started to have bands most Thursday nights and there is no doubt that this will be among the best yet.
Tamworth Herald – 11/07/86
Musicbox - SNIPS
KARA are on the lookout for a new singer to front their American rock band. The group who have a prime slot at this year's festival want a dedicated singer as soon as possible.
Tamworth Herald – 11/07/86
Musicbox - SNIPS
BY THE time you read this I will be soaking up the sun in the classy resort of Benidorm – but just because I'm having a break it doesn't mean you can. There WILL be a MUSICBOX while I am away (which I have sweated over in advance) and I can only apologise if this means I miss one or two very late-organised concerts. The real reason for my break is that in the next couple of weeks there will be a Rogues Gallery and just in case I get beaten up I though I'd disappear!
11/07/86
Beyond Elysium
Tamworth Arts Centre
12/07/86
The Man Upstairs
Soil Brothers
Tamworth Arts Centre
12/13 July 1986
Furnace End Folk Festival
Over Whitacre
13/07/86
Beki Bondage
Wolfsbane
The Rathole
16/07/86
Breaking Point
Kimberleys
17/07/86
Depth Charge
Tavern in the Town
18/07/86
Cerberus
Tamworth Arts Centre
Tamworth Herald – 18/07/86
Musicbox – Good news for the 'heavy' fans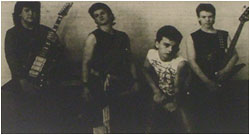 Caption: Shellshock…they will be a breath of fresh air for rock fans.
Are you ready for Shellshock?
A NEW YOUNG band have just burst onto the Tamworth scene determined to reverse the decline in heavy music in the area. A host of rock and metal bands have fallen by the wayside in recent years leaving a gap which Shellshock are eager to fill.
"I guess there is only Wolfsbane left now and although we are not like them, we do see ourselves as a heavy rock band," said guitarist Woll.
Shellshock have only been together in their present format for around three months, guitarist Woll and bassist Matt used to be in a band called Tygon, who played one show with the then Sacred Oath and after they broke up they were determined to get back into action as soon as possible.
They met up with Jase The Ace's brother Bruno who became the drummer and they finally completed the jigsaw by adding young singer Jase Tinsley – who has already been compared to Blaze Bayley.
"Things are going very well at the moment and we seem to get on really well with one another which is important," said Woll.
The band say they are influenced by a host of metal outfits including Wasp and Motley Crue and they also include an Iron Maiden standard in their set. Among their original numbers are "Running in Darkness" and "Visions Past" all of which went down well at the band's first ever concert in Lichfield recently.
"We were very pleased with how that concert went because we were so nervous," admitted Woll. "It must have gone quite well because we got called back for two encores."
All four members of Shellshock come from the Tamworth area as such are keen to play in the town as soon as possible. They are already looking for a slot at the Tamworth Castle grounds rock festival in August, but they hope to play in a show leading uo to the event.
"It would be nice to do a concert in Tamworth before the festival, I think the Tamworth scene is very healthy," said Woll.
Whenever Shellshock do surface, there is no doubt that their existence will come as a breath of fresh air to the area's rock fans – many of whom have been walking round looking rather deprived of late!
Tamworth Herald – 18/07/86
Musicbox – Glam merchants look to the past
A LICHFIELD band who combine Hawkwind-style space theatrics with modern glam metal hit Tamworth Arts Centre tonight (Friday).
The band, Cerberus say their music – and image – brings together a host of modern and not-so-modern rock influences.
Although being influenced by Hawkwind, the band also throw in the off Motorhead cover and have rock songs of all shapes, sizes and metallic degrees.
The band have also promised an enjoyable visual show and say that anyone who goes along tonight (starts 8pm) should find something to enjoy in this, their first Tamworth concert.
More Lichfield bands – including The Fairweather Friends a bright, breezy modern pop group – hit the Rathole on Sunday night. The final programme has yet to be determined but the Rathole management are confident they have found a line up to be reckoned with…
Tamworth Herald – 18/07/86
Musicbox – TALENTS UNITE
A NEW Lichfield-based music 'collective' are on the lookout for local bands and promoters to help give a boost to the area's music scene. They call themselves "Sounds Like A Clanger", this is their 'manifesto':
"We are an organisation which aims to encourage forward-looking music in the area".
20/07/86
The Fairweather Friends
The Rathole
Tamworth Herald – 25/07/86
Musicbox – Tracking back to Tamaid
TAMAID – Anger Can Be Power (Extended Version)
IT'S BEEN 12 months since the hallmark Tamworth tape was recorded and only now have I got my hands on Paul Speare's devilish re-mix.
As you may remember, TAMAID was the town's own Band Aid where all the area's best singers came together to record two Classified Ads songs about the Ethiopian famine.
The tape was a great success and it was recorded on a day few of us will ever forget. That is why it is such a pleasure to re-live the memories with this suitably unpredictable re—mix.
It is basically the same song with bits of over-dubs, studio tricks and an extended sax break (no prizes for guessing who from!), which add even more power and strength to this worthwhile, entertaining track.
What this re-mix proves to me is two things:
1. Considering it was Expresso Bongo's first commercial recording, it shows how naturally adept Paul and Phil are, and
2. It is high time TAMAID came together again to record something brand new. My thinking cap is now on…
Tamworth Herald – 25/07/86
Musicbox – Metal fatigue rules!
HEAVY metal is dead – and that's official! A couple of weeks ago as you may remember, we ran a competition to win AC/DCs new album. All we asked was that entrants made up a simple sentence starting with the letters A-C-D-C to describe the Australian metal merchants!!
It seemed easy enough and I sat back and waited for the sackloads and waited, and waited and waited. Results – a grand entry of NIL.
MUSICBOX readers are notoriously bad at entering competitions, but this grand tally surely takes the biscuit. What I think is that it means that heavy metal is now dead and buried in Tamworth, Atherstone and Coleshill and I need never scribe another word about it (don't worry, I'm only joking…
In the end, I had to give the wretched album to a 'heavy metal' friend. Her reason why no-one entered was that 'the people who like AC/DC are too stupid to be able to work something out like that,'. Her words, not mine, honest!!
Tamworth Herald – 25/07/86
Musicbox - Blood, sweat and filthy rich…
FOLLOWING Their stirring and unbelievably sweaty performance in front of a packed-out Rathole at the recent Beki Bondage show, Tamworth's finest filth-merchants, Wolfsbane, found out that all the hard work had been well worthwhile.
Our heroes so impressed the Bombshells' management that they were immediately booked as support for the remainder of a national tour, and have been displaying their undoubted talents to audiences across the country, on a tour which included a sate at the semi-legendary Marquee Club in London. Doesn't beat playing at the Rathole though does it lads?
This Sunday night's concert at the Rathole featuring Depth Charge will be an important one as the proceeds will go towards providing a stage at the August rock festival.
Everyone involved will be giving their services free, so make sure you're there to swell the total!
Tamworth Herald – 25/07/86
Musicbox – ADS FULL OF BRILLIANCE…
RECENTLY we told you how former Classified Ads bassist Paul Clements has just become a father of twins. Well another old Ad also had reason to smile last week, when former guitarist Alan Turner heard that he had passed his degree in electronics at the highest possible level – a First.
This to my mind proves that the Ads are the most intellectual band Tamworth has ever produced. Between the five of them they scooped 30 O' Levels, 12 A' Levels (four at Grade A), two degrees and three professional qualifications. It's just a pity they couldn't play.