Tamworth Bands History : 1986 :
February
02/02/86
Caprice
Orange Blossom Special
Burnin' Sky
Battle of the Bands
Tamworth Arts Centre
Tamworth Herald – 07/02/86
Musicbox – New faces set to turn on the heat…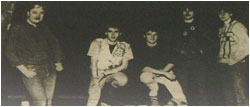 THREE groups new to the Tamworth scene burst into action this weekend in the second exciting heat of the 'Battle of the Bands' contest.
Two alternative-influenced acts, The Australians and Catch 22, open the show and they are also joined on this virtual 'New Faces' bill, by a relatively unheard outfit, The First.
Sandwiched between these three newcomers is a band who are a little more familiar – the popular One On One, who are making their first Tamworth Arts Centre appearance for some time.
Put it all together, and you have a fascinating four-band heat, which should prove to be an excellent concert in its own right, and one that will probably bring a lot of pop-punters out on Sunday night.
First up will be The Australians, a band who unfortunately are as new to me as they are to you, making them something of an unknown quantity. I understand they hail from the Atherstone area (which is becoming increasingly productive I am pleased to say) and it seems they play a cocktail of Everything But The Girl and The Cocteau Twins.
They should set the concert off to an intriguing start and the interest will be maintained by another new band, Catch 22 who will play second.
Catch 22 are a very young band who make up for their lack of experience with a refreshing burst of enthusiasm and ambition. They play music which seems to have its heart in that wonderful Jam/SLF time of life and member Ray Clenshaw describes the whole sound as 'aggressive but with a lot of melody'.
The band, who recently played a successful gig at Atherstone School, are very keen to take part in the contest and to introduce themselves to the local scene, and they will come under close scrutiny on the night.
By virtue of their experience and proven track record, the third band up, One On One, start as hot favourites to win the heat and break through to the February 28 final.
The five-piece band have grown steadily more mature and confident over the years and their intelligent songs and exemplary musicianship has won them admirers across the whole spectrum of the local music scene.
When I spoke to bassist Andrew Malkin he told me the band were moving into a new phase with their songwriting and performance so it is possible we may see a new look One On One on the night.
Candy Floss
Also with a new look will be the band who will close the show, The First. They have emerged out of the Tribal Sweatshirts, Richard Deane's band, and if they are anything like The Sweatshirts they should sound just as professional as the group that precedes them.
The sound the Sweatshirts produced was commercial pop - without the candy floss – and if The First maintain that tradition, they could prove a difficult outfit to beat.
So once again it looks like being a good night at the Arts Centre on Sunday. Four potentially very interesting bands all chasing the same prize – a place in the February 28 Battle of the Bands final which hopefully will be judged by soul singer Edwin Starr.
The gig starts at 7.45 – and is free – so support the Young People's Arts Festival, support the four bands involved and have a great night out. It is even worth missing 'Spitting Image' for!
*Catch 22 have come in as late replacements for Dance Stance who are sadly unable to play as two members will be missing on the night. For those who are confused, The First were originally called The Drowning Pool. Judges on Sunday will be Paul Speare, Phil Smith and local music buff, Martin Webster.
09/02/86
One On One
The Australians
Catch 22
The First
Battle of the Bands
Tamworth Arts Centre
Tamworth Herald – 07/02/86
Musicbox –REVIEW
SKY HIGH IN THE SAUNA!
TAMWORTH'S second annual Battle of the Bands contest got off to a superb start on Sunday, when a packed-to-bursting Arts Centre watched new outfits Burnin' Sky become the first group to qualify for grand final.
With Femme Fatale forced to pull out and horrendous weather being served up outside, the Tamworth public could have been forgiven for forgetting all about the show. But scores turned up and the Arts Centre's new band room was turned into a veritable sauna as the huge crowd watched well-tested Caprice take on the fresh challenge of Orange Blossom Special and Burnin' Sky.
Caprice were first up and they caused a ripple by producing a new member who was even better looking than bassist Mike Fleming. She was Karen Nicholls, a powerful and confident singer who added a raunchy touch to Caprice's OR sound.
She looked good, sounded good and I have no doubt that with her in the line-up, attendances at Caprice gigs will start to rise appreciatively.
With new drummer Dean Cox also sounding useful, Caprice looked a virtually new band and with a little more time they could become quite a force.
Admiring
Next up were Coleshill's Burnin' Sky, who turned on an intriguing 20-minute burts that was very well received. Their sound is closer to progressive rock than R 'n' B I was expecting, but it has a nice sleazy feel all of its own.
Maurice Collins (vocals), Pete Whipps (drums) and the wonderfully-named Keith Richards (bass) are all musicians of note, but for me, the band's biggest bonus is lead guitarist Nig Allen.
He handled a couple of long breaks very effectively indeed, and received admiring glances from many of the musicians who were sunbathing in the equator-like temperatures.
To add spice to the night, Tamworth's premier poet Jed Moore took to the stage for another scurrilous, irreverent and downright disgusting burst of filth-prose. He was extremely funny and even when he viciously destroyed every band's ego with a send up of the Tamworth scene, he kept everyone smiling. I have said it before and I will say it again – this guy is a star!
Very bright
Last on were Orange Blossom Special, who turned in a very entertaining debut set. Their sound was smooth, well-crafted and very melodious and was as passionately played as you would expect from the people involved.
Everyone did their bit to give the sound its well-rounded edge, but a special mention must go to Julian Amos who I thought was tremendous.
As a band their future looks very bright. They have a nice image, they are all very likeable personalities and with the tireless Mr. Byfield as manager, their potential should be exploited to the full. After all, if they can sound this good after one concert, what will they sound like after 10?
So closed a very enjoyable night's entertainment. The final result was very close and the announcement that Burnin' Sky had won was greeted with a loud roar from their large band of followers.
If the next three weeks are as good as this, the contest will have been a very great success indeed. And, after the steamy atmosphere of that band room, we will all end up several stones lighter by the end of this enjoyable event!
Sam Holliday
Tamworth Herald – 07/02/86
Musicbox – Gossipbox - Unlikely pair hit it off
THINK of the least likely band in the world for pleasant popsters Dance Stance to be a support to. Give in? Well how about eccentric group, the Jesus and Mary Chain.
According to straight-faced Stance singer Paul Hanlon (who has acquired an irritating habit of describing everything that is good as 'mint') the two bands almost teamed up on the Mary Chain's latest tour.
It all sounds a bit unlikely to me, but then again. If Nana Mouskouri can get into the charts, anything is possible…
Now on last week's deliberate error. Talking about the musical Mortimers. I said that Mark's sister was Michelle, which of course is wrong. She is Nicola and I must apologise to her.
I was of course confusing here with Tim Goode's sister.
On the subject of the Factory, they have now been joined by former Sitting Pretty keyboard player Greg Stevenson who has fitted in very well indeed.
With Sitting Pretty still in mind, it was nice to see Mike Turner back on the local band scene last week when he attended the Battle of the Bands show.
Let us also hope that this sudden outbreak of studio activity continues to spread. It seems that Phil and Paul at Expresso Bongo have been besieged of late from demo-hungry bands and I have been told that both Terroa and Breaking Point have recorded tremendous tapes there.
Finally, as you may have heard some council officials have slammed Tamworth Rocks for Ethiopia supported for apparently leaving a trail of litter after their Christmas show.
I find this claim both surprising and rather insulting. Many, many people helped to clear up the Assembly Rooms that night.
SAM HOLLIDAY
07/02/86
Scarab
China White
Tamworth Arts Centre
Tamworth Herald – 07/02/86
Musicbox – Scarab plus China equals hearing aid
THE powerful Scarab return to live action tonight (Friday) with a show they promised will be the ultimate Heavy Metal barrage.
After a number of setbacks. Scarab are now back and raring to go and they have lined up an impressive stage show for the Tamworth fans they hold in great respect.
The gig will see the debut for new drummer Rick Horton who comes in as a replacement for Paul brooks. The night is expected to be put on video for posterity, so fans who go along can become screen stars at the same time as having their eardrums pummelled.
Support act on the night will be China White.
Tamworth Herald – 14/02/86
Musicbox – Terroa turn on the style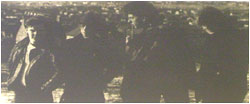 Caption: Terroa…a tremendous first demo
YOU can normally guess how good a demo is going to be by the reaction of the people who have made it.
Some bands try to keep their trips to the recording studio as quiet as possible while others seems positively embarrassed to admit they have been tinkling with demos. And then of course there is the third type. This type – who we shall call the Terroa type – are the sort who could take out TV adverts to let people know they have been in the recording studio. And if you manage to spend thirty seconds in their company without hearing about the demo you are either very lucky or very deaf.
Well (for once) all the screaming and blatant self-confidence from this Terroa-type is worth it. If I had made this tape I think I would have been inclined to scream about it as well – it really is very good indeed. Recorded recently at the failsafe Expresso Bongo studios the tape reveals Terroa at their meaty and melodic best, combining their many original ideas with often subconscious influences from a shot of old 'new' wave favourites.
It all begins with 'Burning It Down' an anthemic number which replaces power with a firm musical edge. It is the only one on the tape that really does sound like the band's greatest influence New Model Army and particularly impressive is bassist Pete Wright whose broody bassline dominates the song. Layered on top of that is a very strong vocal from Eddie Madden who proves conclusively on this tape that underneath that occasionally aggressive tone is a well-crafted singing voice.
From 'Burning It Down' we move into the MUSICBOX song of the year 'Thunder and Lightning' which is as good as you think it will be. Starting and ending just like SLF's 'Wait and See' the song boasts arguably the catchiest tune in Tamworth and has an excellent all round feel. The chorus obviously dominates the whole song but the verse is nicely understated which just serves to whet the listener's appetite for the chorus in a similar way to New Model Army's 'Vengeance'.
Third up on the tape is 'The Last Time' the song that really struck me on first few hearings. It is an anti-drug number which is as catchy as herpes. It starts off powerfully and then bursts into another fully-fledged sing-along chorus which positively booms out of the speakers. Particularly 'natty' is the false ending on the song which is very powerful indeed, as a surprising and entertaining guitar-break from the talented fingers of John Reeman. Finally on the tape is 'Running Scared' a song that takes a little time to engrave itself on the memory but is well worth the repeated playings. It begins in classic 'Is Vic There' style, and slowly develops into another of those rampant Breaking Point style choruses that have you whistling in the bath. This contrast between a bright chorus and a dank – almost seedy – verse is somewhat of a hallmark for Terroa and a pleasing hallmark at that.
So four fine songs from a band who excite me more every time I hear them. For once all the 'hype' is true, they really are a band to savour. As musicians they are a good working unit (drummer Batman turns in some occasionally tremendous flicks) and as songwriters there aren't many better around at the moment. This tape should be available for public consumption in the next few weeks and I would strongly recommend you raid the piggy bank to find out what all the fuss is about. After all, it is the Terroa types that make it in the end. And when the Terroa types are as good as this type of Terroa, they really cannot fail.
Tamworth Herald – 14/02/86
Musicbox – Gossipbox
THE LOVEABLE Freight Train can be heard through the Radio One airwaves tomorrow night on the 'Saturday live' show. Apparently the band tickled the fancy of Richard Skinner (in the nicest possible way of course) and for that reason they have earned their slot on tomorrow's show which kicks off at 5.00pm.
Also very funny is news that the always charming Buttercup is going to do a guest slot with The Cradle at the Battle of the Bands next week. He will apparently be introducing a brand new dance, so it looks like being a night not to miss.
Finally, if you thought running a studio must be a really rock-filled life, well think again. Last week amidst working with Terroa and Breaking Point, Messrs. Spear and Smith, of Expresso Bongo fame, had to record hour after hour of an 11-piece Punjabi folk band. This bizarre outfit cut a whole album at the Expresso Bongo studios, enough to put off the biggest Punjabi folk fan! Personally, I think they ought to now re-name their studios Ali Bongo!!
Tamworth Herald – 14/02/86
Musicbox – Another battle royale
THE THIRD intriguing night of the Battle of the Bands contest gets underway on Sunday when heat-favourites Wolfsbane take on the varied talents of Depth Charge, The Me and the always-interesting Parade.
It is probably the most diverse night yet in the contest ensuring another bumper attendance at the Arts Centre from a Tamworth audience that has really taken a liking to the competition.
First up – at around 5pm – will be Depth Charge the progressive rock band fronted by former BHX favourite Mick Goodby. The outfit, who were given a good reception the last time they played the Centre, play melodic rock that appeals to more than just rock fans and they should set the night off to a vibrant start.
That vibrant atmosphere will be more than sustained by rock and roll degenerates Wolfsbane who come up second. Their dynamic 100 miles per hour sleaze has the ability to stun an audience at 30 paces and they go into the heat as red-hot favourites to win.
Probably the least known band on the line-up is The Me who take the third slot. The Me, who scored well in the MUSICBOX poll are an amalgam of well-respected musicians with good track records. As little is known about them they should prove a big draw and the other three bands on the night will obviously worry about not knowing quite what to expect.
Finally on the night, will be The Parade – a good outside bet for victory. The committed trio play powerful modern music, built around the songwriting prowess of lead singer Bryan Lacey. They rarely disappoint and if they are on form they could be very difficult to beat. So yet another heat looks like causing quite a stir in the local music scene. Entry is once again free – even the February 28 final will only be 75p or less – and the night looks like being another great success for musicians and spectators alike.
Tamworth Herald – 14/02/86
Musicbox – A dazzling night of variety
Review
ONE ON ONE became the second band to book their place in the Battle of the Bands final on Sunday night, in a triumphant and very varied night of music.
All four of the bands turned in tremendous shows to leave a big headache for judges Paul Speare, Phil Smith and Martin Webster who could only choose one group to go forward. In the end, the sheer professionalism of One On One won them the concert.
First to take to the stage were The Australians who I discovered to my amazement had only been together a matter of weeks. Well it certainly didn't show. Their original material (which had shades of everything from The Who to Echo and the Bunnymen) had a deceptively light feel with occasionally arresting melodies. Guitarist and singer Chris Thomas was particularly impressive and when his voice combined with the harmonies of Toby Stafford the sound was quite intriguing. It was overall a fine mature set which showed a great deal of promise for the future.
Promise is also a word that cannot be understated…Catch 22
They did a spirited 'Alternative Ulster' but even that classic was outweighed by their own inventive and thoughtful originals which far belied their teenage years. Full marks to drummer Jason Notman who was simply magnificent and also a big pat on the back for the lead guitarist Dave Stevenson.
And so to One On One. Or not as the case may be. For when they hit the stage it was as if a new band had appeared. OK, so they still had that distinct One On One feel but they have added far more meat and commerciality to their sound which I found very exciting. The songs had greater strength and power – a touch of the old One On One in fact – and it was as if that change was certainly appreciated by a lot of people I spoke to afterwards. To say that musically they were outstanding is almost unnecessary these days, but just a word for bassist Andy Malkin and drummer Stuart Blaine who worked together brilliantly.
The First…between bass and guitar having a distinct U2 feel. In fact if I had to put The First into any camp it is possibly the U2 one as they play music which combines the rawness of rock with the more subtle edges of the post-punk sound. A neat, mature and potentially I think, a winning one.
So overall that word potential is the one that rings loud and clear from this eventful – and very well attended – concert. One On One proved that they are getting better and better and The Australians, Catch 22 and The First all won over a lot of new admirers. In terms of judges score every one rated very highly and as an indication of the strength of the line-up, each band had a score big enough to beat any of the equally impressive outfits from the first heat.
16/02/86
Wolfsbane
Depth Charge
The Me
The Parade
Battle of the Bands
Tamworth Arts Centre
Tamworth Herald – 21/02/86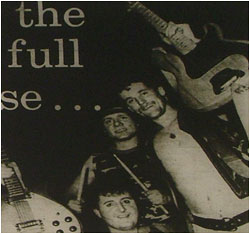 THE most eagerly-awaited heat of the 'Battle of the Bands' blazes into action on Sunday night when the mighty
Breaking Point
take on the powerful trio of
Terroa
,
The Cradle
and
Spirit Lake
.
The heat has been the source of fierce debate and speculation among local rock fans for some weeks, and with all four bands confident of doing well, the atmosphere promises to be white-hot.
Breaking Point, who of course are holders of the Battle of the Bands trophy, undoubtedly start the heat as favourites – but guitarist Kevin Briggs is not as convinced as some people that their success is assured.
"I honestly think Terroa will win our heat and probably the whole contest," said Kevin last week, "It should be a very good night."
Whether Kevin is bluffing or displaying false modesty remains to be seen but there is no doubt that the night looks like being one of the best on the local scene for months.
Kicking off the Arts Centre package will be Terroa. After their excellent show in the MUSICBOX poll – and the recent triumphs of their first demo – things are going very well indeed for the band, and many local rock watchers have tipped them as the band to steal Breaking Point's 'Battle of the Bands' crown.
Lead singer Eddie Madden admits that this puts the band under a pressure they can do without, but they have promised to go all out for victory and with the songs they have chosen to play, they could well do it.
They have also promised a unique start to the show so if you're not there at 8pm to witness it, that is your fault!
Second up will be Spirit Lake, a band of Davids, who are quietly confident of beating the Goliaths. Built around the songwriting skills of former Spirit of Water leader Dylan, the band contains a host of respected musicians including Norman Yates and Tim Burgess and according to the normally calm Norman the sound that is being produced by the band is very good indeed.
They are the surprise package of the night and for that reason they certainly cannot be dismissed – particularly by the other three bands.
Next up will be the band that has had everybody talking recently; The Cradle. The band who have now buried their former heavy metal tag forever, have taken a walk on the wild side and discovered the likes of The Cult.
They have also discovered Rikk Quay who makes his first appearance as the band's frontman on Sunday. Rikk (surprise, surprise) is very enthusiastic about it all and has told Terroa and Breaking Point that the game is up – the is The Cradle's year. To put it mildly they should be very interesting indeed.
And so to Breaking Point, the last band in the whole competition and the one most people feel will become the first band. The group, who recently recorded a tantalising demo, are as determined and buoyant as ever, and they will aim to take the contest by storm.
Knowing Breaking Point I think they will, but like most people, I am not going to bet on anyone.
So a concert you simply cannot miss. It is free entertainment of the finest sort and should leave no-one disappointed. If you miss this one you will regret it for a long time.
*Sunday night's judges will be Paul Spear, Phil Smith and The Dream Factory's Mark Mortimer. Only one winner can go through to next Sunday's final which already includes Burnin' Sky, One On One and Wolfsbane.
Tamworth Herald – 21/02/86
Musicbox – Sparkling Wolf in winners' clothing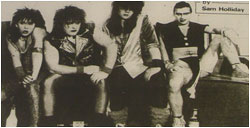 BATTLE REVIEW
Battle of the Bands – Tamworth Arts Centre
POWERFUL Wolfsbane scraped through to the final of the Battle of the Bands on Sunday night, in another close-fought encounter.
Wolfsbane won their heat by just one point, to conclude a night that was once again a triumph for the local scene.
First up were Depth Charge, who turned out to be, perhaps, the biggest surprise of all. A new mood of confidence and aggression has hit the band, and the resulting sound is one that won them many friends among the packed Arts Centre crowd.
The opening two numbers, 'Running Away' and 'In My Car' were two of the best I have heard in the whole contest, and they were both sparkling and very well played. The tight power of the band was quite inspiring and to many ears – mine included – it seemed hard to see how they could be beaten.
Wolfsbane, perhaps because they were carrying around their necks the unwelcome albatross of being the red-hot favourites, started their set off uncharacteristically uncertain. Slowly, however, things began to 'click' and it was clear that whatever Bayley, Jase, Stakk and The Slut have been up to these past couple of months, it has been worthwhile.
'I'm Not A Baby No More' was particularly dynamic, but the award for best song of the set – and the night – certainly went to 'Clutching At Straws' which is a track to get your rock and roll hankies out to.
As Spirit Lake singer Dylan said afterwards, the song is a real classic, and as Dance Stance guitarist Nick Reed also said afterwards, Wolfsbane were tremendous.
By way of a contrast, The Me were next to show. The Me are a likeable r 'n' b combo with a cheerfully spaced-out sound that is very soothing. Lead singer Andy Meakin was especially good, coming across as a sort of erstwhile Lou Reed character. He gave the sort of impression all r 'n' b singers should aim for – a kind of alcoholic nonchalance.
Exciting demos
Finally, came The Parade, who turned in a show made up largely of their exciting two demos. It was direct, powerful and impressive and even when Bryan Lacey's guitar cut out, the group's on-stage enthusiasm couldn't be denied. The three judges on the night, Paul Speare, Phil Smith and Graham Phelps, were all agreed on one thing – with the right handling, The Parade could go a long way.
In the end, however, there could be only one winner and although two bands were almost neck and neck in the judges' view, Wolfsbane were given the nod to take part in next Friday's final.
Tamworth Herald – 21/02/86
Musicbox – Sounds out of town
FIVE of Tamworth's top bands have just lined up out of town concerts – and they are all planning coaches to ferry supporters to the shows.
First on the agenda is a terrific double bill on Monday night, featuring the varied dynamics of Wolfsbane and Terroa. The show is at Bubbles in Hinckley, and it promises to be a very enjoyable night out. Tickets – costing £2 – are available from any band member of the two groups or by contacting Brian Edwards.
Then, on Thursday night (February 27), kindred spirits Femme Fatale and The Parade have been lined up for a winebar concert in Coventry. Once again, the two bands are hoping to generate enough support to be able to run a coach to the gig.
Finally the very tasty One On One are lining up another show at Bubbles at Hinckley – this one is on March 1.
Tamworth Herald – 21/02/86
Musicbox - SNIPS
TWO 'talented and experienced' musicians, have sent out an appeal for a drummer and vocalist (aged 15-18) to form the ultimate heavy metal band. Gigs it seems are in the pipeline but the duo stress that experience is not essential.
Tamworth Herald – 21/02/86
Musicbox – SNIPS
ADRIAN GOODMAN and Robin Norman, two enthusiastic and talented Tamworth-based musicians have appealed for a guitarist, bassist and keyboard player to join them for a funk/rock band with distinct Latin influences.
Tamworth Herald – 21/02/86
Musicbox – SNIPS
DANCE STANCE complete with Neil Sheasby's famous new bass amp, will be back in Tamworth on Thursday to play a special concert at Wilnecote Youth Club. The concert is due to start at around 8-9pm.
Tamworth Herald – 21/02/86
Musicbox – SNIPS
ALIBI, a new band with plenty of ideas and potential are on the lookout for a singer and a bass player to complete their line-up. They have already recorded a demo as a three-piece but feel they need two more members to make the band more stable. The group are influenced by guitar bands such as U2 and Dire Straits.
Tamworth Herald – 21/02/86
Musicbox – SNIPS
LOW PROFILE a new band with Steely Dan and Doobies influences, have pointed out that they are now playing free gigs every Sunday at the Queens head at Wilnecote. The light rock sound is one that is ideal for post-hangover Sundays and everyone is welcome to attend. The group is made up of trusted musicians Dave Tighe, Arthur Radbourne, Andy Raddock And Wally Maddocks.
Tamworth Herald – 21/02/86
Musicbox – SNIPS
STOP PRESS …Atherstone's exciting new couplet Catch 22 and The Australians will be playing at the …. Nuneaton tonight (Friday).
21/02/86
Catch 22
The Australians
Nuneaton
23/02/86
Breaking Point
Terroa
The Cradle
Spirit Lake
Battle of the Bands
Tamworth Arts Centre
24/02/86
Wolfsbane
Terroa
Bubbles Hinckley
27/02/86
Femme Fatale
The Parade
Coventry
27/02/86
Dance Stance
Wilnecote Youth Club
28/02/86
Burnin' Sky
Breaking Point
Wolfsbane
One On One
Battle of the Bands Final
Tamworth Arts Centre
Tamworth Herald – 28/02/86
Musicbox – Here comes clash for battle honours
LOCAL ROCK fans are expected to swarm to Tamworth Arts Centre tonight to watch the exciting finals to the hugely-successful "Battle of the Bands" competition.
The contest has been a marvellous celebration of the local rock scene with packed houses every night and good performances all round.
And to cap the whole event off, one of the four heat winners – Burnin' Sky, Breaking Point, Wolfsbane and One On One will tonight be crowned as local rock champions.
Another full house is expected for the intriguing four-way battle and although it wasn't confirmed at time of going to press, it was hoped that world-famous soul favourite Edwin Starr will chair the judging panel.
The draw for the final positions was held during Sunday's heat and it will mean that last year's winners Breaking Point will open the event.
Breaking Point just secured their place in the final on Sunday night, and there is no doubt that they would like to hold onto the Battle of the Bands crown at all costs.
The trio will once again produce a set mixing their old material with the new, and they will literally set the contest alight and leave the other three bands following with a mighty hurdle to clear for victory.
Second up on the night will be Coleshill's finest Burnin' Sky. The group emerged as surprise victors of heat one and they will be hoping to increase the support they found in the Tamworth audience on the night.
The sound they produce is a light, progressive rock and although on paper Burnin' Sky are probably the outsiders if President Marcos can claim victory in the Phillipines, anything is possible.
Third band on the night will be One On One – who scored the highest marks in the heats. The band have undergone something of a radical transformation of late, and their new brand of rock shocked many people who saw them defeat Catch 22, The Australians and The First in perhaps the best heat of the whole contest.
They should prove a hard act to beat and although One On One are wisely trying to play it down, there is a grounds' well of opinion that tonight will be their night.
Finally Wolfsbane will hit the stage and will aim straight for the jugular. The band only just scraped into the final with a slightly below-par show two weeks ago and they will be determined to cast that performance aside and turn on some of the acknowledged Wolfsbane magic tonight.
So, four bands all with a good chance of victory. Sandwiched between Burnin' Sky and One On One there will also be the sardonic and rabid humour of Tamworth's answer to John Cooper Clarke – Jed Moore.
All in all it makes for a night when no self-respecting rock fan should be seen on the streets. Entry to the gig will be just 75p and the winner will be crowned as the 1986 Tamworth Young People's Arts Festival Band of the Year. They are all at the starting post, the bets have been placed, now watch them go.
Tamworth Herald – 28/02/86
Musicbox – Thunder, fog and buckets of hair gel…
Heat rises and the victors live up to their name
Battle of the Bands – Heat Four – Review
BREAKING POINT squeezed into the final of the 'Battle of the Bands' on Sunday night in another absorbing and contrasting night of local music. They won their heat by just one point in another show which was packed to the rafters with sweat-soaked, rock-hungry spectators.
Biggest disappointment of the night was that the injury to John Reeman's hand meant the much tipped Terroa were forced to pull out. It was a blow, but in the true spirit of the local scene new band Kara agreed to step in and were sent scuttling back home to get their guitars after they had arrived for a peaceful night out.
Opening the show were Spirit Lake, who attempted, and to a large extent succeeded – to create the feel of the early 70s. Comparisons with Deep Purple and even from one judge, Jimi Hendrix, showed the direction the band were clearly trying to go and there was no doubt they worked together well as a tight professional combo.
Lungs
Keyboard player Tim Burgess came in for a lot of well-deserved praise, but the highlight of the set was undoubtedly a tremendous number called 'Armageddon' complete with a sparkling smoke effect which embraced everybody's lungs and made the atmosphere even thicker.
Next up were The Cradle – and what a revelation they were. When they came on the stage (leaving behind buckets of hair gel) they looked and …stamped all over it, with that man Quay racing around the stage like a headless chicken.
The opening number 'A State Of Mind', was quite brilliant and although the band were a little rough around the edges, they were extremely promising. I have no doubt their Cult-style sound will soon give them a cult following and it certainly was a spine-tingling show. The haircuts were pretty irresistible too.
Kara came next and turned in a very tight and powerful show which brought wide applause from the audience. Kara displayed none of the nerves you would expect from a band who had been in the competition for just two hours.
The swing
Best number of a well played set – a special credit to the male and female vocalists and the group's new guitarist, Paul – was 'Promises' which had a thunderingly good chorus and a clean, likeable sound.
Closing the contest were heat winners Breaking Point. Despite having a slightly under-stated sound, they soon got into the swing of things and somebody walked past me after two minutes and said "They've won it – no contest!".
Well, in the end, it didn't quite work out that way, as the band managed just a one point victory, but there is no doubt they will take some beating tonight (Friday).
So Terroa or not Terroa (that was the sadness) with was a fine all-round show, loudly applauded and supported by the biggest audience yet. The three judges Paul Speare, Phil Smith and the Dream Factory's Mark Mortimer, were clearly impressed with the overall standard.
Tamworth Herald – 28/02/86
Musicbox – Festival plans start here…
THE first meeting to discuss plans for the 1986 August Bank Holiday rock festival is to be held on Sunday.
All the bands who want to take part in this year's event are urged to attend for a meeting to broadly outline arrangements for the two-day bonanza.
The meeting will be an ideal one to bring new ideas and suggestions to improve on the well-established festival and everyone – whether they are band members or not – is welcome to attend.
It is hoped that a committee will be elected on the night to run the day-to-day organisation of the festival and anyone who wants to be considered is asked to come along. It starts at 8pm on Sunday night at the Tavern in the Town.
Tamworth Herald – 28/02/86
Musicbox – SNIPS
DICKENS re-appear from a quiet period to play a trio of prestigious shows. On Saturday, March 1, they will be supporting Dumpy's Rusty Nuts at the General Wolfe in Coventry; on Wednesday March 12, they are at Aston University and on Friday, March 14, they have lined up another General Wolfe show with FM.
The band are due to record their second album shortly and they are also busy working on a … for the band. Another thing of interest in the Dickens camp is that loveable fruitcake Mick Rutherford is now a fully fledged American footballer with the Tamworth Trojans. So if you play the sport and hear somebody raging at you whistling 'Standing Out'…get out of the way!
Tamworth Herald – 28/02/86
Musicbox – SNIPS
Former BHX man Robert Rea was back in town briefly last week to report that things are going very well indeed with his new metal outfit, Platinum Hi. The group have received a lot of interest in London and report encouragingly that the competition in the capital is not as fierce as it looks up here.
The band are hoping to line up a special Marquee concert soon.
Tamworth Herald – 28/02/86
Musicbox – SNIPS
The Dream Factory…a number of shows…before the release of their second single 'Cold Turkey'. They are at the Bond Gate Social Club, Nuneaton on March 1, with a disco, and then on Tuesday March 18 they will probably be teaming up with Catch 22 at Cannock.
On Friday April 11, they are at Dordon Village Hall, and they are also planning a whole series of dates including some on the national circuit.
Tamworth Herald – 28/02/86
Musicbox – SNIPS
Caprice are on the look out for a new singer – preferably a female one – to replace Karen.
The band also had several small items of equipment taken during the Battle of the Bands and they have urged the offender to bring the items back to the Arts Centre and the subject will be closed.