Tamworth Bands History : 1986 :
October
Tamworth Herald – 03/10/86
Musicbox – Party time as Wolfish single hits the road
METALLIC kings Wolfsbane will tonight (Friday) officially launch their debut single with a free party night concert at The Rathole.
The show is being billed as the musical event of the year with Wolfsbane promising a glittering party atmosphere as well as some straight to the throat metallics.
The reason for the party is that Wolfsbane's excellent single 'Clutching at Straws' will finally be released to a waiting world. The single backed with '5 am' will be on sale tonight at a reduced rate and will then be on sale throughout Tamworth and other neighbouring towns from tomorrow.
"This is going to be a very big event and we are really looking forward to it all," said guitarist Jase the Ace.
The basic format of the night is a free concert featuring both Wolfsbane and support act Kara. The only catch is that to get in you have to be there before 10 o'clock – anyone who isn't will have to stand outside and curse.
As well as two dynamic metal sets, the band have promised a lively disco and a host of party tricks which are being kept under wraps. Balloon, cakes and OTT costumes are expected to be the order of the night, which could well carry on into the early hours of Saturday morning.
The band have already had considerable interest shown in their single and they are hoping to get the sales off to a good start tonight with fans queuing up to buy the record at the first possible opportunity.
As the entry fee is not going to break anyone (!) there is no reason why everyone shouldn't buy the 45 tonight and help it on its inevitable journey to the top of the charts.
It's going to be one of the very best nights Tamworth music scene has experienced in centuries. Get there (early) and don't miss a thing. If everything goes to plan, Wolfsbane may seen get so incredibly mega, that you may never get the chance to see them free again. So let the party begin.
Tamworth Herald – 03/10/86
Musicbox – We're a mess, just enjoy us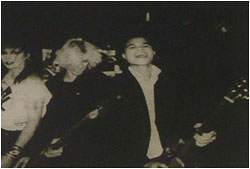 THIRTEENTH Reunion, a band who describe themselves as a 'horrible mess' will be playing a special 'Rathole' fund raising gig on Sunday night.
The band will team up with an alternative disco for a low-price night aimed at putting the venue back on it's financial feet.
The band are certainly the most original to have hit Tamworth for eons and boast an admirably honest and positive approach to their bizarre, extreme music.
"All the alternative bands around Tamworth just rip everyone else off," said guitarist Edwin Young, "We are totally different and don't sound like anyone.
The band have been together for around six months. They are the brainchild of joint guitarists and singers Edwin young and Barry Fox. First they recruited bassist Gerald Winston (who wins the 1986 Derek Goodwin award for good haircuts) and the reluctantly – they employed drummer Arri 'Duane' Relevante who like they say 'can't drum at all but at least he has a kit'.
Audience
The band's first git was at the Festival party at the Arts Centre, where to put it mildly they left the audience open-mouthed. No one was quite sure what to make of them but Thirteenth Reunion were delighted with the stunned reaction.
New songs
"Everything went according to plan, it was very good indeed," beamed Gerald. The group's anarchistic approach to music is reflected by the fact that at the Arts Centre they only had one discernible song which they played endlessly with just a change of words and vocalists. On Sunday they have promised several new songs and a set that will go on as long as people can take it.
"People take themselves far too seriously round here. There are too many student bands. We are just an absolute mess and we are totally different to everyone," said Edwin.
The band's collective influences include everything from the Texas Chainsaw Massacre to Iggy Pop, Sid Vicious, Velvet Underground and in Duane's case a host of top goth bands. Tamworth has certainly never witnessed anything like it before.
Different
"We see ourselves going on a long way but not necessarily in this fashion. We could be totally different by tomorrow," said Edwin.
So if you want to catch Thirteenth reunion as they stand now (and believe me it is a real experience) don't miss Sunday's gig. It will help the Rathole and help show Tamworth music can be more diverse than ever.
Tamworth Herald – 03/10/86
Musicbox – Bouncing bellies and wide smiles
Soil Brothers/Blueberry Hellbellies – The Rathole
NOW THIS was FUN. Two tasty toetapping bands who realise that you can smile and dance at the same time and there is no musical sin in enjoying yourself.
First up were the banjoless Soil Brothers who were as sprightly as Daley Thompson and almost as silly. Every tune was a killer especially Buddy Holly's "It Doesn't Matter Anymore" and the riotous "In the Mood". Big fun.
Big fun also sums up The Hellbellies who were in every sense immense. It was stylish, original and very, very bouncy.
They were the best band at the Rathole for quite a long time and proved that big stomachs can lead to big smiles by big audiences. Jolly, jolly, very jolly.
Tamworth Herald – 03/10/86
Musicbox – SNIPS
Hunky Donnie Skinner has certainly been busy of late. For the Julian Cope guitarist (fresh from Wogan) will tomorrow appear on the Saturday Morning Show 'No. 73' with Copey. The question is, will he play the Sandwich Quiz? Also Donald's own band Freight Train (currently touring with Mighty Lemon Drops) have just recorded the excellent 'Hill' which will be their next single. And, also (there's more!) Donald found time to visit Dream Factory member Mark Mortimer's stag night last weekend along with several other former Tamworth popsters. They included Matthew Lees (Thirty Frames, Slightly Green), Andrew Baines (GBH, Fretz), Philip Hobbins (Fretz, Classified Ads), Dan Collins (Scooter Boys from Hell), Ian Harding and John Clarke. It was certainly a popsters (drunken) night to remember and Musicbox would like to wish Mark and Janet a long and happy marriage.
Tamworth Herald – 03/10/86
Musicbox - SNIPS
Orange have changed their name to The Franklin.
Tamworth Herald – 03/10/86
Musicbox - SNIPS
As you may have heard through the rock and roll grapevine, Dr. Feelgood are definitely coming to Tamworth Assembly Rooms in the last week of November. They will be playing with Strap On Jack and The Royal Family and advance tickets will be on sale soon. We will give more details then.
Tamworth Herald – 03/10/86
Musicbox - SNIPS
Dance Stance will this weekend finish their debut single which has been recorded at Birmingham's 'Rich Bitch' studios. They are also rehearsing for a special charity concert at Two gates next Friday in aid of the 'Baby Kelly' appeal.
The excellent Catch 23 have entered this year's TSB Rock School competition. They hope to follow in the footsteps of fellow Atherstone School star Wayne Unwin who won through to last year's grand final.
03/10/86
Wolfsbane Single Launch Party
Wolfsbane
Kara
The Rathole
05/10/86
Thirteenth Reunion
The Rathole
10/10/86
Dance Stance
Two Gates Working Men's Club
Tamworth Herald – 10/10/86
Musicbox – Surf Drums come rolling in…
THE RATHOLE opens on Sunday this week this week to accommodate two of the brightest new bands from the Birmingham area. For just £1.50 punters will be able to see the much-talked-about Surf Drums alongside the energetic "Wonderstuff" – who last weekend played with the mighty New Order.
Both bands come with a fine pedigree and they have been lapped up by the likes of NME and Sounds. The Surf Drums were described as being fine, rousing pop in the Icicle Works tradition while the modestly-named Wonderstuff come with the simple description of 'brilliant'.
Wonderstuff and expected to open Saturday night's proceedings and will be swiftly followed by The Surf Drums in what The Rathole regard as probably their strongest ever double-bill.
Tamworth Herald – 10/10/86
Musicbox – DANCE STANCE
Tonight (Friday) will be playing a special charity concert in aid of the Baby Kelly appeal.
The concert at Two Gates Working Men's Club is part of a night of entertainment including other various acts aimed at raising much-needed fund for an important charity. The big-hearted Dance Stance put the finishing touches to their debut single at the weekend and if THEY are anything to go by it is sensational
Tamworth Herald – 10/10/86
Musicbox – THE CALLING and ATTICA
The Town's two alternative outfits make the short journey up the A5 on Saturday for a double-header at Nuneaton. A coach is planned for followers of both bands, and more details can be obtained from group members or by contacting Rem at Drivers in Hospital Street.
Tamworth Herald – 10/10/86
Musicbox – THE MUFF DOCTORS
Formerly Depth Charge are playing their first gig under their new name and new line-up on Wednesday. The new full line-up is Trevor Mugglestone guitar; Phil Mugglestone guitar; Steve Fitzgerald bass; Kick Goody vocals and keyboards (!) and Gary Dobson, drums. The band will be in action on Wednesday night at The Marmion pub. Entrances is free.
Tamworth Herald – 10/10/86
Musicbox – Deaf and glory…
Live Review : WOLFSBANE – Single Party (Rathole)
Have you ever been to a gig in a sauna before? Well if not, this was a novel first for all of us. It was absolutely burning inside the Rathole and the part of the anatomy that burned the most was the ears as Wolfsbane broke every decibel record ever made.
Still, I can forgive these lovely chaps anything. Wit balloons, cakes and kissagrams thrown in for good measure. It was a tremendous party concert with every ear-battering tune sounding louder, faster and gorier than ever. One of the best parties I've been to in AGES.
Tamworth Herald – 10/10/86
Musicbox – Kara – The Rathole
A band who are getting more mature, confident and appealing every time they hot the stage. Kara turned in a tuneful, tantalising set which received a near-ecstatic reaction from the good-humoured, sweat-laden audience. It was powerful, tuneful and tasteful and (despite the ritual slaughter of 'Teenage Kicks' this is a band I can heartily recommend for a good burst of sizzling rock entertainment. And that song 'Shout'…is indescribably excellent.
Tamworth Herald – 10/10/86
Musicbox – Thirteenth Reunion – The Rathole
Imagine a cross between Abba, The Nolan Sisters and Five Star. Well Thirteenth Reunion are nothing like that. In fact Thirteenth Reunion are like nothing on earth, sounding like a nightmare acid trip through hell.
Refreshing
Manu old punky postars I spoke to thought exactly the same as me – this was really a refreshing change from the normal note-perfect Tamworth bands. The cacophonic, climactic, cataclysmic noise the band produced was like a breath of unfresh air which reminded me of The Classified Ads and The Restricted rolled onto one unholy alliance.
Barry is amazing. Gerald and Edwin ludicrously cool. Honesty compels me to say that no matter how much we try and kid ourselves, Duane IS the worst drummer in this – and probably every other – world. He's still a cutie though.
Tamworth Herald – 10/10/86
Musicbox – Gossipbox
Kitchen sink a few insults
IT WAS NICE to see The Rathole so full again last weekend. On Friday you couldn't breathe let alone move at the Wolfsbane/Kara show, and then on Sunday dozens of punks/Goths and other alternative types turned the Rathole into a colourful, spikey arena.
Very encouraging it was too, and proof that if you put the right bands on at the right price Tamworth will respond.
Talking of The Rathole, did you see Ian Gibbons and Chippy's surprise last blast at the Thirteenth Reunion gig? Not Only The Kitchen (I think they are called that) turned in a bizarre set which flung insult after insult of Tamworth.
If anyone has a right to criticise, I suppose it is they. But I bet Ian is a bit of a happier man now – especially as they played the Boomtown Rats on the night.
Other strange things over what was a rather strange weekend was a fearfully encroaching growth of beard on former Restricted guitarist Roger Moore's chin; a leather-jacketed person who had the mighty Wolfsbane logo on his back next to a Marillion one, and John Reeman changing from a heavy metal dj to a punk rock one in 48 hours. It was a strange weekend wasn't it?
It was strange too for Donald Skinner and Julian Cope who took part in the Saturday morning nightmare 'No. 73'. They performed two live numbers on the show and the second one was in the presence of a large group of very silly, immensely appalling people who danced around the dumbstruck Donnie and made him wonder why he got out of bed.
11/10/86
The Calling
Attica
Nuneaton
12/10/86
Surf Drums
Wonderstuff
The Rathole
15/10/86
The Muff Doctors
The Marmion
Tamworth Herald – 17/10/86
Musicbox – Sick Nick and Co. hit a bizarre note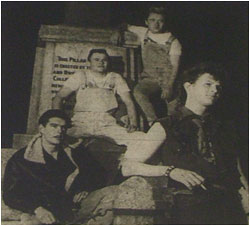 Caption: The Mutant Zombies…exponents of 'anarchybilly'.
A NEW powerful four-piece who combine punk, rockabilly and rock and roll, are about to launch themselves onto the local scene. The intriguingly Mutant Zombies will be aiming very much at the Meteors/Cramps fans in Tamworth – although they also have a strong influence as diverse as Eddie Cochran and The Stranglers.
The Zombies got together just a few weeks ago, but have already managed to string together a whole host of original numbers. Now they are looking forward to their first local concert in the very near future – possibly at the Rathole.
"We are not sure how we will go down in Tamworth, but we think we will be different to everyone else." Said guitarist Daz Knight.
Three of the Zombies have been in local bands before – Daz played with the College Boys, lead guitarist Robert Kinson used to e with the ill-fated Green Swings, while bassist Andy Stokes will be known to most people as a former member of The Parade.
Completing the line-up is drummer Nick Plant who provides a solid backbone to the ambitious quartet.
" A lot of Tamworth bands seem happy just to stay in the town, but we would like to think that we could go out and get other gigs in the not-too-distant future," said Robert.
The band will hit the stage with bizarre stage names. Andy Stokes will be called 'Andy' (very bizarre that). … will be The Weasel, Rob will be – Van Veegan and Nick Plant wins the name award going under the banner 'Sick Nick The Psycho' As a further indication of what to expect they say they hail from 'The Twilight Zone' and are all stars of 'The First Horror Story'.
Tamworth Herald – 17/10/86
Musicbox – Best of local bands
THE RATHOLE is set to stage another top local bands night on Sunday, with three of the area's most exciting young groups.
Although nothing was confirmed at the time of going to press, it was hoped to field Attica, Catch 23 and The First in what would be a powerful and very exciting night of entertainment.
Catch 23 are anxious to hit Tamworth again after their undoubted triumph at this year's Festival. They impressed virtually everyone with their dynamic, punchy set full of healthy, punk-ridden power.
First Class
Despite their relatively tender age, Catch 23 are often mentioned as rhe next big thing and they are certain to brighten up the evenings entertainment.
Hopefully also joining Catch 23 will be Attica and The First. Attica also have the luxury of a first class festival performance behind them and people of all musical persuasions have been converted by their stylish and stirring music.
They are three strong individuals who have com together to make one strong sound. It will make you tingle.
Favourite Act
Finally the Rathole will also welcome (for the first time) Richard Dean's outfit The First. They are a band who have received near adulation in Birmingham and have become 'Brum Beat's' favourite act. To those new to the band they play very commercial rock that veers in the U2 direction but stops short enough to be original. They also have the glamour and clout and should bring a touch of refined professionalism to the occasion.
So an exciting night is in prospect. It is impossible at this stage to confirm that this will be the final line-up, but whatever happens the Rathole – will be open and any combination of the three above bands will make it well worth the visit.
Tamworth Herald – 17/10/86
Musicbox – Alternatively just listen
KEVIN McGOUGH – The Rathole
It's a real pity that people were more keen to sue their mouths than their ears when the town's newest (and angriest) alternative poet took to the stage. Those who did bother to listen were treated to an insight into the intelligent and very honest mind of Kevin on subjects as diverse as sex and religion.
Best of all was when Eddie Madden stepped out of the audience and proved he's a sensitive soul really, by strumming out a gorgeous guitar riff to Kevin's heartfelt tirade about religion. It was a quite magical moment. See this man again and use your ears this time.
Tamworth Herald – 17/10/86
Musicbox – Gossipbox
IT SEEMS hardly a week goes by without Donald Skinner making us all green with envy. There I was watching Top of the Pops wishing the DJs would mysteriously curl up when up popped Donnie again strumming behind Mr Cope and even getting lots of close ups. Everyone was talking about it over the weekend, and it seems that despite the fact that he only owns one jumper in the world, Donald Skinner is now much more of a celebrity round here that Mr. Cope himself. It all seems a long way from St. John's Youth Club Donald…
Tamworth Herald – 17/10/86
Musicbox – Gossipbox
I have been told that Gary Lancaster from One On One could well be the next in line for the altar. If anything should alter I will let you know.
Tamworth Herald – 17/10/86
Musicbox – Gossipbox
The Launch
THE new Wolfsbane drummer has now been unveiled to the world. He is Steve Ellett a local Wolfsbane fan….More than 60 were sold on the launch night itself which considering it was impossible to move towards the sales desk, is not bad going at all…
Tamworth Herald – 17/10/86
Musicbox – Gossipbox
ALSO going apparently is a number of old Breaking Point songs. It seems that Kevin Briggs has been busy writing new material and has come up with at least eight new titles which will be premiered when the band release their debut single 'Ode To Nicholas Romanov" which I am assured should be out before Christmas.
Tamworth Herald – 17/10/86
Musicbox – Gossipbox
ALSO in the pipeline it seems are no less than two record contracts for local bands. I can't say too much at this stage …
19/10/86
Catch 23
Attica
The First
The Rathole
24/10/86
Surf Drums
Tamworth Arts Centre
Tamworth Herald – 24/10/86
Musicbox – You're right – they ARE brilliant
I PREVIOUSLY missed the Tamworth Rock Festival so I went to Two Gets WMC recently particularly to see Dance Stance play.
All 'Music box' (which I read regularly) has been saying about this band is true. They are brilliant.
Nearly 300 people who watched them impress must now be waiting eagerly as I am for their debit single record which I believe will be released about the end of the year.
J. Brook
Lichfield Road
Sutton Coldfield
Tamworth Herald – 24/10/86
Musicbox – Surfers are rolling into town
THE SURF DRUMS make a speedy return to Tamworth this weekend when they play at the Arts Centre tonight (Friday). The group who won a lot of praise for their recent concert at 'The Rathole' will team up with a new support act for an interesting looking show which kicks off at about 8pm.
The Surf Drums are currently on a nationwide tour and have a powerful modern sound.
Tamworth Herald – 24/10/86
Musicbox
The Mutant Zombies – Sick Nick the Psycho et al – top the bill this Sunday at The Rathole. The band who list everything from Eddie Cochran to the Cramps as their main influence, will be playing their own self-styled 'anarchybilly' in their debut gig.
Attica are certain to join them on the bill and the Rathole has stressed that any young local bands who would like to play there in the next few weeks will be made more than welcome.
The venue is keeping to local bands until the Dr. Feelgood Assembly Rooms show on November 23. That will be the biggest gig in Tamworth for many years and advance tickets are now on sale. They cost £3.50 and are available from either Manhattan Winebar or Tamworth Arts Centre.
Tamworth Herald – 24/10/86
Musicbox – Happy band who've really grown up
Catch 23 – The Rathole
IT IS ALWAYS good to see a band develop. In the past Catch 23 (or 22 as they were then) have been lively, entertaining but still rather raw. Now that rawness has subsided and it has been replaced by a positive, confident and easily distinguishable sound.
Stars of this show were keyboard player Nick Smith and guitarist Ray Clenshaw. Nick has been perhaps mixed down too low in the past, but on Sunday his sound was almost the dominant guiding light rather than just a pleasant distraction.
At times it was like modern synth bands, at others like The Stranglers (the millionth time I've mentioned them this year alone) and occasionally it was quirky enough to be positively Devoesque. Very impressive.
Also, showing style was Ray Clenshaw who now has far more self-belief in his guitar and allows himself the indulgence of some very skilful breaks. Given time he could become one of the best guitarists in the area. Throw in Steve Webster's powerful voice (he sounded as menacing as a Cruise missile at times), deft drumming by Jason Notman and solid, consistent basswork by Neil Gordon and you have a quintet who now know how they want to sound, how they want to look and where they are going.
They are a credit to their native Atherstone and a bonus for Tamworth. Besides any band that plays The Clash's "Should I Stay" can't be bad can the?
Tamworth Herald – 24/10/86
Musicbox – Gossipbox
Howling cats star in Orton classic
ATTICA MAY be a very good band but believe me their wine stinks. Last week I was unfortunate enough to be given a bottle of Greek wine called 'Attica'. Thinking it would be a refreshing, tasty change (just like the band of the same name) I took a nip and nearly decorated the carpet, it was horrific. Stick to treading stages instead of treading grapes boys.
Also pretty annoying last week were One On One. I went to see the Joe Orton play 'Loot' at the Arts Centre on Thursday night and the moment the action got under way so did One On One who were practicing next door at the Old Stone Cross.
All you could hear all night were Stu's jungle rhythms and some cats howls that resembled Dave Ingham in a drunken state.
Certainly not receding is Ian Gibbons ambition and enthusiasm. Tamworth's worthiest citizen told me he was hoping to expand next year to opening tow more Ratholes in Northampton and London as well as setting up a 'Rathole' record label. As someone who (I admit shamefaced) doubted that the Tamworth Rathole would ever get off the ground. I now firmly believe in Ian's vision and wish him the very best of luck.
He is the best thing to have happened to Tamworth's music scene for as long as I have been involved in it.
Tamworth Herald – 24/10/86
Musicbox – SNIPS
The very wonderful Nigel (mastermind of 'Anarchy in Wonderland') is set to release a free flexi-disc with the next edition of his fanzine. It features two songs by Zentime and as well as this tasty offering, the new fanzine will feature bands such as The Helens, Chocolate Watch Band and The Pandas. It is due out in late November so more info them. On the subject of local fanzines, IOTA has bitten the dust after just three issues.
Tamworth Herald – 24/10/86
Musicbox – SNIPS
THE Dream Factory are to make their first ever appearance in the centre of Atherstone on Sunday when they play a special Labour Party benefit gig at Atherstone Miners Welfare Club in South Street. The band will be joined by a disco spun by Mark Mortimer (who!).
Tamworth Herald – 24/10/86
Musicbox – SNIPS
SHELLSHOCK, a young heavy metal band, are still after a singer/frontman of any age to join their enthusiastic combo. They are particularly interested to hear from Danny from Atherstone…
Tamworth Herald – 24/10/86
Musicbox – Gig to boost appeal
THE RATHOLE will stage a special gig in aid of the 'Heartbeat' Birmingham Hospital appeal on Sunday November 2. It will feature two new bands in the area. Orryot and Ruffian on the Stairs as well as One On One making their eagerly awaited Rathole debut. More details next week.
Tamworth Herald – 24/10/86
Musicbox
Wolfsbane's 'Clutching at Straws' single has had its first major national review – in HM magazine 'Kerrang'. It described the bands looking like four reprobates similar to Girl but went on to tirade the record as 'dreary and ordinary'. Still as the band point out, their review was the longest on the page and in their opinion any publicity is good publicity.
26/10/86
Mutant Zombies
Attica
The Rathole
26/10/86
Dream Factory
Atherstone Miners Welfare Club
Tamworth Herald – 31/10/86
Musicbox – 'One' head his hearty special
ONE ON ONE spearhead a special charity gig in aid of the Birmingham Hospital at The Rathole on Sunday night.
The 'Battle of the Bands' winners will team up with Orryot and Ruffian on the Stairs – both of whom have strong local connections.
All the proceeds from the show will go towards the special 'Heartbeat' appeal which has been running for some time in and around Birmingham, It has already raised thousands of pounds and organisers of this weekend's gig are hoping to add even more to this tally.
Appeal
"It's mainly the band who are regulars at Hamlets because the pub has been very supportive of the whole appeal," said one of the organisers, Mike Fleming, "We think that it will be an interesting and varied show."
The idea of the gig with Hamlets bar staff member Margaret with Mike Fleming picking up the gauntlet to arrange the show. The Rathole kindly agreed to let the organisers have the venue for free and the Heartbeat Concert started to breathe.
It will be One On One's first gig at the venue – making them the last major Tamworth band to tread The Rathole stage. The group have deliberately kept a low profile of late but have now emerged with clearer understanding of what they want to do – and with a host of new ideas.
Intriguing
"We have been rather quiet of late because we wanted to sort out a few things, but now we are raring to go," said leader Dave Ingham. As well as Sunday's show, on November 8 the band make a return trip to The Coach and Horses.
Supporting One On One will be Lichfield-based band Ruffian On The Stairs and a Tamworth all-stars band Orryot. Ruffian, who feature our very own Mike Fleming on bass, play energetic jazz/soul-style music with touches of The Style Council and The Dream Factory.
Glitter
They have already recorded a highly successful demo with the intriguing title "Unnatural Practices" and to add further glitter, they have supported bands such as Terry and Gerry and The Chevalier Brothers. They are currently trying to build a permanent base in Birmingham and are already on the university and poly circuit.
Orryot are perhaps less well known throughout the Midlands but their faces are certainly better known around Tamworth. Lead singer is one of my favourite solo artists Dave Hewitt (he of the long Dr. Whoo-style scarfs) the drummer is Stretch who under that name at least is new to me while the two guitarists are both former members of Gaf the Horse in Tears.
Enticing
Ted Wilson (who used to be with Omen and bears a striking resemblance to Craig Johnston) plays guitar while Tony Cole (whose legs are almost as famous as Marilyn Monroe's) is on bass. Collectively they have what is said to be a high-energy, high-powered, brand-new original sound. Sounds enticing!
So three very different bands who between them should provide one very good show indeed. It costs just £1 and with all the proceeds going to the very worthy Heartbeat appeal, there is no reason not to have a 'Rathole' full-house once again.
Tamworth Herald – 31/10/86
Musicbox – Pink legs and Co are out to impress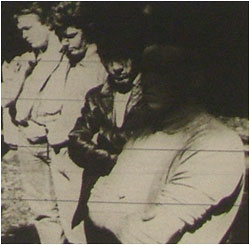 ORANGE BLOSSOM Special are playing a major free concert on Bonfire Night – which they promise will go with a bang!
The group will be playing at the Marmion in what they are billing as a special fun party night.
They are hoping for the biggest possible attendance because they are likely to be watched by a major promoter who has shown great interest in the group. He currently promotes bands such as Big Audio Dynamite and New Order and has been so impressed with the Orange Blossom demo, that he said he wants to see them in action.
"This is obviously a very important gig for us indeed," said bassist Glen "Empire State Building" Lewis. "The more people who turn up the better the impression it will leave and we can promise a first class sound and first class set."
The group – who feature Glen as well as Nigel Horton, Neil Jones and Julian Amos - now see themselves as a tighter, more aggressive outfit than the original Orange. They say their sound is bluegrass commercial pop with a wide appeal, it is certainly different from everyone else in Tamworth – and OBS are in fact unique in the area.
"Everyone thinks there is a great rivalry between us and The Dance Stance but we are totally different," said Glenn.
Confident
And as well as being different the band are also far more confident. Nigel, known to the rest of the band as 'Pink Legs' believes OBS have become the best band in the area, and that confidence has been boosted by a promised concert at leading Birmingham nightclub The Powerhouse.
"Things are going very well," said Nigel. "This is an important show for us and we hope a lot of people will come along and support us."
So if you want to escape all the fireworks and have some really entertaining loud noises, the Marmion is the place to be on Wednesday night. It starts at 8pm with a full supporting disco by Colin Wall. And don't forget, its all free!
Tamworth Herald – 31/10/86
Musicbox - A fit of the gigs
Mutant Zombies – The Rathole
Different, very different in fact. The Mutant Zombies are very different for a number of reasons – not least the fact that despite their name and image, they are five of the shyest musicians. I know. For this reason their stage presence was less than zero, and it took the talented if slightly loopy Sick Nick on vocals to scream some life into the rest of the band. Despite their shyness (or was it nerves) The Zombies clearly have several useful ideas, and the seeds of several excellent tunes. Rob Kinson (let's forget the stagenames) is a very individual and talented guitarist and Daz, Andy and guest Simo all did their jobs well. There is a lot to build on here, and potentially this is a very entertaining combo. And Sick Nick is definitely a star in the mutant making…
Tamworth Herald – 31/10/86
Musicbox - A fit of the gigs
Orange Blossom Special – The Rathole
A strangely subdued and rather under-stated performance from OBS which sounded like Orange Juice from the first bar to the hast. Their new songs are certainly a lot better than their old but (dare I say it) I kept wishing Anice was still singing to add a touch of originality to the overall attack. Nice songs, nice chaps, but rather an undramatic show.
Tamworth Herald – 31/10/86
Musicbox - A fit of the gigs
Kevin McGough – The Rathole
Short and sweet (the set, not Kevin!) Kevin showed no effects of the long New Model Army tour with a suitably venomous outpouring of literate filth, MORE people listened this time, but it still wasn't enough. Clearly the Tamworth Poetry Society will not get many recruits at the Rathole, but I would nominate Kevin honorary chairman of the group.