Tamworth Bands History : 1986 :
January
Tamworth Herald 03/01/86
Musicbox – Factory floor the opposition to make a hat-trick…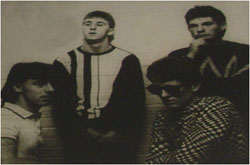 THE Dream Factory have done it again! Yes, for the third year in succession, Tamworth's favourite soul men have pipped all opposition to once again claim the top local band slot in the Musicbox poll.
They did so despite a fantastic turnout of votes for new boys Terroa, who just lost out by virtue of the masses of votes the Factory received not only for first place (which was worth three points) but also for second (two points) and third (one). Wolfsbane, Breaking Point and Royal Family fans by the score put the Factory as their second choice and as the poll entered its last frantic days, it was clear the band were going to do it again.
Landslide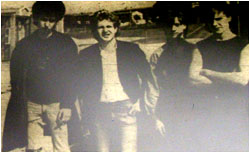 But that was not the only joy for the band. Because they have had such a big national profile all year I allowed them to be included in the Top National Band sector – and they won that with a landslide.
And the same went for the band's tremendous 'Wine and Roses' single which floored all the opposition.
Just to complete the (wine and ) rosy picture, the group had four songs in the top twenty local song section, and also had Mark Mortimer and Tim Goode voted into the top five local personality section.
Dream factory take a bow – you have won it again and you have deserved to do so.
It wasn't only The Dream Factory's poll though. Terroa as well as scooping the runners-up slot in the top local band, also won the best local song award with the excellent 'Thunder and Lightening'. If the views of the hundreds of people who voted (we passed the 500 vote mark with ease) are anything to go by, Terroa are the group you think are going to make it next year.
Still in the local band section, The Royal Family finished a strong third well ahead of the bands beneath them. Like The Factory they seem to have universal support from people of all musical tastes and there is no doubt their popularity is now at an all-time peak.
It should bring a smile of Steve Martin-style proportions from Dave Smith and Eddie Blunt!
Places four and five went to two bands from the Atherstone area Dance Stance and The Me, a band who seem pretty big in North Warwickshire and will be investigated further in the near future.
It was nice to see Dance Stance up there – and also the likeable Paul Hanlon in the personality section – and with Nick Reed now in their line-up, I have a sneak feeling '86 will be very good indeed for the Atherstone band.
Elsewhere, Freight Train showed they have made considerable impact and Wolfsbane proved that their appeal goes far beyond strict heavy metal types judging from the people who voted for Jeff, Bayley, Jase and Stakk.
Breaking Point also had their best ever poll result and it was very nice to see the now defunct Love On Board still hold a special place in a lot of people's hearts.
Delighted
Completing the top ten are Femme Fatale who will be delighted with their debut show in the poll, and then the next five or six bands all came very close indeed to one another. The Sway, Magnets and Sitting Pretty all started well but faded somewhat but overall it was nice to see that virtually every band in the whole district had some supporters.
Just missing the top twenty, for example, were Depth Charge, Banned Wagon, Scarab, Boozy Brothers and Pulsebeat.
The local songs section was pretty reflective of the local band poll but it was pleasing to see people voting for songs that were not by their favourite band, which showed there is a lot of unbiased 'general' listeners among local rock fans.
Perhaps the only surprise was that Breaking Point only managed a top twenty placing (and that was at 17) but you can't have everything.
In conclusion, everyone who votes, many thanks and to all the bands who have made the year so exciting, a double-dose of thanks. Let's now make '86 even better.
Top local band
1. The Dream Factory
2. Terroa
3. The Royal Family
4. Dance Stance
5. The Me
6. Freight Train
7. Wolfsbane
8. Breaking Point
9. Love on Board
10. Femme Fatale
11. The Sway
12. Spirit of Water
13. The Parade
14. Sitting Pretty
15. Trout Meets The Cavalry
16. Dickens
17. Judas Cradle
18. The Magnets
19. Powerplay
And no here's how I'd have voted
Just to complete the overall local music award section, here are the people, the musicians and bands that I think deserve credit in '85:
Top Band – Breaking Point
Top Local Song – 'Come The Day' – Breaking Point
Guitarist – Jase The Ace/Tim Latham/Nick Reed
Drummer – Stuart Blane/Steve Quilton
Bass – Daydo/Mark Mortimer
Keyboards – Rikk Quay
Vocalists – Dave Ingham/Dave Smith/Debbie Whitty
Best Live Band – Wolfsbane
Most Improved Band – Dance Stance
Most Likely to Make it in '86 – Dream Factory
Best Gig – Breaking Point, The Sway, The Magnets Tamworth Arts Centre
Best Demo – Wolfsbane
Best DJ – Buttercup
Best Songwriters – Kevin Briggs/Bryan Lacey/Jase The Ace/John Reeman
Best Lyricist – Bryan Lacey
Haircut – Mick Rutherford
Best Dressed Person – Jeff Hateley
Saying of the Year – "I can't get me breath' – Buttercup
Personalities of local music scene – Ian Gibbons, Tim Goode, Rikk Quay, Eddie Madden, Blaze Bayley, Dave Ingham, Mike Turner, Paul Speare, Phil Smith, John Reeman, John James, Mike Fleming, Sage Side Psycho, Mark Mortimer, Jeff Hateley, Kevin Briggs, Star Trek, Trevor Muglestone, Dave Smith, Mick Goodby, Buttercup and everyone else I've missed.
SAM HOLLIDAY
Tamworth Herald – 10/01/86
Musicbox – Here comes Battle of the Bands
TAMWORTH is to stage its second annual Battle of the Bands contest in February. The event, won last year by Breaking Point, will seek to find the area's top outfit and will be run over four consecutive Sunday nights at the Arts Centre.
It is hoped there will be a celebrity to judge the final and there is also the possibility of a special prize for the winners along with the traditional festival trophy.
In order to make the event more professional – and give the bands a better chance to show their wares – there will be just 12 groups in the event and just four in the final. If you would like your band included, you must attend a special meeting at the Tavern in the Town this Sunday (January 12) starting at 8pm.
Anyone who does not attend will lose their chance of entering and earning the right to win the best band in Tamworth tag for the rest of '86.
Tamworth Herald – 10/01/86
Musicbox – Black looks from Les Miserables
…BUT OFF STAGE THEY TURN UP THE WARMTH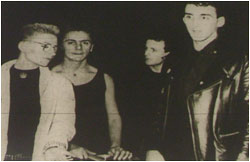 Caption: Femme Fatale crack a joke and display their normal jovial apparel.
Femme Fatale…demo
FEMME FATALE are very much a product of the Eighties. Three or four years ago, their bleak pessimistic mood would have won them just a few John Peel-adoring admirers, but now it is almost the musical norm.
Bands like lovable depressives Sisters of Mercy and disgusting rock and roll dinosaurs The Cult, have reintroduced the colour and the mood of black to the populace and suddenly you no longer have to wear a George Michael smile to get on Top of the Pops.
Here we have Femme Fatale, combining the old punk ideals of Martin Higgs and Mark Poyner with the Cultesque mood of Debbie Whitty and Jim Goodman. Their dark sombre sound has about as much warmth and humour as a fridge.
Although off-stage the band are as pleasant and friendly as you could wish, when they put on their Femme Fatale hats, it is like putting a black veil over their personalities. It is as if they believe the only way they can show they are enjoying themselves is to be miserable, a kind of musical masochism, if you like.
So unsurprisingly, this demo is not cheery pop music. But it is, for the most part, very good indeed. You find your toes tapping and your depression increasing as you listen, which I imagine is the sort of response Femme Fatale are after.
Charmless
Unfortunately, the worst thing about the tape is the most important thing of all - the opening track. How I wish that promising bands like Femme Fatale would get a manager who would ensure they did not pick an opening track that is clearly unsuitable to be the flagship of the tape.
If a record company boss doesn't like track one, it doesn't matter if track four is a classic worthy of Lennon/McCartney, because he simply won't listen to it.
The dubious track in question is the sub-Banshees 'Obsession' an overtly charmless number that despite improving on successive playing, simply lacks that initial bite to catch the ear. It is not a bad song, simply a bad choice for a demo 'A' side.
Much better is the second track 'Have Faith', which apart from having rather dubious anti-religion lyrics, has a strong rhythm and a powerful feel. It is like something out of Ian Asstbury's portfolio, but that apart, it is an immensely likeable song, which boasts some quite tremendous guitar work from the highly-talented Mark Poyner.
On the flip side of the demo is a very worthwhile and commendable idea – three live tracks recorded at Tamworth Arts Centre. Surprisingly perhaps – the sleeve notes boast there are no dubs or edits – it sounds very good indeed and features my favourite track of the tape, 'Hideaway'.
This is far more of a mainstream punk-pop song, with a catchy chorus and the sort of throbbing bass that has made Martin Higgs a legend in his own lunchtime. It is a pity 'Hideaway' isn't the 'A' side, but obviously the band thought it was too cheery by half.
Also on this side is the very intelligent 'Revenge Is Mine' – an extremely thoughtful and well-crafted song, and 'Prime Of Life', which is simply depressing.
Altogether, it makes for a demo light on laughs but heavy on potential. It shows that the band have a very bright future indeed, and a lot of genuine talent. The only one worry now is that the Sisters Cult genre dies its inevitable death, Femme Fatale may well die with them. After all, there is nothing more displaced than an idea whose time has come – and then gone.
SAM HOLLIDAY
Tamworth Herald – 10/01/86
Musicbox – Well caught, lads!
Catch 22 – Atherstone School
"IT'S 106 miles to Chicago – we've got a full tank of gas, half-a-packet of cigarettes, it's dark and we're wearing sunglasses…hit it!"
This was Catch 22's first official public performance and from the first drum beat of 'Love Explosion' to the final bars of 'Alternative Ulster', the 250-strong audience 'hit it' as well.
Even though they are still at school, Atherstone's finest and potentially best band, manipulated each instrument to perfection and even when over-enthusiastic spectators temporarily cut the lead to the microphone, they continued to battle on.
Catch 22 are a five-piece, supposedly funk/rock band, who write their own material, but just to please the crowd then indulged in the odd cover version like The Jam's 'Mr. Clean' and the SLF classic 'Alternative Ulster'.
Their own material includes the bassy 'Explosion', the danceable 'Hurt Me' and Ray Clenshaw's cynical view of mercenaries, 'Soldiers of Fortune'.
A dramatic drum solo from Jason Norman neatly connects the latter into the moving 'Dream Reality' before lead singer Steve Webster announced 'Mr. Clean' with the emphatically-denied quip 'are there any mods out there?'
Lead guitarist David Stevenson took over the lead vocal for his own composition 'I'll Be Back' which puts the audience into a calmer frame of mind soon shattered by the Knack's 'My Sharona'.
The band were called back for a two-track encore and as the curtains closed to thunderous applause the Perfect Beat disco started up and ended with the theme of the night ' 'Crazy For You'.
Keep your eyes open the,. For Catch 22 as they begin to play dates at various local venues, including an as yet unconfirmed support slot with The Dream Factory.
MATTHEW DOLAN
Tamworth Herald – 17/01/86
Musicbox - Parading talents on an album of variety
THE PARADE are to appear on a special low price compilation album featuring a host of top Midlands bands.
The album features a number of artistes who already have contracts under their belts and The Parade are hopeful that it will give them a great start to 1986.
"A publisher has already bought the song and things are beginning to look good," said singer Bryan Lacey. "This whole thing has been very exciting for us and the album as a whole is very varied."
The song the band will be parading on the tape is 'All Of The Time' – the premier track on their second demo. They were asked to appear on the record after the track was heard in Birmingham and with the LP costing only around £1.50 it seems an awful lot of people are going to be able to hear the band's excellent music in the near future. We will carry a full review of the album when it is released probably later this month.
Depth
The Parade are now looking for a new guitarist/singer to give them the added depth to deal with their new more complex material. Ideally the replacement should be youngish and enjoy playing music that combines the 60s with later 70s new wave.
Dedication and enthusiasm are also required, contact either Bryan or Ian.
Tamworth Herald – 17/01/86
Musicbox – Bands tune up for five nights
TAMWORTH'S second annual Battle of the Bands contest looks set to be a great success with 16 groups – some completely new to the scene – taking part. The event has been stretched over five nights, with four heats and a final which will possibly be judged by a celebrity.
And as well as winning the accolade of Tamworth's best band, and a Young People's Arts Festival trophy, the successful band will also win £50 worth of recording time at the Expresso Bongo studios.
The whole event will get underway two weeks on Sunday at Tamworth Arts Centre.
Sunday February 2 – Caprice and Femme Fatale take on the unknown quantities of Coleshill's Burnin' Sky and new Anice Byfield group Precious Toys.
Sunday February 9 – The Australians, One On One, Dance Stance and another new one, Drowning Pool.
Sunday, February 16 – Depth Charge, Wolfsbane, The Me and The Parade.
Sunday, February 23 – Terroa, Spirit Lake, Judas Cradle and Breaking Point.
Friday February 28 – The Final.
Tamworth Herald – 17/01/86
Musicbox – A single 'thank-you' for all the devoted fans…
THE DREAM FACTORY are about to rush-release a special limited edition single as a 'thank-you' to all their fans. The band are delaying releasing their official second single 'Love 15' until they can get a major deal, but in the meantime they have decided to put out a new two-track record to keep up the impetus and enthusiasm surrounding the band.
The songs 'Cold Turkey' and 'Memory Lane' were both recorded at the Expresso Bongo studios in Lichfield Street, making it the first single to come from the increasingly well-respected studio.
They were originally recorded for possible use at a later stage, but as it is now nearly 12 months since 'Wine and Roses' appeared the Factory decided it was time to get back on vinyl.
"We see this as a way of thanking all the fans who have supported us so far," said bassist Mark Mortimer. The 'A' side 'Cold Turkey' is the most popular number live and I'm sure our supporters will welcome it."
…but will not have any of the fervent 'push' that surrounded 'Wine and roses. That will all be saved for the excellent 'Love 15' single which was recorded at The Abbatoir, UB40s studio.
"We will not aim to get a 'hit' with this record, it is merely to keep the ball rolling," said Mark.
Eventually the single which could be out in the next two or three weeks, could become something of a collectors' item. And the band hope it will whet the appetite of the record companies enough to get 'Love 15' out as early in the new year as possible.
Impact
'Love 15' is still the second single as far as we are concerned, but we are confident 'Cold Turkey' should make an impact," said Mark.
The song itself is an obscure cover version – not the haunting Lennon song of the same name – and features some powerful Tim Goode vocals and a chanting almost thundering title line. The 'B' side by way of a contrast Is a jazzy style instrumental.
We must all hope that this single helps put Tamworth's most popular band firmly on the road to success.
The band are keen to speak to anyone who plays keyboards and would be interested in working with the band.
Tamworth Herald – 17/01/86
Musicbox – Never mind Heseltine, what about Rikk?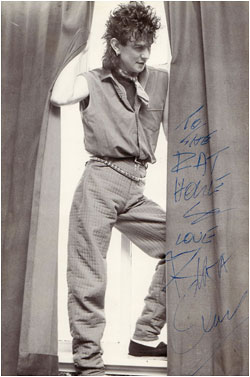 Caption: Rikk Quay…alone again naturally!!
WELCOME to the first Gossipbox of 1986 – a year in which we hope to be just as vicious and malicious as last year…
We start with two bits of news that makes the Michael Heseltine resignation pale into complete insignificance. Rikk Quay has left the Sway and Dave Smith has left the Royal Family.
These two bombshells have rocked the local scene that saw in The Family and The Sway two of its finest and most promising acts.
According to handsome teenager, Rikk, he has left The Sway because of a difference of 'reality'. Now I hope he will take up that solo career again because when it comes down to it he is one of the very best frontmen around.
That other great frontman Dave Smith apparently left the Family shortly after the new year following an argument. At first it was though the whole band would collapse but now it seems a replacement singer may take his place. We shall wait and see…
Tamworth Herald – 17/01/86
Musicbox – Moving down…
THE Arts Centre is planning a new move which will turn the downstairs room into a venue where bands can perform.
Up until recently all bands played upstairs in the theatre but because of the reaction to recent downstairs gigs, by Wolfsbane in particular, Arts Centre administrator, Nick Ewbank has decided to make the downstairs area the main rock arena.
Tamworth Herald – 24/01/86
Musicbox – Rikk Rocks a Happy Cradle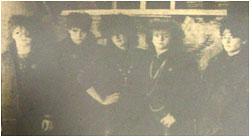 The enigmatic Rikk Quay is back in business – as singer and frontman of new-look outfit, The Cradle.
Rikk, who only left The Sway a fortnight ago, was snatched up by The Cradle immediately. And the rather surprising marriage has pleased both partners.
"I am really happy," said Rikk. "I went to see them practice and I thought they were tremendous. Now I think we can be even better."
The Cradle is the new name of Sacred Oath, or more recently, The Judas Cradle. The band had been striving for moths to get rid of their highly inappropriate heavy metal label, and now with Rikk joining, they are hoping to bury the HM ghost forever.
"This finally proved we are not a heavy metal band," said the always enthusiastic guitarist Paul Keeton. "Now perhaps people will see us in a different light."
Rikk first noticed Sacred Oath as they were then, when they played a very enjoyable set at last year's festival. Like many people, he was impressed with their growing maturity over the past 12 months and so when they approached him to join, it didn't take them long to agree.
"At the practice, they were even better that at the festival, and I am convinced that we can go further now," said Rikk.
Rikk will be joining The Cradle as lead singer, frontman and keyboard player. It is the first time he will have actually led a band as the main singer, but his on-stage charisma and style ensures that the band will become eminently watchable.
Different
"If he acts anything like he did at the practice, things should be very different indeed for us," said Paul. "We are all really happy."
The original…The Cradle had all been going in a Cult Direction, and with the extravagant, fashion-blitzed Rikk joining their image should become much sharper all round. And with his experience and contacts, he will be able to push The Cradle much quicker.
Already he is planning trips to the studio for the band, and it was his idea to drop the 'Judas' from the title and thus leave the heavy metal ancestry well behind.
The former Judas Cradle singer Star Trek apparently wanted to continue to play more heavy music. The band admit he will be sadly missed…to scoop one of Tamworth's hottest properties.
The new band should make their first appearance as the Battle of the Bands on Sunday, February 23, where they will take on the might of Terroa, Breaking Point and Spirit Lake.
Tamworth Herald – 24/01/86
Musicbox – Train to the 'Pool?
FREIGHT TRAIN seem to be getting the sort of national spotlight they richly deserve.
Their new single 'Man's Laughter' has been reviewed favourably in both 'Sounds' and 'Smash hits' and the band are now hoping for a bandwagon effect.
One thing the group are now considering is making a permanent move to Liverpool, where they have already been well-received.
Tamworth Herald – 24/01/86
Musicbox
PRECIOUS TOYS who are fast becoming an all star band have just recruited former Love On Board member…joining his former colleagues in a group that promises a great deal.
Also on the line-up is former Sitting Pretty singer Anice Byfield , another ex-Pretty man the highly-respected Julian Amos, and former Breaking Point drummer Clarke Stewart.
The band will make their debut show on February 2 in the first heat of the Battle of the Bands.
Tamworth Herald – 31/01/86
Musicbox – Here comes an outbreak of grins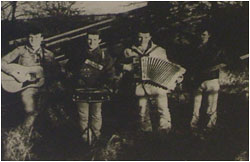 Caption: The Celtic Soil Brothers…Tamworth's newest superstars (minus their straightjackets)
The Celtic Soil Brothers – All Aboard (demo)
TAMWORTH CAN this week welcome a brand new and eccentrically loveable act to its musical ranks. For out of the murky depths of somebody's vivid imagination have sprung The Celtic Soil Brothers, a band who sound like a cross between Lonnie Donnegan, Dolly Parton and a basket case.
They are nothing like I have heard before and I am convinced they are going to become very popular indeed in Tamworth and beyond.
So what is so good about this demo? Well for a start it makes me smile. Smiling is something normally seen at Royal Family gigs and I feel there is a similar brand of good humour in the Soil Brothers that will win them fans from all musical cults.
I mean any band that come out with a line like "Yes indeed I sure love my nuts" has got to be serious contenders, and no matter how many times I play the track "I love my fruit" I suffer from an outbreak of grins.
Elsewhere on this terrific five-tracker, there are songs you can 'bop-bop-she-wop' to, tunes that make your feet twitch, and some silly diversions that make you wonder how you ever lived without this ludicrous combo.
Serving up the tasty menu are Steve McNamee (Drayton Bassett's greatest insurance man I'm told). John Hills, Malsolm Hallett and Adrian Goodman, who should know all about lunacy, having once worked with Mike Fleming of Caprice fame.
Between them they play accordions, fiddles and sport natty haircuts. This demo was recorded at a church I am led to believe, but before the more Prima-donna musicians start to sneer, I can honestly say it sounds cleaner and better mixed than many of the expensive recorded tapes I listen to.
No fillers
The tracks on the tape are 'The Temperance Train" (the reason for the delightful Thomas the Tank Engine sleeve), "I was Born 10,000 Years Ago", "The 65 Special", "Sunset Of My Tears" and "I Love My Fruit". Again unusually for local demos EVERY one is good – there are no fillers – just plenty of smiles.
Even the off hiccup just makes the tape more endearing. When the very jolly Steve McNamee attempts to croon his way through "Sunset of my tears" his voice goes horrifically wrong but rather like Joe Strummer going out of key in 'Garageland' it just makes the song even better.
I honestly can say I haven't enjoyed a first demo so much in ages, it is original, entertaining and huge fun.
31/01/86
The Me
Spirit Lake
'Save Hurley Village Hall' concert
Tamworth Herald – 31/01/86
Musicbox – 'Save hall' bid
TWO NEW bands from North Warwickshire play a special 'Save Hurley Village Hall' concert tonight (Friday).
The bands – The Me and Spirit Lake – will both take part in the Battle of the Bands later this month, but in the meantime, they are urging all local rock fans to support what they see as a very important cause.
"This is a venue where local bands can play and we must make sure it stays open." Said a spokesman for The Me. "We hope people will come and support the gig because we are in danger of losing all our venues."
The concert – which runs from 7.30-11pm at the Hurley venue, also features a disco and it promises to be an interesting night out for anyone who enjoys live rock music and wants to help a good cause at the same time. Tickets are £1 on the door.
Tamworth Herald – 31/01/86
Musicbox – Gossipbox
Cheers Joshua but your name just didn't fit
HOW SAD it is to see a thoroughly good name disappear. When the band who are now called Orange Blossom Special were looking for a name they briefly stumbled upon Joshua and the Nkomos, a monicker which I think is second to none.
Unfortunately, it has now been discarded, so if there are any bands out there looking for a jolly new name, there you have it.
Perhaps one band that could take it up is the one now being formed by Neil Mortimer – the brother of factory bassist Mark, Young Neil, obviously seeing his brother's impending fame as something worth attaining is trying to get a band together at QEMS and with sister Michelle having already done factory backing vocals, it seems The Mortimers could soon become the new Nolans….
On the subject of the Nolans, Rikk Quay assures me that things are going very well with The Cradle and he is even saying the band may topple the immortal Breaking Point at the Battle of the Bands. Breaking Point, incidentally, are due to record a demo tape shortly with the promise of a single by March. Place your orders now…
And finally, it was heartening to see the sheer joy with which last week's Rogue's Gallery was received – not, I might add by those it featured. Much discussion surrounded the mixture of mugs and we will aim to do another gallery very shortly.