Tamworth Bands History : 1986 :
March
01/03/86
One On One
Bubbles
Hinckley
01/03/86
Dumpy's Rusty Nuts
Dickens
General Wolfe
Coventry
01/03/86
Dream Factory
Bond Gate Social Club
Nuneaton
Tamworth Herald – 07/03/86
Musicbox – End of a dream…but Factory ideals live on
THE DREAM FACTORY Tamworth's most popular and successful band of the 80s, have split up.
The shock news followed a concert last Friday when guitarist Lloyd Barnett and drummer Steve Quilton broke ranks from factory founder-members Mark Mortimer and Tim Goode. The two-way split has shocked the whole local scene but the clear message is the Dream factory will continue with a new line-up.
Bassist Mark and vocalist Tim have pledged to keep the name, music and ideals of The Dream Factory intact, with the addition of a new – as yet unconfirmed – guitarist and a drummer.
The emotional end to the Factory in the present line-up comes at a time when the band's future seems rosier than ever. They are under the close scrutiny of at least one major label and they have two single set for imminent release.
In addition, hardly a week goes by without The Factory receiving praise from newspapers and rock magazines all around the country and the amount of prestigious gigs lined up is the envy of every other band in the district.
But Mark and Tim – sad as they are – are more determined than ever that The Factory ideals will continue.
"We want to wish Lloyd and Quilly (Steve) all the very best in the future and tell all the people that follow us that The Dream factory are most definitely not finished. Far from it, everything is still moving in the right direction," said Mark.
Pledged
Manager Neil Robinson and Inferno Records have pledged to support Tim and Mark and the duo are now looking for the replacements who can step in to what is potentially very lucrative positions within the band.
Anyone who would like to be in the band – and enthusiasm, dedication and talent are essential – should ring Mark.
One of the first casualties of this untimely – and to my eyes, very unfortunate split – is that several imminent gigs have had to be cancelled including one planned for tonight at Nuneaton.
Nuneaton has become The Factory's second home and a massive crowd was expected – a crowd that will now be very disappointed.
"We're sorry and have to apologise to all those people wanting to see us at the current batch of gigs, but we promise to make it up to everyone with a revised set of gigs as soon as physically possible," said Mark.
Exciting
So, in many senses this is the end of a very exciting era which has seen The Factory rise from being a good local band to being a good national one.
The dream is not over yet and with Tim and Mark's resolve and ambition we can only hope that The Factory flag continues to fly in the right direction.
Lloyd and Steve are both talented individuals who will no doubt find other bands they will feel at home with, so the understandable sadness felt by all the band's loyal followers must be tempered.
The split is a set back but let us just hope that what emerges from the division is as entertaining and productive as what came before.
Tamworth Herald – 07/03/86
Musicbox – Starry tribute to superlative finale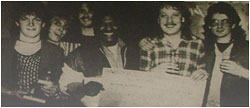 Caption: Edwin Starr with One On One – the 1986 Battle of the Bands winners. Edwin and Andy Malkin are pictured with the £50 free recording time cheque presented by Expresso Bongo.
DELIGHTED ONE ON ONE emerged as the new champions of the Tamworth rock scene on Friday night when they won the 1986 Battle of the Bands contest.
Hundreds of spectators enjoyed a night packed from start to finish with frenzied, powerful music which was a tribute to the whole local scene.
Among them were international soul singer Edwin Starr and his multi-talented musician brother Angelo. The duo's appearance was a boost to all the bands involved and the enthusiasm they showed surprised everyone.
"I came here expecting to be disappointed but I have been shocked at the real talent on show," Edwin Starr told the mass ranks of spectators. "I don't care where I am or what I am supposed to be doing at the time, when you have your festival, I will be there because these local bands deserve every success."
Edwin and Angelo's enthusiastic support for the result of a four-band show that was every…Breaking Point, Burnin' Sky, One On One and Wolfsbane, all played better than they did in the heat stages and the high marks all round reflected this.
Breaking Point opened the proceedings with – in my opinion one of the greatest sets they have ever produced. I have lost track of the amount of times I have seen this, my favourite band, but watching them on Friday was like watching them for the first time all over again. They were direct, powerful and dynamic with Kevin, Jason and Daydo sounding as confident and clear-sighted as ever.
"Brotherhood of Israel" was the set-stealer but there was a loud cheer for that old nostalgic classic "My Love Lies Bleeding". A set to remember.
Burnin' Sky followed and their show was far better than the one that won them the first heat of the competition. They played with a relaxed air that belied their relative inexperience. Their original r 'n' b rock was one with a potential cult appeal that is perhaps only just being hinted at.
And so to the victors – One On One. The moment they hit the stage you knew they meant business. Dave Ingham was supposed to have had a cold, yet he showed all the usual confident and vocal ability that has made him the undisputed king of singers in Tamworth.
All the other members of the band weighed in with their normal faultless musical performances with guitarist Tim Latham being described afterwards by Edwin Starr as "like a young Eric Clapton". Praise indeed for Eric Clapton.
Best number of an electric set was "Different Drums" which fused together all the bands assets into one mesmerising number.
The night was concluded by Wolfsbane whose power-blasting set put their show in the heats in the shade. They were fast, furious and great fun in the true Wolfsbane tradition with several numbers, notably "I'm Not A Baby" and the 800 mph "Manhunt" splitting heads in two.
Wolfsbane were clearly pleased with their show, the audience loved it and the night ended on the highest possible note.
Pleasure
In the middle of the concert the audience also had the dubious pleasure of a 15-minute tirade by tasteless poet Jed Moore who risked life and limb and prosecution with a set brimming with nastiness. (As for the attack on me, well there's nothing wrong with Sigue Sigue Sputnik anyway Jed, and they have got more chance of being number one than Everton!)
The whole event closed with the speeches, presentations and congratulations. The atmosphere at this stage was a festival-style friendliness and genuine mutual appreciation, that was truly heartening to witness.
Dave Ingham summed it all up for me by saying "The Tamworth music scene is brilliant and so are every band who've been involved".
Amen to that one David.
Tamworth Herald – 07/03/86
Musicbox – SNIPS
FORGET ALL about musical unemployment – there are a lot of bands out their looking for new members so here is our won situations vacant column…
A new band formed out of the members of Gaf The Horse In Tears are on the look out for a new vocalist.
U2 and Simple Minds are the bands they are trying to follow and if you are interested in finding out more details contact Tony or Ted.
Tamworth Herald – 07/03/86
Musicbox – SNIPS
Another popular Tamworth musician Steve Birch has sent an appeal for a drummer to join his modern rock band who play a variety of guitar-orientated songs. Experience is preferred, enthusiasm is essential.
Tamworth Herald – 07/03/86
Musicbox – SNIPS
Dance Stance are looking for a new trumpet player to join their widely-praised outfit. The suitable applicant will join a band with a host of important gigs on the horizon and more details are available from Nick Reed or Paul Hanlon.
Tamworth Herald – 07/03/86
Musicbox – SNIPS
Trout Joins The Cavalry are urgently seeking a jazz/blues singer to replace the departing Roger who has sadly had to leave to love in London. Anyone interested must have good pitch, timing and an ability to communicate easily with an audience.
Depth Charge, who I'm told gave a very good account of themselves at their recent 'Bubbles' concert in Hinckley are on the lookout for a keyboard player.
12/03/86
Dickens
Aston University
14/03/86
FM
Dickens
General Wolfe
Coventry
Tamworth Herald – 14/03/86
Musicbox – Bouncing back – the hopeful King Rat!
Rock club back in the spotlight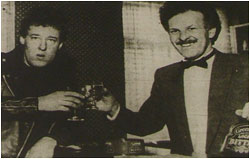 Caption: Cheers! Clive Bartram (right) salutes Ian Gibbons on his plan for the Rathole.
Tamworth is all set to get its first proper rock club – 12 months after the original plan for the 'Rathole' collapsed. Ian Gibbons has resurrected the 'Rathole' at a new venue and has promised to put on a whole array of local bands as well as other events including alternative discos.
The club will be based above 'Manhattan's' in Church Street and will run every Sunday night.
All the facilities – including a bar – have been provided free of charge by the very supportive Clive Bartram – the managing director of 'Manahattan'. He has promised there will be no dress restriction and has left all the day-to-day running in Ian's hands.
"Clive's support has been tremendous," said Ian Gibbons. "He is just going to let us get on with it and will provide the back-up we need."
The club will probably be open in around a month and Ian has pledged it will be run on almost a Co-operative Society basis. Thus, all profits from the door will be ploughed into various charities and local rock concerns.
"One of the first things we ought to do as well as helping some charities to buy a PA for the club so bands don't have to worry about anything like that," he said.
Spacious
Ian will be circulating details of the club to groups and agencies throughout the Midlands to try and put The Rathole under a very large spotlight.
The club will have its own entrance separate to that of Manhattan's and concert-goers will discover a room that is ideally suited for both bands and spectators. It is large, spacious and has room for both standing and seating capable of accommodating a reasonable-sized crowd.
Ian understandably is delighted with his 'find' and feels it proves a point to the cynics who said The Rathole was a non-starter.
Possibly
The Rathole's success or failure will ultimately depend, of course, on the patronage of both groups and rock fans. Ian is confident that there will be no shortage of groups wanting to play at the club, and with the regular support of local rock fans he is hopeful that The Rathole will quickly be catapulted to being Tamworth's top venue.
"We want to appeal to as many people as we possibly can. We will put on alternative discos for people who don't like going to rock concerts very much, and we will put on a wide variety of bands as possible," said Ian.
All in all the possibilities for The Rathole seem limitless. Tamworth has long awaited a rock place to call its own and The Rathole may well provide that. It would be wise not to count the proverbial chickens too early but at the moment the whole venture looks very exciting indeed.
Tamworth Herald – 14/03/86
Musicbox – New faces put Factory on its feet
THE DREAM FACTORY have recruited the two new members that will put them back on form. Joining bassist Mark Mortimer and vocalist Tim Goode are former Terroa drummer And 'Batman' Holt and Catch 22 guitarist Dave Stevenson.
The Factory are delighted with their new acquisitions and they are hoping they will be able to get back to live work and recording as soon as possible.
The first new member to join was Dave Stevenson who Mark feels is a tremendous guitarist.
"When Tim and I went to see him we couldn't believe it. We had heard a lot of good reports about him, but he was even better than we thought. His parents are also very supportive and I am confident we have made the right choice," said Mark.
Catch 22 will be carrying on without Dave although it is not known whether they will replace him or promote Ray Clenshaw to lead guitar.
Dedicated
'Batman' joined the Factory on Sunday after an audition which involved five other drummers. Tim and Mark were keen to find someone who fitted in with their personalities as well as having drumming ability and Batman won on both counts.
"He is a really likeable person and he seems quite dedicated to the idea," said Mark. "We think with time he could become a very good drummer indeed."
Tarroah are said to be rather upset at Batman's decision to leave, said singer Eddie Madden. Although quit before joining The Factory, he told Terroa he wanted to be in a reggae band. Terroa are now looking for a new drummer (see Sits Vac on this page).

So, the Factory are now virtually back together again and back on course. Greg Stevenson is staying as keyboard player, Paul Stansfield remains as trombonist and Neil Gledhill has joined on sax.
There is still a vacancy for a trumpeter and anyone who wants to fill this gap in the Factory jigsaw should ring Mark.
Tamworth Herald – 14/03/86
Musicbox – On the lookout for missing links
Sits Vac
BANDS keep on writing in looking for new members and as always we are glad to oblige.
The Syndicate are a band mainly from the Lichfield are (no transport is essential) and they are looking for a good keyboard player to complete their power-pop influenced outfit. Among the members are former players with Nova and Strange Day and there is a lot of potentially exciting material in the pipeline.
If you want more details (you will need to be image conscious, talented and be able to travel to practice in Lichfield and Rugeley) contact Dave or Chris.
A singer/songwriter who follows a whole range of intriguing Sixties bands is on the lookout for musicians to form a 'potentially wonderful band'.
A drummer, organist and guitarists are what Nazz Martinez is seeking and he wants people who know their instruments well, can be dedicated and enjoy bands like The Open mind, The Who, Otis Redding, Syd Barratt, The Woodentops and the lovable Doors.
Recording and live work are imminent if the 'bread is cool' so contact Nazz for details.
If you are a guitarist or drummer and you would like to play rock thrash music, then Dave wants to hear from you. He can give you more details about his plans.
Ian Gretorex, to my ears one of the best voices in the area…on the lookout for a young and enthusiastic lead guitarist to complete the line-up.
Tamworth Herald – 14/03/86
Musicbox – Well, it's different
TAMWORTH SEEMS to be stronger than ever for good live music these days. With the refreshing news about The Rathole coming through and the Rock Festival already being planned. It is also nice to hear of another success story of music that is a little different.
The New Queens Head along the A5 at Wilnecote, continues to draw big names from the folk circuit – recently they have had Dave Goode and Longacre – and all local folk singers and fans are welcome to attend every Friday night. The Well Folk Club offers fans of live music a good clean night out so if you fancy something different that is the place to be.
Tamworth Herald – 14/03/86
Musicbox – STOP PRESS
BREAKING POINT will tomorrow (Saturday) go into the studio to record the marvellous 'Ode to Nikholas Romanov'. The money for the whole venture has been paid for by local pool players and fans of the threesome.
Now at last the world will see what I have been saying all along – these boys are the business!!
18/03/86
Dream Factory
Catch 22
Cannock
Tamworth Herald – 21/03/86
Musicbox – Top flight chance for the town's best bands
LOCAL bands are being offered the chance to win a whole array of excellent prizes in a new and exciting Midlands-based rock competition.
The contest called "Musical Break" has been set up as part of football manager Ron Saunders' "Save our Society" campaign.
Originally the contest was just aimed at bands of unemployed youngsters, but as not many UB40 acts turned up they have now thrown the contest open to any band that is not currently earning a wage from a record company.
All you have to do is live in the Central TV region (which you all do) and send in a demo, short biog and photo (which you all should be able to do).
The prizes are simply excellent – recording time in Europe, live TV work and exposure to record companies. This is one of the best organised contests of its kind I have seen, and as the field is just the Midlands, I see no reason why Tamworth, Atherstone and Coleshill bands shouldn't send in demos by the sackful.
You have until April and then 60 bands will be chosen for the heats before a special final takes place in July.
With so many places on offer. It seems an ideal contest so don't hang around, send in all the details, demos and photos to "Musical Break". Miss this one at your peril!
Tamworth Herald – 21/03/86
Musicbox – They're dedicated to the Dance…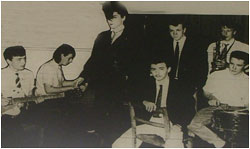 THE DANCE STANCE have lined up a whole host of prestigious concerts and events which they hope will make them the most successful local band in 1986.
The group are currently negotiating for a series of university gigs and with a debut single also on the horizon, the feeling in the Dance Stance camp is that they are now all set to go for glory.
"We have matured a lot over the last few months and we really believe in ourselves now," said singer Paul Hanlon. "The sound we are producing now is better than ever and we want as many people as possible to hear it."
The Dance Stance have certainly come a very long way since their embryonic days as The Crowd. Then they were very much seen as a mod band and although they soon tried to distance themselves from this, it was only with a new line-up and a new name that they finally managed to shake off the unwelcomed mod tag.
The only elements remaining from the original band are founder members Neil Sheasby and Paul Hanlon and the tremendously talented young drummer Phil Ford whose hands move quicker than Paul Daniels.
This trio had been joined by Dave Delaney (guitar), Dick Delaney (keyboards), Pablo De Angelas (saxophone), Nick reed (guitar) and most recently Mark Allison on trumpet. It certainly makes them the largest group in the area but doesn't this cause problems?
"There are obviously some places we can't play," admitted Neil. "We couldn't play the "Battle of the Bands" because Pablo couldn't make it, but it would have been hard for us to fit on the stage anyway."
The group's progress is being carefully monitored by enthusiastic manager Ray Sheasby. He has made the wise decision that the band should be allowed to concentrate on just the music and let him get on with all the concert-finding and legwork. And it is certainly something the band appreciate.
"It is nice just to go to a gig, plug in and play," admitted Nick, "When I was with love On Board we used to have to do it all ourselves which isn't the best of ideas."
Among Ray's plans are a special promotional concert in Mile Oak in September open only to Press and A and R men who have shown interest in the group. Such ideas are obviously based on a belief in the band that is almost infectious.
You only have to speak to them for a short time to realise that they really believe they are on the road to success.
"Nick Reed was offered the chance to join The Dream Factory and he turned it down which shows to me how much Dance Stance believe in themselves," said Ray Sheasby. They are determined to go all the way."
The next time you can catch the band – and make your own mind up on their potential – is on April 12 when they visit Polesworth WMC. They have worked very hard indeed and now they feel it is time the public saw the fruits of their considerable labours. I for one am very keen to see what they are going to serve up because any band that are named after a Dexy's song simply can't fail in my book…
Tamworth Herald – 21/03/86
Musicbox – Succeeding with talent and mouth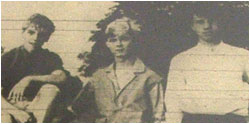 I HAVE recently been filing all my old MUSICBOX columns from the past three years or so and as one of those academic exercises, I decided to see just who has been the most featured band in the column over that time.
People often accuse me of bias in various directions but I think the 'top ten' of mentions shows that I have managed to cover the whole spectrum of local music from the 'lightest' to the 'heaviest'.
This was not a scientific exercise, I merely flicked through the columns and noted the names of bands whenever I saw them. So a 'mention' could be just one line or a full feature. Anyway here's the top ten from 1983.
1. The Dream Factory (60 mentions), 2. Sitting Pretty (57), 3. Breaking Point (53), 4. Wolfsbane (52), 5. BHX (51), 6. Love On Board (49), 7. One On One (37), 8. The Magnets (32), 9. Sacred Oath (25) and The Cradle (25), 10. The Royal Family (20).
Outside of this batch as a matter of interest were Terroa, Dance Stance, A5 and Caprice. At the other end of the scale there were local bands whose name were featured only once such as Alibi, The Fashionable Gents, Bambu Curtain and The Time Bandits.
Tamworth Herald – 21/03/86
Musicbox – SNIPS
THE BANNED WAGON is back! The town's most eccentrically undisciplined roadshow hits the Tavern on Sunday night for what is likely to be a once-a-week trip. As well as the normal good-looking stars like Norman Yates, Mike Fleming and The Duke, the Banned Wagon throw open a general invitation to any aspiring singer, songwriter, poet or poseur to go along and do their five minutes of fun. It is all free and is set to start around 8pm.
Tamworth Herald – 21/03/86
Musicbox – SNIPS
Catch 22 have a new member to replace Dave Stevenson. The new man is keyboard player Nick Smith, a fan of the band for sometime who actually gave them their monicker. Ray Clenshaw will now take on the lead guitar and the message from Catch 22 is that normal service will be resumed as soon as possible.
23/03/86
Banned Wagon
Tavern in the Town
28/03/86
One On One
Tamworth Arts Centre
Tamworth Herald – 28/03/86
Musicbox – Talented, Commercial and it's The First…
The First – Demo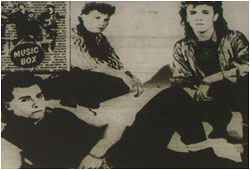 Caption: The First…not just a trio of pretty faces
FOR A BAND of such (relatively) young me, The First have a daunting and impressive pedigree. Vocalist Paul Edwards has appeared at the Reading Festival, guitarist Mark Gemini has been recording in Canada and drummer Richard Deane has appeared live on Radio One with our very own Freight Train.
They are all clearly individuals with talent and commitment – and when welded together into a group, that sense of professionalism and purpose is all too apparent.
Live, they only hint at their true potential – this tape goes much further revealing just what The First are really about.
The thing that strikes me most about the tape is its startling innovation and overriding sense of maturity and clearness of vision. The influences are all too obvious (U", INXS, Simple Minds) but as this is very much the style of the Eighties, it can only help rather than hinder The Firsts concerted aim to breakthrough.
Sweeping
The opening track is probably the most memorable initially. 'Shine' has Aussie-favourite INXS written all over it, was a sweeping dominant vocal and a chorus that just keeps growing.
It varies from post-Punk atmosphere to powerful rock than their live show suggests.
"Bittersweet" has a Mark Betts bassline that reminds me of The Cure "A Forest" and once again has the sort of Paul Edwards vocal that cannot fail to impress.
He is clearly a singer of exceptional talent and his breathy Bono-esque performance on "Walk The Line" is riveting.
"Walk The Line" is very much a dance number with a searing chorus line and some tremendous guitar playing from Mark Gemini whose sparse impressionism is quite dynamic.
Finishing the tape is the long, mesmerising "This Time Forever" a song that is haunting, undisciplined and very atmospheric. This is still U2 land to my ears, but it is the land occupied by the uncommercial "Unforgettable Fire" songs, rather than the more basic pop of "Boy".
In fact the whole thing about this tape is that it remains commercial and innovative without being self-indulgent. It is a very good tape indeed and the type record company losses are likely to lap. Remember where you read it First…
Tamworth Herald – 28/03/86
Musicbox – The Dream that finished a sad Terroa
POWERFUL new wave outfit Terroa have split up. The shock news comes just three weeks after drummer, Batman, let to join The Dream Factory.
At the time Terroa said they would carry on with a new sticksman but late last week they decided this would be impossible.
"It just wasn't going to be the same," said sad leader singer Eddie Madden. "We always secretly knew when one of the original four members left, that would probably be it."
Terroa have been together for just a few short months but in that time they have exploded to prominence on the local scene.
Their debut gig at the run up to the Bank holiday Festival was a sell-out success and the band mobilised massive support in the 1985 MUSICBOX poll.
But, recently the band had suffered a number of problems and last week they decided to finally throw in the towel.
"Things have gone terribly wrong of late and it was becoming very disillusioning," said Eddie. "We haven't been able to play any gigs in three months and all the old fire and spirit was slowly going away."
Prestigious
The first of the band's problems was an injury to guitarist John Reeman's hand. This caused the band to pull out of the 'Battle of the Bands' and also to withdraw from a prestigious 'bubbles' show alongside Wolfsbane.
"When you have to miss gigs like that, it makes you wonder if it's all worth it, and when Batman left it meant out future plans were all messed up," said Eddie.
The band's initial anger at Batman's decision to quite has considerably cooled down. Eddie says they are still good friends with batman although he admits that the young drummer's decision to leave was probably the last nail in Terroa's coffin.
"We always said it would be alright, that we would soon find another drummer, but things didn't work out that way. Without Batman it was never going to be the same and we realised this last week."
In their brief six-month life, Terroa released one exceedingly good demo and played a number of fine shows – most notably alongside punk poetess Joolz who has become a friend of the band.
They have made very useful contacts in their time and Eddie has said that whatever band he reappears with, he wants to re-establish these links.
"I don't quite know what to do in the future nut I am sure we will try and keep in bands. I have made too many good contacts and had too many good times already to want to give it all up".
Terroa's 'passing' is a rather sad event for the local scene, ever since their first triumphant show they have made many friends among the public and on the local music scene. They were due to open 'The Rathole' and were also included in plans for the 1986 Festival.
With The Dream Factory already having had a radical split down the middle, 1986 has started off somewhat ominously. Let's just hope we have some better news in the future…
Tamworth Herald – 28/03/86
Musicbox – Yes, the festival's ON
THE TAMWORTH Rock Festival has been given the official 'thumbs up' by local councillors.
The Tamworth Borough Council's Recreational and Community Committee last week said the Festival could go ahead over the August Bank holiday with the usual restrictions.
It looks as though this years show will see rather fewer bands, involved in the event – with just eight outfits playing on each of the two main days. This will allow each of the groups more flexibility about timing and will also give the organisers the chance to delay what was considered a too-early starting point of 12 noon.
Meeting
A meeting is to be held this Sunday for all the committee members helping to organize the event. It starts at 8pm at Tavern in the Town.
Tamworth Herald – 28/03/86
Musicbox – SNIPS
ONE ON ONE return to live action on Friday still buzzing from their excellent victory in the 1986 Battle of the Bands. The group will be playing at the scene of their successful crime – Tamworth Arts Centre – For a show that will start at around 8pm.
Tamworth Herald – 28/03/86
Musicbox – SNIPS
The Arts Centre is staging something a little different next week. It is a five piece street dance outfit called Total Control who will be putting on a special exhibition of this form of dance-act on Sunday, April 5.
Tamworth Herald – 28/03/86
Musicbox – SNIPS
The Rathole is hoping to open on Sunday, April 6. Originally it was hoped that Terroa would join The Cradle for the opening night but now it looks as though a new band will join Paul and the boys. The week after this looks like being a HM special and according to Rathole boss, Ian Gibbons things are looking very bright indeed.
Tamworth Herald – 28/03/86
Musicbox – SNIPS
Candle Dance a new alternative outfit, influenced by bands such as Bauhaus and The Cramps, have sent out an appeal for a drummer. The group who should be gigging soon and are lined-up for an appearance at the Bank Holiday Festival, can be contacted via Simon.
Tamworth Herald – 28/03/86
Musicbox – SNIPS
Dave Parrish the talented HM guitarist has left Scarab and is keen to join a new band.
Tamworth Herald – 28/03/86
Musicbox – GOSSIPBOX
FREIGHT TRAIN favourite Donald Skinner is currently enjoying a week long tour in Italy as lead guitarist for a certain Julian Cope. Meanwhile I have heard devilish rumours that Julian's brother joss is currently working with a new outfit called The Claydermen who are hoping to play a one-off gig in the Town.
Joss recons they are going to be the greatest thing ever to hit Tamworth and will sound like U2/Simple Minds.
Tamworth Herald – 28/03/86
Musicbox – SNIPS
Ice is definitely something you need to stop blowing your cool at an evil new machine in Hamlets wine bat. The machine is a sort of pay-as-you-go Trivial Pursuits Machine and the pop questions are horrifically difficult.
I have already ploughed pounds into the infernal machine and found my pop knowledge ego slowly decimated. I even (to my eternal shame) got a question about The Stranglers wrong! So if you think you are Mr. Pop Quiz 1986, have a turn.