Tamworth Bands History : 1986 :
August
Tamworth Herald – 01/08/86
Musicbox – Great Escape that wasn't….
I AM not going to bore you to death with my holiday details, but I have to say just one thing.
I thought the whole point of going away was to escape everything, so imagine my amazement when after travelling 1,400 miles, I realised I was in a hotel 60 yards away from Dream Factory lead singer Tim Goode!
We were on the same plane, had the same travel company, and even cried into our beer together when the mighty Bruno was beaten. But where on earth do you have to go to escape things? I guess next year I could always forget earth altogether, and head for the moon. Knowing my luck I will probably bump into someone like Glen Lewis or Mick Goodby up there searching for the Clangers…
Tamworth Herald – 01/08/86
Musicbox – Gossipbox
Things certainly seem to have been happening in my absence with both XPD and One On One recording new demos. The XPD one really is something special and sounds to me like Sigue Mary Chain – in a disgustingly tuneful barrage of Noise. Great stuff.
Also planning to hit the studio soon are new Rock Festival recruits Attica who have lined up a pre-festival Rathole date and have also recently had a strange photo session on an unopened part of the M42. According to singer Eddie Madden, the whole thing was very eerie but if you are planning something similar, Musicbox has just one piece of advice – make sure the road you're being photographed on IS unopened!
Talking of photographs and things, someone told me recently that King recorded their video for 'Love and Pride' somewhere around the Kingsbury/Alvecote area. Anyone shed any light on that? It wouldn't be the first time we have been on video.
Anyone who has seen the Geno video (that's by Dexy's for the under 12's) will see that there is a split second shot of a bus going to Tamworth on it. Now that's real fame!
Still on fame, it seems That Drayton Bassett's premier citizen Julian Cope is lining up a short tour in the near future. If he's looking for any good low-key warm up dates, can I tactfully suggest The Rathole?
That really would be a justifiable reward for your passionate fans around here Mr. Cope.
Tamworth Herald – 01/08/86
Musicbox – SNIPS
An urgent meeting for everyone involved in the Tamworth Rock Festival will be held on Sunday night at the Tavern in the Town. A major problem has arisen which could constitute the biggest threat to the festival in its three year history. ALL bands are requested to send a member. It starts at 8pm.
Tamworth Herald – 01/08/86
Musicbox – SNIPS
Following the loss of Candle Dance and The Green Swings from the festival, Attica and The Pink Tomatoes have stepped in to take their place.
Tamworth Herald – 01/08/86
Musicbox – SNIPS
The Dream Factory are searching for a new keyboard player following the shock decision of Greg Stevenson to quit the band. Greg has had to leave because of other commitments and the band say they are sorry to see him depart. If you have the talent and enthusiasm and dedication to replace him contact Mark.
Tamworth Herald – 01/08/86
Musicbox – SNIPS
One on One have lined up a concert at the Coach and Horses on August 9. A coach will be leaving Tamworth for spectators and will cost just £2, all inclusive. See any member of the band or contact Dave.
Tamworth Herald – 01/08/86
Musicbox – Not so giggly
WOLFSBANE are NOT touring with Beki Bondage – despite what was said in Musicbox last week. What actually happened was that a member of Beki Bondage's back-up band told Wolfsbane they were so good they should try and get themselves on the remaining few dates on the tour. So the group dutifully rang all the remaining venues and found that none of them could take Wolfsbane as support. They were understandably very disappointed.
"I was prepared to give up the holiday I was about to start to do these gigs, but it wasn't to be," said guitarist Jase The Ace.
Still Wolfsbane were very pleased with their sell-out Rathole show and tomorrow night (Saturday) they are back in action again, at the Crown Inn, Nuneaton. A coach is running (cost £2 all inclusive), and it will pick up at Hamlets at 7.45pm and then at Fazeley traffic lights at 7.55pm.
It may not be the Marquee, but a gig is a gig so go along and enjoy yourselves.
Tamworth Herald – 01/08/86
Musicbox – Make way for the bearded wonders
YES, they're back! Just when you thought it was safe to go back into the Rathole, the Red Beards from Texas have re-emerged to play what is set to be their second sell-out concert on Sunday night.
The group also have an unusual support band who should look strangely familiar to anyone in the area, who has dealt with PA companies (I will say no more!). All in all it promises to be a show to remember.
01/08/86
Wolfsbane
Crown Inn, Nuneaton
03/08/86
Red Beards from Texas
The Rathole
Tamworth Herald – 08/08/86
Rock event is saved
JUBILANT Tamworth rock festival organisers who were faced with axing the major August Bank Holiday event because of huge insurance fees, have clinched an 11th-hour deal that means it can go ahead.
With 18 bands lined up for the two-day Castle Grounds event, expected to attract 2,000 youngsters, festival committee members heard that their previous public liability insurance premium of £60 had rocketed to £2,000.
"There was no way we could afford that. The festival is free and we would rather have scrapped it than charge admittance fees to cover costs," said chairman Sam Holliday.
Insurers, he believes, were wrongly comparing Tamworth's trouble-free rock festival with big national events which have recently cost them thousands in claims.
"There was a desperate scramble to find a firm who would take us on at a price we could afford."
And now committee member Philip Ball has clinched a good deal giving £250,000 cover for £50.
"I'm delighted and very relieved. The festival , now in it's third year, has proved to be Tamworth's premier event for young people and we were in danger of disappointing them all.
"Everyone has worked very hard to see that it will go ahead, including Tamworth Borough Council, which has been supportive all the way."
Last minute arrangements are being discussed on Sunday night at the Tavern in the Town pub, Tamworth when all organisers and musicians taking part are asked to attend at 8pm.
Tamworth Herald – 08/08/86
Musicbox – Stop being so good
Wolfsbane – Crown Inn, Nuneaton
I AM getting sick of writing nice things about Wolfsbane. Every time I go to see them a little bit of me secretly hopes they will really mess up, and I will be able to hit them with the sort of cynical nasty phrases that I normally only reserve for Marillion.
But it never happens. Every time I see them I end up smiling from start to finish and come out of venue thinking I have seen something really special. In fact here comes the real compliment, Wolfsbane remind me of the Stranglers – they have NEVER disappointed me live. And this Nuneaton show was one of the best yet.
It wasn't to be fair, without its problems but even those were all turned into advantages by the band. First Blaze Bayley (sporting new sideburns that reminded me of Reggie Perrin when he visited Pekham's Piggery) nearly electrocuted himself on Jase the Ace's guitar and then Blaze almost single-handedly destroyed the Grown Inn stage. But that's all part of a Wolfsbane show and the bands fanatical following just kept singing, chanting and generously having a rock and roll ball.
Musically the band were as tight as ever, but something that I did notice was how much faster they have become. They have always been speed merchants but now they seem to have acquired bionic fingers and played at a truly electric pace. Best numbers of a very crisp, enjoyable set were 'Love On Hold' and the splendid 'Get Up' which is tremendously catchy.
Star of the show on the night was certainly Blaze who was in terrific humour. He carried off his act with sheer style and reminded me of a mixture of Frank 'N' Furter and a lecherous old uncle. Have no illusions, this guy is a star.
So another show which left my critical mind redundant. Wolfsbane were quite wonderful and I cannot see how anyone can dislike them. I will go even further – if you don't like Wolfsbane you're dead already.
Tamworth Herald – 08/08/86
Musicbox – Brilliant Beards!
Red Beards from Texas – The Rathole
IT WAS HOT. It was sweaty. It was loud. It was fun. It was exciting. It was different. It was humorous. It was mesmerising. It was successful. IT WAS GREAT!!!
Tamworth Herald – 08/08/86
Musicbox – New venue set to open
A NEW VENUE for local bands could be opening its doors shortly.
Bob Broadhurst, a former member of r 'n' b favourites La Grange, has taken over the Three Tuns pub at Fazeley and says he is interested in putting on local bands.
Bob says that he has a back room that would be ideal for showcasing local talent and he aims to set up regular Friday night concerts.
"There doesn't seem to be enough venues in the Tamworth area for bands to play, and I am very keen to help if I can," he said.
Bob knows all about the lack of venues in the area as a long term member of the Nuneaton/Atherstone-based La Grange. Although now defunct, the group played a number of successful Tavern in the Town shows and Bob is now determined to carry on his involvement however he can.
"The room for concerts is only quite small but I think it should be alright for local bands and I would be interested to see the response."
It is not certain when the Three Tuns will open its rock and roll doors for the first time but Bob is particularly keen to have Fazeley based Wolfsbane as the opening act. In the meantime, to test the water. Bob would like to hear from any bands in the area who would be interested in playing the venue in the future. He is keen to maker the necessary contacts so give him a ring.
Tamworth Herald – 08/08/86
Musicbox – Strap on Jack
Yet another highly-rated Birmingham band tread the Rathole path on Sunday night – and promise to be one of the venue's most unusual acts to date.
Strap on Jack have built up quite a reputation in their native area and are regarded by some critics as the 'next big thing'
09/08/86
One On One
Coach & Horses
West Bromwich
10/08/86
Strap on jack
The Rathole
Tamworth Herald – 15/08/86
Musicbox – Countdown to a wild weekend
EXCITEMENT for this year's Tamworth Rock Festival is now reaching fever pitch.
With just one week and all the pre-festival problems cleared up, more than twenty bands are now putting the finishing touches to the sets they will be delivering over the four days of the festival fun.
Once again the festival has been divided into tow distinct halves – inside and outside. The inside will see two nights at the Arts Centre next Friday and Saturday, and then an alternative disco party at the Rathole on Bank Holiday Monday night. And once again the outside section will bring together 18 bands over Sunday and Monday all playing in the Tamworth Castle Grounds for free.
This is basically how the festival will look:
FRIDAY, AUGUST 22
Tamworth Arts Centre will play host to a triple bill of music headlined by metal favourites Wolfsbane. Joining them will be Shellshock and possibly Lichfield group Ivory. The final line-up should be announced next week.
SATURDAY, AUGUST 23
Breaking Point will headline the second festival party night at the Arts Centre with new alternative band Thirteenth Reunion in support. Another group will be added to the line-up this week.
SUNDAY, AUGUST 24
All attention switches to the Castle Grounds where once again the bands will play on front of the main tennis courts area. The festival starts at about 11.445 with a disco and the first band The Pink Tomatoes follow at 12.30. The rest of the line-up (who should follow at 35 minute intervals) is Attica, Shellshock, Soil Brothers, One On One, Kara, XPD, Catch 22 and finally The Magnets. It should all finish between 6.25 and 7pm.
MONDAY, AUGUST 25
Once again the disco starts the day off and leads into the first band Burnin' Sky who will be on stage at 12.30. They will then be followed by Beyond Elysium, Cuddly Spiders, Breaking Point, Dance Stance, Wolfsbane, Depth Charge, Orange and finally The Royal Family.
Then at about 8.30pm on Monday all attention switched to the Rathole for s special alternative disco party night with Paul Clements. The disco is designed as a post festival party for all the musicians to enjoy, but will be open to everyone to make for a late-night treat.
All in all it makes for the best festival line-up yet – and certainly the most varied. Metal, alternative, skiffle, pop, r 'n' b and many more styles are covered, so there really is something fro everyone. So forget what you may have heard elsewhere the festival is on and the spirit among the town's musicians is as good as ever. Cancel all your plans and get ready for four days of fun!
PS if anyone knows a cure for rain please give me a ring!
SAM HOLLIDAY
Tamworth Herald – 15/08/86
Musicbox – Concert of the Week
Strap On Jack – The Rathole
TAMWORTH'S premier venue was turned into a giant coffin on Sunday night.
The same audience that had bopped along to the Red Beards, decided instead to pose as waxworks on Sunday night and stood rigid to the spot while Strap On Jack turned in a blistering set.
Tragic
Which is all quite tragic, because Strap On Jack deserved a far better audience and response than Tamworth could muster on Sunday night.
I enjoyed The Red Beards yet they had none of the energy, power or originality of Strap On Jack, a band who would probably prefer to watch trees grow than come to Tamworth again.
This was a tremendous concert with the band showing a professionalism and style that belittled many of the groups I have seen recently. It was punkified r 'n' b with clout, clamour and deliciously roaring guitars. The band bopped, screamed, shouted, danced and smiled. And the audience yawned in return.
Oh Tamworth, so much to answer for…
Tamworth Herald – 15/08/86
Musicbox – Rats Return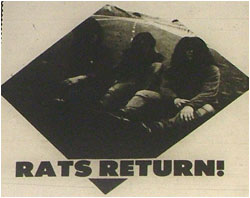 ATTICA make their eagerly-awaited 'Rathole' return on Sunday night – determined to prove that they are here to stay.
The trio are bursting with confidence for the future, and admit to being excited at the amount of interest people have shown in the band.
"We only played one short set at the 'Rathole' before but the reaction was so good that we are looking forward to doing even better this time," said lead singer Eddie Madden.
Attica came together after the well-publicised split of local favourites Terroa. With Batman becoming a valued member of The Dream Factory and guitarist John Reeman now having the time of his life in XPD, Eddie is convinced the split has turned out to be a blessing in disguise.
"…people liked Terroa and were sad when we split. But now we are all playing music we prefer to play and we are also better friends, so it was the best thing that could have happened," he said.
Bassist Peter Wright and Eddie both realised after the Terroa split that they wanted the same sort of things from music, and when they then found Jim Pighand as a drummer the jigsaw was complete.
"When we heard Jim had left The Cradle, Pete and I just looked at each other and thought the same thing. Jim fits in perfectly and as we get on so well we are staying as a three piece whatever happens," said Eddie.
The group are very please with the 'big' alternative sound they now produce – but they still have one albatross round their necks..
"We want to say that we are not like New Model Army and we do not try to sound like them. If people stopped and listened they would realise we are different from new Model," said Eddie.
"Supporting Attica on Sunday night (starts at around8.30pm) will be Nottingham-based alternative group Blood Relatives, who will be new to most people in the area.
Tamworth Herald – 15/08/86
Musicbox – Final 'briefing' for festival bands
THE FINAL meeting for everyone involved in the Tamworth Rock festival will be held on Sunday at the Tavern at 8pm. ALL bands are requested to attend this time as equipment times and staging details will be discussed. Festival posters are now available for organisers.
Tamworth Herald – 15/08/86
Musicbox – SNIPS
A NEW blues band influenced by Muddy Waters, Little Walter and Lightning Hopkins have sent out an appeal for a keyboard player and singer. The group who are as yet nameless can give you more details by ringing Martin.
Tamworth Herald – 15/08/86
Musicbox – SNIPS
Orange have parted with lead singer Anice Byfield. The band played their first show without Anice last Friday, with Julian Amos and Neil Jones sharing the vocals. Anice is apparently keen to work with a new band in the future although it is not certain what her next move will be.
Tamworth Herald – 15/08/86
Musicbox – SNIPS
It seems that we are suffering a welcome outbreak of fanzine fever. A new magazine called 'Iota' will hit the streets this week via ace Tavernies Kim and Donna who are also doing the rock festival programmes. And I also had a mysterious letter from one Scarlet Fever this week, who tells me of two new fanzines on the horizon – 'Clawing of Angels' and 'Kicker Conspiracy'. We will give more details when we can…
17/08/86
Attica
Blood Relatives
The Rathole
22/08/86
Tamworth Rock Festival Party
Wolfsbane
Shellshock
Ivory
Tamworth Arts Centre
Tamworth Herald – 22/08/86
Musicbox – Here's the fabulous festival line-up
TAMWORTH'S fourth annual Bank holiday rock festival blazes into action this weekend and promises to be the biggest and best the Town has ever seen.
Eighteen bands will take to the Castle Grounds stage on Sunday and Monday offering a varied and exciting package of local talent.
And, to give the festival the best possible start, Tamworth Arts Centre will tonight (Friday) and tomorrow stage two festival party nights featuring among others Wolfsbane, Breaking Point and a one-off show from Love On Board.
All in all it looks like being a festival to remember and here in full details is what is happening where and when.
Tonight
The festival starts with an Arts Centre triple bill featuring three bands from the heavier side of life. New boys Shellshock will join up with not-so-new boys Kara and positively-old boys Wolfsbane for a sparkling three band show. As with last years, the Arts Centre pre-festival nights are designed to be party-style events and everyone petting into the spirit (and spirits) of the weekend. It starts at 8pm costs 50p and should be excellent.
Saturday
ANOTHER enticing triple bill will especially interest people of an alternative (sic) persuasion. Breaking Point, who hope to have their debut single out this week, will headline the show and in support will be two unusual acts. First is 13th Reunion featuring the immortal Gerald on bass and second is Love On Board making a special one-off comeback gig to join in the party atmosphere. It adds up to a superb bill which marks the debut show for 13th Reunion, and once again is a meagre – nay, measly! – 50p
Sunday
AND SO to the main event. Two days of exciting, varied rock music in the Castle Grounds. Once again the stage will be set up in front of the tennis courts at the far end of the Castle Grounds, and as with the past couple of years, it will cost you nothing to watch. Here is a quick one-line description of all the bands on show and their (approximate) appearance times…
Heavy
Freefall (12.20) A Coventry heavy band (that's all I know!)
Attica (1.05) Powerful bass-driven combo who crimp their hair and slice their guitars.
Shellshock (1.40) Young lusty metal sound, who smile a lot.
Soil Brothers (2.15) Skiffle-style pop played with coconuts, cardboard and oodles of enthusiasm.
One On One (2.50) Nose-perfect rock music played by soon-to-be superstars.
Noise
Kara (3.25) loud Americanised noises played by local Anglicised noise-makers.
XPD (4.00) Stylish alternative pop music, which cab be summed up as 'ego-shock' rock.
Catch 23 (4.35) Pure-punk-period pop music with panache, power and passion.
The Magnets (5.10) Modern synthesised pop music played by modern synthesised pop people.
Monday
ONCE MORE the Castle Grounds plays host to nine more varied outfits who line up like this.
Burnin' Sky (12.30) Coleshill-based r 'n' b band who revel in the smoky, sleazy way of life.
Beyond Elysium (1.05) Dark sombre sounds with a modern appeal and feel.
Funky
Cuddly Spiders (1.40) Laid-back harmless flares rock.
Breaking Point (2.15) Passion-packed soaring, roaring rock music.
Dance Stance (2.50) Tight, funky nouveau-pop with a burning soul.
Wolfsbane (3.25) Gentle, middle of the road folk band made up of four charmingly polite young boys. A mud afternoon break from all this rock nonsense.
Depth Charge (4.00) Cuddly rock and roll pirates bursting with good times.
Orange (4.35) Deceptively light pop music with a telling edge. Bright, breezy, orangey.
The Royal Family (5.10) regal r 'n' b with guaranteed dance-ability and toe-tapping tendencies.
Tamworth Herald – 22/08/86
Musicbox – Finally…it's all eyes on the Rathole
ON MONDAY night all attention switches to the 'Rathole' where alternative DJ Paul Clements will serve up a post festival disco party night in aid of 'Children in Need'.
This will continue jumping until 2am and should give the festival a perfect ending.
So put it all together and you have four days of pure rock and roll self-indulgence. Four days to eat, drink and breathe rock music, four days to enjoy immensely and four days that simply cannot be missed.
Over the next two night the Arts Centre will be packed to bursting with people and then hopefully all days Sunday and Monday the Castle Grounds will be alive with colour, atmosphere and wall-to-wall music.
The Castle Grounds concerts start at 11.30 with a disco, courtesy of Buttercup, Booey, Debbie Whitty et al, and with all these attractions, it adds up to a might 25 hours of music over the weekend.
How can you POSSIBLY miss it?
Tamworth Herald – 22/08/86
Musicbox – SNIPS
One On One start a new Wednesday night concert season at the Marmion this week. Its doors will be opening to many different styles of local rock over the next couple of months and we hope to give more details about this whole exciting venture in the next few weeks. One On One open the whole project this Wednesday and as with all the subsequent Wednesday gigs (which are the brainchild of the always enthusiastic Colin Wall entry is fee.
Tamworth Herald – 22/08/86
Musicbox – SNIPS
THE Dream Factory have had to cancel tonight's show in aid of the police's SPACE scheme due to a problem with the licences. It has made them even more determined to enjoy their Rathole show on August 31.
Tamworth Herald – 22/08/86
Musicbox – SNIPS
The mysterious 'Scarlet Fever' who has now finished work on his new fanzine, sent me yet another odd letter this week which included a plastic fork, an empty crisp packet and several extremely abusive pieces of literature. If the fanzine is half as interesting as the letter it should be well worth waiting for but I can't understand why people seem to get such a kick from insulting me. Answers on a postcard please to "confused Musicbox writer".
Tamworth Herald – 29/08/86
Festival fever that just refused to give in to the rain
ROCK-SOLID SUCCESS!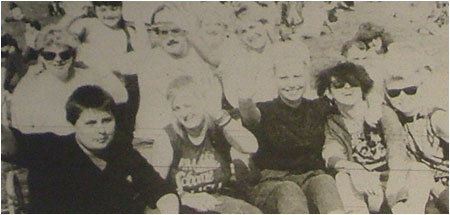 Caption: Isn't it fun when the sun is shining and the music is flowing? This happy bunch obviously thinks so as they rock to Sunday's sounds in the crowded Castle Grounds.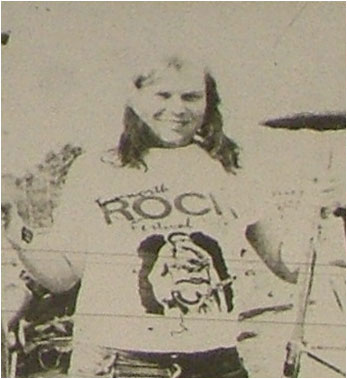 Caption: Mike Fleming resplendent in rock festival T-shirt gets ready for action with Cuddly Spiders.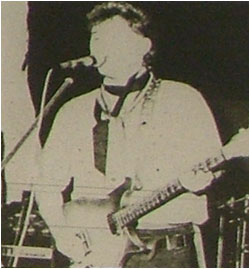 Caption: Kevin Briggs of Breaking Point…a powerful set in the hastily-arranged setting of the Rathole.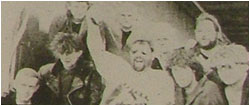 Caption: What are we going to do now? The Festival Committee members chew over the problem before their lifesaving trip to the lavatory.
TAMWORTH'S third annual Bank Holiday Rock Festival was dramatically saved on Monday afternoon – thanks to an impromptu trip to the men's toilets!! For with rain threatening to turn the festival into a joyless wash-out an emergency meeting was held by the concert organisers in the main toilet block in the Castle Grounds.
There, the organisers decided the 'show must go on', so the whole festival was moved lock, stock and amplifier to the Rathole.
Within two hours, the festival was rocking again and until12 o'clock on Monday night, music filled the Rathole and gave the whole four day event a triumphant conclusion.
Afterwards, enthusiastic organisers were describing the festival as the best ever – mainly because it had managed to leap over more hurdles this year that it has had to do for the past two put together.
None of the problems could have been envisaged at 8 o'clock on Friday night when the Festival began in earnest in the Arts Centre. Shellshock, Kara and Wolfsbane all turned is useful sets to widely-differing responses – which summed up the reaction to the three bands at Saturday's second Arts Centre party night.
Bizarre
The absolutely bizarre 13th Reunion (who boast the world's most awful drummer but one of the world's coolest singers) opened the proceedings. Love On Board turned in a nostalgia-packed, much-acclaimed set and the Breaking Point played a long, powerful set sadly ignored by most of the audience.
During the night, a host of festival organisers ran around the town giving out last minute hand-outs about the Castle Grounds event to follow – and judging by the turnout the following day, it worked.
Sunday's turn-out was the best ever for the first day of the festival. In the rather surprising sunshine people poured into the Castle Grounds until the peak at around 3-4pm when upwards of 1,000 people were watching. As an indication all 250 programmes – which were meant to last the two days – had been sold by 3 o'clock on the first day, raising £60 for Children in Need.
Musically, every band turned in good, strong sets with a particular mention going to The Soil Brothers, who started their show without two of their members.
XPD lived up to all the outrageous hype with a literally electrifying set. Attica showed they have the best bassist in the area in Pete Wright. Kara produced a fiery rock set. Catch 23 earned the acclaim of almost everyone with their hi-energy sounds.
…One On One…Shellshock o belated but entertaining Magnets…
The rain hit the Castle Grounds at about 12 o'clock and stayed there until everyone involved in the festival was tucked up in bed. With a quite barmy hardcore set of people waiting in the rain to watch…Beyond Elysium… went through their sets before organisers said enough is enough.
Acting on a suggestion by Tamworth's Alternative Mayor Clifford Chipman and Manhattan owner Clive Bartram it was decided to move everything to the Rathole.
The hardier musicians stayed to dismantle the huge PA stacks and take them into town, and by 5.30pm the first band was raring to go.
The atmosphere in the Rathole was electric as Wolfsbane hit the stage and turned in what I thought was their greatest-ever set. They were simply magical.
Dynamite
After them came Cuddly Spider chaps and chapesses and then Dance Stance who were in dynamic form. The enthusiastic reaction they received seemed to surprise even them, but it just convinced even more that they are firmly on the path to greatness.
Depth Charge then turned in what is sadly their last set in their present line-up. Orange followed with a harder, stronger sound than they have previously mustered and then came the ultimate climax – the Royal Family. By now the onstage musicians were the only ones sober, creating an atmosphere that is quite indescribable. People danced, pogoed and leapt around wildly before the festival committee were called onstage to join in a blistering version of "Anarchy In the UK" which almost literally brought the house down.
And then it was all over. All the problems of insurance, staging and bands splitting up were left behind. The rain had been snubbed with contempt and to the eternal credit of everyone involved, not one band missed their set.
Put everything together and you have a week-end that will probably never be forgotten by those close to it. It was a triumph all round which produced real heoes (Denis Byfield, Rikk Quay, Ian Gibbons and Phil Ball), to mention but four and no villains.
There was no trouble, no bitterness and no disappointment. Rock and Roll had won again.
23/08/86
Tamworth Rock Festival Party
Breaking Point
Thirteenth Reunion
Love On Board
Tamworth Arts Centre
23/08/86
Wolfsbane
The Burning
Finis Code
Portland Club, Birmingham
Amnesty International
24/08/86
Tamworth Rock Festival
Castle Grounds
Freefall
Attica
Shellshock
Soil Brothers
One On One
Kara
XPD
Catch 22
The Magnets
25/08/86
Tamworth Rock Festival
Burnin' Sky
Beyond Elysium
Cuddly Spiders
Breaking Point
Dance Stance
Wolfsbane
Depth Charge
Orange
The Royal Family
25/08/86
Tamworth Rock Festival Party
Paul Clements Alternative Disco
The Rathole
27/08/86
One On One
The Marmion
Tamworth Herald – 29/08/86
Musicbox – Happy Factory welcome back a fine talent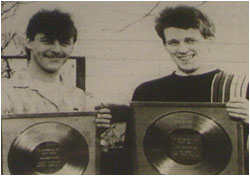 LLOYD BARNETT the former Dream Factory guitarist, who quit the band several months ago, has staged a dramatic reconciliation with the group.
Lloyd has re-joined the band as rhythm guitarist and will make his first Tamworth appearance with the new line-up at the 'Rathole' on Sunday night.
The rest of the band are delighted to have Lloyd back in the line-up, not only for his high standard of guitar playing but also because he is an outstanding songwriter. Lloyd penned many of the Factory's best known numbers, including the classic 'Love 15' which will be the band's next single.
"We are very pleased indeed to have Lloyd back," admitted bassist Mark Mortimer. "HE is a very talented songwriter, a brilliant backing vocalist and a very good guitarist."
Lloyd will not only be playing guitar alongside Dave Stevenson, but he will also be doing some extra percussion. The Factory have come to the sensible conclusion that they would only use two guitars when it was necessary, so as not to clutter their sound. It gives Lloyd a chance to experiment with more things than just a plectrum!
"We were very conscious of having too much guitar, as this is the best way round the problem," said Mark.
Mark now feels that the Factory jigsaw is finally complete. He is the first to admit that the band has been through a lot of musicians in their four-year history but he now feels it would be difficult to improve on the present line-up.
"We always hoped that during the split, Lloyd may stay with us, but we are happy to have him back" said Mark.
Lloyd's re-appearance with the Factory just adds more spice to the band's show on Sunday. It had already been the source of much debate because the band's last two Tamworth shows – at the 'Rathole' and Belgrave – had to be cancelled at the last minute. This Sunday they are determined to go ahead and Mark is as keen as ever to make a big name on his home town audience.
"We don't know how we will go down because the 'Rathole' seems to be quite alternative and we aren't really"! he said "But we are all looking forward to it and it should be a good night."
Joining the Factory on Sunday, will be a band called 15 minutes from Birmingham, who are supposed to be a Dance Stance/Soul Exit/James Brown style.
It all starts at about 8.30pm and if the Factory can finally bury their Tamworth concert jinx, and all goes to plan, it should be an exciting night of entertainment.
Tamworth Herald – 29/08/86
Musicbox – Where are all the girl singers?


HERE is a tricky question for you. Why is it that we have a female Prime Minister, a female monarch, female MPs, female radio and TV presenters, female males (?) and yet hardly any decent local female rock singers?
This year's festival featured just one solitary female lead singer and it seems the local rock scene has become as male-dominated as the Vatican. But why? Here we let Anice Byfield the former Sitting Pretty, Poison Passionade and Orange singer, chew over the problem. So Anice, what stops women singing.
The answer is that bands around Tamworth are all made up of males, and that's the way they like it! If they do have girls in the bands, many times they are treated as "pretty little things" to brighten up the stage act, bu showing a bit of leg and smiling a lot but basically doing very little.

When you're in a male-dominated band I've found that's all that is really required.
I know some of you bands out there will be screaming "but we've been looking for a female vocalist and can't find one," Ok, there is a distinct lack of girls willing to actually get up and sing but that is because of three reasons: either they can't sing, they can sing but can't be bothered, and probably most importantly there are girls out there, with talent who just don't know how to get into a band.

When anyone in the town needs a vocalist it's put in this column and nine out of ten times it's a male that is required.
Why won't bands accept females into their bands? I'm not just talking about vocalists but musicians as well. How many female musicians are there in Tamworth bands? I can think of one or two, but there are lots out there probably just as good, if not better, than many of the males.
If bands had more open ideas about girls in bands – and girls got off their bottoms and got into bands – there would probably be some better music played in this area.
Tamworth Herald – 29/08/86
Musicbox – SNIPS
THE WOLFSBANE and Breaking Point singles are both on the immediate horizon. Wolfsbane have had the first test-pressings of 'Clutching at Straws' sent back to them and they are apparently delighted. It should be launched in the next couple of weeks.
Tamworth Herald – 29/08/86
Musicbox – SNIPS
Breaking Point are just finishing off designing the artwork for the sleeve for 'Ode to Nicholas Romanov' and this too should be available in the next week or three. I don't know, Wolfsbane, Breaking Point and Stranglers records all at once. This must be Christmas.
Tamworth Herald – 29/08/86
Musicbox – SNIPS
A Police influenced band with all their own material have sent out a desperate plea for a dedicated, reliable drummer. The band say they have had difficulty finding a steady drummer and they guarantee any would-be sticksman (or woman) an open-arms welcome.
31/08/86
Dream Factory
The Rathole