Tamworth Bands History : 1976
| | | |
| --- | --- | --- |
| | UK Number Ones - 1976 | |
Week Ending
Act
Title
31/01/76
Abba
Mamma Mia
14/02/76
Slik
Forever And Ever
21/02/76
Four Seasons
December '63
06/03/76
Tina Charles
I Love To Love
27/03/76
Brotherhood Of Man
Save Your Kisses For Me
08/05/76
Abba
Fernando
05/06/76
J J Barrie
No Charge
12/06/76
Wurzels
Combine Harvester (Brand New Key)
26/06/76
Real Thing
You To Me Are Everything
17/07/76
Demis Roussos
The Roussos Phenomenon EP (main track: Forever And Ever)
24/07/76
Elton John & Kiki Dee
Don't Go Breaking My Heart
04/09/76
Abba
Dancing Queen
11/10/76
Pussycat
Mississippi
13/11/76
Chicago
If You Leave Me Now
04/12/76
Showaddywaddy
Under The Moon Of Love
25/12/76


Xmas No 1

Johnny Mathis
When A Child Is Born
| | | |
| --- | --- | --- |
| | In the News - 1976 | |
•

Israeli commandos rescue airliner hostages at

Entebbe




•

Riots in

Soweto

over South African education policies


•

Jimmy Carter

elected 39th US president


•

Harold Wilson

resigned as Prime minister and was succeeded by James Callaghan


•

The

National Theatre

building opens


•

Nadia Comaneci

achieves seven perfect scores in Montreal Olympics gymnastics


•

Chairman

Mao Tse-tung

dies, aged 83


•

Driest summer

since 1772


•

Sex Pistols appear on the Bill Grundy Show

---
---
It's 1976. I was 15 years old, sitting in a Maths lesson in a temporary classroom at secondary school when the news came through that Harold Wilson had resigned. Jim Callaghan took over but this was the beginning of the end, Thatcher was lurking in the wings and the face of Britain was soon to change forever. But…back in Tamworth…Billy Bates was still trying to make it, Andy Dwyer was still the main man of local folk and the famous Tamworth & District Roundtable Indoor Chicken Barbecue still took place.
Big Names
One or two big names visited the town in '76. Emperor Rosko came to Drayton Manor, stating that it was his first visit, but, as any regular visitor to TamworthBands.com will know – it was in fact his fourth – he had already played Tamworth twice in 1970 and once in 1971. Dave Lee Travis visited The Belfry, Chicory Tip played the Round Table barbecue with Kwil, and Freddie and the Dreamers played Glascote Working Mens Club.
Arts Centre
Tamworth Arts Centre was in its first year and the number of productions was incredible. Almost every week a different company or performer would put on a production including such varied things as modern dance and 18th century music, Tamworth Little Theatre's 'Diary of Anne Frank', A Day in the Death of Joe Egg and visits from such notable companies as the Hull Truck theatre company.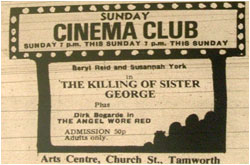 With the demise of the old Palace Cinema and no alternative for local film buffs, the Sunday Cinema Club started in May and showed such films as Don't Look Now, Straw Dogs, Soldier Blue, That'll Be The Day and Stardust. This ceased once the new Palace had opened in December.
In just seven days in October of '76, a total of 1,500 people went into the Church Street centre for meetings, rehearsals, amateur theatre and film performances and the children's Saturday Club art and crafts workshops. In a review of it's first year, manager Dave Armour clearly showed just how successful the centre had been and it also expanded its facilities to include opening a bar and the provision of meals as well as holding Dave's wedding reception which didn't go down too well with all at the council. You could also attend Transcendental Meditation classes – "Om Mani Padme Hum"
Hamlets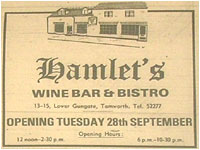 A momentous thing occurred in the town on September 26th 1976 – Hamlets Wine Bar and Bistro opened its doors for the first time. Opened by those wonderful people Bryan and Val Barnsley and their fellow directors David and Pat Peters, Hamlets was to become a focal point of the Tamworth music scene. One wonders just how many bands were born over a bottle of Sam Smiths or how many bands got pissed before their first gig at the Arts Centre while being dripped on from the leaking cistern in the gents.
But, when it first opened, Hamlets was your genuine Wine Bar – only serving wine along with delicious food. Read about the opening and a few more memories in this dedicated Hamlets page.
Local Acts
We read how "Local folk singer and songwriter Andy Dwyer has an album in the shops. The LP is entitled "Ballads of a Wanderer", on the "Real Records" label. Nine of the twelve tracks were written by the versatile Andrew who sings all the songs and plays six and twelve string guitar." Andy was to leave the Unicorn Folk Club and start performing at Folk Clubs in the town centre including a new club at the Arts Centre.
As for DJs, Kippa was still around as were Barry John and Johnny Slade – Steve Bostock and John Green could also be seen regularly.
Another musical phenomenon was mentioned locally for the first time in '76 – Northern Soul – that favourite of so many from Tamworth Youth Club – featured in the Herald of 11th June: £100 in fines for swimming instructor who possessed drugs. A 21-year old Tamworth man's involvement in all-night casino sessions of "Northern Soul" music and dancing brought him before the town magistrates on Tuesday facing drug charges.
Musicbox was now a regular weekly feature in the Herald with several articles on upcoming local bands including Flash Harry, Magnadaw and Lucifer. It also featured it's first named 'Editor' in the shape of Peter Brown.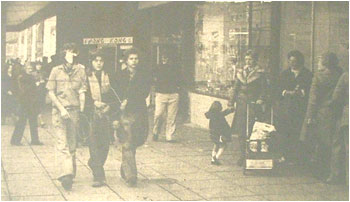 And finally, at the end of the year, Tamworth experienced it's first taste of Performance Art. Under the Herald headline "A load of old art?" we read how three art students: Gavin Jones, Camden Dubray and Double Day (Edward Dutkiewicz – Ed.) had "depicted a relationship between three actors inhibited by string" by walking through Gungate Precinct tied together with string. Showing great critical insight, one local resident was heard to say "Either they're mad, I'm mad or you're mad," and another claimed it was "Tamworth's answer to the bionic man."
Tamworth eh!