Tamworth Bands History : 1969
| | | |
| --- | --- | --- |
| | UK Number Ones - 1969 | |
Week Ending
Act
Title
01/01/69
Marmalade
Ob-La-Di Ob-La-Da
29/01/69
Fleetwood Mac
Albatross
05/02/69
Move
Blackberry Way
12/02/69
Amen Corner
(If Paradise Is) Half As Nice
26/02/69
Peter Sarstedt
Where Do You Go To My Lovely?
26/03/69
Marvin Gaye
I Heard It Through The Grapevine
16/04/69
Desmond Dekker & The Aces
Israelites
23/04/69
Beatles
Get Back
04/06/69
Tommy Roe
Dizzy
11/06/69
Beatles
The Ballad Of John & Yoko
02/07/69
Thunderclap Newman
Something In The Air
23/07/69
Rolling Stones
Honky Tonk Women
30/08/69
Zager & Evans
In The Year 2525
20/09/69
Creedence Clearwater Revival
Bad Moon Rising
11/10/69
Jane Birkin & Serge Gainsbourg
Je T'Aime... Moi Non Plus
18/10/69
Bobby Gentry
I'll Never Fall In Love Again
25/10/69
Archies
Sugar Sugar
20/12/69


Xmas No. 1

Rolf Harris
Two Little Boys
| | | |
| --- | --- | --- |
| | In the News - 1969 | |
•

February 3rd - Palestine National Congress appointed

Yasser Arafat

to head the PLO


•

February - The

Boeing 747

takes off as the airplane of future mass air travel long haul flights


•

March - The first test flight of

Concorde

in France


•

March -

John Lennon and Yoko Ono

went to bed in public for a week to bring attention to world peace. 'Make love not War'


•

March 17th -

Golda Meir

became Israel's first woman premier


•

June 8th -

General Franco

closed the land border between Spain and Gibraltar


•

July 1st - Formal Investiture of the

Prince of Wales

at Carnarvon Castle


•

July 21st - Apollo 11 Commander

Neil Armstrong

became the first man on the moon


•

September 1st - King Idris of Libya was deposed by rebels led by

Mu'ammar Gaddafi




•

October -

Monty Python's Flying Circus

is first broadcast on BBC 2


•

British troops

are deployed on the streets of Northern Ireland and Bernadette Devlin takes her seat as a Westminster MP, she was 21


•

De Gaulle

resigns, Georges Pompidou elected President of France


•

Alexander Solzhenitsyn

expelled from Soviet writers Union
---
---
Local Bands
1969 saw the end of several of the more familiar local Tamworth bands, The Wanderers, seen performing locally since 1963 were no more. The Power and Glory became Duterium although the Herald got their name wrong initially – Duterian. Vocalist was Mick Rutherford a well-known local personality and member in later years of Creation, Pregnant Mary, Red Cloud, Willow, Ice, Dickens, Heavy Metal Thunder and Loose Connection. The Loving Kind could still be seen as could The Teen Beats.
There were two features in the Herald in '69 concerning local band members. In February under the headline "Tamworth boy in record making pop group" we read about Charles Harrison – "A 16-year-old Tamworth boy travelled to London on Monday to make a record. He is a member of a Birmingham group "Paradox" who have signed a recording contract with the Pye Company." Later in the year, in June we read how another local lad had joined the group: "He is 18-year-old Victor Motorny, of 20, Bridge Street, Amington, who is the group's new road manager."
Another Herald feature in June was headed "Bakerloo on Right line" and we read: "Bakerloo" – a group which includes two Tamworth lads in it's line-up – has a single and L.P. released within the next few weeks." John Hinch played drums and had previously been a member of The Pinch. David (Clem) Clempson the lead guitarist of the band fromWilnecote, had been in The Vipers and Harwell Reaction and was to go on to become probably Tamworth's most famous rock 'n' roll son. In October of '69 he replaced guitarist James Litherland in Colosseum and later joined Humble Pie.
Big Names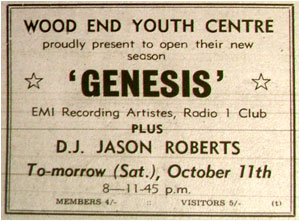 Some big name artists taking their first steps to superstardom played in and around Tamworth in 1969. Ambrose Slade, later to become simply Slade, played Polesworth Working Mens Club in July. Mud played the same venue in August. A band called Genesis played twice, Kingsbury Working Mens Club on the 10th October and Wood End Youth Centre a day later. Other well know names to visit the town included The Idle Race, The Herd, The (Singing) Nolans and Unit 4 Plus 2.
Discos
Several new Discos opened in '69, The Spot Club based at The Centre, Masefield Drive was a very popular night out, we read in the Tamworth Herald of 18th April how after only being open for two and a half months The Spot Club now had 500 members. In December we read how each Spot Club discotheque was handing over £5 to a handicapped nursery to help meet its running costs of £9 a week. Club members were paying 6d a week on top of their admission fee to the Sunday night sessions to raise money.
Other new Discos on the scene in '69 included the Prentice Club "Discotheque", Corporation Street, Soggy Pee every Sunday at the New Swan, Atherstone. The Workhouse, where you could hear Soul 'n' Ska at the Amington Inn. The Station Café, which used to be by Tamworth Train Station, where you could hear The Roadrunners disco.
Local DJs who could be seen regularly at various venues in and around the town were: Geoff Owen, Dave Stewart, Jeff Owen, Russell Thomas, Andy Ferris, Alf Capone, Radio Five Disco, Mickey Dunn, Nicky Steele, Jason Roberts, Bob Russell. In August we read about twenty-two-year old Grant Chandler – better known to local pop music fans as DJ Memphis – who was soon to become a resident disc jockey in London. Other names included: Russ Anthony, Rick Savage, Mr. Max, Dave Terry, Mad Moses, Ray Day and Ged the Head at the Soggy Pea in Atherstone.
Local News
January saw, Edward Heath, Leader of the Opposition visit Lichfield Guildhall. In February, what was becoming an annual event occured, a new Tamworth Folk Club opened at the Prince of Wales.
1969 again saw the ongoing saga of failed gigs at the Assembly Rooms, with several shows put on at the venue by BEAT-E-Promotions. In August we read in the Herald, under the headline "Fazeley dance bid to beat Assembly Rooms "jinx", how a Tamworth entertainments agency has switched its venue for weekly beat dances to Fazeley parish hall. The club was later to be known as The Beachcomber. Although, sadly in October we also read, under the headline: "Dance Crowd Fights", how "fighting broke out late on Friday night between teenagers following a dance in Fazeley parish hall."
Millbank Promotions, returned to the area putting on a selection of events at Polesworth Memorial Hall
June '69 saw the headline: "Roy's Record Tipped For The Top" - Tamworth's recording artiste greengrocer Roy Everett has caused a stir in the record business both on television and radio. The Fazeley singer had his first solo record released last Friday and the response has been "quite amazing".
In July, we read "Town To Have An Arts Centre" and were told that an Arts Centre combined with an old folks centre was to be built on the Riverside off Lichfield Street at a cost of £55,000. We're still waiting!