Tamworth Bands History : 1985
| | | |
| --- | --- | --- |
| | UK Number Ones - 1985 | |
09/01/85
Foreigner
I Want To Know What Love Is
09/02/85
Elaine Paige & Barbara Dickson
I Know Him So Well
09/03/85
Dead Or Alive
You Spin Me Round (Like A Record)
23/03/85
Philip Bailey & Phil Collins
Easy Lover
20/04/85
USA For Africa
We Are The World
04/05/85
Phillis Nelson
Move Closer
11/05/85
Paul Hardcastle
19
15/06/85
Crowd
You'll Never Walk Alone
29/06/85
Sister Sledge
Frankie
27/07/85
Eurythmics
There Must Be An Angel (Playing With My Heart)
03/08/85
Madonna
Into The Groove
31/08/85
UB 40 & Chrissie Hynde
I Got You Babe
07/09/85
David Bowie & Mick Jagger
Dancing In The Street
05/10/85
Midge Ure
If I Was
12/10/85
Jennifer Rush
The Power Of Love
16/11/85
Feargal Sharkey
A Good Heart
30/11/85
Wham!
I'm Your Man
14/12/85
Whitney Houston
Saving All My Love For You
28/12/85
Xmas No 1
Shakin' Stevens
Merry Christmas Everyone
| | | |
| --- | --- | --- |
| | In the News - 1985 | |
•

Mikhail Gorbachev becomes Soviet leader.


•

"Live Aid" pop concert raises money for the starving in Africa.


•

French secret agents sink Greenpeace ship, "Rainbow Warrior".


•

Two Iraqi Exocet missiles strike the USS Stark.


•

British Telecom announces the retirement of Britain's red telephone boxes.


•

The Coca-Cola Company introduces New Coke. After marketing problems, Coca-Cola returns to the original formula after less than 3 months.


•

Britain and Ireland sign the Anglo-Irish agreement, giving the Republic of Ireland, for the first time, a role in Northern Ireland.


•

39 soccer fans are killed in the Heysel Stadium disaster.


•

Nintendo releases the Nintendo Entertainment System in the USA.


•

First Blockbuster Video store opens, in Dallas, Texas.
---
Well what a year! What a *!%$*" year!!!
Here's Sam Holliday's Review of the Year from 1985.
MUSICBOX – A year in the life…of a town's busy music scene
WELL IT'S been another tremendous year on the local music front. Some great bands have gone, others arrived and still more have grown in maturity and stature to the point where the town's 'big break' seems almost inevitable. MUSICBOX, we hope has been keeping it's fingers on the local music pulse throughout the past year and in this festive seasonal review I have delved into the past year's files to see what I have been saying about you during 1985. So here it is, the nice and the nasty of a year in the life of Musicbox – and the local music scene…
JANUARY
Love On Board demo – they are a great band but this is not a great demo.
The Parade demo – this tape can do nothing but good in their search for that elusive success.
The Dream Factory single – quite frankly it's brilliant.
FEBRUARY
Tamworth Rocks For Ethiopia – 'It's not very often we can feel so proud to live in Tamworth, but last Tuesday night we certainly could.'
A new band featuring Paul Clements and Derek Goodwin – the duo's first manic performance was described as a hideous noise, which apparently pleased both members very much indeed.

MARCH
On seeing the Stranglers at Amsterdam – 'Where you expect to see clog dancers, windmills and even the odd tulip, what you end up seeing is just about every vice you can think of - and many that you probably never dreamed of."
APRIL
Idea Standard demo – it brings together U2 ingenuity with Undertones simplicity.
One On One live – 'Dave Ingham is a man who belongs on a bigger stage than the Tamworth Arts Centre. He has the looks, talents and voice to go a very long way.
Wolfsbane demo – all you get is the sheer guts of their rock and roll which is spellbinding.
MAY
Breaking Point live – 'I almost felt like weeping at the end of their set as their magnificent power and purity swept over me like a rush of hope.'
The Rathole – A free copy of the complete works of Enid Blyton to anyone who can fond out what happened to Tamworth'd biggest-ever non-event.
Wolfsbane Live – 'It was just so good, so powerful and so entertaining, that I had to get out before I lost my cherished cynicism for ever.'
JUNE
Breaking Point demo – 'My copy sounds like it was recorded deep in Buttercup's armpit.'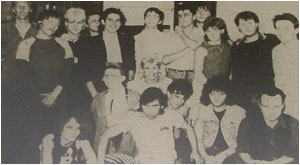 JULY
Springsteen Live – 'In a word – inspiring.'
Femme Fatale Live – 'Tamworth has been waiting for a long time for a band like Femme Fatale – now we have got them we should enjoy them while we can.'
The Sway Live – 'All four members are sickeningly good looking and they are also very good at their craft.'
AUGUST
On the recording of TAMAID – 'Vocalists such as Dave Ingham and Mike Turner left the studio with a positive glow in their cheeks…'
The Festival – 'it showed the triumph of rock and roll over rain'
SEPTEMBER
Mike Turner's comments on Tamworth 'a real case of 'Eh tu Brute'!'
OCTOBER
Star Trek's accident 'he has boldly gone where no man has been before – right into the back of a van.'
NOVEMBER
Freight Train single – 'an incredible single from Tamworth's best-kept musical secret.'
DECEMBER
The Royal Family – 'you would have to be deaf, cynical or completely out of your tree to come out of a Family gig without a wide-berth smile all over your face'
Tamworth rocks For Ethiopia (2) – Tamworth's musicians and rock fans can hold their heads up higher than ever before'
Well, that's covered a few of the best of '85.