Tamworth Bands History : 1960
| | | |
| --- | --- | --- |
| | UK Number Ones - 1960 | |
Week Ending
Act
Title
01/01/60
Emile Ford & The Checkmates
What Do You Want To Make Those Eyes At Me For
29/01/60
Michael Holliday
Starry Eyed
05/02/60
Anthony Newley
Why
10/03/60
Adam Faith
Poor Me
17/03/60
Johnny Preston
Running Bear
31/03/60
Lonnie Donegan
My Old Man's A Dustman
28/04/60


100th No 1

Anthony Newley
Do You Mind
05/05/60
Everly Brothers
Cathy's Clown
23/6/60
Eddie Cochran
Three Steps To Heaven
07/07/60
Jimmy Jones
Good Timin'
28/07/60
Cliff Richard
Please Don't Tease
04/08/60
Johnny Kidd & The Pirates
Shakin' All Over
25/08/60
Shadows
Apache
29/08/60
Ricky Valence
Tell Laura I Love Her
20/10/60
Roy Orbison
Only The Lonely
03/11/60
Elvis Presley
It's Now Or Never
29/12/60


Xmas No 1

Cliff Richard
I Love You
| | | |
| --- | --- | --- |
| | In the News - 1960 | |
•

February 3rd - Harold Macmillan made his "

wind of change

" speech about South Africa and Africa in general


•

March 21st - 70 Blacks, demonstrating against 'passbooks' were shot and killed in

Sharpeville

, South Africa. The United nations called for the Policy of apartheid to be ended


•

April 2nd - The USA launched the first

weather satellite

, the Tiros I


•

May 6th -

Princess Margaret

and Mr Anthony Armstrong-Jones were married in Westminster Abbey


•

June 30th -

The Congo

became independent after 80 years of Belgian rule. Katanga secedes and civil war erupts


•

November - The Crown versus Penguin Books over the book

Lady Chatterley's Lover

. The prosecution asked the jury 'if they would want their wife or servant reading it'!


•

November 4th -

Senator John Edward Kennedy

won the US Presidential election. He is the first Roman Catholic President and the youngest ever.


•

December 31st - The last day for call up to

National service

in the UK


•

Barbie Dolls

were introduced in the UK


•

Food shortages in

East Germany

were driving more and more people to 'escape' to the West


•

An American

U2

spy plane was shot down over Russia and pilot Gary Powers was captured


•

Laser

was developed by US scientists


•

Alfred Hitchcock's

Psycho

released
Welcome to the first year of the history of Tamworth bands. You can clearly see how the choice of local musical entertainment was very different to that of just one or two years later. From the local news items included here it's clear that 'pop music' and the dreaded juke-box were still far from being accepted by all in the local community. Remember, this was before Beatlemania, before The Twist and the local dance was the place to be seen.
---
15/01/60
Grand Dance - Tony Reynolds and His Band
Assembly Rooms
Admission: 5/-
05/02/60
The first council house is sold in Tamworth. Ferrers Road, Bolehall.
12/02/60
Rock 'n' Roll Request Dance - The Rebels and The Dominoes
Fazeley Parish Hall
Admission: 2/-
14/02/60
World Refugee Year - Charity Celebrity Concert
Compere Miss Jean Morton (ATV), Dance Orchestra of the 1st Battalion Staffordshire Regiment, Peter Regan, The Berkeleys, Dennis Kirtland, Sporti, Stan Harrod, Helen Stanley, Bill Woodward, Bernard Finney and Doreen Davis, The Heath Sisters.
19/02/60
"Stop acting like a pop singer"
A fifteen year old trainee miner was told by Tamworth Magistrates Court to stop shrugging his shoulders like a pop singer.
11/03/60
Town Snack Bars to get Sunday Music Licences
From April 5 onwards, Sunday customers in various town snack bars will be able to eat and drink to music. But...there will be no "juke boxes", music will be restricted to radio programmes. (Monica Cafe, Church Street, Stan's Super Snack Bar, Bolebridge Street and the Calypso Snack Bar, Church Street.
25/03/60
Stompin' at the Assems - Second City Jazzmen
Admission: 5/-
28/03/60 - 02/04/60
Tamworth Arts Club - 14th Annual Drama Festival
Assembly Rooms
15/04/60
Expresso Bongo with Cliff Richard - Palace Cinema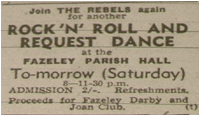 22/04/60
Rock 'n' Roll Request Dance - The Rebels
Every Friday night
Fazeley Parish Hall - 8.00pm-11.30pm
Admission: 2/-
25/05/60
Come Dancing to Midlands Top Rock Group - The Modernaires
Assembly Rooms
Admission: 2/6
27/05/60
The Jean Morton Melody Makers' 1960 Production
The Debonairs, The Starlettes, The Melody Babes, The Harmony Girls, The Rhythmettes, The Morton Boys
Assembly Rooms
18/06/60
Co-Operative Society Department Store opens in Church Street
Saturday June 18th 1960 at 11.30am
"The first 2,000 customers spending 10/- or more will receive a free parcel of groceries from the Co-Op".
02/07/60
Solicitor Objects to Snack Bar Licence Extension
"…playing of a juke box in a snack bar opposite his offices… would make it impossible for his firm to continue its legal practice". Stan's Snack Bar, Bolebridge Street.
16/07/60
Amington Young Socialists Dance - The Dancettes
Amington Band Room
Admission: 2/6
29/07/60
Carry on Constable – Palace Cinema
01/08/60
Tamworth Young Farmers – Show Dance (Tamworth Annual Show) - Alan Melville and His Band
Wilnecote Village Hall
Admission: 5/-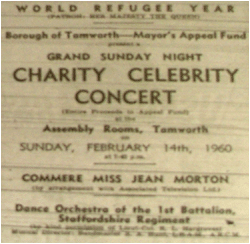 27/08/60
Tamworth Young Farmers Dance - The Ripchords
Fradley Village Hall
16/09/60
International Wrestling – The Assembly Rooms
On the bill: Shirley Crabtree
07/10/60
Swish Products to open a factory on the Lichfield Road Industrial Estate
05/11/60
Ivor Pope and His Band
Warton Parish Hall
Jim Reynolds and His Orchestra
Assembly Rooms
12/11/60
Dance - The Melodymakers
Assembly Rooms
02/12/60
Midland Red Sports and Social Club - The Don Hill Sextet
Assembly Rooms
23/12/60
The Glenn Miller Story with James Stewart – Palace Cinema