Tamworth Bands History : 1975
| | | |
| --- | --- | --- |
| | UK Number Ones - 1975 | |
Week Ending
Act
Title
18 Jan 1975
Status Quo
Down Down
25 Jan 1975
Tymes
Ms Grace
1 Feb 1975
Pilot
January
22 Feb 1975
Steve Harley & Cockney Rebel
Make Me Smile (Come Up And See Me)
8 Mar 1975
Telly Savalas
If
22 Mar 1975
Bay City Rollers
Bye Bye Baby
3 May 1975
Mud
Oh Boy
17 May 1975
Tammy Wynette
Stand By Your Man
7 Jun 1975
Windsor Davies & Don Estelle
Whispering Grass
28 Jun 1975
10 CC
I'm Not In Love
12 Jul 1975
Johnny Nash
Tears On My Pillow
19 Jul 1975
Bay City Rollers
Give A Little Love
9 Aug 1975
Typically Tropical
Barbados
16 Aug 1975
Stylistics
Can't Give You Anything (But My Love)
6 Sep 1975
Rod Stewart
Sailing
4 Oct 1975
David Essex
Hold Me Close
25 Oct 1975
Art Garfunkel
I Only Have Eyes For You
8 Nov 1975
David Bowie
Space Oddity
22 Nov 1975
Billy Connolly
D.I.V.O.R.C.E.
29 Nov 1975


Xmas No 1

Queen
Bohemian Rhapsody
| | | |
| --- | --- | --- |
| | In the News - 1975 | |
•

Vietnam War ends

, communist troops capture Saigon, Khmer Rouge take control in Cambodia


•

Civil war begins in

Lebanon




•

The Spanish monarchy is restored after the death of

General Franco




•

IRA terrorists

holdout for six days in Balcombe street siege


•

Britains first

North Sea oil

piped ashore


•

Dutch Elm disease

devastates trees across UK


•

Domestic

video cassette recorders

introduced


•

41 people killed in Tube crash at

Moorgate

, London


•

West Indies win the first

cricket world cup
---
---
It's 1975. The Bay City Rollers sing Bye, Bye, Baby, Queen and Bohemian Rhapsody, Rod Stewart and Sailing and Don Estelle and Windsor Davies and Whispering Grass – this is 1975.
In Tamworth, you can see Lenny Henry at Amington Liberal Club, Jasper Carrott at the re-opening of the Wigginton Hotel Folk Club and The Hollies at The Belfry in September. These are the only big name acts to visit the town in '75.
Local Bands
Concept are probably the highest profile local band. They're featured in the Herald twice with their new band nights at Tamworth Football Club where they encourage other local bands to join them on stage for exposure.
Kwil are still playing regularly (although without Phil Bates) as are The Hy-Kells, and Andy Dwyer is still the top local folk act. Discos have surprisingly died a death. The regular disco at every local working men's club seems to have ended, although Barry John still appears regularly.
Local News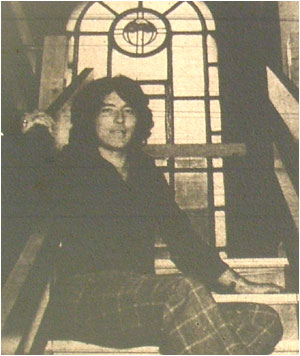 There is only one story this year. Tamworth Arts Centre opened on November 21st 1975. Despite continued protests from councillors "attacking staff costs" and "hire charges will turn centre into a 'white elephant'", the Arts Centre finally opened in November of '75.
Dave Armour, the manager, had earlier in the autumn suggested he wanted a "full-house every night" and he organised an incredibly ambitious opening programme of events. Everything from ballet to folk, film to brass bands. Two solid weeks of arts entertainment for the people of Tamworth.
Read the full History of the Birth of Tamworth Arts Centre – one of the most important venues in the development of Tamworth bands.
Dave Armour – was one of the nicest people you could meet. Someone who looked you in the eye and treated you, no matter who you were or what you looked like, as an equal. His work establishing Tamworth Arts Centre as a vibrant heart of creativity in a town where 'arts' was a four-letter word was an achievement that will never, ever be appreciated for the impact it had on the town. From his work and encouragement of music in the late 1970s sprung the entire music scene of the 1980s. A man who, after asking Vince Watts and Eddie Armchair who were the best band around at the time, actually considered trying to get the The Clash to play at the very, very first Tamworth Rock Festival. Dave Armour – a hero. A hero that to my lifelong regret, I shit on. (Sorry Dave – I was an 18 year-old twat! - Ed.)