Tamworth Bands History : 1978
| | | |
| --- | --- | --- |
| | UK Number Ones - 1978 | |
Week Ending
Act
Title
04/02/78
Althia & Donna
Up Town Top Ranking
11/02/78
Brotherhood Of Man
Figaro
18/02/78
Abba
Take A Chance On Me
11/03/78
Kate Bush
Wuthering Heights
08/04/78
Brian & Michael
Matchstalk Men And Matchstalk Cats And Dogs
29/04/78
Bee Gees
Night Fever
13/05/78
Boney M
Rivers Of Babylon
17/06/78
John Travolta & Olivia Newton John
You're The One That I Want
19/08/78
Commodores
Three Times A Lady
23/09/78
10 CC
Dreadlock Holiday
30/09/78
John Travolta & Olivia Newton John
Summer Nights
18/11/78
Boomtown Rats
Rat Trap
02/12/78
Rod Stewart
Da Ya Think I'm Sexy
09/12/78
Xmas
No 1
Boney M
Mary's Boy Child / Oh My Lord
| | | |
| --- | --- | --- |
| | In the News - 1978 | |
•

Sex Pistols' final concert at Winterland, San Francisco


•

Bee Gees' "Saturday Night Fever" album goes #1 for 24 weeks


•

Peace agreement between Israel and Egypt signed at Camp David


•

P.W. Botha becomes Prime Minister of South Africa


•

Mass suicide of 913 members of People's Temple cult in Guyana


•

Radio broadcasts of House of Commons proceedings begins


•

Publication of The Times was suspended for 48 weeks


•

Naomi James completes sailing single handed around the world


•

Pope Paul VI dies, then Pope John Paul dies after succeeding for 33 days, Polish born Pope John Paul II elected as first non-Italian since 1522


•

In Manchester, Louise Brown, the first test tube baby was born
---
---
1978. Well what a busy year on the local arts and entertainment front.
Tamworth Arts Centre was now well established as 'the' venue for 'rock' bands to play. They were leaving the working men's clubs and youth centres behind and were now playing to an audience that were paying just to see them and not to mark their bingo card or play table tennis between songs. The bands that played the Arts Centre in '78 were: Brewster, Easy Living, the Zoom Band, Concept, White Island, Asylum, the Kidda Band - twice, Ice - twice, Flash Harry – three times, Stealer, Bullets, Utensils, Gentleman Jim and finally on December 15th 1978, The Reliants.
But the Arts Centre wasn't just about bands, far from it, despite struggling for funding as always and despite a fruitless search for a building for storage and painting of scenery and props, the Arts Centre probably had its busiest year to date. In January they had a Real Ale Evening and in February work began on construction of the purpose built bar. Also in February they saw their best ever bookings, when they held an evening of North Indian Traditional Music and Dance. The Arts Centre Craft Fayre proved really popular and became a regular event. In June we read how ideas had started to come in for a big Tamworth Arts Festival to be held during April and May of 1979. In August, Sue Fisher in her Scene Around column in the Tamworth Herald looked at…Ten Years of Little Theatre productions.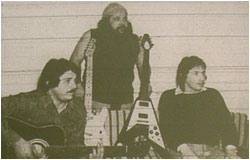 1978 was another good year for new local bands. Jentz and Nice Day were featured in the Herald, both signed to Splash Records who were looking for other local bands to sign. Jentz had the perennial problem of a name that caused confusion in the Herald typesetting department appearing as Jentz, Gentz and Gents in the gig listings.
Andy Dwyer was still around although he was now playing country music with Idlevice rather than his usual folk. Mick Rutherford and Colin Richardson announced plans for 'an exciting new band' after the split of Willow – this was to be called Ice. They made their debut at Tamworth Arts Centre on June 9th, the five-piece band performing a stage version of their then, forthcoming album release "Saga of the Ice King." Two local lads took further steps towards stardom, Tamworth-born Phil Bates was now a member of Trickster and could be seen on a World tour supporting ELO. Steve Adams, who in 1977 had won the National Melody Maker Rock Folk competition was now set to do it again, winning the semi-finals of this years competition at Barbarellas in Birmingham.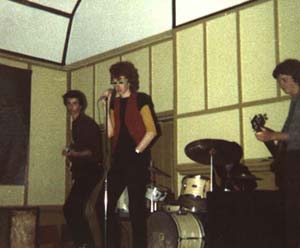 1978 saw the first public appearance of Tamworth's first and at the time, only, punk band, The Reliants. Formed the previous September they could be seen playing at the St. John's Guildhall, John Street in April, May and June and also at the Bowling Green in Lichfield. The shocking events of their final gig at the Guildhall were reported later in the year in the Herald under the headline: "Disc Jockey left lying in pool of blood – court told". This had been a Reliants gig with disco provided by Rikky Patrick (Rikk Quay) in which a fight had broken out between the audience of punks and local Northern Soul fans. The Northern lads had started to dance – as they do – while the band played their raucous brand of punk music, chairs and cans were thrown, Rikky stepped in, was verbally abused, things got out of hand and Steve McDade, Rikk's assistant was hit on the head requiring 14 stitches to a head wound.
At the end of the year The Reliants played what proved to be their final gig, this time at the Arts Centre, in front of what at the time was a record crowd for the auditorium, Rikky Patrick also provided the punk disco.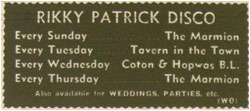 As for discos, Barry John could still be seen although Tamworth FC discos were temporarily halted due to violence early in the year. Rikk Quay moved on from his Star Trax disco to his very own Rikky Patrick Disco and could be seen as Tamworth's only 'Punk DJ' every Sunday and Thursday at The Marmion, every Tuesday at the Tavern in the Town and every Wendesday at the Coton and Hopwas British Legion Club.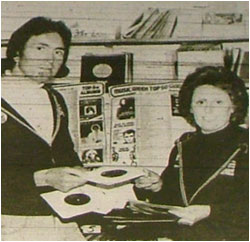 What was happening locally in 1978? Actually Tamworth reached the national news in March of '78 after a Daily Mirror investigation, the story appearing in the Herald under the headline "Tamworth record shop owners branded 'suspicious' – by the chart-riggers". This was a tale of chart-rigging that revealed that Greens Records of Church Street was in fact one of the select number of record shops around the country whose sales figures were used to compile the national record charts. Their innocent connection led to them being featured in this tabloid tale of corruption.
Also in March, under the Herald headline: "Spit and beer" we read about Hugh Inge-Innes Lillingston drummer with nationally known punk band, Rikki and the Last Days of Earth and the fact that he was in fact the son of Lieutenant Commander George Inge-Innes Lillingston and had been brought up in the family's home, the 17th century Thorpe Hall, near Tamworth. We read how "…his Father relaxes to Beethoven and Chopin, surrounded by stately elegance while Hugh Inge-Innes Lillingston's musical talents are rewarded by fans spitting in his face and throwing beer." In April you could join the Scoopers, the first member being Philip Hunt of Wellesbourne, Browns Lane Estate.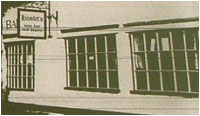 July saw the news that finally, Bryan Barnsley, joint owner and landlord of Hamlets Wine Bar had been granted a licence to sell real ale on draught, rather than by the bottle. This was opposed by the local Licensed Victuallers Association. The previous week the magistrates heard - Hamlets drinkers had 'downed' 79 gallons of beer!
In June, under the headline "Rockin' around the band stand" we read how one of the most significant events in the history of Tamworth bands was to occur later in the year. Dave Armour, Arts Centre Manager explained how he wanted the regular band concerts held in the Castle Grounds' bandstand during the summer months to feature other forms of music, including rock bands. And so, in August, Flash Harry – 06/08/78, Ice – 13/08/78 and Brewster – 20/08/78 all played in the Castle Grounds – the seed had been sown for the Tamworth Rock Festival.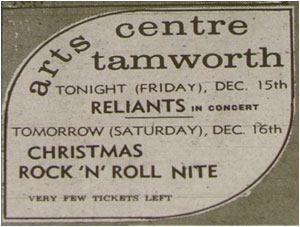 Big Names acts generally gave Tamworth a miss in '78, Mike Sheridan and the Nightriders (on their way down) played Wood End Working Men's Club and Elford Working Men's Club. The Dave Lee Travis Road Show appeared at the Tower Suite, Drayton Manor in April as did Peter Powell and Ed Doolan in October.
Finally in November, announcements were made of a "Youth club plan for Catholic teenagers who miss out on after-school activities", this was to be in what was St. John's Catholic School in The Leys and, as you'll see in 1979 was to be the place where several Tamworth bands were to take their first tentative steps on the road to fame. It was also to be the place where a certain Tamworth Herald reporter was to write his first gig review.