Tamworth Bands History : 1982
| | | |
| --- | --- | --- |
| | UK Number Ones - 1982 | |
Week Ending
Act
Title
06/01/82
Bucks Fizz
Land Of Make Believe
30/01/82
Shakin' Stevens
Oh Julie
06/02/82
Kraftwerk
The Model
13/02/82
Jam
A Town Called Malice
06/03/82
Tight Fit
The Lion Sleeps Tonight
27/03/82
Goombay Dance Band
Seven Tears
17/04/82
Bucks Fizz
My Camera Never Lies
24/04/82
Paul McCartney & Stevie Wonder
Ebony And Ivory
15/05/82
Nicole
A Little Peace
29/05/82
Madness
House Of Fun
12/06/82
Adam Ant
Goody Two Shoes
26/06/82
Charlene
I've Never Been To Me
03/07/82
Captain Sensible
Happy Talk
17/07/82
Irene Cara
Fame
07/08/82
Dexy's Midnight Runners
Come On Eileen
04/09/82
Survivor
Eye Of The Tiger
02/10/82
Musical Youth
Pass The Dutchie
23/10/82
Culture Club
Do You Really Want To Hurt Me
13/11/82
Eddy Grant
I Don't Wanna Dance
04/12/82
Jam
Beat Surrender
18/12/82


Xmas No 1

Renée & Renato
Save Your Love
| | | |
| --- | --- | --- |
| | In the News - 1982 | |
•

Argentina invades Falkland Islands, a British colony, resulting in Falklands War. The war ends with a British victory.


•

First artifical heart transplant.


•

Israel invades Lebanon.


•

Italy wins soccer World Cup.


•

King Fahd succeeds to the throne of Saudi Arabia.


•

John Hinckley found not guilty by reason of insanity, for the attempted assassination of US President Ronald Reagan.


•

The Mary Rose, a sunken Tudor battleship is raised from the sea near Portsmouth, England.


•

John De Lorean is arrest for trafficking in cocaine (he will later be acquitted).


•

Pope John Paul II visits UK - The first Papal visit since 1531


•

Prince William of Wales was born


•

The sinking of the Argentinian warship Belgrano by the British Navy


•

The Thames Flood Barrier completed


•

Channel 4 begins broadcasting
---
Well what a year…what a year.
1982 started with a story in the Tamworth Herald about Tavern in the Town landlord Des Harkin and his infatuation with Erica Roe and her 40 inch charms.
Tamworth had a new night club – Stripes – located in the old Susanna's next to the Castle Hotel. Those Attractive Magnets were the first band to play there in January and the hope was that this would become a regular event. In the Herald we read how: "…credit must go to Stripes' manager John James, whose idea it was to bring live bands to the club. It must be the most professionally equipped and smartest venue in town."
Back to reality, again in January, the Herald reported that unemployment in the town was an incredible 29.1% of the working population.
In early February one of Tamworth's best known arts personalities died suddenly at home in Browns Lane. Dennis Taylor was a founder member of Tamworth Little Theatre and a long serving member of Tamworth Arts Advisory Council.
1981 had been a bad year for the Tamworth's stalwarts of the prog rock world – Ice - with the departure of drummer Steve Sheldon and the last minute cancellation of their German tour. But in '82 things were looking up with Paul Reeves firmly installed in Steve's old stool and the band promising to start extensive gigging again. Although later in the year, in July they were looking for a new vocalist.
Lichfield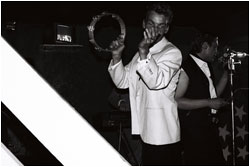 In addition to what proved to be a very busy year on the local Tamworth music scene, Lichfield Bands featured heavily on the local scene – Bashful Alley, Ulterior Motives – later to become The Ultimate Sway and Artful Dodger all appeared locally in 1982.
The Ultimate Sway also released their debut single, a double 'A' single "Always Waiting/Here We Stand".
Live Music
In March, Bashful Alley and Omen received rave reviews for a gig at Tamworth Arts Centre. But…just a few weeks later it was announced that live music was banned from the Arts Centre due to graffiti in the toilets after that gig. This coupled with the end of gigs at The Warren, Mile Oak – was devastating for the local 'live' music scene.
In addition, St. John's Youth Club was temporarily closed because of a plumbing problem and because of this, bands could once more be seen performing at St. John's Guildhall, scene of punk gigs by The Reliants in the late '70s. In addition, in July we read how those enterprising officials at Polesworth Top Club had lined up an impressive series of Monday night heavy rock concerts for the summer months.
In May the Herald became a tabloid, Musicbox got a new look and a new employee on the books – one Sam Holliday. Sam was now no longer just a contributor for Musicbox with the odd Stranglers gig review – he'd now got his feet under the table, pen and notebook in hand – and was a permanent fixture within the Musicbox column inches. This was the beginning.
Leigh Smart
Over the previous year or so Musicbox had featured reviews by several fans, '82 saw quite regular features by Leigh Smart – Tamworth's Mr. Northern Soul. His reviews included Junior Walker, Edwin Starr and Major Lance all at Hinckley Leisure Centre,
Was it an Omen?
On August 13th 1982, Troy Morgan a local music fan delivered a scathing review of an Omen gig, which the Herald published. Just one month later Omen played their last gig. Was this proof of the power of Musicbox?
Alternative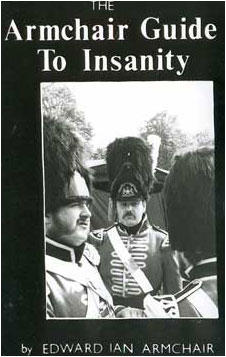 1982 also saw the first appearance in the town of what was termed 'alternative entertainment'. This appeared several times in and around the town in the form of local entertainer Dave Hewitt and alternative poet Edward ian Armchair. Edward also released a 12 track cassette 'The Armchair Guide to Insanity' recorded at Those Attractive Magnets' own Magnadrive Studios i.e. the kitchen in The Tavern in the Town!
Vinyl
But…Those Attractive Magnets…at last could themselves be heard on vinyl - on 9th July 1982 we read about the release of Synthetic Romance a showcase disc featuring two of the town's bands – Those Attractive Magnets and their track 'Fade Into Secret Silence and The DHSS and their track 'Together'.

1982 – was a massive year in terms of the history of the local scene. Nearly forty new bands appeared, several bands appeared on vinyl and Sam Holliday became a permanent fixture in Musicbox – the scene was set.