Tamworth Bands History : 1968
| | | |
| --- | --- | --- |
| | UK Number Ones - 1968 | |
Week Ending

Act

Title

24/01/68
Georgie Fame
The Ballad Of Bonnie & Clyde
31/01/68
Love Affair
Everlasting Love
14/02/68
Manfred Mann
The Mighty Quinn
28/02/68
Esther & Abi Ofarim
Cinderella Rockefella
20/03/68
Dave Dee, Dozy, Beaky, Mick & Tich.
Legend Of Xanadu
27/03/68
Beatles
Lady Madonna
10/04/68
Cliff Richard
Congratulations
24/04/68
Louis Armstrong
What A Wonderful World
22/05/68
Union Gap featuring Gary Puckett
Young Girl
19/06/68
Rolling Stones
Jumping Jack Flash
03/07/68
Equals
Baby Come Back
24/07/68
Des O'Connor
I Pretend
31/07/68
Tommy James & The Shondells
Mony Mony
14/08/68
Crazy World of Arthur Brown
Fire
28/08/68
Beach Boys
Do It Again
04/09/68
Bee Gees
I've Gotta Get A Message To You
11/09/68
Beatles
Hey Jude
25/09/68
Mary Hopkin
Those Were The Days
06/11/68
Joe Cocker
With A Little Help From My Friends
13/11/68
Hugo Montenegro Orchestra
The Good The Bad And The Ugly
11/12/68


Xmas No 1

Scaffold
Lily The Pink
| | | |
| --- | --- | --- |
| | In the News - 1968 | |
•

March -

Yuri Gagarin

died in a plane crash


•

April -

Enoch Powell

was censured by British MPs for his "rivers foaming with blood" speech relating to the influx of coloured people into the UK.


•

April 4th -

Martin Luther King

, 39, was shot and killed in Memphis, Tennessee


•

June 5th -

Senator Robert Kennedy

was assassinated by Sirhan Sirhan, a Palestinian Arab.


•

June -

Student riots in France

took war into the streets of Paris and occupied the Sorbonne


•

August 20th - Soviet and Warsaw pact troops invaded

Czechoslovakia

.


•

November 5th -

Richard Nixon

was elected 37th US President


•

December 27th -

Three US astronauts

orbit the moon in Apollo 8
---
---
A bit of a strange year - 1968. Out there in the big wide world people had got flowers in the hair, hippies were all over the place, The Beatles' released Hey Jude and The White Album and back in Tamworth you still had Beat Dances at Atherstone Memorial Hall or the Round Table Annual Indoor Chicken Barbecue at Lonkhills Farm, Thorpe. But one thing you didn't have was a single gig at the Assembly Rooms. In 1968, there was not one concert held at the Assems. Contrast that with 1963 when there were over 70 gigs throughout the year including performances by The Beatles and The Rolling Stones.
Local Bands
Of course you still had local bands performing. Most popular venues were Polesworth Working Men's Club and Memorial Hall, Kettlebrook Working Men's Club and Fazeley Victory Club. The Wanderers were still gigging regularly, whether or not they had changed their sound as they had planned in 1967 I don't know but they still notched up a total of 22 gigs in '68. They'd been together now a full 5 years.
The Power and The Glory were still playing, with 'Kippa' becoming the 'selling-point' for the band as they were often advertised as either the 'Power and Glory with Kippa' or 'Kippa and The Power and Glory'. The Teen Beats were still a very popular local band but Harwell Reaction (formerly The Vipers) only appeared once in '68 – looks like their days are numbered!
One new band were featured in the Herald of 1968, on 8th November we read about The Evan Lyric Sound and how "During the last month they have been billed with radio, TV and recording stars The Peddlers and the Chicken Shack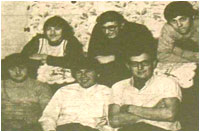 and on December 12 will appear with Scott Walker, the American singing star now living in this country. Earlier this month the group had to postpone a three-week tour of Germany due to heavy prior commitments and early next year are to audition for "Opportunity Knocks".
The Loving Kind tried a variety of subtle name changes: The Loving Kind, Loving Kind, Lovin' Kind and Lovin' Kynd.
Disco
1967 saw the great arrival of Disco in Tamworth but that excitement doesn't seem to have continued apace in '68. There were no more grand openings of new discotheques announced, in fact the Soul City Discotheque at the Prince of Wales, Wilnecote was discontinued on 12th July 1968. There was the appearance of several new DJs and Discos in the town with an

interesting craze for variations of the name e.g. Dave Stewart tried Disc-o-Tek, and Jason Roberts, Chris Harris and The Blue Apple all tried Disk-K-Tek. Interesting to see if '69 sees this continue. Take a look at the full disco listings for 1968.
Big Names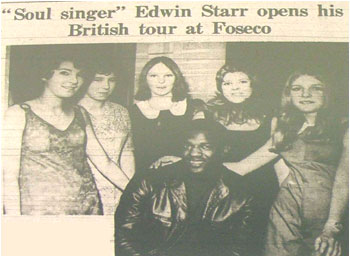 Big name artistes still played Tamworth, many just as they were starting out on the road to fame and fortune. The main venue for these appearances was the 'members only' Foseco Sports and Social Club. In the Tamworth Herald of February 1968 we read how: American "soul singer" Edwin Starr opened his first major British tour with an appearance at the Foseco Sports and Social Club at Drayton Manor. Starr was backed by a London based group "The J.J. Sound" and sang at the club's weekly dance "Scene '68". Interesting to think that Edwin was to live in the Tamworth area later on in his career.
28th January 1968 saw Robert Plant and the Band of Joy, play at the Foseco Sports and Social Club. The Band of Joy are of course most famous for launching the music careers of Robert Plant and John Bonham, but the lesser known fact is that Noddy Holder of Slade was their roadie. The band was started by Plant in 1966, but split in 1968 when he and John Bonham were headhunted by Jimmy Page for the band that became Led Zeppelin. Peter Green (top blues guitarist) and The Fleetwood Mac, played the Foseco in February and then on 28th May 1968 Status Quo appeared.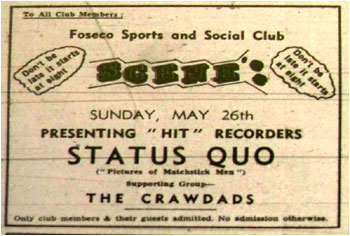 Later in the year there were performances by The Uglys and the The Family who performed outside at the Foseco barbecue and then in October Acker Bilk and His Paramount Jazz Band played Drayton Manor.
Local News
As for local news in Tamworth in 1968, attention had now turned to future uses of the Assembly Rooms. As mentioned it was no longer used as a concert venue, but in the Tamworth Herald – of 29th March '68 we read: Assembly Rooms? : Arts Centre and Little Theatre for Tamworth. An imaginative plan was proposed by local councillor Tom Kennedy, suggesting that Tamworth should have its own Arts Centre and Little Theatre. Good to know that Tom was able to see this 'exciting' vision realised some eight years later when Tamworth Arts Centre opened in the converted Baptist Church on Church Street. Sad to think now that Tamworth no longer has any arts provision at all (a disgrace – Ed.).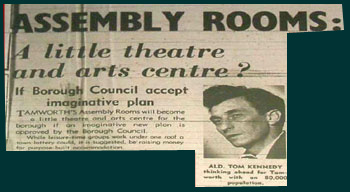 Other local news was dominated by a shocking headline of 19th April '68: Jeweller Dies After Being Found With Head Injuries in Local Club, "Mr. John Henry Moore, died in hospital, two days after being found with head injuries after lunching at the Gazebo Club, Lichfield Street." A few weeks later, the shock was somewhat allayed when reading: Jeweller Had Egg-shell-thin Skull, "At the inquest into the death of Mr. John Henry Moore, the jury returned a verdict of death by misadventure."