Tamworth Bands History : 1974
| | | |
| --- | --- | --- |
| | UK Number Ones - 1974 | |
Week Ending
Artist
Title
19 Jan 1974
New Seekers
You Won't Find Another Fool Like Me
26 Jan 1974
Mud
Tiger Feet
23 Feb 1974
Suzi Quatro
Devil Gate Drive
9 Mar 1974
Alvin Stardust
Jealous Mind
16 Mar 1974
Paper Lace
Billy Don't Be A Hero
6 Apr 1974
Terry Jacks
Seasons In The Sun
4 May 1974
Abba
Waterloo
18 May 1974
Rubettes
Sugar Baby Love
15 Jun 1974
Ray Stevens
The Streak
22 Jun 1974
Gary Glitter
Always Yours
29 Jun 1974
Charles Aznavour
She
27 Jul 1974
George McCrae
Rock Your Baby
17 Aug 1974
Three Degrees
When Will I See You Again
31 Aug 1974
Osmonds
Love Me For A Reason
21 Sep 1974
Carl Douglas
Kung Fu Fighting
12 Oct 1974
John Denver
Annie's Song
19 Oct 1974
Sweet Sensation
Sad Sweet Dreamer
26 Oct 1974
Ken Boothe
Everything I Own
16 Nov 1974
David Essex
Gonna Make You A Star
7 Dec 1974
Barry White
You're The First, The Last, My Everything
21 Dec 1974


Xmas No 1

Mud
Lonely This Christmas
| | | |
| --- | --- | --- |
| | In the News - 1974 | |
•

Oil prices

quadruple because of world shortage


•

US

President Nixon

resigns in face of impeacment threat over

Watergate

, Gerald Ford succeeds him


•

The

three-day week

in the UK


•

Labour minority government elected in the UK,

Harold Wilson

becomes Prime Minister


•

Labour wins

overall majority in second election


•

UK

inflation

rises to 20%


•

Alexander Solzhenitsyn

is expelled from Russia
---
---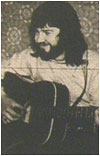 It's 1974, to come this year are the miner's strike, three-day week and 20% inflation. Power cuts all the time and we were advised to share a bath!! On the national music scene we'd got Suzi Quatro, Alvin Stardust, Gary Glitter and Mud, in Tamworth we'd got Folk music. Folk was very big in Tamworth in '74. There were now three regular folk clubs: The Prince of Wales, Lower Gungate, The Unicorn, Orton-on-the-Hill and the Wigginton Hotel. And Tamworth must have been doing something right in the world of folk music because local folk singer-guitarist Andrew Dwyer, resident artist at the Unicorn Folk Club, on Sunday, June 16, appeared in the final of the 1974 Melody Maker national folk rock competition at the Round House in London. Andy was competing against 19 other acts from all over the country and he took overall second prize and the award for the Outstanding Solo Performance.
Other local bands that could be seen regularly in and around Tamworth included the ever-present Kwil and The Hy-Kells, Phil Bates was now a solo artist and also performed at the local folk clubs. Venues were limited to the local working men's clubs and the odd appearance at a Round Table barbecue or hog-roast.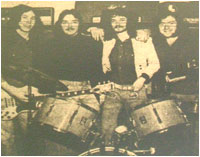 A number of local acts were featured in Musicbox in the Tamworth Herald. Barathea were a group of pupils from Wilnecote High School performing folk music with their teacher. Theseus wrote their own songs and played 'pop', they had been formed with members from another local band Ramrod. Later in the year Billy Bates was featured in Musicbox – Billy was in fact Phil Bates (ex-Kwil, Enigma, Source of Power, Teenbeats, Wild Four), we read how he had "a great new single out in the shops, called "Mr. Hand Me Down". Ian Marklew another local singer-songwriter was also featured in the Herald in June of '74, he was just set to record his first single.
Big Name Acts
We're struggling now! It seems that by 1974 Tamworth had been erased from the rock 'n' roll circuit and big name artistes now seemed to by-pass the town. The only name acts to appear locally were The Nashville Teens (again!) who appeared at the Tamworth and District Round Table, Indoor Chicken Barbecue on 6th July. Joe Loss and His Orchestra and Kenny Ball and His Jazzmen appeared at Drayton Manor and Bill Haley and His Comets played at the Twycross Country Club.
DJs and Discos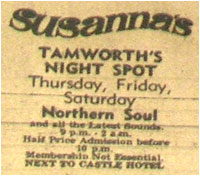 DJs and discos continued their rise in popularity with Barry John, Malc Taylor and Mike Bond appearing regularly. Johnny Slade was featured on the front page of the Herald of 22nd February under the sad headline "Disc-Jockey's £3,000 worth of equipment stolen". Kippa was now appearing regularly at the Assembly Rooms often as Kippa "The Yob with the Gob" Grahame Graham. By the end of the year Susannah's Disco, who had now stopped booking bands, were promoting Northern Soul nights on a Thursday, Friday and Saturday.
Local News
Locally, David Black won the bronze medal in the 10,000 metres at the Commonwealth Games and became a fully-fledged local celebrity, appearing, rightly-so, on almost every page of the Tamworth Herald, opening this, presenting that, receiving this award, signing that autograph. The miners strike and three day week of '74 also had a big impact on the town. In July we read more news on progress with the Tamworth Arts Centre under the headline "Conversion to Arts Centre next month?" reading: "Revised estimates put the cost of the work at £40,000 - £6,000 higher than last September's figure "because of the continuing effects of inflation". And in November under the headline: "£340 a week to run Arts Centre" we read how "Running costs at Tamworth's Church Street arts centre could reach £17,000 a year. But annual income is likely to be more than £3,000, councillors have learned." We wait with baited breath for more progress in 1975.