Tamworth Bands History : 1972
| | | |
| --- | --- | --- |
| | UK Number Ones - 1972 | |
Week Ending
Artist
Title
08/08/72
New Seekers
I'd Like To Teach The World To Sing
05/02/72
T Rex
Telegram Sam
19/02/72
Chicory Tip
Son Of My Father
11/03/72
Nilsson
Without You
15/04/72
The Pipes & Drums & Military Band of The Royal Scots Dragoon Guards
Amazing Grace
20/05/72
T Rex
Metal Guru
17/06/72
Don McLean
Vincent
01/07/72
Slade
Take Me Back 'Ome
08/07/72
Donny Osmond
Puppy Love
12/08/72
Alice Cooper
School's Out
02/09/72
Rod Stewart
You Wear It Well
09/09/72
Slade
Mama Weer All Crazee Now
30/09/72
David Cassidy
How Can I Be Sure
14/10/72
Lieutenant Pigeon
Mouldy Old Dough
11/11/72
Gilbert O'Sullivan
Clair
25/11/72
Chuck Berry
My Ding-A-Ling
23/12/72


Xmas No 1

Little Jimmy Osmond
Long Haired Lover From Liverpool
| | | |
| --- | --- | --- |
| | In the News - 1972 | |
•

President Nixon

visits China


•

British Direct Rule imposed on

Northern Ireland




•

Three day week

for industry imposed in the UK during miners strike


•

Israeli athletes killed by Arab terrorists during the

Munich Olympics




•

Idi Amin

orders the expulsion of all Asians from Uganda


•

Bobby Fischer

wins World Chess championship


•

US Swimmer

Mark Spitz

wins 7 Olympic gold medals


•

Duke of Windsor

dies, aged 77
---
---
Folk was very big in Tamworth in '72 – three new clubs opened. Togetherness was a new club opened in January at Tamworth College. Although by the end of the year, in November, after a poor response to the headlining band Gothic Horizon, we read "Lack of response and poor support like this will do little to relieve the entertainment void in the town, bemoaned by many people."
Susanna's held regular folk nights. On 26th January the E.J. Firkinball Group and Jasper Carrott played. In July, a new folk club was opened at the Unicorn, Orton-on-the-Hill and later in the year, in December, a folk club opened at The George in the centre of the town.
Early in the year we read about the success of local boy Dave 'Clem' Clempson who was now a member of Humble Pie with Steve Marriott.
Local Bands
1972 saw several features on new bands in the now regular, Musicbox column in the Herald. Jessup were just about to release a single on CBS. In June Taragon were another band featured.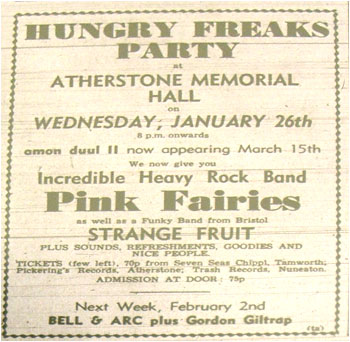 Phil Bates seemed to have a monopoly on Musicbox in '72, appearing three times, with three different bands. Firstly, in May with Enigma, when we read how "several of their tapes are in America with their recording manager Monty Babson. They are turning pro in July when they will be touring this country and abroad." By September he had left Enigma and was now in Quill, releasing their first single "Spent the Rent " on the EMI label. In November, Quill had become Kwil and released a single on the Parlophone label. Not bad for one year – three bands and three singles on three different labels in one year.
On 16th October 1972 we saw the first recorded appearance locally of Heimdall, Tamworth's only space rock band, playing at the Hungry Freaks Benefit Ball at the
Assembly Rooms.
Big-name Bands
The Pink Fairies and Gordon Giltrap played at two Hungry Freaks Parties. Billy Fury played twice in the town in April, at Susanna's and at Amington Liberal Club. 1972 also saw appearances by Ruby Murray, Medicine Head, Bert Weedon, the Swinging Blue Jeans and Sweet.
DJs and Discos
Johnny Slade was being promoted as the Top-Local DJ appearing regularly in and around the town. We saw the first appearance of Kippa as a DJ. Of course in the history of Tamworth bands we have seen him as vocalist in The Blackouts, 4XXXX's and The Power and the Glory, but his first appearance as a DJ was as D. J. Kip Graham appearing at Fazeley Victory Club on June 30th '72.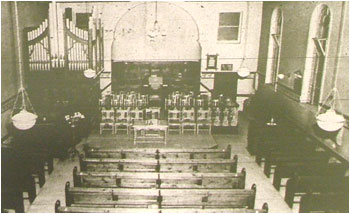 On 10th November '72 we saw the first appearance of a legendary Tamworth DJ – Barry John began regular Sunday night discos at The Mill Disco at Tamworth Football Club.
News
In September we read the exciting news about the development of an Arts Centre for the town. The Baptist Church on the corner of Church Street and Lower Gungate was to become available in early '73 and architects were already drawing up plans for the conversion of the building to an Arts Centre. A very exciting development for the town.