Tamworth Bands History : 1971
| | | |
| --- | --- | --- |
| | UK Number Ones - 1971 | |
Week Ending
Act
Title
09/01/71
Clive Dunn
Grandad
30/01/71
George Harrison
My Sweet Lord
06/03/71
Mungo Jerry
Baby Jump
20/03/71
T Rex
Hot Love
01/05/71
Dave & Ansil Collins
Double Barrel
15/05/71
Dawn
Knock Three Times
19/06/71
Middle Of The Road
Chirpy Chirpy Cheep Cheep
24/07/71
T Rex
Get It On
21/08/71
Diana Ross
I'm Still Waiting
18/09/71
Tams
Hey Girl Don't Bother Me
09/10/71
Rod Stewart
Maggie May
13/11/71
Slade
Coz I Luv You
11/12/71


Xmas No 1

Benny Hill
Ernie (The Fastest Milkman In The West)
| | | |
| --- | --- | --- |
| | In the News - 1971 | |
•

January 2nd - 66 people were killed at a football match, between Rangers and Celtic at

Ibrox Park

, Glasgow when the crush barriers gave way.


•

January 25th -

General Idi Amin

became President of Uganda


•

February – The first

British soldier

to be killed in Northern Ireland


•

February 15th - Britain introduced

decimal coinage




•

March 29th - Murderer

Charles Manson

was sentenced to death in Los Angeles


•

April 24th - In Washington DC, 200,000 people demonstrated against the

Vietnam war




•

August - On the advice of the new Ulster premier,

internment

without trial, for suspected IRA terrorists was introduced in Northern Ireland. Subsequently murders and bombings proliferated the province


•

October 28th - In the House of Commons Britains entry into the

Common market

was approved by Parliament by a majority 112 votes. The polls showed that the British public seemed to have no enthusiasm for joining.


•

November 5th -

Princess Anne

was voted Sportswoman of the Year


•

December 17th - Two-week war between India and Pakistan ended , East Pakistan becomes independent republic of

Bangladesh




•

Members of the

Angry Brigade

, a middle class student group protesting against capitalism, were sent to prison for setting bombs off in Britain


•

Edward Heath

, British prime Minister led a successful Admirals cup team


•

3

Russian cosmonauts

were killed re-entering the atmosphere


•

"Papa Doc" Duvalier

, dictator in Haiti, dies, succeeded by son "Baby Doc"
---
---
It's 1971. If you had a good pair of legs, enjoyed a night at the disco and fancied a 16 oz T-Bone Steak at the Hunters Lodge Steak Bar at the Castle Hotel – 1971 was the year for you. Hot Pants were everywhere. In the Tamworth Herald of April 9th, there were separate Hot Pants Parades on the same night at: Kingsbury Working Mens Club, Glascote Working Mens Club, Coton and Hopwas British Legion Club, Hurley Working Mens Club and Polesworth Working Mens Club.
Local Bands
There wasn't a single new local band featured in the Herald of 1971. Although we did read in the new Musicbox column in the Herald of 17th December 1971 about Enigma, whose lead guitarist hailed from Dosthill. This was of course Phil Bates, who had previously appeared in one of Tamworth's busiest bands of the mid to late sixties, The Teenbeats and later Source of Power. Phil was to go on to be a member of Kwil (Quill) and later Trickster and ELO. Read some of Phil's earliest memories as a member of The Teenbeats – his first band at the age of 12!
Of course not all local bands were featured in the Tamworth Herald, some were performing and receiving no publicity at all. Around about this time in the history of the Tamworth local music scene a local band did appear with one member who was to play a significant part in several bands. Gray Smith was the drummer in 'space rock' band Heimdall. Gray recalls: " It was about 1971 and we were all about 14 years old. We actually had access to the Scout Hut in Hopwas for about a week and we really had a freak-out in there. I can only remember 3 songs: Mushroom by CAN, Evil by Heimdall and some 12 bar space blues. We also played Leyfields Community Centre and Tamworth Assembly Rooms before going separate ways." Gray was to go on to drum with Lucifer, Flash Harry and The Lounge Lizards. There are also some memories of Heimdall and this infamous Scout Hut gig from Tina Jameson: "Heimdall did a fantastic gig at 'Hopwas Scout Hut' and were very Hawkwind inspired. They had a following who did some 'Stacey dances' stuff but with clothes on i.e. headbanging/cosmic posing etc. The only song that I can remember was written by Chris Gould and it was called 'Witch Woman Reserat Lemtrac' or something like that and it was written about a friend of mine who was a goth before there were goths." Gray Smith also recalls the dancers: "I remember the dancers too, joss sticks and patchouli oil everywhere. The Stacey dances were certain girls who danced erotically to our music like Stacey [Stacia – Ed.] who was a near naked dancer in Hawkwind."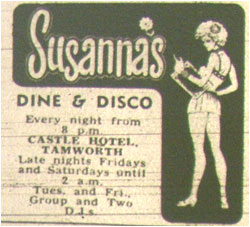 As for the local music scene, the Disco was becoming more and more popular, with disco nights at all local venues (working men's clubs) every weekend. 1971 saw the opening of Susanna's, Tamworth's first "Disco Restaurant". Open seven-nights-a-week, the discotheque restaurant was the result of an ambitious £8,000 scheme which had transformed old buildings (a garage, hayloft and cottage) adjoining the Castle Hotel. Susanna's was named after the 22-year old daughter of proprietor Mr. Norman Cartlidge and Mrs. Cartlidge. The disco-dine was open every evening from 8 p.m. to 11.30, midnight or 2 a.m. depending on the night. Guest groups, D.J.'s and record hostesses provided the entertainment and the menu offered American style king-size hamburgers as well as old favourites such as T-bone steak and chicken.
Throughout '71 many 'big-name' acts appeared at Susanna's including in August, Picketty Witch and in September, The Fortunes, Chicory Tip and The Searchers. The £1 annual membership provided free admission on certain nights and price reductions on others and non-members were charged from 30p to 70p.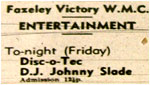 Talking about D.I.S.C.O. – 1971 saw the first appearance of one of the biggest names in Tamworth's disco history – Johnny Slade. He first appeared under the name John Slade performing at a Disco Derby for Warwickshire S.J.A. Cadets at Wood End Youth Centre on 11th June 1971. He could then be seen several more times throughout the year having now become Johnny Slade including in September and November at the Twycross Country Club. In December at Wilnecote Parish Hall with Hampton Court and also at Fazeley Victory Working Mens Club.

One of the big inspirational disco names, namely Emperor Rosko, again appeared at the Assembly Rooms. This performance was featured in the first appearance in the Tamworth Herald of what was to become one of the most influential elements of the Tamworth music scene – MUSICBOX. In the Tamworth Herald of 3rd December 1971, David Millar previewed a gig by King Biscuit Boy and Idle Race, the Emperor Rosko gig. There were also reviews of Santana's Third Album and the Pacific, Gas and Electric new album and the latest release from The Coasters.
Big Name Acts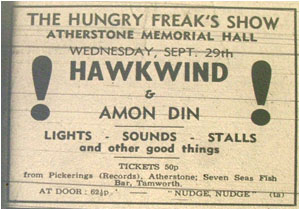 Other big names appearing in and around Tamworth in 1971 included Gentle Giant, Medicine Head and Supertramp at Polesworth Memorial Hall. Hawkwind played the "Hungry Freaks Show" at Atherstone Memorial Hall and Bert Weedon played Kingsbury Working Mens Club.
Local News
What was happening in Tamworth in 1971. In what had become a regular feature in the Tamworth Herald through the 60's and now the 70's and what was to continue through the decades, under the headline: Is this what youngsters really think of Tamworth? We read: "About the only thing you can do in Tamworth is go for a pint."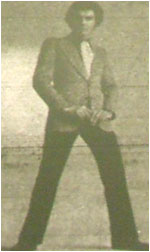 The Marmion pub opened in Market Street, where they had a range of great beers: mild and bitter, Double Diamond and draught Skol too! The Clare Travel Agency had started offering holidays in the sun as people began flying abroad for holidays. The "new money" came in on D-Day. February 15th 1971 was decimalisation day and everyone was convinced they were going to lose out financially.
In a feature in the Tamworth Herald of 30th April, under the headline: "Pop" concerts in Castle pleasure grounds? We read how: "Occasional "pop" concerts may be staged in Tamworth's Castle pleasure grounds – providing there is no expense to the Borough Council.
Councillor Dr. Philip Barford put the suggestion forward at Tuesday night's meeting of the Borough Council when a schedule of dates for this year's Sunday band concerts was presented. He criticised the decision to cut a £100 additional allocation towards the cost of the concerts from the estimates but added "Not everyone is attracted to a band concert and I wonder whether it would be possible to introduce a "pop" group for the entertainment of the younger people. He said he was not particularly fond of "pop" music but thought the occasional "pop" group would appeal to the younger generation. It was possible some groups would be glad to appear at no charge, but just for the advertising value, he said. It was in fact to be another seven years before this actually happened when Ice appeared in Tamworth Castle Grounds on 12th August 1978.
In June of '71 the Radio One Club visited the town, in the Herald we read: "Hundreds of eager youngsters from as far as Birmingham and Stafford crowded into Tamworth's Assembly Rooms to listen to BBC Radio One Club. D.J. Noel Edmunds [sic.] joked and chatted through two hours of pop music, beginning at 12 o'clock, and was forced to resort to shouting at times to make himself heard above the enthusiastic teenagers. Tamworth's Assembly Rooms has never known anything like it!"
And in September, under the headline: "Polesworth Pyrenean pups named after pop stars", we read how Mr and Mrs Alan Hoare and pedigree pet Heidi, had a litter of 12 pups, naming them: Elvis, Lulu, Ringo, Ella, Englebert, Petula, Hank, Otis, Esther, Dionne, Ella and Lena, the 13th died.