Tamworth Bands History : 1988 :
April
Tamworth Herald – 08/04/88
Musicbox – The pride of the area…
Catch 23…National Rock School Final, Bradford
I have been writing MUSICBOX for almost five long years now and in that time there have been several nights that have stood out.
All the Rock Festivals, Battle of the Bands and charity shows are obvious highlights, but equally memorable are individual, unforgettable concerts from the likes of Breaking Point, Wolfsbane, Dance Stance, Catch 23, WIN, Terroah, XPD, Fetch Eddie, Dream Factory and so on.
And now. I have another unforgettable occasion to lock away into my musical memory – the final of this superbly-organised and prestigious competition. As you will probably have already seen elsewhere in this paper (and of course on TV at the weekend), Catch 23 came in third in the Rockschool final following an exciting, energetic performance. Obviously there was some disappointment that they hadn't won but let us put this in some sort of perspective – Catch 23 have been officially declared as the third best school-age rock band in the whole of Britain. More than 35 bands entered this competition and this wonderful Atherstone bunch saw off all but two of them.
After just two years or so together the band earned praise from people who have a major profile in music – Robert Plant (who raved about drummer Jason Notman), Stock, Aitken and Waterman (who were delighted with the Adders' expert) Mike read (who was genuinely impressed with a band close to his own musical heritage) and Toyah Wilcox who bopped around to the group from the moment they started. In an audience littered with pop stars of this ilk, top journalists like Rick Sky from the S** and A and R men of all shapes and sizes, Catch 23 really did do the business and it only takes one person who saw last week's proceedings to spot them and the world could be their oyster. So what was the day like.
Well it all began for 150 Atherstonians at 10am on Wednesday last, when three buses left Atherstone School packed to the rafters with lusty young locals determined to give their heroes the maximum support. All of them sported special Eddie Armchair created Catch 23 T-shirts and all of them were determined to do their bit to give the band the best possible lift. Meanwhile up at the Bradford venue for the show, Catch 23 were just getting ready to hit the audience in a big way. They had been there since Monday and enjoyed tremendous hospitality and a unique and genuine feeling between all the groups present. Such was the effect of their whirlwind attacking musical style, that Yorkshire TV insisted Catch 23 start the whole concert to give it (and the TV audience) the best possible rocking start.
The band actually hit the stage at around 2.15 and despite all the pressure of a massive crowd and numerous cameras they played with the ease and confidence that they would do at the Arts Centre. The set began with the crowd pleasing 'Everybody' got even warmer with the splendid 'No More Lights' slowed down with the moving 'Hurt Me' and ended with a rousing outburst of 'Love Explosion'. It was all over far too quickly but the band knew they had done well and now it was just going to be a long long wait to see if it had been good enough.
Well, my spirits began to rise as I saw the rest of the acts who although all of merit were not as outstanding as the heats had suggested. In the end I felt it was between two bands – Scotland's theatrical Ad-Lib and our own Catch 23. In the end Ad-Lib got the nod but inexpicably a group called Alibi robbed Catch 23 of a much-deserved second place.
Still, as someone who organises rock competitions myself, I know from bitter experience that no-one agrees with the final verdict so I won't gripe. Well not much anyway!
With the final announcements over the cameras shut off, and everyone started to head home. Catch 23 were disappointed of course but should feel nothing but pride. They earned universal praise, massive exposure and even a slot on the box which I am sure everyone enjoyed on Saturday morning. And more than that perhaps, they were given a real taste of the big time. Catch 23 were treated like stars for three days and clearly liked the taste very much. The whole competition will have inspired them to believe that all the hard work is worth it, because the rock and roll rewards are very great indeed. For that reason it was a marvellous occasion for the band, who, like me and 150 Atherstonians – will never forget their first ever trip to the previously uncharted waters of Bradford.
As for the TSN contest itself, well, I am filled with admiration. Organiser Roger Davies and his TSB team deserve the greatest possible respect for their self-less work too give bands like Catch 23 a chance to experience the (very) good life.
I get the same feeling watching Catch 23 before the cameras as I did watching Wolfsbane playing at the Marquee. It was a feeling that, yes, we ARE doing something right in this area. We are give our bands the best possible support and start to offer them the opportunity to go as far as they possibly can. The local music scene should be proud of its efforts over the past few years and I for one am cock-a-hoop to see Catch 23 doing so well. They didn't win the battle but something tells me they are going to win the war.
SAM HOLLIDAY
Tamworth Herald – 08/04/88
Musicbox – Metal mixed with machines!
DHSS, Wolfsbane, Kraze in action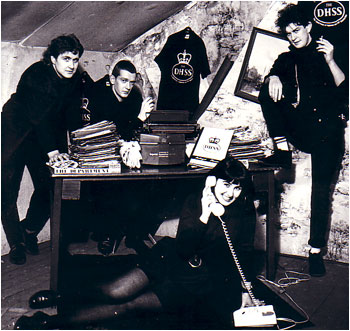 TAMWORTH Arts Centre opens its doors on Sunday night for one of the undoubted gigs of thee year.
Metal favourites Wolfsbane and Kraze will for an unlikely partnership with computer whiz-kids DHSS for what promises to be a barrel of rock and roll laughs.
The unlikely trio should prove an irresistible attraction for people who like everything from hi-energy metal to high-tech computerised punk rock.
For Wolfsbane of course it will be their first Tamworth appearance for far, far too long and a chance for local punters to see exactly what they have been missing over the past few months. For fellow metal merchants Kraze there is the opportunity to further impress the masses following their successful 'Battle of the Bands' appearances, and to cap it all off we have the debut show from DHSS.
As you will remember DHSS emerged at the end of '87 promising to be the major hype of 1988. technical problems (yes, I know it's a cliché) have prevented them playing until now but finally the world is going to witness the arrival of a potential phenomena.
"The legend has returned," enthused the evergreen (or is that everdrunk?) Rikk Quay. "DHSS are back and they mean business."
The group will certainly be very different to not only their fellow acts on the night but just about everything else you will have seen. For a start our Mr. Quay will be playing computers instead of anything normal like bass and drums and only John Reeman will be holding a recognisable instrument in the shape of a guitar. The picture is completed by vocalists Eddie Armchair (making his first live singing appearance since the 13th Century) and Anice Byfield. The set will be about 20 minutes worth of sizzling wham-bam punk played with style and panache and curiously, it will probably be lapped up by metal fans who like their music fast, loud and bursting with personality. After all it was Edward who said it was those most metal of metal men Wolfsbane, who inspired him to return to action. He said that he intended to be 'Bayley Cooke with long words.' We shall just have to wait and see if he can accomplish this ideal…
If you prefer your Bayley Cooke with short words well Sunday night is still going to please you. Wolfsbane have been conquering Planet Earth over the past few months and have deprived their Tamworth fans of a chance to see just how excellent they have become. They intend to make a real splash this time and they are all looking forward to Sunday's concert.
"It should be a lot of fun," said bassist Jeff Hateley, "It's a good line-up of bands."
I won't insult your intelligence by attempting to describe Wolfsbane because of you don't know them yet you wouldn't be reading this page anyway and the chances are you got lost searching for the Scooper column.
Kraze, the final piece of a hugely-enjoyable jigsaw, who are a metal band who one or two people feel could go right to Wolfsbane's national heights and beyond. Their music is more commercially orientated glam metal played with distinctive and instinctive quality by musicians who know what they want and how they are going to get it. Undoubtedly one of Tamworth's finest homes as they look set to win over Sunday's audience and complete a fabulous trio.
So that's it – a real corker of a concert. Get out for the metallic energy of the Wolfies and Kraze, the powerful potential of DHSS and the chance for us all to get to the Arts Centre again and get smiling. Be there or be shot.
Tamworth Herald – 08/04/88
Musicbox – SNIPS
THE Conspiracy return to the scene of a former success next week, when they play at the New Swan, Atherstone on Tuesday, April 12. The last time Lisa and the chaps played in Atherstone they went down a storm and will be looking to do so again on the night.
Tamworth Herald – 08/04/88
Musicbox – SNIPS
ALSO in action at the New Swan are experienced Tamworth outfit Future Field. The impressive energetic rock squad will be at the New Swan on April 26. Before then on April 11 they are at the Kaleidoscope.
Tamworth Herald – 08/04/88
Musicbox – SNIPS
NEW metal B.O.D. who say they have an all-powerful sound want a drummer who likes thrash, metal and punk to join them and indulge in some insane fun. They have sent me a tape featuring such ditties as 'Skate or Die', 'Ballad of Ben Jovi' and 'Shark's Bait' and they want someone with several screws loose to complete their line-up, Write to Gaz Wain.
Tamworth Herald – 08/04/88
Musicbox – SNIPS
MORE bits of news for your Wolfsbane filofaxes. First did you know that Bayley in his former acting days had walk on parts in 'Nanny', 'Angels' and 'To Serve Them All Our Days'. Such is the stuff of legends. And also last week Jeff Hateley passed the psychologically-destroying age of 21. I told this to one of his rather young fans on the Catch 23 bus last week, and she sadly thought that made him too old for her. Age is very depressing isn't it Jeffrey?
Tamworth Herald – 08/04/88
Musicbox – SNIPS
STOP PRESS – A warning to all road users. Reverb Sounds desk man Gary Byfield has started driving lessons. In the interest of people of all three sexes you are urged to stay clear of all roads!
10/04/88
Kraze
The DHSS
Wolfsbane
Tamworth Arts Centre
11/04/88
Future Field
Kaleidoscope, Birmingham
12/04/88
The Conspiracy
New Swan, Atherstone
Tamworth Herald - 15/04/88
Simon's Long Playing Legend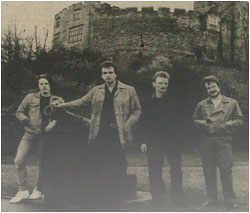 The legend of the ghostly 'White lady' who haunts the battlements of Tamworth castle, is to feature on a record made by local singer Simon Hayward.
The song tells the story of the beautiful maiden whose lover, the wicked Sir Tarquin, was slain by Sir Lancelot du lac in the meadows below the Castle.
Simon, aged 24, penned it for the 'Celebration' LP being sponsored by Tamworth Borough Council to mark the 200th anniversary of Sir Robert peel's birth and the 400th anniversary of the Town Charter.
The long playing disc, being pressed at the Abbey Road studios in London, features Tamworth singers, folk band Ruffins Well and Triman Amington Band together with many local singers and musicians.
Simon, who lives in Amington, decided to release his song as a single, as his own contribution to the celebration for 'Peel year'.
He wrote another number 'The Highwayman' about the gallows which used to stand on the edge of the town near Perrycrofts, and is issuing the record as a double sided A.
Playing with him are ex-Wolfsbane John Buckingham on drums and bass, busker Nick Lowe on vocals, and Ruffins Well fiddle player John Priest.
The group who are calling themselves Haylowe, are hoping the 1,000 copies of the single will be on sale in the shops in May or June.
"I enjoy writing and singing, and I think Tamworth has a fascinating history," he said.
"This seemed to be a way of combining my interests and joining the town's celebrations."
Tamworth Herald - 15/04/88
Musicbox – Spellbound…by HM's trio of wonders
Oh what a night as the mad heroes return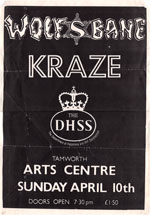 DHSS/Kraze/Wolfsbane – Tamworth Arts Centre
BEFORE this concert on Sunday night, I had suffered a real bummer of a weekend. A series of unbelievable things had fallen on my head leading me to think that the world and his Uncle Reg were united in opposition to my happiness.
But lo, on Sunday night, glorious rock and roll arrived like Manna from Heaven to drag me out of the cesspit of doom. Quite simply this was one of the finest concerts I have ever witnessed, a show which was packed from start to finish with power, quality, humour, nerve and tantalising excitement. It was Tamworth rock at its very best and it just about saved me from the increasingly tempting prospect of hari-kari.
The first thing you had to notice was the size of the crowd. It was enormous, as big as any I have ever seen at the Arts Centre showing once and for all that people in Tamworth will turn out in massive numbers to the product is right.
First up were DHSS, who I knew I would love anyway, and yet who still managed to surpass my expectations. They combined electronic mayhem with an onstage humour and wit whch had the majority metal audience eating out of their alternative hands. Musically it sounded to me like a mish-mash of The Fall, Sique-Sigue Sputnik and Adam Ant (yes, I know that's an odd cocktail) but there were so many little older touches in there to make the band very distinctive.
Singer Eddie Armchair gave away the fact he listens to an awful lot of Morrissey with his ingenious lyrics and it is clear he is going to be a wordsmith of major note. My best memories of a hugely enjoyable set were the lovely guitar sounds in 'Vicar's Hand', the two-way and good-humoured abuse, the vicious 'Sweet Sixteen' and the band's electric and positive approach to their music. A great show and a perfect appetiser for the night.
Next up were Kraze who gave a spellbinding performance – easily the best I have seen them in their short career. They came over as a real powerhouse off a band, a group with an articulate and original voice to add to the metal legions, and with a host of crushingly good songs. Best numbers to my ears were 'Too Cute', the immortal 'Dance 'Til Dawn' and the sizzling 'Take The Money and Run' which simply had to be a masterpiece because it is the title of a film by my ultimate hero Woody Allen. Kraze's set seemed to be over all too quickly but by the end of it I was convinced of one thing. Metal fans take note – in Wolfsbane, Kraze and Shellshock you have the best three HM bands this area has ever produced.
Triumphant
And so to the masters – Wolfsbane. For them it was a triumphant homecoming, a return of the all-conquering heroes who were clearly delighted to see so many people from their hometown still cared so much about them. And did they deliver! Wolfsbane's set ranks as one of their wildest yet, a sheer mindnumber of a performance which forced people to sweat and demanded participation.
Tracks like 'Paint the Town red' (that's a wonderful Stranglers bass intro Jeff!) 'All or Nothing' and the legendary 'Get Up' were totally magnificent and the audience reaction was almost beyond belief.
Bayley, a man with more chairman than the entire American Senate, dominated and dazzled the stage and he could make a manic depressive smile. His trio of musicians continues to improve and impress and by the end of an exhilarating night I was left feeling I had witnessed a phenomenon, a group who went beyond superlatives and into a class all of their own.
With Wolfsbane's final encored blitz they left the stage and a tremendous night drew to a close. The amount of smiles evident in the Arts Centre afterwards (not to say the amount of clinging, sticky sweat) provided ample proof that this had been a night to remember.
It was, all told, one hell of a gig.
SAM HOLLIDAY
Tamworth Herald - 15/04/88
Musicbox – Kraze burst in for a top class night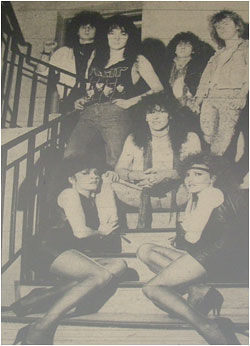 KRAZE return to live action again this weekend when they headline another major concert at Tamworth Arts Centre.
The budding metallic superstars will line up with racer for a double-header which promises to bring in another large rock audience.
Kraze have had a blistering effect on the local scene in their short but noisy career and they have clearly already made a lot of friends. Their hard-as-nails commercial HM has made an immediate impact on the area's rock fans, not least fellow Musicbox scribe Martin Warrilow who is of the firm opinion that Kraze are going to be bigger than The Beatles.
Such enthusiasm has been generated by a series of striking concerts and a top-class demo not to say masterful performances in both the heats and finals of the 'Battle of the Bands'.
Following last week's triumph alongside Wolfsbane and DHSS, Kraze will be bursting with ambition and will be looking to another great concert on Sunday night.
Joining them will be Racer, a group whose main claim to local fame is that they feature Measham's own Andy Mottram as singer. Andy, the former voice behind Shellshock, clearly relishes playing at the Arts Centre and a good show alongside Kraze should set this band up very well in the eyes of the area's rock followers.
A most tasteful metal gig indeed this one, and the action starts at around 8pm.
Tamworth Herald - 15/04/88
Musicbox – SNIPS
Heavy metal fans have been given a major boost with news that Colin Wall's famous rock disco is to return to Tamworth. Colin will take residence at Punch and Judy's for the next few Wednesday nights for a trial period to see if he can pack in the HM fans as he used to do in the Marmion. Colin said he will continue to play all manner of rock and will also mix in a bit of alternative music to give it even more of a broader appeal.
Tamworth Herald - 15/04/88
Musicbox – SNIPS
The Fetch Eddie single 'He'll love You' is on sale now from the Tavern in the Town. The single – which is on sale at places such as Virgin at £1.99 – can be bought for just £1.50 from the Tavern.
Tamworth Herald - 15/04/88
Musicbox – SNIPS
….the Antics are on the lookout for a guitarist and drummer to complete their formation. The band's musical influences cover everything from The Clash to The Beatles so if you want to know more ring Bea.
Tamworth Herald - 15/04/88
Musicbox – SNIPS
A top quality drummer is on the lookout for a band or musicians to form a new pop group. His influences are Danny Wilson, Pale Fountains, Shack and the Big Dish and if this sounds your type of group, ring James.
Tamworth Herald - 15/04/88
Musicbox – SNIPS
Shellshock are in action again next Sunday (April 24) when they team up with the all-new Kubla Khan at Tamworth Arts Centre.
Tamworth Herald - 15/04/88
Musicbox – SNIPS
Tamworth's Rock Festival committee have been called to a meeting on Sunday night at the Tavern in the Town. The meeting, the first for some weeks will decide policy for selecting the bands for the outdoor section of the event as well as hear news about a possible Tamworth Rock Festival music album. The meeting will start at 8pm and all bands involved in the festival should note that a FULL meeting (that's for every single band) will be held the following week on April 24.
Tamworth Herald - 15/04/88
Musicbox – SNIPS
Rumours abound that Dance Stance are about to remerge on the world after a busy time writing new material and practising with their slightly re-arranged line-up. We hope to have more details of the band's future movements shortly.
Tamworth Herald - 15/04/88
Musicbox – SNIPS
Scream Dream and Spiral Eye are to join forces for a special show at JBs in Dudley shortly. The dynamic duo are looking for local fans to travel over and support them and for that reason they are running a special coach at the very reasonable price of just £3. If you are interested in securing a seat, tickets and more details are available from band members.
Tamworth Herald - 15/04/88
Musicbox – SNIPS
I hope you all managed to see Catch 23 on TV last weekend. Most people thought they came over very well indeed and should on the evidence of the TV performances have won the whole thing outright. The one thing that puzzled some people however, is why Steve Webster has bleached his hair that extraordinary blonde colour. Doesn't this man know that all bleach blond boys are highly suspect?
Tamworth Herald - 15/04/88
Musicbox – SNIPS
New Age Gypsies are on the lookout for a new bass player after…decided to make the move to Weymouth.
Tamworth Herald - 15/04/88
Musicbox – SNIPS
The Jim Crows Blues Company are desperate to find a 200 watt Orange guitar amp. If you think you can help contact Roger.
17/04/08
Kraze
Racer
Tamworth Arts Centre
Daily Star (Page 7) – 18/04/08
PUNK HURL'S DAD'S ASHES ON POP FANS
A SICK punk singer has scattered his father's ashes over a concert audience.
Horrified youngsters ran for cover as Edward ian Armchair chanted the revolting lyrics of a song called Body On A Slab while hurling the remains into the 300-strong crowd.
Armchair, who has met the Duke of Edinburgh and Prince Charles after winning a Prince's Trust grant for his tee-shirt printing business. Claimed he was making a statement about the lack of respect for the dead.
But his antics at Tamworth Arts Centre have caused a storm of protest.
Local Tory MP David Lightbown said "I find this almost incomprehensible. I am absolutely horrified."
Clergyman's son Steve McNamee who was at the concert, was appalled when Armchair and his band DHSS – the Department of Happiness and Self-Satisfaction – sang another song called Vicar's Hand in My Underpants.
"The whole concert was vile and disgusting," he said.
Armchair, 27, whose father died last year aged 58, changed his name by deed poll from K…. K……
He said: "I never really got on with my Dad."
"However, when I collected his ashes, I expected them to be in a sedate urn. Instead I was handed a plastic bottle. That was horrible."
After Midnight – Channel 4
Anthony H. Wilson
After showing the Daily Star DHSS press cutting: "Isn't is good to see that the spirit of punk is alive and kicking."
Les Ross Breakfast Show – BRMB Radio
After reporting on the Daily Star DHSS press cutting: "Come on listeners, let us know the strangest thing you've heard people do with their loved one's ashes."
Teletext and Ceefax
Lead story: "Punk Hurl's Dad's Ashes'

Express & Star (Front Page) – 18/04/88
Ashes hurled over fans by punk
Tamworth punk Edward ian Armchair was unrepentant today after hurling his dad's ashes over horrified pop fans.
"I am sure if Prince Charles had been in the audience he would have giggled." He said.
Several fans at Tamworth Arts Centre, ducked as the red-haired singer scattered the remains from a plastic bottle while screaming a song called Body on a Slab in memory of his father.
Other songs by Armchair's band DHSS – the Department of Happiness and Self-Satisfaction – included Vicar's Hand in My Underpants.
Personal
"I was really making a personal statement about the lack of respect for the dead," said 27-year-old Armchair today at his Kerria Centre, Amington home.
"I was absolutely appalled when I was given my father's ashes in a bottle, not an urn."
Armchair, who changed his name by deed poll from K…. K ….., is well known locally for his tee-shirt printing business.
Tory MP for South East Staffordshire, David Lightbown said scattering the ashes was "almost incomprehensible."
Birmingham Evening Mail – 18/04/08
Punk's ashes shocker
A Midland punk singer has threatened to repeat a stage performance in which he scattered some of his dead father's ashes over his audience.
Tamworth Arts Centre today started an investigation onto the incident involving a local singer who calls himself Edward ian Armchair.
He scattered the ashes from a bottle while appearing on stage with his group, DHSS.
He said, "I have still kept some of the ashes. I have no regrets over what I did and I would do the same again."
He admitted that some of the people in the audience had been shocked when he told them what he was scattering.
Edward, real name K…. K….., who is 27, said the act was a tribute to his father, Mr. D….. K….., who died last year after a heart attack at the age of 58.
"You hear of people scattering ashes on cricket and football pitches and this was my way of showing respect for my father."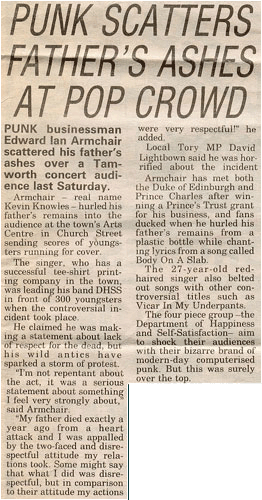 Tamworth Trader (Front Page) – 21/04/08
Punk scatters father's ashes at pop crowd
PUNK businessman Edward ian Armchair scattered his father's ashes over a Tamworth concert audience last Saturday.
Armchair – real name K…. K….. – hurled his father's remains into the audience at Tamworth Arts Centre in Church Street sending some of the youngsters running for cover.
The singer, who has a successful tee-shirt printing company in the town, was leading his band DHSS in front of 300 youngsters when the controversial incident took place.
He claimed he was making a statement about the lack of respect for the dead, but his wild antics have sparked a storm of protest.
"I'm not repentant about the act, it was a serious statement about something I feel very strongly about," said Armchair.
"My father died exactly a year ago from a heart attack and I was appalled by the two-faced and disrespectful attitude my relatives took. Some might say that what I did was disrespectful, but in comparison to their attitude my actions were very respectful." He added.
Local Tory MP David Lightbown said he was horrified by the incident.
Armchair has met both the Duke of Edinburgh and Prince Charles after winning a Prince's Trust grant for his business, and fans ducked when he hurled his father's remains from a plastic bottle while chanting lyrics from a song called Body on a Slab.
The 27-year-old red-haired singer also belted out songs with other controversial titles such as Vicar's Hand in My Underpants.
The four-piece group – the Department of Happiness and Self-Satisfaction – aim to shock their audiences with their bizarre brand of modern-day computerised punk. But this was surely over the top.
Mark Mortimer
Tamworth Herald (Front Page) – 22/04/88
Pop group admits hoax on national newspaper
'I didn't throw my father's ashes at fans'
EXCLUSIVE by Sam Holliday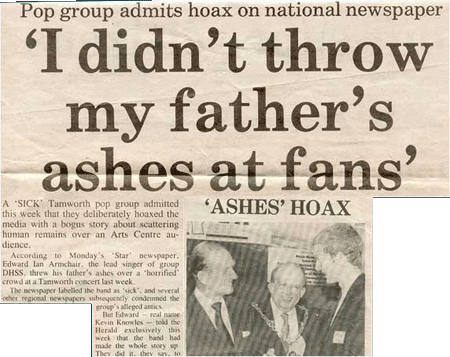 A 'SICK' Tamworth pop group admitted this week that they had deliberately hoaxed the media with a bogus story about scattering human remains over an Arts Centre audience.
According to Monday's 'Star' newspaper, Edward Ian Armchair, the lead singer of the group, DHSS, threw his father's ashes over a 'horrified' crowd at a Tamworth concert last week.
The newspaper labelled the band as 'sick' and several other regional newspapers subsequently condemned the group's alleged antics.
But Edward – real name Kevin Knowles – told the Herald exclusively this week that the band had made the whole story up. They did it, they say, to show up the gullibility of the national press – and a s a publicity stunt for themselves.
"We believe in particular, that the national media manipulate people, so we decided to manipulate them," said the 27-year-old singer, "It has all worked exactly to plan."
Edward – a successful local businessman – with a thriving printing concern, who last year received an award from the Duke of Edinburgh – DID take his father's ashes to the concert as a gimmick, but they stayed firmly encased. He had no intentions of throwing them anywhere and says he is amazed that people believed he did.
"If people can believe that – they can believe anything." Said Edward. "I hope it will prove that they can't trust everything they read in the national newspapers, and it should be a valuable lesson to everyone."
Edward, who has met both Prince Charles and the Duke of Edinburgh in connection with the Prince's Trust, says he does not apologise for his 'hoax' at all, but admits to being surprised at the reaction of people who really believed he had thrown ashes into the crowd.
"I expected people to be shocked, but I am surprised at just how shocked," he said.
Edward decided to come clean to the Herald because, he says, he has respect for the job that local newspapers do in the community. But he has no regrets for leading other newspapers astray.
"I would do it all again," he said boldly.
Next Thursday, at The Tavern in The Town, DHSS are playing a special charity concert for the special baby care unit at Good Hope Hospital.
24/04/88
Shellshock
Kubla Khan
Tamworth Arts Centre
26/04/88
Future Field
New Swan, Atherstone
28/04/88
The DHSS
Tavern in the Town
Tamworth Herald - 29/04/88
Musicbox – Summer special planned for all dedicated 'soulies'
A MAJOR soul spectacular is being planned for the town, with up to 500 dedicated 'soulies' expected to attend from all over Britain.
Organisers are keeping their cards very close to their chests but Musicbox can reveal that the event could be run along lines similar to national Northern Soul venues such as Morecambe's Carleton, London's 100 Club, Leeds Astoria and Lowestoft's Heart of Soul.
Top name DJs are being contacted for the event and it is hoped that major names like Dave Evison, Guy Hennigan, Keb Darge and Tony Clayton will be lined up for the ten-hour 'soulathon'.
"We are looking to put Tamworth on the Northern Soul map." Said one organiser. "To that end, we are planning a major event in July or August. I can't say a lot more than that, but Northern fans will know the sort of thing I'm talking about.
"It's hoped it will follow in a great Midlands tradition which has seen Nuneaton, Hinckley, Coalville, Stafford, Nottingham and Leicester make it big on the scene."
Free membership cards and details leaflets are being prepared to be sent out to people who attended the recent soul night at Two gates WMC.
Tamworth Herald - 29/04/88
Musicbox – A funky move by the Dance Stance
Dance Stance – Rugby Harris School
POLISHED, lively and funky – the new-look Dance Stance took to this Rugby stage looking and sounding like they'd spent the last few months in hiding, checking out the sounds at rare groove thrashes at The Wag – know what I mean?
Since cutting out one guitar, introducing a trombonist and changing keyboard players the band have matured and metamorphosed. Nowadays they seem to owe more to James Brown and the flare brigade than the 60s besuited soul of Chuck Jackson, say, or Garland Green.
Judging by the reaction they received from the audience at this strictly warm-up gig, they have made the correct career move – and to my ears, the punchier, funkier Dance Stance have more power and versatility that before.
Paul Hanlon's vocal style can fairly be compared to that of many soul singers, black and white. He needs a little more power, which will come with age, but he is streets ahead of any other vocalist. He should also hang on to his tongue-in-cheek banter – it adds a lot.
The new keyboard player is an improvement on the old one, and the new style brass section oozes power. As always, Nick Reed, Phil Ford and Neil Sheasby provided the metronome backing needed to project the band – especially in their new JB vein.
I was mightily impressed, the band seemed to have enjoyed themselves and to call ray Sheasby – the band's manager – happy would be a wild understatement. He gabbled something at the end about 'putting their heart and soul into it' and he was quite right.
Suggestions – none really, except that a slower, hip-hop type track or two, perhaps along the lines of Bobby Byrd's 'I Know You Got Soul' or a Hamilton Bohannon cover, wouldn't go amiss. And the en ending cover version of 'Satisfaction/Respect' sounded a bit hackneyed and out of place these days. Still, a great performance and speaking as an out-and-out 60s and 70s soul fan, I can highly recommend Dance Stance. Make sure you check them out when they play around here.
DAN COLLINS
Tamworth Herald - 29/04/88
Musicbox – Fancy a really awful night
A NEW Tamworth band plays its first ever gig this weekend, The Liberty Caps, who describe themselves as 'absolutely useless' take to the stage at Nuneaton's Crown pub at around 10pm on Saturday night.
They feature a guitarist who cannot play a guitar, one who can (a bit), a 'quite good' bass guitarist – who will be known to followers of the local music scene – and a drummer who only has two drums.
They describe their sounds as 'amphetamine acid-pop' and say the only thing they can guarantee is plenty of noise. They haven't even practised and have no songs, although apparently they do a great cover version of Kylie Minogue's 'I Should Be So Lucky',(!)
The gig is free, and features an indie/alternative/psychedelic disco, so for something COMPLETELY different, get down there!
Tamworth Herald - 29/04/88
Musicbox – Bands in two Brum dates
STOP PRESS : Rape in Yellow and The Searching will be playing two Birmingham gigs next week and are trying to get a coach organised for fans to accompany them.
The first will be at Sinatra's in Snow Hill Queensway on Wednesday May 4 and the second will be at Mega's wine bar in Corporation Street, Birmingham on May 7.
Anyone interested in going on a coach can contact Ian or Graham.
SAM HOLLIDAY WILL RETURN NEXT WEEK
30/04/88
Liberty Caps
The Crown, Nuneaton