Tamworth Bands History : 1988 :
June
Tamworth Herald - 03/06/88
Musicbox – It's all go for the festival
TAMWORTH'S army of musicians are being called to the Tavern in the Town this Sunday to put the final touches to the rock festival – and the first-ever local cassette compilation album.
The major meeting has been brought forward a week so as not to coincide with Scream Dream's concert with Sex Gang Children and one or two other events.
It means that all the 19 Castle Grounds bands – and those scheduled for the Arts Centre will be asked to bring themselves, their rock festival contributions and the master tapes that will be put together to make the Tamworth Festival album.
Already the festival – the fourth of its kind – has created a lot of local and national interest. Wolfsbane's recent signing has put the event right in the spotlight and with other bands such as Catch 23, The Searching, DHSS and Fetch Eddie putting themselves on a wider canvas, it looks like being the most star-studded festival yet.
Boost
To give the festival that extra publicity boost a special tape-album will be available for the event, which takes place on July 16 and 17, All bands that want to be on this are asked to bring along either the quarter-inch master tape of their demos, or a good quality chrome cassette featuring the song they want featured. These will then be put together on one tape and sold at the festival to give all the bands – and spectators – a chance to hear the whole range of Tamworth area musical talent.
Stage
Also the festival committee has arranged for a special stage this year, and for a well-produced programme. This and festival T-shirts will feature a bust of Sir Robert Peel (founder of the police force) with a cartoon blob of his mouth reading 'this is a police bust'. Responsibility for the cringeworthy pun goes to Catch 23 co-manager Mr. Richard Clenshaw.
Band's attending Sunday's meeting at the Tavern will also hear news of slight line-up changes. The likes of Breaking Point, Shellshock, A5 and New Age Gypsies all had to change their original times and (hopefully) all will now be pleased with their new slots. We hope to have the full, final line-up next week.
Demo
So as a final reminder to all bands involved in the festival this is what they must bring with them on Sunday night. 1. Themselves (if you can't make it ring the usual numbers). 2. Your demo 'master' for your song on the album. 3. £5 per head for the running of the festival. This is a £1 reduction on last year and must be paid on the night. 4. Your 'logo' written on a piece of paper for inclusion in the programme. 5. Oodles of patience for there is still much to do!
As usual all other interested parties/committee members are more than welcome to attend Sunday night's important meeting which starts at 7.30pm in the upper room of the Tavern in the Town.

Tamworth Herald - 03/06/88
Musicbox – Demo Reviews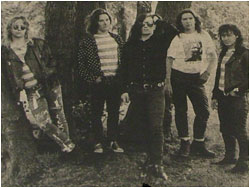 Scream without anger
Scream Dream – Dreams
IT DIDN'T take me long to become a Scream Dream fan. Just a few seconds after the 'Postman Pat intro had died on its debut gig. I was engulfed by both their on-stage smokescreen and their absorbing music. I was convinced that there was a special quality about the band's sound and I remain of the firm opinion that Scream Dream are going to be a leading light in the local and not so local music scene. Which all makes this tape curiously disappointing.
Maybe I was expecting something more, something more akin to their aggressive all-powerful live show and something far more dynamic. The problem with a two-tracker is that it completely lacks the band's onstage charisma energy and raw ewdge.
'Dreams' for example sounds very half-hearted and blatantly lacks the passion which the song produces live. It all sounds rather pedestrian and mid-paced and lacks the guts of its live equivalent. 'Til The End of Time' is far better coming over as a much superior and more original song where the band are able to show off a little more of theor impressive musicianship and a lot lore of their songwriting style. It should have been the lead track on the tape of that I have no doubt.
The most positive thing about the tape is that it has already impressed people in the know. On the strength of it Scream Dream picked up their prestigious Sex Gang Children show and that must be regarded as a very good thing indeed. After all if people can see the talent of this combo from this unconvincing demo they will be completely overcome when they see the band produce the magic of their live set.
Rather like Catch 23 whose first demo disappointed me greatly after fine live concerts the band will soon reach the stage where their studio and stage presentations reach the same consistency.
One step forward, two steps back.
S.H.
The Liberty Caps – Loop Demo
NOISE, noise and more noise.
'Loop' is two minutes of ear-shattering rubbish which sounds strangely addictive. If you're hard of hearing that is. If you're not, then you will be.
No vocals. No lyrics. Curiouser and Curiouser said Alice. Five…screech…Four…growl…Three…blam…Two…aarrgghh!…One…Kaaabbbooommm!!!
There is no more incredible man on this earth than Captain Scarlett…than Captain Scarlett.
If you're a young wacky student or a member of the band – then this is for you. Will, it's not for me anyway.
HELEN MACHIN
Tamworth Herald - 03/06/88
Musicbox – HE'S ARMLESS
GRAHAM WALTERS was completely Shellshocked recently.
For the guitarist with prime HM movers Shellshock, injured his fingers and found his arm slung in a sling.
For any musicians that is some problem, but for a guitarist it is worst of all. It means that shady figure on the left has been unable to pluck his strings of late, much to the consternation of his fellow metal merchants.
But Shellshock fans fear not, Graham is confident he will be all repaired again in time for the festival otherwise get set for Def Leppard part two…
Tamworth Herald - 03/06/88
Musicbox – SNIPS
Is this your future?
FUTURE Field are on the lookout for a new guitarist to complete their highly-rated line-up. The group want a rhythm or lead guitarist able to contribute towards somngwriting.
Tamworth Herald - 03/06/88
Musicbox – SNIPS
THE Parade, who have just recorded a brand new demo as a two-piece, are on the lookout for a new bassist. If you enjoy playing high-energy new-wave orientated pop then this could be just what you are looking for. Incidentally, if you keep your eye on our cricket pages you may notice that Parade songwriter Brian Lacey is as talented with a bat as he is with an axe. He is currently blazing his way to glory playing for Hopwas CC to add to a long list of local musical superstars, who are pretty adept at sports including Ian Gibbons, Jed Moore, Dave Smith, Mike Turner, Lloyd Barnet, Tim Goode, Lee Preece and Buttercup. 'Buttie' unknown to most is a star croquet player who was also school marbles champion.
Tamworth Herald - 03/06/88
Musicbox – SNIPS
I hope you all saw Bayley on the front of HM mag 'Kerrang' last week. For many of us buying such a magazine was a deeply upsetting experience, but it was made worth the toil to see Bayley portrayed as a modern HM ex-sex superstar. There were four full page colour piccys of him and one quite obscene interview. He also gave a massive plug to the wonderful Kraze although the not-so-wonderful Kerrang spelt it Craze. Perhaps we should now call them Cerrang?
Tamworth Herald - 03/06/88
Musicbox – SNIPS
Catch 23 are toying with the idea of recording a new single to follow their excellent 'Don't Lie' debut. They have been writing several new songs, one of which the brilliant 'You Keep Me Hanging On', has already been recorded. The band are planning one or two shows shortly alongside fellow stable-mates Fetch Eddie. Watch this space.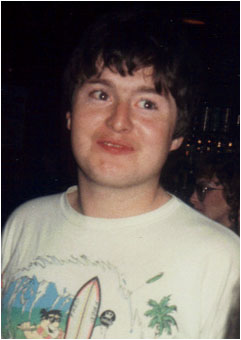 Tamworth Herald - 03/06/88
Musicbox – SNIPS
You may have read in this week's paper about the strange tale of George the Roadie. George a man with a keen sense of adventure, was arrested last year (although later cleared) when the police suspected he was up to no good in the presence of the Queen. Well the police suspected took no chance when the Princess Royal visited Tamworth and kept George under virtual 'house arrest'. A few people have since asked whether it might be possible to get the police to do the same when the rock festival is on? MUSICBOX does not actually suggest this appalling idea, but surely a festival without George is like Crossroads without Benny?
08/06/88
Rape in Yellow
The Searching
Piranhas
Tamworth Herald - 10/06/88
Musicbox – Tamworth Rock Festival 1988

And now…the album
TAMWORTH'S music fans are to be given their first ever chance to hear all the area's bands on one top class compilation tape.
A special cassette album featuring up to 16 of the areas finest groups will eb released in time for the Tamworth Rock Festival on July 16 and 17.
It means for the very first time that local punters will be able to buy one tape which features groups such as Catch 23, Shellshock, Rape In Yellow and of course Wolfsbane side by side.
The decision to release the festival cassette-album was made at a special meeting of the Tamworth Rock festival on Sunday night. Sixteen bands said they wished to be included on the tape and already 11 of them have provided the songs which they would like to see on the cassette. Among the tracks you will be able to hear is the Conspiracy's classic 'Passion Burning', Wolfsbane's frantic 'Loco', Catch 23's haunting 'Twisted Mind' and Spiral Eye's unique live recording of 'The Scarecrow's Tea Party'.
In addition to these tasty morsels the tape will include Torn In Two's 'Nor Or Never', Kubla Khan's 'Coz I Love You', Rape in Yellow's 'Jivin' Jane', The Parade's 'A Little Joy', The Magnets 'Broken With A Smile', Shellshock's 'Short Sharp Shock', A5's 'Exposure', The Searching's 'Picture', Never Say Die's 'All Night long', Kraze's 'Too Cute To Scream', and other contributions from DHSS and Breaking Point.
It all adds up to a very varied and unique tape which will be a perfect compliment to the two days of live Castle Grounds action in July. In addition to those already agreed, one of the original TAMAID's will be featured on the tape, featuring a whole array of local singers and Paul Spear from Expresso Bongo (who will be mixing the final tape) will also provide a tune.
When completed the tape will then be made into a limited edition selling at an amazingly low figure of just £2.50. it is bound to sell like hot cakes and as well as being a unique record of the Festival 1988 it promises to be a real collectors item.
After all when Wolfsbane and the likes are bigger than The Beatles their fans will pay big money for such an item.
We hope to have more details of the Festival '88 album when the final line-up is sorted out but if any of the 23 groups involved in the event still want to be included they must take their master tapes with details to Rikk Quay at the Tavern by tomorrow (Saturday) at the latest.
Also in Sunday's meeting, the final running order for the festival was made. A number of groups had to swap their original times but this is your final cut-out-and-keep line-up of the Tamworth Rock festival 1988. On both outdoor days the music starts at 11am and finishes at around 7pm. Here is the line-up..
Friday, July 15 – Tamworth Arts Centre – Start 8pm. Admission £1.
The Parade, The Jim Crows Blues Company, The Green Swings and The Magnets. Special guests to be added later.
Saturday, July 16 – Tamworth castle Grounds. Starts 11am. Free Admission.
Torn In Two, Shellshock, The Searching, DHSS, Wolfsbane, The Conspiracy, Never Say Die, Kubla Khan and The New Age Gypsies.
Sunday July 17 – Tamworth Castle Grounds. Starts 11am. Free Admission.
Cuddly Spiders, Rape In Yellow, Future Field, Fetch Eddie, Catch 23, Kraze, Scream Dream, Breaking Point, A5 and Spiral Eye.
Offcial Tamworth Rock Festival t-shirts, posters, badges and programmes are now being produced all of which bear the concert's new logo. It features a very large picture of Buttercup bearing a policeman's helmet (well it is the Peel Year after all) and judging by the first reaction of the musician's shows it promises to sell as many as last year's popular 'Maggie' t-shirt.
So, the momentum for the festival has now really started to grow. Twenty three very different bands playing for three electric, exciting days and a wonderful cassette album thrown in for good measure. The omens look very bright indeed that the Tamworth 1988 Rock festival could be one of the best ever.
Tamworth Herald - 10/06/88
Musicbox – Conspiracy against students!
THE CONSPIRACY have been lined-up for one of their biggest concerts yet.
The powerful quartet – who played alongside The Snap Dragons on Monday – will travel to Birmingham University next Friday (June 17) to take part in the 'end-of-term' ball.
This is basically where students celebrate the end of another really, really hard long term (excuse me while I choke) by having a lot of loud music and a lot of cheap beer. The Conspiracy will team up with a host of other bands at the sell-out show and they are looking forward to slaying the massed ranks.
Tamworth Herald - 10/06/88
Musicbox – STOP PRESS
SPIRAL Eye, Dance Stance and The Ravens have all announced concerts for next weekend.
Spiral Eye will be joined by a special guest band at Tamworth Arts Centre a week today (Friday) while Dance Stance will line-up with a very special headline act. More details in next week's MUSICBOX.
And next week a new band based in the Newton Regis area, The Ravens make their town centre debut with an Arts Centre show on Sunday June 17. Once again more details in next week's paper of this triple attack of top local concerts.
Tamworth Herald - 10/06/88
Musicbox – Sex Gang Up
DON'T FORGET on Sunday night Battle of the bands winners Scream Dream join up with Sex Gang Children and several other top alternative bands for a special festival in Birmingham.
It's the Screamers biggest gig yet so if you can get along and support them they will be very grateful. More details about the gig – and possible coach places are available from the group members.
Tamworth Herald - 10/06/88
Musicbox – Just watch them go!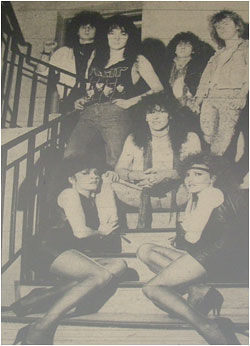 ONE of the best things about watching a band regularly is seeing them get more confident, more mature and more powerful. And that's what's happening with Kraze. At this highly entertaining Arts Centre show they looked and sounded like a band that's going places.
At every gig, someone catches the eye as having improved and here it was singer Mitch Michaels, who's getting better as time goes on. Great fun…just watch them go at the Festival.
A word for the other bands on this splendid F.O.S. promotion. Mancunians Dirty Tryx are a band I'd like to see again, if only for their cover of the Kiss classic "Do You Love Me", and Rugeley's Worlds Apart proved there is musical life in Staffordshire outside Tamworth. Just a shame not many locals turned out to see it.
MARTIN WARRILOW
12/06/88
Sex Gang Children
Scream Dream
Birmingham
17/06/88
Spiral Eye
Scream Dream
Tamworth Arts Centre
17/06/88
The Conspiracy
University of Birmingham
19/06/88
The Ravens
Tamworth Arts Centre
Tamworth Herald - 17/06/88
Musicbox – Gigs galore for a weekend of action
FOUR varied local bands in live action this weekend during one of the busiest weeks on the local scene for some time.
Tonight (Friday) Spiral Eye and Scream Dream team up for an exciting-looking Arts Centre double bill which is certain to attract a large local audience.
Also tonight The Conspiracy take their power-rock to the virgin territory of Birmingham University and to complete the picture an all-new group The Ravens, appear at Tamworth Arts Centre on Sunday.
Here is a brief resume of what to see and where…
SPIRAL EYE/SCREAM DREAM – Tamworth Arts Centre, tonight (Friday)
A final double-bill from stablemates Scream Dream and Spiral Eye. Both have slready wormed their way into local affection with their contrasting but over-ridingly memorable sounds. Spiral Eye are determined to bring a brand of space-rock to the Town, music based on (and based from) hallucinations. Barry Fox, Darren McFerran, Pete Wright, Jim Smith and Rem describe their sound as 'lysergically inspired herbal flinge sounds," and I for one am of the firm opine that they are brilliant. Different, but brilliant. Scream Dream meanwhile are a little bit more conventional, a seething mass of powerchord, all-engulfing rhythms and first-class songs. Their impact has been immediate and looks set to be lasting. A very good double indeed which should appeal to all punters who like a walk on the wild side.
THE CONSPIRACY – Birmingham University tonight (Friday)
Lisa, Roger, Paul and Sonny will attempt to teach university students something about real life tonight at this end-of-term ball. The seering sounds of Conspiracy music will combine with that of other outfits in an attempt to entertain the boffins and the BOFs (Do people still say BOFs by the way?) A big night for The Conspiracy, ten out of ten for getting this one.
THE RAVENS – Tamworth Arts Centre (Sunday night)
A new band (relatively) making their Town centre debut. The young outfit – comprising Matt Starr, Daz Meads, Andy Wells and Nigel Pretty – play a hybrid mixture of 50s and 60s classics with a few of their own numbers thrown in for good measure. Rock and roll, Beatles tracks and one or two very well-known classics will be served up to the audience and singer Matt Starr is hopeful it will go down very well indeed.
"We have played one or two local shows and the reactions have been very encouraging." Said Matt. Sunday's show starts at 8pm and costs just £1 at the door…
17/06/88
Hazel O'Connor
Dance Stance
Aston University
Tamworth Herald - 17/06/88
Musicbox – Showcase for the big boys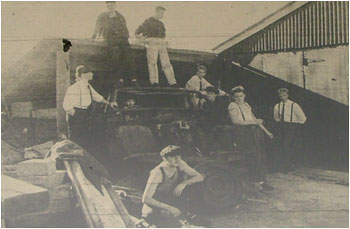 MUSICBOX Band of the Year Dance Stance return to live action with a vengeance tonight (Friday) with a major support slot with Hazel O'Connor.
The Atherstone outfit will unveil an all-new line-up and several all-new songs to show than absence has made their hearts go stronger.
The group who have played a number of low-key warm-up gigs of later, team up with former 'Breaking Glass' star Hazel O'Connor at an Aston University show tonight. It is another big night in the band's history, and they are convinced that all these impressive shows are major steps in the right direction.
"We remain extremely optimistic about the future and hopefully all our efforts over the past couple of years will be rewarded," explained bassist Neil Sheasby.
Dance Stance's fans will note that their line-up has changed somewhat. One or two members have departed to be replaced by new keyboard player Richard Ward and a trombonist Simon Hall. It is only a relatively small change in a massive nine-piece set up, but the band believe it is a change very much for the better…
"Although we remain a nine-piece outfit we have never had such feel or confidence as we have now with this line-up," said Neil. "This is the definitive Dance Stance line-up."
During the past few months of self-imposed public exile, the band have been sharpening both their live and studio work. They have continued to visit Paul Speare's Expresso Bongo studios to record a host of new material; and they have received a great deal of interest from record companies.
Manager Ray Sheasby believes the group are now poised to finally 'break' and the only one thing they need – patience.
"There has been a lot of interest, but when you are talking about a big band with big ambitions you have to get a big deal," he said. "We must have the right deal and I am sure that eventually we will get it because a lot of people realise the real quality of the group."
Dance Stance's sophisticated soul music has evolved amazingly since they began some years ago as The Crowd. Then, as Neil Sheasby explained they were fired by hero Paul Weller's rallying call to new bands following the split of The jam…
"What Weller said inspired us to start a group. Our only ambition at the time was to play a gig, so looking back it is no wonder we are very proud of what Dance Stance have already achieved in their relatively short career," he said.
The achievements list (first unsigned band in the world to release a CD single, a string of headlining university shows, etc.) will be greatly supplemented by tonight's show with Hazel O'Connor at Aston university.
The show will then launch Dance Stance on a series of major concerts including one locally as soon as it is possible. Their only regret at the moment is that band holidays have prevented them appearing in the Tamworth Rock festival, but that apart, there is very little else to worry this very, very exciting band at the moment.
Tamworth Herald - 17/06/88
Musicbox – Contest chief is on the scout
LOCAL BANDS of school age will have an ideal opportunity soon to find out all about the biggest and best schools rock contest in Britain.
For Roger Davies, the mastermind behind the TSB Roskschool contest will be present on the second day of the Tamworth Rock Festival on Sunday, July 17.
If you're at school or college and this sounds tasty (as it should) then you will have the ideal chance to find out more when Roger Davies (who is the Big Cheese in TSN Rockschool) visits Tamworth castle Grounds on July 17. Don't miss the chance.
Tamworth Herald - 17/06/88
Musicbox – Rare Breeds and New Demos
A YONG girl singer, who is very ambitious to make it big in the pop world, is on the lookout for a band to front. Samantha Law is looking for a pop band with big ambitions who need a confident young female singer to lead them. Good strong female singers are a rare breed in Tamworth, so if this sounds interesting, ring Samantha.
Tamworth Herald - 17/06/88
Musicbox - SNIPS
…demos shortly. Among those to surface is the debut work from Mark Mortimer's new band The Space Seeds, a new tape from Never Say Die and a brand new demo from The Parade.
Tamworth Herald - 17/06/88
Musicbox - SNIPS
Wolfsbane hope to release their debut Def-Jam single very soon. It will be their tasty 'Wasted But Dangerous' demo translated to vinyl and should be available pre-festival. The band are currently putting the final touches to their last Tamworth shows at the Arts Centre. Already one or two groups including Fetch Eddie and Catch 23 have been approached to appear in what could be some of the best gigs Tamworth has ever seen. And guess which appalled Musicbox Editor has realised he is on holiday when the gigs are being staged. Yes, you guessed right!
Tamworth Herald - 17/06/88
Musicbox - SNIPS
Still with Fetch Eddie, they have been in the studio of late working on a new demo for CBS Records. Incidentally, it seems most local musicians regard Fetch Eddie as the area's best band. In the questions for the Tamworth Rock Festival programme, bands were asked to name their favourite other local group. All the groups went heavily in favour of Fetch Eddie with the likes of Wolfsbane, Scream Dream, Kraze, New Age Gypsies and Kubla Khan also mentioned.
21/06/88
Rape in Yellow
The Barrel Organ
Tamworth Herald - 24/06/88
Musicbox – Hop On the Demo Coach
A LICHFIELD studio is hoping to make major inroads into the Tamworth scene.
The Coach House Studios based at Neterstowe, has already been responsible for first-class tapes from the likes of Shellshock, Ruffian on the Stairs and Racer and they now hope to attract still more talent.
The man behind the drive to grab the Tamworth bands is Rob Hall. He already has a great deal of experience of the Tamworth scene, having played for The Ruffians in last year's Festival and he may well appear alongside Norman Yates in this year's show with the Cuddly Spiders. Now he wants to extend an invite to other Tamworth acts to sample his wares over the next few months.
"I have done a lot of production work most notably with Glory Glory, Jon Crossley and Steve Sutton achieving in the process a deal for Glory Glory and a lot of interest from the BBC towards Steve Sutton," he said.
Among his many production credits are the finest acts from the Lichfield/Burntwood and Cannock areas including several groups very well known to Tamworth audiences such as Roma, Storm, Three In A Bed and Ivory.
The studio is an eight-track with a larger facility with the use of computer sequencing. If all this sounds interesting make a not of the Coach House number.
Tamworth Herald - 24/06/88
Musicbox – QUALITY ON PARADE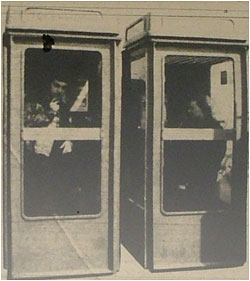 Here are a selection of demos that have found their way to my ears lately.
The Parade – Up For Grabs
WHEN I find something I like, admire and believe in. I stick to it with dogged loyalty. That is why I have travelled to four European countries and gone into considerable debt to see the Stranglers, why I have live din Tamworth all my life and why I continue to get excited when I hear sings penned by The Parade songwriter Bryan Lacey. In my eyes the man can do little wrong and this new demo represents one of the best things he has ever done. Along with the excellent assistance of soul-mate Alan Bayliss (a first-class drummer) Bryan has produced another corking tape, rather more upbeat than those of the past and bursting with life and potential. 'A Little Joy' is a little gem and it sets the tone for a five-track which has more Beatles hallmarks than the Jam ones usually attributed to The Parade's work. I can't help thinking that Bryan should have been born in Atherstone because he could then have joined Catch 23 who share that same musical style, influence and direction – and what a combined force that would make. As it is, some record company should give Bryan and Alan £10,000 NOW to make a record. I would not be a wasted investment.
Never Say Die – All Night Long
A RESILIENT band this, and one who continually turn up surprises. This latest offering ranks amongst their very best and oozes quality. It is a stylish, well-written number, expertly played and sung and featuring some delicious guitar work. It rather reminded me of Whitesnake actually but don't hold that against them. Nice one Trevor.
Dance Stance – Grandmas…
SOMEONE who recently saw Dance Stance told me that they appeared to be moving away from their more commercial sound – and this appears to confirm that. What this two-track record company baiter proves, is that the band are aiming for an altogether more slick and sophisticated dance sound, one which aims to be less throw-away and more complex. The music therefore has a more pure, crafted edge which gives the band more opportunity to explore the music than just exploit the tune. A very interesting departure indeed and another useful step on the path of inevitable world domination.
DHSS – Vicars Hand
AMAZING, multi-faceted, multi-layered slice of electronic outrage. A tabloid-baiting title, a mind-tugging hook and a dance-definite beat. Nuff said – it's fab.
Mark Mortimer and Friends – Demo
INTELLIGENT, classy collection which proves several things to me.
1. Mark Mortimer may not be as 'upfront' as before but he is certainly no less committed or ambitious.
2. 'Feel Your Touch' was the greatest single the Dream factory never released. An immortal and absolute Tamworth classic.
3. 'Autumn Girl, is utter, utter wonderful.
4. Martin Kelly is just about the most talented vocalist I have heard on the local scene since Dave Ingham. He is a marvellous and strangely hypnotic singer.
5. 4x5. Mark Mortimer should stick to writing classic pop songs such as these. It's all very well taking a trip down memory lane to try to recreate a lat 60s psychedelic paradise, but the world NEEDS great pop music more than second hand, second generation art-beat. Mark Mortimer can write excellent pop music and there is nothing wrong with this tape at all. Leave the Sixties to the Sixties and beat the Eighties at their own game.
Tamworth Herald - 24/06/88
Musicbox – STOP PRESS
KRAZE are on the lookout for a new lead guitarist. They are after a dedicated and ambitious guitar player able to fit in with the band's image and ideals. Kraze are going to be very big indeed, so your heart has to be fully into the idea.
Tamworth Herald - 24/06/88
Musicbox – SNIPS, SNIPS, MORE SNIPS!
WINNER of our recent Prince competition was Terry Bradford from Hockley, Tamworth who gave himself a massive headstart by sending me his answer on a Thomas the Tank Engine postcard. Prince's new 'Lovesexy' album is all yours Terry…
Tamworth Herald - 24/06/88
Musicbox – SNIPS, SNIPS, MORE SNIPS!
I didn't get to see too much of last Friday's alternative bash at the Arts Centre but what I did witness convinced me that Scream Dream are getting harder. Spiral Eye are getting better (fab light show and amazing versions of 'The Beginning of the End' and the superlative 'Sentinel') and Manns Brown Ale is getting even stronger.
Tamworth Herald - 24/06/88
Musicbox – SNIPS, SNIPS, MORE SNIPS!
FETCH Eddie have unveiled shows for the next few weeks. They will be at the Piranhas on July 3, the Arts Centre with Catch 23 on July 10, the New Swan, Atherstone on July 14, the Festival, July 17 and as part of the Wolfsbane Farewell Bash at the Arts Centre at the end of July.
Tamworth Herald - 24/06/88
Musicbox – SNIPS, SNIPS, MORE SNIPS!
TALENTED experienced musicians are required by an ambitious and committed rock band. The group, who play music in the Jeff Beck/Whitesnake mould seek established musicians ready to step in and play almost immediate dates. The group stress they are not a wham-bam metal outfit and are after more seriously-inclined rock fans who can play drums and bass preferably with some vocals.
Tamworth Herald - 24/06/88
Musicbox – SNIPS, SNIPS, MORE SNIPS!
THE Tamworth Rock Festival album was due to be out together on Monday night and should be available in time for the next full meeting on Sunday, July 3. The line up at time of press was due to be: Side One – TAMAID, Wolfsbane, Rape in Yellow, Breaking Point, Torn in Two, Shellshock, The Parade, The Famous Five, Spiral Eye. Side Two – Catch 23, Kraze, The Searching, Kubla Khan, The Conspiracy, A5, Never Say Die, The Magnets and DHSS.
Tamworth Herald - 24/06/88
Musicbox – SNIPS, SNIPS, MORE SNIPS!
BOD – a group of metallic looneys – Gaz, Bod, Ant, Bod, Phil Bod and Chris Bod need a lead singer. They need a vocalist into Thrash, Hardcore and/or punk, who wants to team up with a vicious, vile outfit who include in their repertoire a song called 'Acne' which lasts just four seconds. Spot that one if you can.