Tamworth Bands History : 1988 :
August
Tamworth Herald - 05/08/88
Musicbox – Sad farewell – and the best is yet to come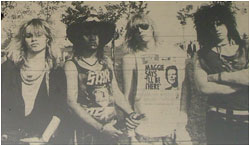 WOLFSBANE Tamworth Arts Centre, Saturday and Sunday, with Fetch Eddie, Catch 23, Scream Dream and DHSS.
And so the end is nigh…The end of four wonderful years in which Wolfsbane moved from being just another young metal band into potentially one of the biggest bands in Britain, and certainly Tamworth's biggest ever offering to the national music scene.
Their mega-bucks deal with US giants, Def-Jam Records means Bayley, Jase, Steve and Jeff jet off to Los Angeles later this month to record their first album and hopefully hit the road to stardom.
It means we won't see them in this country again for a very long time, and who knows when, if ever, they will play in Tamworth again.
Indeed the odds of seeing Wolfsbane in a venue the size of Tamworth Arts Centre again are about the same as Tamworth signing Tony Cottee.
So their final farewell gigs, the first-ever two-night stand at the Arts Centre pulled a packed audience out of Tamworth's finest musos and the varied assortment of crazies from all over the country who travel to see the Wolfies these days. MUSICBOX writers and Martin Warrilow and Ray Clenshaw (who also starred in Catch 23 on the Saturday night) were there to record the proceedings, on two very different but brilliant events.
SATURDAY…The punters were arriving in Tamworth at about midday for this, and the Arts Centre was white-hot by the time openers Fetch Eddie hit the stage.
You could tell it was going to be a great weekend as Aaron and the boys turned in a sparkling set of quality pop that stood out as a diamond in the dirt that stands for music these days. From the opening strains of 'Mean Tin O' Beans' through a selection of Fetch Eddie faves, and a newie entitled 'One Two Feet' they sounded considerably better than their outdoor festival set and won a fine reception from the Wolfsbane-supporting audience. Quite simply, with a little more refinement in the presentation there is nothing to stop these boys from becoming the next big Tamworth band and making the wonderful Phyllis James the happiest woman in Britain. Marvellous.
Old faves
Catch 23 caught the mood superbly with a blasting set of their old faves and some classic covers "Tears of a Clown", "Fever", "Heatwave", were all churned out with style along with "This Day and Age" and "Twisted Mind" dedicated as usual to George who as usual, loved it. Steve Webster in a Howling Mad t-shirt was in fine form and proved that he might well be Tamworth's next star front-man. I happen to know they thought they were awful. I thought they were brilliant.
I wish I could say the same for Wolfsbane. Although they got considerably better for Sunday's show, which tragically I missed. I have to say that Saturday's set was ragged, untidy, overlong and rambling. The band is all about power, excitement, drive and catchy tunes. All that disappeared in a morass of wordy between-song raps from an over-emotional Bayley and some unnecessary clowning. When they finally got down to music they were spectacular, but there just wasn't enough of it to keep the crowd interested. I've never been bored in almost three years of watching Wolfsbane. I was nearly bored by this. Oh, how I wish I had been able to see Sunday's set. As it is, I'll just remember them wowing the crowds at the Festival. Until that is, we all rush down to our local record store to buy the album. The end of an era.
MARTIN WARRILOW
SUNDAY…Well what a farewell for Wolfsbane. The show opened with the DHSS who produced their special helping of sadistic pleasures with a frenzy of synthesisers, the best example of which was "Vicar's Hand" showing up Edward ian Armchair for the sick man he undoubtedly is. Crazed but fun.
Great blast
Next up were Scream Dream, a truly nice bunch of lad who produce a great blast of noise on stage. "Dreams" was once again the best tune of an exciting set although "Obsession" came a close second.
Then came Wolfsbane for their last-ever Tamworth Arts Centre show. This was a sleazy bonfire of metal madness of the very best sort. I've watched them since they started and this was the dirtiest and most anarchic set I've ever seen from them. They have now reached a peak of rage, and this was far more than four guys just getting on a stage and playing songs. This was a testament to Tamworth and its musicians. Wolfsbane have reached new heights, have progressed beyond their past and gelled into a big loud sleazy ball of power. In the limited range of heavy metal they just get better and better. I have never heard them produce such gut-busting metal power before and an emotional 'Clutching at Straws' was the highlight of a white hot set. And then they were gone, leaving us with a sense of past successes and anticipation of the future. Because undoubtedly the best is yet to come.
RAY CLENSHAW
Tamworth Herald - 05/08/88
Musicbox – Snips and pieces
The Jim Crows Blues Company, who starred in the Friday night Festival show at the Arts Centre have now landed a fortnightly spot there.
They kick off their first jazz and blues night on August 26 (admission £1) and similarly minded bands can get a slot on the dates.
Tamworth Herald - 05/08/88
Musicbox – Snips and pieces
There's more long hair and studs at the Arts Centre this Sunday when Brummie band Gates of Purity headline a three-band bill.
Featuring local boy Dave Wilkes on drums they describe themselves as "Cult-ish" so black is probably the colour to be seen in.
Tamworth Herald - 05/08/88
Musicbox – Snips and pieces
A North Warwickshire-based psychobilly band is looking for a dedicated lead guitarist.
Tamworth Herald - 05/08/88
Musicbox – Snips and pieces
AND FINALLY…Wolfsbane had their celebrations tarnished when one of their hardworking roadcrew had his leather jacket snatched from the Arts Centre on Sunday. Some prized personal possessions also disappeared so if anyone knows of the whereabouts of this item, can they return it to the band, no questions asked. The Musicbox honesty award will be presented to the returnee. Thank You and goodnight.
07/08/88
Gates of Purity
Tamworth Arts Centre
12/08/08
Scum Ball
Spiral Eye
Scream Dream
The First
The Macoys
Assembly Rooms
Tamworth Herald - 12/08/88
Musicbox – Party time once again!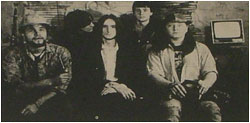 FOUR top local bands line-up at the Assembly Rooms tonight for what is being billed as a major indoor festival.
The concert billed as 'The £1.50 Festival" is seen as being the Scum Ball 2 as it is once again being spearheaded by Hamlets stablemates Spiral Eye and Scream Dream.
Joining this talented duo tonight (Friday) will be two bands much newer to Tamworth eyes. The one, The First, have made major headway into the Midlands rock scene since their last appearance in the Town while for the other, 'The Macoys' this is a debut concert and one which promises a great deal.
Tonight's show, which comes just a few months after the original Scum Ball event is seen as further establishing the Assembly Rooms as a major venue in the Town.. The last time the Scream Dream and Spiral Eye entourage took over the Assembly Rooms the audience clearly appreciated the chance of venue and many people expressed the wish that gigs quickly returned to the centre.
Tonight's four band indoor festival offers the listener a very wide range of sounds. Clearly the double-edged appeal of Spiral Eye and Scream Dream will prove to be the gig's biggest selling point with both bands currently holding a very high prestige in local favours.
Scream Dream, who many people told me played their best ever concert alongside the Wolfies last week, clearly enjoy the expanse and epic nature of the wider stages and bigger concerts and they will keenly await the chance to pass on their 'obsessions' to the Assembly Rooms audience. Even since they won the Battle of the Bands the group have been developing at a pleasing rate and should use tonight's wide arena to prove just how far they have come in their short history.
Another band keen to reinforce their fast growing reputation is Spiral Eye. Thus unique and dramatic band were loved by just about everybody at the Castle Grounds festival and for those who enjoyed that, there are plenty more treats from the group when they take their mysticism indoors. It is a mixture of strange sounds, strange lighting and strange effects and the atmosphere created is chillingly different.
Less well-known to more recent Tamworth followers are The First who also joing tonight's line-up. They made quite a name for themselves around 18 months ago when they were regular visitors to the Rathole and The Arts Centre. Then, their grandiose stadium rock gave them an immediate and committed following and although I cannot vouch for their current status, if the band have developed and improved on that they should be intensely watchable this evening.
Completing a stylish line-up are the newest of the groups – The Macoys. This is a new combination of old talents. Those who remember Love One Board, orange or the Great Express will remember the members of this group although the sound is far removed from all three. It is once again pop music with an edge and it comprises the distinguished talents of the likes of Neil Jones, Dave Burgess and Julian Amos. The group have already recorded one tape (reviewed here shortly) but this will be their first major public performance. It is hardly the smallest show in which to make your debut but between them this band probably has more experience than most of the other musicians on view put together so nerves shouldn't prey too much on their ability. Definitely a band who will command much interest because if the previous ability shown by the people involved is repeated once again we are all in for a treat.
So there are the four bands. Scream Dream, Spiral Eye, The Macoys and The First. It all begins at around 8pm and as I am not sure of the line-up you will have to make sure you get their early enough not to miss your favourites.
As the concert is called the £1.50 Festival it shouldn't take too much thinking to work out how much it costs to get into the Assembly Rooms and as I know for a fact exactly how much overheads at the Assembly Rooms run to it must be stressed that this is tremendous value for money.
Get along tonight and fill the place to capacity and who knows the Assembly Rooms might start to become a major force on the local music scene again for the first time since messrs McCartney and Lennon played there.
Tamworth Herald - 12/08/88
Musicbox – Introducing an odd Yogöt!
Sam Holliday reviews a trio of local demos
King Woderick and The Yogöts – First Demo
A lot of cynics say that Tamworth area bands are all the same. The critics complain loudly that all the local acts can be pigeon-holed far too easily and that nothing very different ever emerges from these environs. Well I wish they could hear THIS.
The word 'strange' appears very often in the lyrics of this tape and it appeared very often in my mind as I listened to the thing. There are simply no pigeon-holes which would comfortably accommodate this band and all I can suggest is that they sound like their name i.e. odd. It was recorded, quite clearly, in a living room or the like and that rough edge to the 'production' merely helps to make the tape's direction still more inexplicable. There are six tracks in all, my favourite of which is the catchy 'Mind Disease'. This short, sharp, shock tells the woeful tale of the singer's relatives being stark-raving mad and is put to a thumping backbeat which sounds not unlike The Fall in their early days. Elsewhere there is the headscratching opener 'Strange Zoological Pretext', two more commercially orientated off-beat numbers 'Lady Blanc' and 'Chapel Street' and two very unusual closing tracks including the bizarre 'Unicorn'. At times the impressive lead vocal reminds me of a demented Pete Shelley meets an undemented Mark. E. Smith and if you can get your ear around the musical melee you will spot some quite stunning guitar work and some very experimental keyboard work that sounds like B52s without the pop senseability.
Overall I get good vibes from this tape. I am not sure how it would transfer to a stage but I am convinced if an experienced producer got hold of some of this material it could be very interesting indeed. As it is it remains an exciting curiosity, a quirky snippet of crazed sound which will divide listeners and confuse them all. From such seeds, strangely hypnotic plants can grow.
Tamworth Herald - 12/08/88
Musicbox - Sam Holliday reviews a trio of local demos
The Space Seeds - 'Seven Track Collection'
At last. The Space Seeds emerge with product. You may have heard a lot of encouraging whispers about the band over the past few months and now they have produced their first collection of songs for public consumption. Actually most of it is not exactly new. Some of the tracks 'classics like 'Autumn Girl' and 'Feel your touch' have been around eons but there are still one or two tracks to give us a guide as to what we can expect from a band who have set their sights on fame and will not be deterred until they have achieved it. The thing that hits you most is the word pop. This is all basic (though never formularised) pop music and the only slight hint of aggression is the Teardrop explosion called 'Saturn in Her Eyes' which is a pleasing burst of power on a tape that seems rather light and airy. My colleague Martin Warrolow says that the whole things smacks of ABC and on further investigation I think he is right. The best of the seven tracks on offer is still 'Autumn Girl' – Mark Mortimer's greatest moment and a potential number one – with the best of the newies being 'Switchblade Love' where the excellent Mark Brindley dominates a memorable number. As a collection of pop songs it is still quite puzzling to try and sort out exactly what this band want to sound like and where they are going. But one thing is certain – the whole thing is very impressive and packed with the sort of experienced tricks and departures you would expect from a band who want to go as far as possible and as quick as possible. The next test will be on stage and I have a sneak feeling that will be this outfit's real triumph.
Tamworth Herald - 12/08/88
Musicbox - Sam Holliday reviews a trio of local demos
Catch 23 – Facing Up
When I was given this tape, it was with the strict and in my experience unique instruction that I didn't review it. It was put together as a nine track sampler for fans only containing studio out-takes, live tracks and the like. The band didn't think it was too hot – hence the no –review stipulation but being so unscrupulous I have decided to ignore their request because think this is great. To me this odd collection shows Catch 23 at their raw and powerful best, an impressive collection which shows that they can write, perform and surprise with equal ability. The opening duo 'No More Lights' and 'Facing Up' are the best of the bunch, two excellent numbers – which stick in the mind long after the final bar but I reality not one of these tracks is wasted. What this tape further convinces me is that Catch 23 must stay patient and wait for the inevitable 'Jam tomorrow' because they are getting better with age and sharper by the day. They are still at an age where they might feel too easily frustrated but they must fight that and persevere because they have got everything it takes to break into the national limelight. Patience is a boring aspect of rock and roll but in the fame game it is just as important as guitars and glitter.
Tamworth Herald - 19/08/88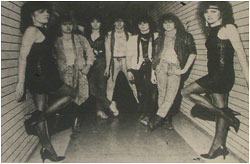 Musicbox – Metal Machine Revs Up
KRAZE make a return visit to their favourite haunt on Sunday night when they headline a special metal show at Tamworth Arts Centre.
Although the support act was unconfirmed at time of going to press the Kraze squad were hoping for an exciting bill to show that the local metal scene will stay as strong as ever despite the disappearance of Wolfsbane.
Kraze, fresh from their triumph at the Tamworth festival, will once again be parading their powerful and commercial metal which has made them one of the most exciting additions to the local scene in the past 12 months.
There are many informed noises around that raze are going to soon break into the very big time and if you want to find out why, then get along to the Arts Centre on Sunday night.
You will NOT be disappointed.
Tamworth Herald - 19/08/88
Musicbox – Back with anger
Scream Dream – Tamworth Assembly Rooms
A few months ago, Scream Dream released their first demo which I found to be disappointingly lacking in fire. I felt that the group had a lot more aggression and rage in their repertoire – and this concert proved it. This was one of my favourite Scream Dream shows because the superb music was cloaked in a veil of proud fury. The group gnashed their teeth, hammered their instruments and produced a set that was quite riveting. Also pleasing was the fact that we actually got to see the band this time around. That now infamous smokescreen had a rather short-lived effect leaving the band exposed to the light which added to the confrontational feel of the gig. The tunes bounced and buzzed along merrily and I was taken by the sheer pleasure messrs. Keeton, Wilson and the boys seemed to take from their powerhouse sound. One thing that was also quite noticeable was the increasingly impressive stage presence of singer Steve King. He now dominates the stage (which is after all the function of the frontman) and his charismatic style has become one of the band's best selling points. All together this was a strong, intelligent and memorable show from a band who seem far better at handling musical war than musical peace.
SAM HOLLIDAY
Wolfsbane Finale – Kettlebrook
Tamworth's worst kept secret – the official parting shot to the boys in leather. Originally intended as a gig, this soon degenerated into an orgy of sound and nostalgia as leading local musos queued up to say their sad farewells to Tamworth's best export since Reliant. Catch 23, Scream Dream, Spiral Eye, DHSS, The Conspiracy, The Space Seeds, Girls On Tour, Shellshock and many more were represented as were the Technicolour Yawns who filled the back garden (think about it…). A fun, fun, fun farewell where the beers and the tears combined to give the Wolfies the best possible bye-bye. My cat didn't like it too much though.
SAM HOLLIDAY
The Macoys – Tamworth Assembly Rooms
The strongest Orange Juice I've ever tasted. I seriously expected Orange Mark 2 and I was seriously right – although there was a significant shock. What we have here is a far more aggressive version of the former pips, a band with a growl behind the melody and a surprising line in power. Much of this was provided by the obscured drummer Dave Burgess who gave some serious stick to his drums and held the sound together with considerable talent. Elsewhere there were some neat touches in the songwriting department, some reassuring onstage confidence and a marvellous final track the title of which I did not catch. Certainly a band who need to be seen again (possibly in a smaller, more intimate venue) and a most encouraging debut.
SAM HOLLDAY
The First – Tamworth Assembly Rooms
The biggest surprise of the evening. Last time my eyes feasted on The First they were a commercial pop-orientated rock band with a Simple Minds stamp firmly on each of their heads. Not any more. The band have added a wicked rocking streak to their sound and after initial uncertainty I rather appreciated the change. It all reminded me of a harder version of INXS, a sound with one foot in the pop-metal arena and the other in the pop-metal one. The sound was solid and punchy with the most dazzling onstage sight being the lead singer who had amazing presence and personality and clearly has a big future in the sex symbol stakes. An interesting change and as it is so different from the original First, I think the band should now, be called The Second.
SAM HOLLIDAY
Scream Dream – The Barrel Organ
It all began when the notorious 'When The Hour Comes' began to creep around the room. The usual faces supported the stage as Steve King introduced an old favourite 'Til The End Of Time' and the regular set then followed including the brilliant 'March Winds' and the mind blowing 'Obsession'. The highlight of the evening was definitely 'Dreams' especially as it was dedicated to moi! Encores consisted of 'Asylum' and 'Jumping Jack Flash' which were a pleasant change and just proved that the Screamers can make anything sound good. Everyone present was sad to see the night come to an end. All can say is well done Scream Dream and let's hope all future gigs are as successful as this one.
TRACEY LAKIN
Spiral Eye – Tamworth Assembly Rooms
The word 'frenzy' came to mind almost immediately and stayed their throughout. After on or two neo-commercial shows this was the Eye-merchants at their most outlandish and acidic – a mindboggling mixture of jumbled, mashed and entangled sounds enveloped in thrashing guitars and eye-teasing light. It wasn't a comfortable ride but then again Spiral Eye have never promised anything else. They are definitely a band you either love or hate. I love 'em. But understand them? Never.
SAM HOLLIDAY
Tamworth Herald - 19/08/88
Musicbox – Snips
The Space Seeds have announced details of their first ever Tamworth concert. The band featuring Mark Brindley, Stu Blain and Mark Mortimer, will be in action at the Tamworth Arts Centre on September 11, joining them will be The Macoys and possibly Scream Dream.
Tamworth Herald - 19/08/88
Musicbox – Snips
Will the two Fetch Eddie fans who are still waiting for their ordered t-shirts following the Rock festival please ring…The Fetch Eddie sales team have lost your address so give them a buzz to sort it all out.
Tamworth Herald - 19/08/88
Musicbox – Snips
Mike Fleming's outfit Nightshade are in action at JB's in Dudley on August 22.
Tamworth Herald - 19/08/88
Musicbox – Snips
Young female singer Samantha Law is STILL on the lookout for a band to team up with. The enthusiastic singer hasn't been deterred by failing to find the right sort of band as yet and so she had made another appeal to find a group which will accommodate her pop talents. Samantha wants to sing with a pop-based band in the area and is extremely enthusiastic to make a success of it all. Come on chaps and chappesses out there, is that singer of yours really so hot? If the answer to this question is no, ring Samantha.
Tamworth Herald - 19/08/88
Musicbox – Snips
While one pop singer is desperate to find a band (above) one metal group is desperate to find a vocalist! They are BOD, a band who have changed their thrash sound to that of Metallica, Slayer and Nuclear Assault. The group have dates planned throughout Birmingham and need a thrash singer triple quick. If you fit the bill…I really hope somebody will because BOD have threatened to cover a Stranglers song (to speed it up and kill it off they say) and perhaps if I help them get a singer they will withdraw the threat…
Tamworth Herald - 19/08/88
Musicbox – Snips
Scream Dream guitar king Paul Keeton recently won a massive prize in a special Melody Maker competition. Paul won hundreds of pounds worth of equipment in the contest as well as several nice comments in the magazine.
Tamworth Herald - 19/08/88
Musicbox – Well, they've gone…
WOLFSBANE finally departed for America this week to begin their quest for international rock glory.
You will see elsewhere in this week's paper, a special report on the band, but MUSICBOX couldn't pass without publicly waving its' tear-stained handkerchief to the departing heroes.
Basically it looks as though the band will be away from us for around three to four months and by the time they return their first album for Def-Jam will be 'in the can'. It will then be released simultaneously in both America and Britain and will be followed by tours of both countries. The Wolfies are hoping for a major stadium support slot in the US and they even turned down joining forces with the mighty Metallica.
As I say, there is more info on another page but MUSICBOX will now wipe away the nostalgic fears and get set to receive the stars-in-waiting in the near future. The Wolfies have promised to send me postcards about their progress so if they are not TOO rude we will print them to keep you up to date with their world-domination.
Good luck Wolfsbane and I hope you enjoyed the party!
22/08/88
Nightshade
JB's Dudley
Tamworth Herald - 26/08/88
Musicbox – Stance cross the waters to fame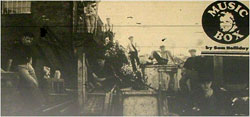 MUSICBOX Band of the Year, Dance Stance take their new line-up and sound across the Channel this weekend to enjoy a series of top quality concerts in Jersey.
The group impressed so many people on their trip to Jersey last year that they were immediately invited back for a bigger and more extended trip this time around.
In all the group will do three shows, all at big prestigious venues and all set to further establish the band's reputation as one of the Channel Island's favourite imports.
"There has been a lot of feedback since out last visit," said the band's ever-enthusiastic manager Ray Sheasby, "We have had a lot of good press coverage in newspapers and on the radio and there is a real buzz about the visit," he said.
The band fly off to the shows tomorrow (Saturday) and will play the first of a hat-trick of concerts on Bank Holiday Monday. That will be followed by two more shows on consecutive days and according to Ray Sheasby the band are really looking forward to the experience.
"This will be an ideal preparation for a national tour which we are embarking on shortly after we return," said Ray. "Because of holidays and other commitments we haven't been able to play too many concerts but when the band return they will be back in full swing."
Jersey will witness a different Dance Stance to the one they enjoyed so much last year with the band not only fronting a new line-up but playing a set made up of 50 per cent new material. The old faves are still there but many are re-vamped and improved to an extent that the band believe they are at their musical peak at the moment.
"We are now just waiting for the right deal to come along," said Ray Sheasby. "We have had offers which would have suited a four piece down to the ground but being as there are nine in Dance Stance we have to hold out for more. It is all a question of staying patient and believing in yourself," he said.
The band will announce full details of their forthcoming national University tour shortly after returning from Jersey. Watch this space for more info on the future plans of the Atherstone-based soul kings.
26/08/88
Jim Crows Blues Company
Tamworth Arts Centre
Tamworth Herald - 26/08/88
Musicbox – Snips
Crows fly in for new slot
The Jim Crows Blues Company are due to start their unique residency at the Arts Centre this weekend. The likeable r n b outfit are in action tonight (Friday) with the first of a series of jazz and blues shows which they hope will attract a wide and varied audience. More details from the Arts Centre.
Tamworth Herald - 26/08/88
Musicbox – Snips
Lichfield soul favourites, The Great Divide, make a welcome return to Corvettes winebar on Bank Holiday Monday. The group, who impressed a lot of people at theier previous Corvettes show, bring with them a new set and a lot of relatively new songs. Corvettes disc jockey Gary Hunt is also hoping to set up a series of concerts at the venue in order to find the Corvettes Band of the Year and we will give more details of this in the future.
Tamworth Herald - 26/08/88
Musicbox – Snips
Tamworth pop band Sa Sa have announced details of their first ever concert. The group, whose commercial and intelligent tape impressed me a great deal , will team up with classic pop act Fetch Eddie and Atherstone favourites A5 for the show which which will take place at the Arts Centre on Sunday September 4.
Tamworth Herald - 26/08/88
Musicbox – Snips
Shellshock (as was) are still on the lookout for a new drummer. The metal men, who are to change their sound and their name now that Bruno Edwards has left, are looking for an enthusiastic and talented drummer to complete their line-up. If this sounds like you and want to find out more…
Tamworth Herald - 26/08/88
Musicbox – Snips
A new rock group made up of experienced and dedicated members are on the lookout for a new singer. The band, Rada, are influenced by the likes of Whitesnake, Jeff Beck and Gary Moore and are keen to find a frontman who shares their influences and ambition. The band already have a host of gigs in the pipeline so if you are interested…
Tamworth Herald - 26/08/88
Musicbox – Snips
A Burton-based pop-act, who have been compared to the likes of T-Pau and Kim Wilde, are looking for a support act to join them in a future Tamworth show. The group, Dancing On Glass, have already played top quality concerts at the likes of Nottingham Rock City as well as reaching the final stages of the Yamaha Band Explosion contest. Now they are looking to include Tamworth in a major tour but want a local support act to join with them.
Tamworth Herald - 26/08/88
Musicbox – Snips
Scream Dream have acquired another of those big shows. They will team up with Lichfield band Shock Promise as suport act to the famous Dumpys Rusty Nuts at Lichfield Arts Centre on September 2. DRN, who have twice hit the Reading Rock Fest, are a lively outfit who feature ex-Hawkwind man Alan Davey on bass. Admission for the three band show is £2.50.
Tamworth Herald - 26/08/88
Musicbox – Snips
Rumours abound that 'The Rathole' is soon to raise its head in the Town again. The refurbishment of Manhattans is almost complete and when it is finished it seems that 'The Rathole' will once again take up its Sunday slot. At the moment this is still unconfirmed but if it comes off we will of course keep you posted
Tamworth Herald - 26/08/88
Musicbox – Snips
A Nuneaton-based group have contacted MUSICBOX trying to find a guitarist for a rockabilly, psychobilly garage band called The Rimshots. They say there is no one to fit their requirements in Nuneaton, hence their movement into the Tamworth and Atherstone market.
Tamworth Herald - 26/08/88
Musicbox – Still as Krazey!
Kraze/Kiss My Botty – Tamworth Arts Centre
KRAZE looked and sounded good and got a great reception from a larger than average Arts Centre crowd.
All the songs were very, very tight commercial rock songs which set them apart from any other local band.
With Wolfsbane now moving on to bigger and better things, it would be easy for singer Mitch Michaels to lapse into Bayley-like impressions, but it is commendable that he doesn't as Kraze stand up quite easily on their own right.
And yes, Kiss My Botty were terrible!
EDWARD IAN ARMCHAIR
29/08/88
Great Divide
Corvettes Wine Bar