Tamworth Bands History : 1988 :
February
12/02/88
Comic Relief Night
The Searching
Jed Moore
Torn in Two
George the Roadie
The Verdicts
Tamworth Arts Centre
Tamworth Herald - 12/02/88
Musicbox – Relish some rich reggae
THE SOOTHING sound of the areas favourite reggae band Progression can be heard again this week at the Arts Centre.
The popular reggae hotshots will be playing a Valentine's special on Saturday night and all lovers of reggae (and lovers in general!) are promised a very relaxing, roots-rocking night indeed.
For those unfortunate enough to have missed Progression in the past, their sound is a richly-textured framework of simple reggae pop and more complicated dubwise anthems all of which combines to make a mesmerising, relaxing and highly-palatable sound.
They are a band bursting with ideas and spirit and if you want to hear first-class reggae played by first-class musicians, then Saturday night at the Arts Centre is a night NOT to miss.
Tamworth Herald - 12/02/88
Musicbox – SNIPS
Wolfsbane on air and scum has a ball
MUSICBOX has been inundated recently by a whole host of demo tapes. It seems everyone is hitting the studios at the moment and an ever-growing pile of tapes is appearing in my bedraggled bedroom. We hope to review all of them in one major special soon, so to A5, Steve Adams, The Witness, Racer, Sa Sa (soon come), Catch 23, The Searching and Wolfsbane, I say hold on – those reviews are coming soon.
Wolfsbane are to make their Radio One debut on February 19. The Sexmetalists travelled down to London on Friday to record a four-track session for the popular Tommy Vance Friday Rockshow. It will be broadcast a week on Friday so get you radios working and get set to hear some rock to remember. And if you can't wait that long, don't forget the boys are in action at Enots tomorrow (Saturday). That is the first date of the tour that will take them to Glasgow, Newcastle, Carlisle, Portsmouth, Birmingham, Bristol and London in the next four weeks or so.
Tamworth Herald - 12/02/88
Musicbox – SNIPS
Plans have been unveiled for a major new-band concert at the Assembly Rooms on Friday, March 11. The show, which should be a perfect finale to the new group 'Battle of the Bands' contest, have been ambitiously put together by members of Scream Dream and Spiral Eye who have taken the brave and highly commendable decision to go for broke at a venue that has seen the likes of The Beatles, The Rolling Stones, Dr. Feelgood and even Dickens! The bands on offer at this the 'Scum Ball' will be Scream Dream, Spiral Eye, Mr. Cyn, Detroit Sinners and The New Age Gypsies. Tickets must be bought in advance and cost a mere £1.50 but we have two to give away in a simple contest. Just tell us the answers to the following and two 'Scum Ball' tickets are yours. (1) What was Spiral Eye drummer Jim's stagename as a member of Attica? 2) What band did Tim Latham and Ted Wilson used to play on?
3) What was Scream Dream drummer Duane, publicly labelled at this time last year? Simple isn't it? Just send your answers to Musicbox.
Tamworth Herald - 12/02/88
Musicbox – Five-band fight is all heart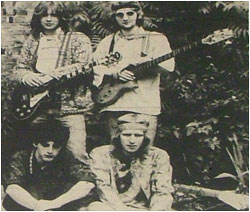 TAMWORTH'S 'Battle of the Bands' continues on Sunday with a St. Valentine's Day Massacre by a host of new local groups. Once again all the bands on offer will be fighting for one guaranteed place in the March 4 final with trophies, a cash prize and considerable prestige for the eventual winners.
This Sunday's array of bands – who will once again be judges by four top local musicians – has been slightly altered from the original announcement. Fetch Eddie have swapped with The BBC, Cuddly Spiders have come in for Mr. Cyn and Racer has been added as a replacement fro Jim Crows Blues Company. It means that the five bands who will line up at the Arts Centre on Sunday aiming to impress a packed audience and four discerning judges are…
NEW AGE GYPSIES
Atherstone's 60s/80s cross-over rock band, making their first appearance in Tamworth for a couple of months.
THE BAND WITH NO NAME
A band who will probably have a name by the night and will certainly have the charismatic Lee Revelle on vocals and a non-rock sound.
THE BBC
A totally new band to everyone, who will be making their debut locally. No-one has seen anything of them yet, lets lust hope we do so on the night!
RACER
A new rock band fronted by former Shellshock lead singer Andy Mottram, who have already impressed audiences and critics in the Ashby and Burtn area.
THE CUDDLY SPIDERS
Norman Yates returns! Re-emerging from the wilderness. The Spiders are back again with a vengeance.
Once again the very nature of the contest – for new bands only – means that to find out what the bands are REALLY like, you have to get along. It all starts promptly at 8pm and as each band is allowed a maximum of 20 minutes to win over the judges, no-one will have to put up with anything that doesn't tickle their fancy for too long!
So with entry at a mere £1 and five bands waiting to show off their wares, have you any option but to make it to the Arts Centre on Sunday night? No I don't think so.
Will all bands arrive at the Arts Centre by 5pm at the latest: This week's judges are: Mick Goodby (Depth Charge), Trevor Mugglestone (Never Say Die), Steve MacNamee (Soil Brothers) and Neil Gordon (Catch 23). Will all judges please arrive at the Arts Centre by 7.45pm.
Tamworth Herald - 12/02/88
Musicbox – Weekend Power Battle
OUR TEAM of reviewers have been out and about again this weekend concentrating on two gigs in particular – the special Comic Relief show on Friday night and the highly successful 'Battle of the Bands' show on Sunday which brought over 200 people to the Arts Centre – the biggest attendance at the venue since last year's battle.
The Searching – Comic Relief Show
THEY made a concerted effort to look totally stupid with boxer shorts, red noses and silly hats. Very song was musically tight, technically competent and quite powerful. The vocalist, however was totally inaudible, although when George The Roadie sang 'Stand by Me' he shouted much better!
Edward ian Armchair
The Conspiracy – Battle of the Bands
TIGHT, well-performed and well received set which saw Paul, Sonny, Roger and Lisa all produce the goodies with increasing confidence and power. Roger's guitar continued to be the guiding light but the quality of the songs themselves overshone even the individual instrumental abilities. It made for a clean, satisfying set.
Sam Holliday
Jed Moore – Comic Relief Show
Jed salvaged something from the show and eventually struck the winning goal. One poem ' 'Hard' – was the product of the frustrated near genius. A T.S. Eliot among bartenders.
Lee Revelle
Mr Cyn – Battle of the Bands
IMPRESSIVE entry to the world from a band who gave us exactly what we were expecting – style. They combined the Olde One On One professionalism with a new, clearly defined sound of which 'Shine On Me' was…Musically it was faultless under Tim Latham in brilliant form and Dave Fitzgerald impressing everyone with his powerful vocal show. Undoubtedly once of THE new bands of 1988.
Sam Holliday
Torn In Two – Battle of the Bands
NICE tuneful burst which was almost (dare I say) cute. Musically it reminded me ever so slightly of The Housemartins with the charismatic singer reminding me ever so greatly of one Freddie Mercury. Yep, a neat band this.
Sam Holliday
Torn In Two – Comic Relief Show
THE band sounds and looked very professional with Mike Fleming showing he is the only man with a flared stomach! Comments were made that they looked like a 'club band' or The Christians with hair, but I think with such a rough PA and no audience they proved you can still produce a polished performance. Interesting and different.
Edward ian Armchair
Scream Dream – Battle of the Bands
A PLEASANTLY powerful surprise this. The inevitable Mission/Sisters/Balaam comparisons were made, but this reminded me more of the post-punk new wave bands full of searing guitars, gritty vocals and skin-breaking drumming by Monsieur Duane. Niz (looking like a demented Dee Dee Ramone) and Paul Keeton both produced power-packed guitar works, and with Steve (looking like an un-demented Robert Smith) throwing in a vicious, vocal edge, this was very pleasing on the ear indeed. Definitely a combo to scream AND dream about.
Sam Holliday
George The Roadie – Comic Relief Show
A FUN-PACKED poem from George. Excellent!
Edward ian Armchair
Future Field – Battle of the Bands
THE most strikingly powerful band of the night who belied their somewhat mid-Seventies image with a very mid-Eighties rock blast. Once again excellent musicianship was the order of the day with the irrepressible Mo Cllins dominating the proceedings with his gutsy, ear-grabbing voice. The most unexpectedly dynamic set of the night and one which will have won this experienced combo a great deal of friends.
Sam Holliday
The Verdicts -Comic Relief Show
"I THINK all credit should go to Mike Fleming for trying to do something locally for Comic Relief – and at least HE can sleep soundly knowing he did something to help a very worthy cause."
Edward ian Armchair
Although Mike Fleming's honest intentions are unquestionable, it was obvious that the great majority of people would stay in and watch 'Blackadder'. However attractive a might much as this was, surely the answer is to help pressure on the the real people of power to guarantee long-term aid as opposed to making the public feel guilty because they've given what they can, and can't afford that little extra?
Lee Revelle
Battle of the Bands – The Result
The four judges – Ray Clenshaw (Catch 23), Jeff Hateley (Wolfsbane), Pete Fulleylove (A5) and Bruno Edwards (Shellshock) – made the controversial but understandable decision to send The Conspiracy into the March 4 final. And my opinion? Well, as usual I was glad I didn't have to vote because I thought all the bands were of an (unusually) high standard. But I guess I would have plumped for Scream Dream because they made a real and successful effort to impress AND they started with 'Postman Pat'.
13/02/88
Progression
Tamworth Arts Centre
14/02/88
Battle of the Bands
The Conspiracy
Mr Cyn
Torn in Two
Scream Dream
Future Field
Tamworth Arts Centre
28/02/88
Battle of the Bands
New Age Gypsies
The BBC
Cuddly Spiders
Racer
Tamworth Arts Centre
Tamworth Herald - 28/02/88
Young rockers are top of the region
ONE of the area's best young pop bands has just burst through to the final of a prestigious national rock competition.
Catch 23, who are based in Atherstone, won through to the final of the TSB National Rock School contest following the regional heat of the event held at 'The Dome' in Birmingham on Monday afternoon.
There, the young group beat off the challenge of seven other top school-based bands from West Midlands and Wales to earn a place in the final in Bradford at the end of March.
And as well as giving the rocking quintet a chance to earn big money prizes, it will also guarantee them a slot on television as the whole of the final is being broadcast in an hour-long special by Yorkshire TV.
"It is wonderful news" said the band's lead singer Steve Webster after the result was announced. "We have worked very hard to win this heat and we are now looking forward to the final."
The band were given just 12 minutes to impress an eight-man panel of judges made up of local pop stars, disc jockeys and media representatives. But they received the top placing after a performance described by top Midlands rock singer Steve Gibbons as 'brsting with enthusiasm and energy'.
The band who were cheered on by more than 130 supporters from Atherstone and Tamworth will now meet the winners of seven other national heats to find Britain's best school or college-based rock band.
For a full review on Catch 23's winning performance, see next week's Herald Musicbox column.
Tamworth Herald - 28/02/88
Musicbox – 'Searching' lose Battle of Brum
TAMWORTH'S Original outfit The Searching came desperately close on Friday night to winning the prestigious Best Band in Brum contest run at The Portland Club.
The band were in my opinion – and that of one of the judges Paul Cole from the Birmingham Mail – leaps and bounds ahead of their three fellow competitors, but in the end the decision just went to a third-rate version of Strap On Jack called Split Beaver.
The shock result wasn't the only surprise of the night. Considering this was the final of a contest in the second city in England, the general standard was hardly as mind-numbing as I expected. The Searching played a fine set and deserved their slot, as did opening act The Cybernauts, but the other two bands – Split Beaver and cover-version-ridden Tempting Fate were less than impressive.
Groups like Catch 23, Wolfsbane, Dance Stance, Fetch Eddie and more would have murdered them and the whole thing left me realising just how special our own local talent really is.
That was reflected perfectly in the show by The Searching. Three of the members hail from Tamworth, they are hardly known to local crowds and yet they are in this glamorous final. Their set was bursting with originality and style and was dominated by the excellent songwriting and guitar work of Steve Scott who is clearly a musician worth keeping a close eye on.
Also shining was Feargal Sharkey-lookalike singer Pete Williams whose onstage confidence seems to have increased enormously since I first saw the band and who now adds a jocular mid-song touch to some stirring vocal work.
Throw in excellent rhythm work by bassist Mark Chapman and drummer Mike Reid some impressive keyboard tinkling by Paul Williamson and some dynamic sax work by Sid The Musical Genius (!) and you have a sound which grabs you right where it counts and keeps you riveted to the dance floor.
Best tracks? Well, the annoying catchy 'Funky Chicken' was the noteable dance-favourite but my personal number one was a mesmerising love song called 'Towers of Love'.
Inspired
All told, it was a fine set by The Searching and one which a lot of seemingly unbiased people thought deserved them the winners' position. The final decision said more about the judges than it did about the bands. The Searching deserve a lot of credit and will no doubt now be inspired to press on.
One of the other reasons I went along on Friday was to see what we in Tamworth could learn about organising these 'battles'. Well the whole thing was very badly put together and I would urge the Birmingham organisers to take a trip to the Arts Centre to see how WE do it. And I would urge loads of local bands to enter next year because this year's winners wouldn't even have made our final.
SAM HOLLIDAY
Tamworth Herald - 28/02/88
Musicbox – Five of the best limber-up
Heat is on for final fling

THE final, exciting heat of Tamworth's 1988 Battle of the Bands takes place on Sunday night. Five varying local bands will take to the Arts Centre stage aiming to join The Conspiracy and the New Age Gypsies in the March 4 final to find the most promising new band of 1988.
This week's line-up offers a variety of musical styles and quality and should ensure a bumper crowd and a tremendous evening of entertainment.
Although one of the original 'starters' DHSS have had to pull out due to technical problems, their place has been eagerly snapped up by, Racer, who had to miss last week's show because of their drummer's arm injury.
The five bands on offer on Sunday will be…
Kubla Khan
An Atherstone outfit of definite quality but still something of an unknown quantity. Made an impressive Tamworth debut at the festival and have been backed by one or two people in the (rock and roll) know. Should prove interesting.
Racer
Making their second (and hopefully) successful attempt to join in the contest. Racer are a melodic but still heavy rock band who combine youth experience and add a tuneful touch to an aggressive sound.
Fetch Eddie
Regarded in some quarters as the favourite in the contest, Fetch Eddie are in the midst of a very successful period which has seen them triumph in concerts throughout the Midlands. Pop music so catchy it can leave your dancing feet with a permanent itch.
Spiral Eye
A brand new outfit making their world debut! All I can tell you at this stage is that they feature some always interesting musicians (Daz and Baz from 13th Reunion, Jim and Pete from Attica and Rem from The Calling) and according to Jim they play 'music to flinge to'. Suck it and see.
Kraze
One of the heaviest bands in the whole 'Battle of the Bands' who should bring some welcome, 'glam' to the proceedings. Heavy, steady, go!
That's the line-up to be judged this week by Jase the Ace (Wolfsbane), Graham Harwood (Rape in Yellow), Mark Brindley (WIN) and Steve Hayes (A5).
The winners
What makes Sunday's show even more interesting is that as well as the winners of the night going through to the March 4 final, the highest-scoring second-placed band from the WHOLE contest will also be revealed. They too will then be invite back on March 4 for the final which already features heat one winners Conspiracy and heat two victors The New Age Gypsies. So all the bands who have appeared so far in the contest – and the four that don't win on Sunday are still in with a chance of playing in the final but to find out if that means YOU, you will have to be there!
All the ingredients them of an excellent night. The bands are asked to reach the Arts Centre by 5pm, the judges by 7.45pm and the crowd by 8pm so we can attempt to get off to an early, ear-bashing start. It should be a great night so miss it at your peril!
Tamworth Herald - 28/02/88
Musicbox – SNIPS
Sits vac…and a standing ovation
THE Dance Stance have parted company with the Delaney brothers. Although they intend to carry on with just one guitarist in the shape of Nick Reed, they are keen to recruit a new keyboard player to fill that tinkling gap. If you can play keyboards well and want to join a band bursting with ambition and quality contact Neil.
Tamworth Herald - 28/02/88
Musicbox – SNIPS
There are only two weeks now to the ambitious 'Scum Ball' project at Tamworth Assembly Rooms. As a reminder, various enthusiastic new bands have pooled their resources and finances to book the Assems for the (Friday) night to put on an array of new talent. The five bands to be featured – Mr. Cyn, Spiral Eye, Scream Dream, The New Age Gypsies and The Detroit Sinners – are eagerly awaiting the chance to shine on such a big, impressive stage and they hope the audience will turn out in big, impressive numbers. Tickets are now on sale for the show, from members of all the bands involved or directly from The William Tolputt Press, George Street.
Tamworth Herald - 28/02/88
Musicbox – SNIPS
Musicbox would like to add it's voice of congratulations to well-known Wolfsbane fan Linzi Hateley who is currently wowing them on stage in the part of 'Carrie' at the Royal Shakespeare Theatre. Linzi was rarely missing from early Wolfsbane shows which may have something to do with the fact that her charming brother Jeffrey plays the bass guitar in the said combo. The whole and amazingly likeable Hateley family are understandably delighted by Linzi's success but personally I feel in the interest of rock stardom she should give up the role and offer it to Wolfsbane's singer Bayley Cooke. I mean it's a lovely big stage at Stratford and I'm sure Bayley would go down a STORM.
Tamworth Herald - 28/02/88
Musicbox – SNIPS
Beyond Belief a newly formed Tamworth sleaze-act are looking for an equally sleaze-minded bassist and drummer. If you're into Metallica, Hanoi Rocks and Guns and Roses, the person to speak to is Daz.
Tamworth Herald - 28/02/88
Musicbox – SNIPS
Steve Adams, whose excellent tape I hope to review shortly, has now put the pleasing product on the market and invites orders. What makes this demo that little bit different is that the respected Mr. Adams (whose Birchmoor studios helped countless local bands in the past) is giving half of all the proceeds from his tape to 'Greenpeace'. So if you support this worthwhile organisation and want to hear some good music to boot, send £2 including postage and packaging to Steve Adams.
Tamworth Herald - 28/02/88
Musicbox – SNIPS
Local metal favourites Shellshock will be playing two gigs in the Tamworth area this weekend. Tonight (Friday) they will be travelling to The Chequers at Hopwas for a special show alongside new metal men Racer. The Chequers on former days of rock and roll glory used to be THE local venue and if it is opening its doors to groups once again then it deserves to be supported.
Following Friday's show, the Shellshock chappies will be at the Arts Centre tomorrow (Saturday) for another loud and lusty rock night. Teaming up with the shocking-boys will be Atherstone's Kubla Khan and a Lichfield metal outfit called the Brooklyn Dogs.
Tamworth Herald - 28/02/88
Musicbox – Rocked to the Rafters
Gig Reviews
More news and reviews from around the area produced a host of different Musicbox scribes. Take it away critics…
Progression – Tamworth Arts Centre
Why more people don't go to see Progression I'll never know. There were queues outside the nightclubs but only 80 or so in the Arts Centre. Still, those of us who were there watched a tremendous gig, reggae played by the experts. They are at least as good as Aswad and walk all over UB40. You really shouldn't miss them next time.
DAN COLLINS
Emma Gibbs – Last week's Battle of the bands
The guitarist's dad wouldn't let him come out to play but nevertheless the band played the best set of the night. Local music needs something to shake it up and if Emma Gibbs stay together maybe they'll do just that.
EDWARD IAN ARMCHAIR
The Conspiracy - New Swan, Atherstone
Atherstone's newest venue for live bands was rocked to the rafters by these four musicians who produced a highly-entertaining hour-long set. The audience soon warmed to songs like 'Passion Burning' and 'innocence' and the band were called back several times. A great gig and let's hope there are more like it to come.
PHIL OWEN
Shellshock – Tamworth Arts Centre
A pleasant half-hour stroll through the furnace with Shellshock, a band who never let their musical deficiencies get in the way of a good time. An all-action performance from the boys although the music does sound the same after a while. Not brilliant bit not as awful as some people thought.
MARTIN WARRILOW
Kraze – Tamworth Arts Centre
This was quite brilliant. Tamworth hasn't had a band playing this kind of heavy rock since, the late, lamented Kara and I confidently predict big things for Kraze. A host of excellent tunes and very practised stage presentation made sure they lived up to their pre-publicity and I can't wait to see them again. Loved 'em to bits.
MARTIN WARRILOW
28/02/88
Shellshock
The Chequers
29/02/88
Shellshock
Kubla Khan
Brooklyn Dogs
Tamworth Arts Centre